11 Best Makeup Products For Rosacea That Are Safe To Use
Get great coverage for your skin's redness with soothing and nourishing ingredients.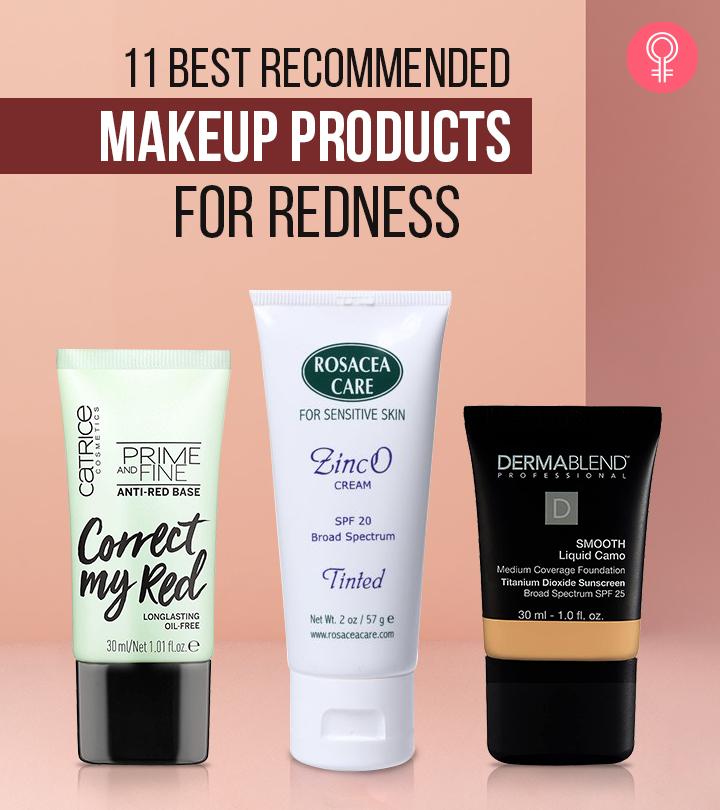 You need to pick only the best makeup for rosacea as using the wrong products can aggravate the condition. There's no need to fear makeup though, as putting on makeup is one of the easiest and quickest ways to cover the redness or inflammation associated with the condition. The great thing is that there are plenty of excellent color-correcting makeup products that are specifically formulated for those who are dealing with highly sensitive skin or rosacea. Out of those, we have collated the 11 best makeup products that people experience no issues with and can be safely used. So, check out your list now and fulfill all your makeup goals!
11 Best Recommended Makeup Products For Rosacea
This correcting cream from IT Cosmetics comes in 3 different shades – porcelain beige, light beige, and neutral beige. The clinically-tested formula gives full coverage for a seamless makeup finish. It contains the skin care ingredient colloidal oatmeal, which soothes and calms your skin and reduces the redness and irritation caused by rosacea. The avocado oil moisturizes your skin, while the aloe vera extracts give your skin an incredible cooling sensation and leave your skin hydrated. The peptides and collagen in this cream promote an even skin tone. The cream also has anti-aging properties and is suitable for mature skin. Watch this video featuring a tester's experience for a thorough understanding of the makeup product.
Pros
Soothing formula
Reduces uneven skin tone
Gives full coverage
Blendable formula
Value for money
Cons
None
If you have super dry and sensitive skin, this Smooth Liquid Camo Medium Coverage Foundation by Dermablend Professional is for you. This hypoallergenic liquid foundation gives you medium coverage, effectively covering your dark spots, hyperpigmentation, and uneven skin tone and also concealing rosacea with makeup. It contains SPF 25 which protects your skin from the sun's harmful UVA/UVB rays. The lightweight foundation blends perfectly into dry skin and gives you a natural-looking finish. It does not smudge or crease and is dermatologist-tested. Moreover, the product is not tested on animals, which makes it ideal for people with ethically conscious makeup routines.
Pros
Cruelty-free
Triclosan-free
Vegan
Dermatologist-tested
Reduces uneven skin tone
Non-comedogenic
Hypoallergenic
SLS-free
Lightweight
Hydrating formula
Allergy-tested
Fragrance-free
Cons
Neutralize your redness with this color-correcting primer by Catrice Cosmetics. This green-toned wonder hides redness, dark spots, and pigmentation and delivers an even-toned base for a flawless makeup application. The formula is super-lightweight and blends seamlessly into your skin for exceptional results. It is an alcohol-free, non-toxic primer that does not contain any aggressive or irritating ingredients that may otherwise aggravate your rosacea. It spreads evenly and color corrects your skin – creating a more balanced skin tone. Moreover, ethically conscious consumers are obsessed with this product as it does not undergo any animal testing. Here's a review video showing a tester's experience with the green-tinted makeup product for rosacea flare-ups.
Pros
Cruelty-free
Vegan
Paraben-free
Sulfate-free
Silicone-free
Alcohol-free
Fragrance-free
Oil-free
Lightweight
Long-lasting wear
Reduces appearance of pores
Cons
Consistency could be too thin
This excellent makeup base by Make Up For Ever is the perfect choice to prep rosacea-prone skin. The creamy formula melts into your skin while blurring dark spots, enlarged pores, redness, and any other imperfections with ease. It enhances the longevity of your foundation and gives a smooth application on rosacea skin. This skin equalizer is also moisturizing and dries to a matte finish. Reviewers have praised its ease of application and long-lasting results, even on oily skin types.
Pros
Balances oily skin
Smoothens skin
Lightweight
Pleasant fragrance
Cons
This full coverage cream by It Cosmetics is a three in one formula — it acts as a serum, foundation, and sunscreen. It is super-lightweight and blends seamlessly into your skin to provide a dewy finish. This formula contains broad-spectrum SPF 50+ that protects your skin from the scorching rays of the sun and effectively tackles signs of aging like fine lines, wrinkles, dark spots, enlarged pores, and redness. It contains the skin care ingredient hyaluronic acid that offers long-lasting hydration, avocado oil, and grapefruit oil that nourish and moisturize your skin, while the peptides and collagen in this cream promote an even skin tone. The formula also has aloe and turmeric extracts that soothe your skin and help treat rosacea-induced roughness. This CC+ cream comes in 17 other shades that fit every skin tone and undertone.
Pros
Full coverage formula
Natural-looking finish
Value for money
Long-lasting wear
Reduces enlarged pores
Hydrating formula
Non-greasy formula
Cons
None
Rosacea Care Tinted Cream is specifically formulated for sensitive and rosacea-prone skin. The formula is infused with micro dimethicone-coated zinc oxide that provides protection against the UVA/UVB rays of the sun. It also protects your damaged skin from environmental aggressors and free radicals. The zinc soothes skin irritation and calms down inflammation. The formula has a subtle hue that blends seamlessly into your skin while hiding common skin conditions like blemishes and rosacea-induced flushing.
Pros
UVA/UVB protection
Blends well
Suitable for rosacea redness
Cons
This super creamy eye pencil by Laura Mercier glides effortlessly on your eyes with precise definition. The formula is super long-lasting and stays put for over 12 hours. The soft liner delivers a well-pigmented color that is also tear-proof, smudge-proof, and waterproof. It is suitable for reactive skin types and also comes with a free sharpener for ease of use.
Pros
Smudge-proof
Transfer-proof
Tear-proof
Waterproof
Long-lasting wear
Highly-pigmented
Free sharpener included
Dermatologist-tested
Cons
This loose mineral foundation by bareMinerals delivers a seamless finish with buildable coverage. It is equipped with SPF 15 and protects your skin from the harmful rays of the sun. This long-lasting, vegan formula blends well into your skin and does not clog your pores or cause creases. It does not contain any added fillers or talc that may otherwise aggravate your skin irritation, making it a good mineral makeup foundation for rosacea.
Pros
Blends seamlessly
Buildable coverage
Sun protection
Ideal for oily skin
Paraben-free
Vegan
Dermatologist-tested
Cons
None
This flattering lip and cheek coloring stick from ILIA Organic adds a flush of color that accentuates your look. The formula is super creamy and melts on contact with your skin. It contains hydrating ingredients like sesame oil, shea butter, cocoa butter, sunflower oil, and castor oil that nourish and repair skin and retain skin moisture. This versatile balm is available in 5 different shades — Berry, Watermelon, Warm Nude, Tangerine, and Pink.
Pros
Cruelty-free
Gluten-free
Blends well
Sheer finish
Cons
This original Beauty Blender makeup sponge does not contain any latex. The edgeless design ensures a smooth, streak-free, and precise application. The sponge does not absorb a lot of product. Its contoured tip helps with precise makeup application. It doubles its size when wet and returns to its original size dry. The blender can be used with all types of makeup, including foundation, primer, blush, powder, etc.
Pros
Latex-free
Washable
Cruelty-free
Non-toxic
Vegan
Cons
This gel-cream blush from Glossier adds just the right amount of flush to your face for the perfect clean look. This collection comes in 8 different shades engineered for blending effortlessly into any skin tone. The lightweight formula sets into a sheer finish with a subtle glow and is ideal for daily wear. It is easy to wear and does not accentuate your pores, blemishes, or red spots.
Pros
Dermatologist-tested
Cruelty-free
Fragrance-free
Buildable formula
Lightweight
Suitable for daily wear
Cons
*The prices provided in this article are based on the latest available information. However, they may vary due to changes in pricing by the seller and/or promotional offers.
These are some makeup products that could be safe for rosacea-prone skin. If you have rosacea, you must be extremely careful with what you introduce to your skin. We recommend you also run these products by your dermatologist before purchasing.
We have also listed in the next section the factors you need to consider before choosing a makeup product for rosacea. Take a look.
What To Consider Before Buying Makeup Products For Rosacea
While choosing makeup brands for rosacea-prone skin, here are a few irritating ingredients to steer clear of:
Alcohols: Alcohols are used to serve as a preservative and guard against microbial growth in beauty and skincare products, but causes dry skin. They strip your skin's natural oils and also may irritate it.
Sodium Lauryl Sulfate/Phthalates/Silicones: These irritating ingredients are harsh and can be extra fatal to sensitive and rosacea-prone skin.
Artificial/Synthetic Fragrances: Although synthetic fragrances give a fruity or floral fragrance to products, hundreds of chemicals go into processing one single type of scent and may trigger skin irritation.
Matte-finish makeup products have an oil-absorbing formula that suits oily skin, but may be unsuitable for dry skin. If your skin is on the drier side, look for a dewy and watery formula that will hydrate as well as give you a sheer natural finish.
A lot of makeup products contain skincare ingredients that can calm and suppress redness or irritation caused by rosacea. Look for ingredients like aloe vera, oatmeal, allantoin, and chamomile known for their soothing properties to treat rosacea-induced dry patches and uneven skin texture.
Make sure to choose a shade that suits your undertone and color. This gives you a more natural look.
Oscar Velazquez, a professional makeup artist says, "When dealing with rosacea, it's essential to choose skincare and makeup products that are gentle and safe for sensitive skin. Look for products that are specifically formulated for rosacea or sensitive skin types. Opt for gentle cleansers that don't contain harsh ingredients or irritants. Moisturizers with soothing and calming ingredients like aloe vera or chamomile can help hydrate the skin without aggravating rosacea-prone skin. When it comes to makeup, choose foundations or tinted moisturizers with a lightweight and non-comedogenic formula. Look for products that offer buildable coverage to conceal redness while allowing the skin to breathe. Avoid products that contain fragrance, alcohol, or other potential irritants. It's also important to protect your skin from the sun with a broad spectrum sunscreen that has a high SPF. Remember, everyone's skin is unique, so it's best to consult with a dermatologist for personalized recommendations."
Why Trust StyleCraze?
The author, Baishali Bhattacharya, is a certified image consultant and makeup expert who understands how different makeup products react to sensitive skin. She has researched makeup products for rosacea and analyzed many first-hand reviews of the users to handpick the best ones for those with sensitive skin. The rosacea-friendly makeup products listed above not only soothe the skin but also keep it hydrated and offer full coverage.
Frequently Asked Questions
How do you apply foundation with rosacea?
Opt for a liquid formula if you have rosacea-prone skin to achieve greater coverage. Use a damp beauty blender and pour a small amount of the foundation on it. Do not rub, but dab the beauty blender on your skin until you reach an even finish.
What should you not do with rosacea?
Skip using products containing alcohol, fragrance, menthol, lactic, and urea if you have rosacea. Also, skip using a toner to prevent irritating the skin, and never forget to apply sunscreen when out during the day.
How do you calm down rosacea fast?
Use a rosacea cream that contains brimonidine and oxymetazoline (rhofade) to soothe redness and other symptoms within 12 hours. Also, consult a dermatologist and start your medications if you have severe rosacea symptoms. Additionally, lifestyle changes like keeping your stress under control, avoiding spicy foods, and using only rosacea-friendly products can help manage the condition.
Should you exfoliate rosacea skin?
Yes, mildly exfoliate your skin to manage rosacea. For example, use 2%BHA as an exfoliant in a base of pH 3-4 to reduce rosacea redness and flakiness. However, avoid deep exfoliation to prevent skin irritations and sensitivity.
Do LED masks help with rosacea?
Yes. LED masks are effective in managing the symptoms of rosacea. They decrease the size of blood vessels and reduce redness and related irritations.
Recommended Articles