11 Best Face Masks For Rosacea That Calm Your Skin – 2023
The best products to soothe all aggravating signs of rosacea - minus the irritation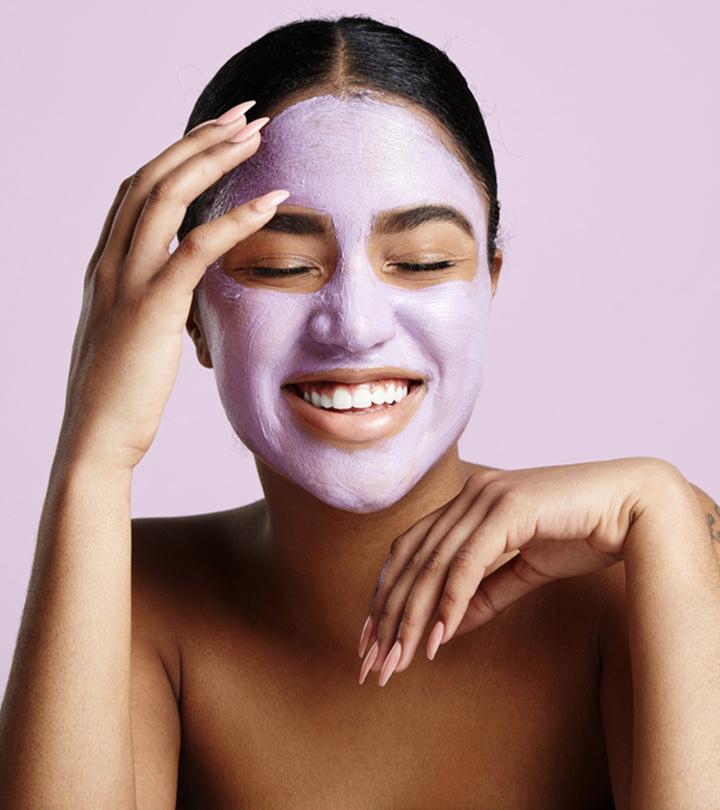 Face masks can be helpful for transforming your dull-looking skin into glowing skin. And if you suffer from a certain skin condition like rosacea, a face mask can help pamper your skin. All you will need is the best face mask for rosacea. It will help minimize symptoms like swelling, redness, flakiness, dryness, and itching. You can help manage all symptoms of rosacea by keeping yourself hydrated and using soothing masks rich in antioxidants and anti-inflammatory properties. In addition, ensure that you stay away from harsh chemicals that aggravate your skin.
Choosing the right face mask suitable for rosacea skin can be worrisome. You will need to find face masks formulated with natural ingredients. In this article, we have curated the list of the 11 best face masks specially designed for the rosacea skin. Scroll down and grab a few masks to pamper your delicate skin!
What Is Rosacea And What Causes It?
Rosacea is a chronic, inflammatory condition that mostly affects the skin on the face. Even though it can be mistaken for eczema, allergic reactions, or acne, it is different. Some symptoms of this condition are irritated skin, pimples, flushed red skin, and eye problems. Rosacea affects 1-20% of the population, is more common in females and begins around the age of 30.
It is unclear what causes rosacea, but genetic factors do play a role. If a person in your family history has been affected by this skin condition, there are chances of them passing it down from one generation to the next. Sometimes, these factors can combine with environmental aggressors and trigger flare-ups. Some triggers include: hot and spicy foods, alcohol, exposure to the sun, caffeine, dairy, and stressful conditions. Therefore, it is imperative that you keep a check on what goes into your body and manage your stress levels. Using skincare products with soothing ingredients can also help this skin condition. Read on to find out the 11 best face masks for rosacea.
11 Best Face Masks For Rosacea For Clear and Healthy Skin In 2023
Oatmeal for rosacea is a star ingredient and First Aid Beauty's calming facial mask can be your skin's savior to combat and renew distressed skin. The protective components in colloidal oatmeal and avena sativa bran combine with botanical antioxidants to soothe the dryness and redness in your skin. Other star ingredients in the Ultra Repair Instant Oatmeal Mask include bisabolol and sea buckthorn to calm the skin and shea butter that softens and protects the skin's natural barrier. Licorice root, feverfew, and white tea extracts in this oatmeal mask for rosacea help fight environmental stressors like pollution and dust. Free from parabens, petrolatum, talc, sulfates, coal tar, nuts, artificial fragrance, and colorants, this dermatologist-recommended redness-reducing face mask is ideal for dry and rosacea-prone skin. You can use this cult-favorite face mask to reduce redness 2-3 times a week for 10 minutes and get visible results. at a time before washing off. Have a look at this YouTube video to learn about the reviewer's experience and gain a better understanding of the product.
Also Recommended By: ejollify and yrdie have also listed First Aid Beauty in their top 10.[1]These Face Masks Hydrate, Soothe, and Smooth Rosacea Skin – ejollify https://www.ejollify.com/best-face-masks-for-rosacea/
Pros
Suitable for all skin types
Made with clean ingredients
Dermatologist-tested
Safe for sensitive skin types
Vegan
Cruelty-free
Alcohol-free
Cons
Some may find the oatmeal chunks slightly gritty
Price at the time of publication: $14.0
To douse the fire in skin afflicted with rosacea, the Skin Recovery Hydrating Treatment Mask from Paula's Choice uses hyaluronic acid that provides plumpness and hydration along with vitamins A, C, and E that give your skin antioxidant-rich benefits. This is a top-notch face mask for redness as there's non-fragrant, nourishing oils like olive, evening primrose, macadamia nut, and borage to deeply penetrate your skin and calm it down. A great rosacea mask that aims to replenish dull, rough-textured, patchy, irritated, and inflamed skin, it also makes the skin soft and supple. Slather this creamy goodness onto problematic skin for 20-30 minutes and you can also use it as a nourishing overnight mask to put your dry and irritated skin to sleep and wake up to soft skin in the morning! However, before applying on the entire face, do not forget to test it on a small patch of skin to avoid allergic reactions.
Pros
Can be used as an overnight mask and a rinse-off mask
Contains hydrating vitamins and oils
Non-fragrant
Soothes and softens skin
Lightweight
Helps uneven skin tone
Creamy consistency
Cons
Some may find it slightly greasy
Price at the time of publication: $29.0
Give your dry and thirsty skin a big chug of hydration with cocoa and shea butter in this barrier-repair mask for redness. This professional-grade duo also works to reduce acne and redness while making your skin soft and plump. To tighten your pores and brighten your skin tone, the kaolin works wonders and replenishes the skin's barrier to make it look more youthful. The high-quality ingredients in this anti-redness face mask are supplemented with a subtle, sweet scent of clementines for a citrusy fragrance.
Pros
Contains nourishing ingredients
Safe for sensitive skin
Cruelty-free
Vegan
Environmentally-friendly packaging
Has a natural, subtle fragrance
SLS-free
Smooth texture
Cons
The mask may leave behind a yellow tinge after being rinsed off.
Price at the time of publication: $8.99
Skincare giant Avene offers the best-quality skin care products especially catering to sensitive skin. This product is supported by clinical data and is proven to soothe and soften the skin. This soothing anti-redness mask boasts a hydra-nourishing complex that prevents moisture-loss from the skin to keep it feeling calm. It is enriched with the goodness of pongamia oil that balances your skin microbiome and Avene's infamous Thermal Spring Water that softens and soothes your skin. With other beneficial ingredients that visibly reduce the appearance of redness and heat sensations, this anti-inflammatory face mask is like a warm hug for your troubled skin. To give the most comforting love to your skin, this rosacea-relief mask is formulated without soy, wheat, parabens, mineral oils, and animal-derived ingredients.
Pros
Non-comedogenic formula
Fragrance-free
Alcohol-free
Gluten-free
Cruelty-free
Rich, creamy texture
Hydrates, calms and softens skin
Has a cooling effect on the skin
Cons
Price at the time of publication: $37.0
Powered by a gentle clay base, Mario Badescu's Azulene Calming Mask gives your dry skin a moisture-boost with superhero ingredients like olive oil leaf extract, evening primrose, and vitamin E. This trio works to deliver antioxidant-abundant hydration and moisture to comfort your skin and balance your skin's natural barrier. Chamomile extract, azulene, and balsam peru tackle irritated, dry, and sensitive skin types in this miracle formula. This mask contains minerals like kaolin that not only brighten, but also clear the skin of impurities and keep it healthy. One of the best face masks for redness, the Azulene Calming Mask boosts the overall health of the problem areas of your skin. If you want to know more about a reviewer's experience and the benefits of the Mario Badescu Azulene Calming Mask, click on this video.
Pros
Purifies skin
Hydrating benefits
Soothing properties
Reduces redness
Weightless formula
Cons
Price at the time of publication: $18.0
BIODERMA'S Sensibio Mask packs a powerful punch to provide lasting comfort to distressed-looking skin. This wonderful formula offers proven efficacy to soothe the skin by 80%. This soothing face mask for irritated skin contains moisturizing agents to improve and strengthen a weak and damaged skin barrier. This professional-grade soft cream is like a gym for sensitive skin, as it helps build your skin's tolerance and resistance to give way to a glowing complexion. You can see a visible difference in the redness with a couple of uses with this face mask for red skin. Slather it on after cleansing and don't be afraid to use this cream on sensitive skin! Check out the video of BIODERMA Sensibio Mask for more information and the reviewer's experience with the product.
Pros
Fragrance-free
Reduces redness
Hydrates dry skin
Safe for sensitive skin
Glides on easily
Creamy consistency
Cons
May leave a white residue
Price at the time of publication: $25.99
Our skin works super hard to keep irritants like pollution at bay, so it's only fair that we use the most nourishing products to thank it. The Matcha Magic Super-Antioxidant Mask by Boscia is a high-quality anti-irritant face mask that reduces redness in dry and rosacea-prone skin. Matcha green tea has antioxidant-rich benefits, which detoxify the skin by removing impurities and congestion. Not only does this superfood ingredient reduce redness, it also calms inflammation. If your skin is always tired and distressed and you want to show it some love, feed it this redness-reducing mask formulated with botanical ingredients like bakuchiol that has anti-aging properties, willow bark extract to battle acne, and jojoba and willowherb to nourish your dry skin and visibly reduce redness.
Pros
Reduces redness and inflammation
Suitable for all skin types
Cruelty-free
Doesn't contain preservatives or gluten
Detoxifies skin
Fights acne
Free of artificial fragrance and color
Vegan
Cons
Might make skin feel 'tight' while drying
Price at the time of publication: $38
Pamper your rosacea-affected skin with the calming and cooling ClarityRx Cold Compress Soothing Cucumber Face Mask. This hydrating and soothing gel gives instant relief to irritated, red, sensitive, or stressed skin. It is infused with plant-based extracts like aloe leaf juice, cucumber extract, and chamomile that refresh your skin and calms down the rosacea effect.
The aloe leaf juice is packed with anti-inflammatory enzymes, vitamins A and C, that can instantly treat acne breakouts, dry skin, and burns. The cucumber extract is rich in antioxidants, ascorbic acid, and lactic acid that give your skin a calming, protective, and soothing effect. Chamomile's anti-inflammatory and antiseptic properties soothe the stress caused on the skin due to acne and other environmental aggressors. This professional-grade face mask helps in protecting your skin from free radicals and irritation too.
Pros
Soothes, calms and heals
Protects from free radicals
Moisturizing effect
Softens the skin
Gel-like texture
Easy to apply
Plant-based ingredients
Fragrance-free
Cruelty-free
Paraben-free
Sulfate-free
Pleasant and mild fragrance
Easy to wash off
Suitable for sensitive skin
Cons
Price at the time of publication: $39
Dr. Schwarzburg, a leading Cosmetic Dermatologist based in New York City suggests, "Opting for a hypoallergenic and fragrance-free mask is ideal for someone with rosacea. Some face masks contain a long list of chemicals, fragrances, and alcohol, which tend to irritate and dry out the skin. This may leave you with more redness on top of the already existing rosacea."
When you find your skin flaring up with rosacea or redness, you're willing to try almost anything that works, isn't it? Allow us to introduce you to the Evercalm Ultra Comforting Rescue Mask from Ren Clean Skincare. This clinically-proven formula is infused with white mushroom extracts to calm the skin down, beta-glucan from yeast to moisturize dry skin and make it less sensitive, and arnica extract to soothe sensitive skin and fight free radicals as well! This pH-balanced, top-notch rosacea face mask, when added to your skin care routine, can help hydrate and soothe your skin for optimum comfort. Minimize redness and be on your way to an even skin tone and healthy, glowing skin with this wonderful rosacea facial mask. However, it is recommended to test the product on a small patch of skin to determine the overall efficacy.
Pros
Evens out skin tone
Moisturizes and soothes irritated and red skin
Gentle on sensitive skin
Cruelty-free
Made with clean ingredients
Travel-friendly packaging
Cons
Price at the time of publication: $50.0
This award-winning redness face mask packs the ultimate comfort and nourishment for dry and sensitive skin. Skin-loving ingredients like calendula, ivy, and arnica packed in this moisturizing formula detoxifies your skin and reduces the appearance of inflammation. Keeping the health of your skin in mind, this professional-grade face mask for redness is formulated without any nuts or gluten. Gliding gently on your skin, the mask feels like a tall glass of water for thirsty skin. Vitamins A, C, and E present in the formula provide antioxidant-rich benefits to amp hydration levels.
Pros
Non-irritating formula
Gluten-free
Vitamin-rich cream
Has a smooth consistency
Calms sensitive skin
Non-greasy
Cons
Price at the time of publication: $34.91
Renew and revitalize your drying and rosacea-prone skin with Dr. Hauschka's Revitalizing Mask that works wonders on all skin types including acne-prone and mature. Trust us when we say that this is one of the best facial masks for rosacea out there as it uses a blend of ingredients like quince seed, anthyllis, and chamomile extracts to increase skin moisture and rejuvenate skin cells. They also work to minimize the appearance of pores and tone down discomfort caused by inflammation and redness. Nurturing oils in this anti-inflammatory facial mask such as jojoba, wheat germ, and apricot kernel smoothen skin and even out the texture.
Pros
Lightweight
Evens out skin texture
Contains natural ingredients
Suitable for all skin types, even mature and acne-prone
Cruelty-free
Reduces the appearance of pores and blemishes
Cons
Price at the time of publication: $35
Now that we have looked at some of the best face masks for rosacea to calm and soothe your skin, let's go over what you should look for in a good mask that fights rosacea and accompanying symptoms.
How To Choose The Best Face Mask For Rosacea
One of the major symptoms in rosacea-prone skin is dryness and to combat this, make sure you're choosing face masks that contain soothing and hydrating ingredients like aloe and hyaluronic acid. Vitamins like A, C, and E provide antioxidant benefits, reduce inflammation and protect skin from the sun. Look for anti-inflammatory ingredients like green tea and licorice extracts, along with ceramides to help soothe distressed skin.
Go for professional-grade products. Since rosacea-prone skin is super sensitive, make sure that the face mask you're opting for doesn't contain any alcohols, fragrance, gluten, mineral or petrolatum oils as they can aggravate the redness and itchiness in your skin. Products without parabens and sulfates are a great option too. Also, conduct a patch test on your skin to steer clear of any reactions.
Dr. Schwarzburg, a leading Cosmetic Dermatologist based in New York City suggests, "You should also speak with a dermatologist or cosmetic physician to confirm that you have no allergies, and to recommend the best mask for your skin type."
Face masks can either be rinsed-off after 20-30 minutes, or can be left on the skin overnight to soften the skin. This is a matter of preference and you can choose whatever you like. Some masks can be used either way and this is helpful since you can use the masks according to how much time you have and how bad your rosacea flare-up is.
Frequently Asked Questions
What is rosacea caused by?
The exact cause of rosacea is not known, but it is speculated to be due to a combination of environmental and hereditary factors. It can either be genetic, or can flare up due to eating hot and spicy foods, alcohol, being in extreme temperatures, or undergoing excessive stress.
Are clay masks good for rosacea?
Clay masks can help manage rosacea symptoms like redness and clogged pores by soothing the skin and drawing out impurities. Masks with healing ingredients like kaolin clay, bentonite clay, and rhassoul are gentle on sensitive skin and redness. Using these masks with ingredients that have antibacterial properties like honey, green tea and turmeric will also be beneficial.
Can you use face masks for rosacea?
Yes, face masks that are formulated with calming and hydrating ingredients such as vitamins, essential oils, clays, and antibacterial components will help ease symptoms and the discomfort caused to the skin due to rosacea.
Do face masks make rosacea worse?
Face masks can soothe rosacea. Look for rosacea-friendly ingredients in the formula like oatmeal, olive oil, shea butter, etc. However, as rosacea-prone skin is sensitive. So, avoid skin care products that contain ingredients like glycolic acid, fragrance, and witch hazel can aggravate and worsen rosacea.
Is green tea mask good for rosacea?
Yes. Green tea contains anti-inflammatory properties that help in soothing the symptoms of rosacea.
Does a honey mask help rosacea?
Yes. Raw honey masks help in minimizing redness and calm down the inflamed skin.
Recommended Articles