10 Best Clear Mascaras Of 2023 For A Natural Makeup Look
Volumize and lengthen your lashes in a few strokes with transparent mascaras.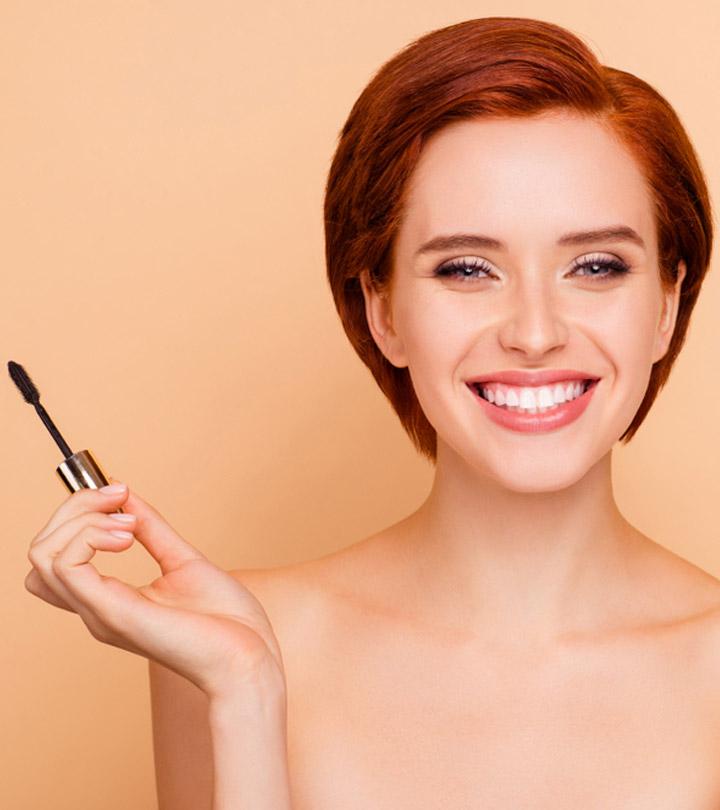 Some people are lucky enough to have long, defined lashes, while others rely on the best clear mascara they can find! Clear gel mascaras are like the fairy godmothers you never had, making scanty eyelashes look classy and attractive and letting your eyes shine without giving away the hint of applied mascara. We don't know how much you like the ultra-black mascaras, but these no-color gels are a must-have in every beauty kit for looking fantastic and keeping your lashes and brows hydrated.
Moreover, if you prefer traveling to the beach, you won't need to wear your sunglasses to disguise your bare lashes because a few strokes of clear mascara will have them ready for Instagram selfies! Finally, if you are unsure how to choose the best clear mascara, we have got a buying guide for you in this article. So, without further ado, let's scroll down to see the top 10 clear mascaras that are both hydrating and clump-free to give you the perfect lashes anytime you want!
10 Best Clear Mascaras of 2023!
On days when you want to skip the makeup routine, a lash separating clear mascara can keep your eyelashes and brows sparkling. This Maybelline clear mascara has a volume-building gel formula that conditions and separates the lashes while giving you an everyday polished look. Safe for contact lens wearers, this conditioning clear mascara is clump-free, flake-free, and will make the lashes look longer without giving away the secret of having used mascara at all. Makeup artist Nyssa Green says, "This has been in my kit as long as the classic black mascara from this brand. It's the OG!"  Check out this YouTuber's review non-clumping clear mascara.
Pros
Adds volume and shine
Lashes look longer
Clump-free and flake-free
Separates lashes, tames flyaways
Hypoallergenic
Ophthalmologist-tested
Cons
It may get flakey.
It does not last long.
Price at the time of publication: $3.75
Even for the no-makeup look, your eyes need some spark, and what's better than this e.l.f-ing good clear mascara! Defining the brows and taming the flyaways,  elf clear mascara is 100% free from all chemicals and will keep your eyelashes moisturized naturally. And since the gel is infused with long-wear conditioning agents, you don't have to worry about touch-ups! This natural-looking clear mascara is a must-try for beginners and those who want to play down on those colored mascaras. You can also check this video out for a brief review of the product.
Pros
Clear conditioning mascara
Tames lashes
Smudge-free and longwear
Free from phthalates, parabens, etc.
Vegan product
Cruelty-free
Affordable
Cons
It might get flaky.
The brushes are small.
Price at the time of publication: $3.0
Unkept and unruly brows are a complete no-no if you are planning an au natural look. Especially on beach getaways or windy days, taming the brows is imperative and that is why you need Anastasia Beverly Hill Tinted Brow Gel! A lightweight and colorless formula that deposits enough to align and accentuate the brows, it also dries quickly without making it feel stiff. To top it all, it lets you decide who's the boss of the brows by keeping the hair in place and giving them a polished and hydrated look.
Pros
Defines, accentuates the brows
Adds volume
Dries quickly
No-stiff feeling
Hydrated and polished look
Lightweight
Cons
Not ideal for curly brows
It's expensive
Price at the time of publication: $22.0
Are you looking for the best clear mascara to nourish your lashes? With seaweed extracts and super-conditioning power, this lash-enhancing clear mascara not only moisturizes the lashes but defines and makes them look longer too. With zero clumps and a non-drying effect, a few strokes are all you need to get the natural look. Ideal for early explorers and those who dislike wearing colored mascaras every day, this lash defining clear mascara by Technic will keep your eyes looking fresh and stunning all day long.
Pros
Intensely moisturizing
Contains seaweed extracts
Clump-free and non-drying
Adds volume and length
Defines and tames lashes
Ideal for medium to thin lashes
Cons
May not work as a primer
Not recommended for curling
Price at the time of publication: $4.49
Did you know your eyelashes need to be moisturized too? Bless them with this lightweight and ultra-nourishing formula that contains vitamin E, A, and provitamin B5. Though this transparent lash enhancer dries quickly, it does not make the hair feel sticky or stiff. Specially formulated to accentuate and thicken the lashes naturally, even on no-makeup days, its long-staying power makes it a go-to as a primer. Protective and guaranteeing a no-clump, zero-flaking, and smudge-free experience, this quick-drying clear mascara by Golden Rose would be a great addition to your makeup kit.
Pros
Ultra-nourishing clear formula
Contains vitamin-induced balls
Protects eyelashes
Non-sticky and smudge-free
No clumps or flaking
Longwear
Cons
It does not curl.
It may not last long.
Price at the time of publication: $6.98
Bid adieu to those unruly eyelashes forever! Cover Girl Professional Natural Lash Mascara promises beautiful eyes with its clear and conditioning formula. Use it to tame the eyebrows or to add volume to the lashes. Also, the volumizing formula is so light that you will barely feel like you have applied mascara which is why many beauty buffs use it as a topcoat over their regular mascaras. But is it safe for sensitive eyes? Absolutely. This eyebrow defining clear mascara is suitable for contact lens wearers and it is ophthalmologist-tested too.
Pros
Lightweight formula
Moisturizing and no-color
Doubles up as topcoat
Safe for sensitive eyes
Contact lens-friendly
Ophthalmologist-tested
Cons
It does not curl the lashes.
Lashes may clump.
Price at the time of publication: $7.71
A makeup-kit staple and one of the best clear mascaras online, Zuzu Luxe Mascara will not disappoint when it comes to giving your eyes a natural glow-up. Water-resistant, this richly pigmented formula will curl, define, and add volume to your lashes without any clump or flake build-up. Yep, no goops to tackle, only sparkling eyes! Plus, the curling clear mascara is smudge-free and clump-free. Giving you the control to use the premium brush for a minimal or a glam look, the lash-lengthening and curl-enhancing formula is safe for sensitive eyes and contact lens wearers.
Pros
Curls, lengthens, and adds volume
Water-resistant
Natural and richly- pigmented
Clump-free, flake-free, and smudge-free
Free from paraben and gluten
Cruelty-free and Non-toxic
Cons
It may not build high volume.
Price at the time of publication: $17.6
Gone are the days when a  color mascara was the only choice to make your eyes look stunning. This multipurpose clear mascara that works effortlessly for both lashes and brows is a no-color gel that you need when you are running out of time to "do the eyes"! Not only will they make your eyes pop, which is better than them look weary but they also add volume and moisturize too. And as for the brows, a few strokes and you have them in control for the day! Ideal for beginners or those looking for cost-effective mascaras, Essence Lash & Brow Gel Mascara is the one for you. Makeup artist Nyssa Green says, "Essence makes some of the best, affordable mascaras and this is another winner!" If you need more convincing, feel free to take a look at this YouTuber's video on the merits and demerits of the product.
Pros
One gel for lashes and brows
Conditions the brows
Adds shine and make lashes look longer
Tames the flyaways
Ideal for beginners
Easy-to-use
Cons
The Physicians Formula Mineral Wear Diamond Mascara is an all-in-one mascara nourishing clear mascara that allows you to adjust your appearance easily. Using lash-strengthening peptides, this mascara gives the appearance of fuller, healthier lashes and brows. The pure diamond dust in it makes for a subtle, enticing finish. Mineral water and vitamin E work together to revitalize dry, brittle eyelashes. This non-irritating mascara has a strong, weightless grip on the lashes or brows. It also primes, conditions, grooms, and tames them and is suitable for sensitive skin.
Pros
High-quality ingredients
Intensely nourishing
Vegan
Cruelty-free
Ophthalmologist-tested
Dye-free
Fragrance-free
Gluten-free
Talc-free
Paraben-free
Cons
Price at the time of publication: $9.33
Not a fan of chemical-heavy cosmetics? Go natural with Dr. Hauschka's Brow and Lash Gel that contains intensely nourishing botanical ingredients like neem. This one-of-a-kind mascara is non-toxic, 100% certified natural, and cruelty-free. More like a moisturizing balm for the eyes, you'll be surprised how stunning your lashes and brows look after the application. Also doubling up as a great base for accentuating colored mascaras, the lashes stay clump-free and you get the desired look in a few good strokes!
Pros
100% certified natural
Intensely nourishing
Adds volume and length
Intensifies colored mascaras
Non-toxic and clump-free
Easy-to-use
Cons
Price at the time of publication: $22.0
Making minimal-look classy again are clear mascaras, and those are the 10 best clear mascara brands of 2023 for you! Need more tips on how to pick the best clear mascara? Check out our buying guide below.
Buying Guide For The Best Clear Mascara
What Does A Clear Mascara Do?
On days when you want to skip the dramatic eye makeup, a clear mascara can be your go-to to get the desired shine and volume. It works exactly like the regular ones; only it is more moisturizing and has no color pigment. Ideally used by women to create enviable no-makeup or dewy looks, clear mascara is also used for moisturizing and making the lashes to look longer.
How To Choose The Best Clear Mascara?
It totally depends on whether you are planning to use it as a primer, base, for the brows or only eyelashes. Look for the following features:
Mascara wands: If you are looking for a clear mascara to curl the lashes go for a curved brush, to add volume pick dense bristles, and if you want to define the lashes go for the skinny brush.
Water-resistance: Opt for a water-resistant or clear waterproof mascara for beach getaways and for them to last all day.
Moisturizing ingredients: An ultra-nourishing gel formula will moisturize your eyes while making them look stunning. Pick a mascara with vitamins or natural ingredients.
Eyebrows: Some clear mascaras work beautifully on brows too; choose the one that can accentuate both the brows and lashes for you.
How To Use Clear Mascara?
Easy! Use it like you would use the regular mascara. However, to intensify the black mascara, you can use the clear gel as a primer too. The no-color non-sticky mascara also doubles up as a top coat and can be used to keep the regular mascara from clumping or sticking.
How To Remove Clear Mascara?
Just like how you would remove your regular mascara, use your eye makeup remover to get rid of the clear mascara completely. Though some of them are moisturizing, they are still cosmetics and should be removed before going to bed.
Move on from those ultra-black mascaras and set those eyelashes and brows the natural way. Dare to go minimal care-free with the 10 best clear mascaras of 2023. And you never know, with the best one in tow, you might never want to go back to the regular mascara again! We hope this list has the best clear mascara you are looking for! If we missed out on a brand or if you have thoughts about this article, write to us below.
Why Trust StyleCraze?
Srijita De, who scribed this post, is passionate about all things makeup. A dash of clear mascara can highlight your long lovely lashes, and no one knows that better than Chaitra. Which is why she went on a quest to find you the best clear mascaras for all-day wear. She researched many products based on their reviews and chose the best depending on how long they last, whether they are smudge-proof and sweat or water-resistant, and more.
Frequently Asked Questions
What Are The Uses Of Clear Mascara?
Clear mascara is used for the following:
To accentuate, add definition and volume to the lashes
To tame the flyaways
To prevent the regular mascara from clumping
It can be used as a primer to add extra oomph.
Is Clear Mascara Better For Your Lashes?
They are preferred mostly to enhance the lashes or brows while creating a minimal or no-makeup look as they make the lashes look longer, and stunning without any added pigment formula.
Is Clear Mascara Noticeable?
A clear mascara has a no-color formula, so unless they are not sticky or flaky, they are mostly unnoticeable.
Can Clear Mascara Damage Your Eyelashes?
Yes, they can damage your eyelashes if you do not pick the one that is compatible with your eyes or does not have the right ingredients. So, if you have sensitive eyes or if you wear contact lenses, check if the clear mascara is safe for your eyelashes.
Can You Sleep With Clear Mascara?
No, avoid sleeping with a clear or any mascara on, as it can be harmful to the eyelashes and eyes. Keeping them overnight can stiffen the lashes and make them fall too, hence why it is necessary to wash off the eye makeup before you hit the bed.
Does Clear Mascara Make A Difference?
Yes, it does make a difference to the eyes. It adds volume, definition and can make your eyelashes look longer naturally. Ideal for creating those no-makeup looks, they are also used as primers and topcoats by beauty junkies.
Recommended Articles