10 Best Physicians Formula Mascaras Of 2021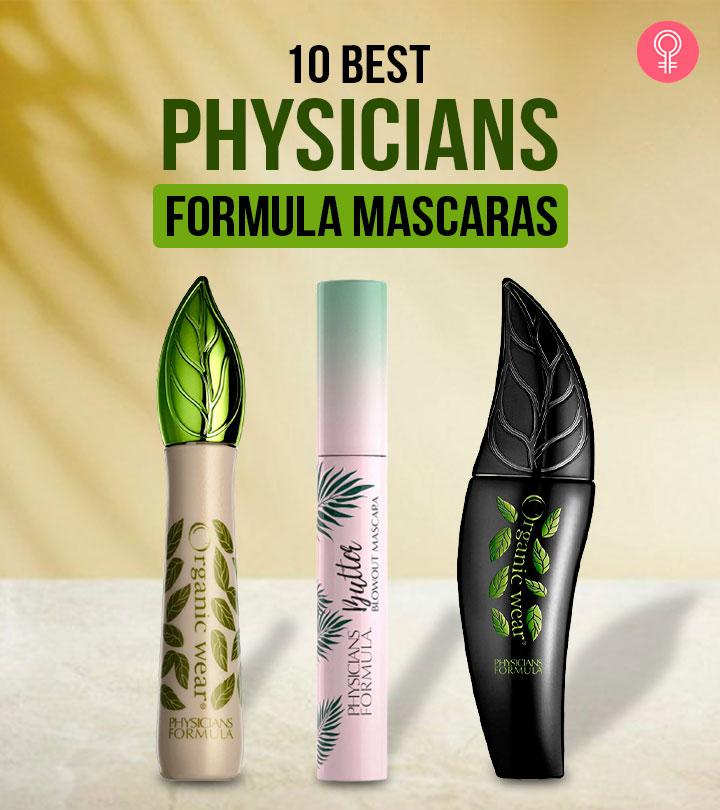 Physicians Formula is a well-known makeup and cosmetics brand. It has secured its permanent spot on the makeup aisles of every shopping center, thanks to its special formulation for sensitive and allergy-prone skin types. The products are eco-friendly and use natural additives to benefit your skin without irritating it. Among their numerous offerings, the mascaras are hugely popular – and for the right reasons.
This article lists the 10 best mascaras from Physicians Formula that will give you gorgeous and fuller lashes and make a great addition to your makeup kit. Scroll down to take your pick(s)!
10 Best Physicians Formula Mascaras
The Physicians Formula Killer Curves Mascara is infused with volumizing collagen that gives you perfectly curled, full lashes. It contains lash-lifting polymers, provitamin B5, amino acids, and peptides that nourish and strengthen the lashes. The built-in brush is hourglass-shaped to coat and set even the tiny lashes on the sides.
Pros
Long-lasting
Smudge-proof
Buildable
Easy to apply
Cons
The Physicians Formula Organic Wear Mascara offers a bold look to your lashes by increasing the volume by five times. It comes with an eco-friendly and recyclable spoolie made of super soft plastic bristles. The brush individually coats and defines each lash. This mascara has 70% organic ingredients that makes it ideal for sensitive eyes. It is also easy to remove.
Pros
Hypoallergenic
Fragrance-free
Smudge-free
No flaking or clumping
Suitable for sensitive eyes
Easy to remove
Cons
The Rosé All Day Mascara offers volumized lashes in just one stroke. This intensely pigmented mascara offers a rich color payoff. It is made from natural additives that condition the lashes and give them a fuller look. This clump-free mascara comes with a non-clumping brush that feathers and curls the lashes.
Pros
Hypoallergenic
Intense pigments
Clump-free
Easy application
Conditioning formula
Cons
The Physicians Formula Lash Mixologist Mascara comes with two brushes that volumize and lift the lashes to provide a bold and dramatic look. This 3-in-1 mascara contains the nourishing vitamin E, strengthening provitamin B5, conditioning seaweed, and film polymers to offer all-day stay. You can customize the volume and length of your lashes as desired. This mascara is loved by users with sensitive eyes.
Pros
Long-lasting
Conditioning
Strengthening
Hypoallergenic
Comes with two brushes
Cons
None
The Butter Blowout Mascara is enriched with provitamins and essential fatty acids to moisturize, soften, and condition the lashes. It also contains luxurious natural ingredients, including keratin, to add volume and length to your lashes. The mascara has a creamy texture, and it delivers dramatic results. It comes with a round bristle brush that coats every lash from root to tip.
Pros
Hypoallergenic
Conditioning
Buildable
Goes on smooth
Cons
The Sexy Booster Va Va Voom Volume Mascara gives you volumized, curvy, and lengthy lashes that will last all day long. It is made of skin-friendly and safe additivities that prevent irritation of the eyes. The mascara contains clinically tested androstadienone, an ancient aphrodisiac, horny goat weed that lifts the lashes instantly, and cocoa extract. It has a mild vanilla scent and comes with a volumizing brush to give your lashes a dramatic look. The gentle formula is suitable for contact lens wearers and people with sensitive eyes.
Pros
Long-lasting
Hypoallergenic
Vanilla scent
Flake-free
Smudge-free
Suitable for sensitive eyes
Suitable for contact lens wearers
Cons
None
The Organic Wear Work It Full Flared Fit Mascara from Physicians Formula is made of 70% organic ingredients and contains a natural blend to volumize the lashes. The triple strength wax blend strengthens the adherence of this mascara and makes it stay intact all day. The quinoa blend protein, carrot, and kale in the formula enhances elasticity, offers hydration, and strengthens the lashes. This organic mascara features a recyclable brush that coats every lash individually to show longer and fuller flared lashes.
Pros
Hypoallergenic
Long-lasting
Easy to apply
Sweatproof
Gym-proof
Water-resistant
Clinically tested
Cruelty-free
Cons
This lash boosting mascara is packed with 70% organic and 100% natural additives to define your lashes instantly. It volumizes and thickens your lashes to reveal a bold look. With regular use, it makes your lashes naturally longer. The mascara comes in a very stylish tube that will add glam to your handbag or vanity table.
Pros
Long-lasting
Hypoallergenic
Ophthalmologist-tested
Cons
Get jet black and fuller lashes with the Sexy Booster Cat Eye Collection Mascara. It comes with a wing-tip brush that offers a curvy and lifted look to the lashes with volumized and dramatic effects. This intensely pigmented mascara is ideal for getting that captivating cat-eye look. It comes with a unique wing-tip brush. Its intense black formula stays intact for 24 hours
Pros
Hypoallergenic
Long-lasting
Suitable for contact lenses
Suitable for sensitive eyes
Cons
None
The Physicians Formula Argan Wear Mascara is blended with 100% pure argan oil that nourishes the lashes and keeps them healthy. It provides a fuller look to the lashes and offers strength, shine, and conditioning effects. This mascara defines the lashes individually to offer a smudge-free and clump-free finish. It comes in a stylish, golden tube that makes for a glamorous addition to your vanity.
Pros
24-hour stay
Hypoallergenic
Smudge-free
Flake-free
Clump-free
Cons
Now that you know the best of the varieties of mascaras from Physicians Formula, let's figure out which one you should get for yourself.
How To Choose The Best Physicians Formula Mascara – Buying Guide
Mascaras come in different formulas that are suitable for different eye needs. For example, if you wear contact lenses or have sensitive eyes, look for a mascara that is contact lens-friendly and suitable for sensitive eyes or is hypoallergenic.
Long-lasting mascaras will require less frequent or no touch-ups. If you have a long day ahead, go for a long-lasting and waterproof formula. However, if you are going out only for a few hours, you can get a simple, regular formula.
The kind of volume you want also matters while selecting a mascara – whether you want a simple, natural look or dramatic lashes. You can go for a buildable formula so that you can customize the volume as desired.
That was our round-up of the best mascaras from Physicians Formula. If you are looking for a volumizing mascara that also nourishes your lashes, go for the Physicians Formula Killer Curves Mascara. On the other hand, if you want a dramatic cat eye, get your hands on the Physicians Formula Sexy Booster Cat Eye Collection Mascara. Grab any of these mascaras and flaunt those gorgeous lashes!
FAQs
Does Physicians Formula make waterproof mascara?
Yes, Physicians Formula makes waterproof mascaras like Organic Wear Work it Full Flared Fit Mascara.
Is Physicians Formula being discontinued?
Some Physicians Formula products have been discontinued to incorporate better formulae.
What Physician Formula Mascara is the best for sensitive eyes?
The Physicians Formula Argan Wear Mascara is the most suitable for sensitive eyes.
Recommended Articles
The following two tabs change content below.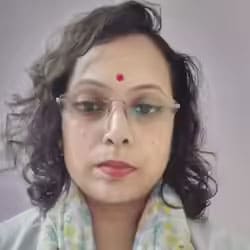 Baishali has a master's degree in English and is an associate editor. She specializes in makeup and fashion and reviews products that fall under these categories. Prior to this, she worked with a digital marketing company in Kolkata where she wrote stories on travel, beauty, and home décor. When she is not working, Baishali loves reading and having intense discussions over a cup of tea.