9 Best Shimmer Blushes Of 2023 You Should Get Your Hands On!
Get your cheeks that extra shimmer of radiance and glow without trying too hard.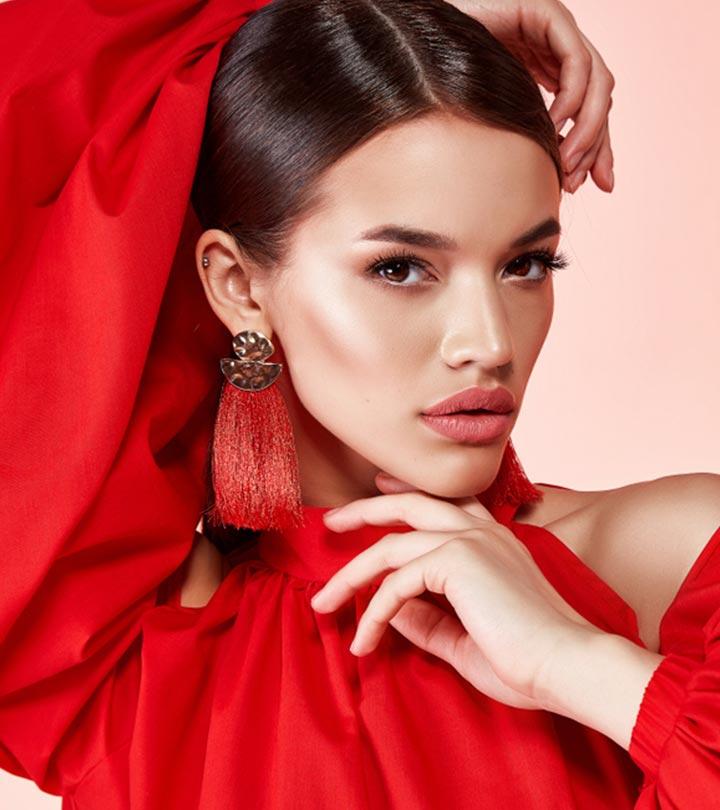 Shimmer blush contains shimmer or reflective particles that are applied on the cheeks. The best shimmer blush makes you look radiant. This shimmer blush can transmit a dewy glow to your face and create a dramatic look when it comes in contact with the right light. Shimmer blush creates a different impact when worn at night, especially for evening occasions. You can also use the shimmer blush as a highlighter to highlight the cheekbones, brow bones, and other high points. But be careful while selecting the shimmer blush as too many reflective particles might catch excess light, and you may end up looking too shiny.
A delicate stroke of shimmer blush makes you look radiant. However, selecting the perfect shimmer blush from the countless products available in the market can be a bit challenging. So, we have put together a list of the 9 best shimmer blushes that blend perfectly with your skin tone.
9 Best Shimmer Blushes Of 2023 For Everyday Wear
Looking for a peach blush that is all things makeup #goals? This pigmented blush is perhaps the best shimmer blush of this season and a necessary addition to your makeup collection. It is specially formulated to provide maximum luminosity but feels quite light on the cheeks. Ideal for all skin tones, this shimmery finish blush is sunbaked on Italian terracotta tiles, which gives your skin a natural and warm radiance with a dash of freshness. It is a great choice for highlighting your cheekbones and is also useful for shaping and contouring your face. It is infused with jojoba seed oil, which contains anti-inflammatory properties that help keep the skin healthy. Check out this video on YouTube for a detailed understanding of the product.
Pros
Sunbaked on Italian terracotta tiles
Available in 12 shades
Radiant skin
Illuminating effect
Buildable formula
Richly-pigmented
Cruelty-free
Vegan
Cons
It may not provide long-lasting wear.
Price at the time of publication: $6.5
This multi-purpose palette is bound to blow your mind! If you are never satisfied with a single color of blush, you should give this palette a shot. It's not just a shimmer blusher, it's also an eye shadow, a highlighter, and bronzer all packaged into one incredible palette. This blush is an amazing skin illuminator and comes with 12 nude shades, such as pink, peach, soft taupe, and sultry plum that seamlessly work together seamlessly to add a burnished glow to your face. You can use each shade on its own, or blend different shades together to achieve a unique and vibrant makeup look. If you're a beginner and can't wrap your head around which shades to try first, trust the application guide to teach you a few cool tricks. If you want to know more about this product, check out this video on YouTube.
Pros
12 shades in 1 palette
All-in-1 palette
Mirror and applicator is included
Satin finish
Hypoallergenic
Paraben-free
Gluten-free
Non-comedogenic
Cons
Some may feel that it is not very pigmented.
Price at the time of publication: $14.99
Makeup professionals often suggest beginners stick to a mauve blush for its versatility. It's suitable for day or night occasions, it adds a distinct splash of color to the face without going overboard, and it complements all skin tones beautifully. When applied right, it can also work as a great shade for contouring. This shimmering blush is infused with nourishing ingredients like pomegranate, white and red tea, sea kelp, and vitamins C and E. The aloe vera leaf extra in the blush keeps your skin hydrated. You can apply this blush in as many layers as you like and also use it as an eyeshadow.
Pros
Contains nourishing and hydrating ingredients
Suitable for all skin tones
Buildable coverage
Complexion enhancer
No artificial fragrances
Available in different colors and matte-finishes
Gluten-free
Cruelty-free
Paraben-free
Cons
It is slightly expensive for the quantity provided.
Price at the time of publication: $14.02
A gorgeous pink blush that provides a truly-natural, luminescent glow, you'll be hard-pressed to find an illuminating blush as pigmented as this one. It boasts of an exceptionally creamy powder formula (suitable for oily skin) that glides on your cheeks effortlessly, leaving behind a healthy flush of color. The superfine pigment particles are not only soft but incredibly blendable as well. This makes it easy to create a multitude of looks while adding layers. Apply a single coat for a subtle and beautiful glow and add as many coats as you want for a dramatic look. Don't worry; it's not going to feel heavy at all.
Pros
Superfine pigment particles
Blendable
Natural sheen
Buildable formula
Subtle shimmer
Cruelty-free
Available in unique shades like purple and yellow
Cons
Price at the time of publication: $6.79
Do you know why most celebrities and professional makeup artists choose a baked blusher? A baked blush is literally baked on terracotta tiles, which makes it creamier than most pressed powders. This shimmer blush by Palladio is not only baked, but is also infused with safflower seed oil, aloe vera extracts, maidenhair, and ginseng root extracts, which takes care of your skin. It also contains chamomile extracts known for its anti-inflammatory properties and vitamin E, which possesses anti-aging qualities. This blush can be applied dry for a subdued look or as a wet formula for a more dramatic evening look.
Pros
Baked powder
Creamy formula
Youthful radiance
Conditioning ingredients
Can be applied dry or wet
Paraben-free
Cruelty-free
Affordable
Cons
Some may find the packaging too small and difficult for a larger brush to pick up any product.
Price at the time of publication: $7.99
Laura Geller Baked Blush-n-Brighten Marbleized Blush is long-lasting and has smooth coverage. It is infused with white tea extract that helps maintain skin health. The creamy texture applies smoothly on the skin and gives excellent coverage. It is available in 12 different shades in pure brightening pigments that highlight dull skin and can be easily blended using a kabuki or angled brush. The standout element is that the blush has multiple pigments in the marble effect, which adds a unique dimension to one's highlights, giving them a candlelit glow. This versatile blush has antioxidant-rich pigments that make your skin glowing and radiant inside and out.
Pros
Suits various skin tones
Adds multi-dimensional finish
Soft-focus effect
Suits mature and dull skin
Long-wearing
Buildable formula
Looks natural
Cons
None
Price at the time of publication: $27.6
Do you sometimes find it hard to choose between a highlighter and a blush? Let's face it, who wouldn't want both? If you bring this multipurpose palette home, you don't have to choose and still get the best of both worlds in one. The palette includes 2 highlighters and blushes so you can strobe like a diva, illuminate your face in the right place, or add a natural flush to your cheek, all with just this palette. The palette is available in different variations, specially curated for distinctly different skin tones, and offers buildable coverage. These high-impact glitter blush shades will go the mile with you offering a long-lasting makeup look.
Pros
Highlighter and blush set
Buildable formula
Strobing effect
Lasts for up to 16 hours
Smudge-proof
Fade-proof
Ultra-pigmented
Available in other variations for different skin tones
Cons
It contains parabens.
It may not flatter all skin tones.
Price at the time of publication: $10.99
With a shimmer blush such as this, your options are limitless. A pastel pink blush that's perfect for everyday wear, this one offers a soft pearlescent shimmer effect. The Warm Rose blush is a luxuriously pigmented formula that is infused with hydrating and nourishing ingredients such as jojoba seed oil and vitamin E. It is made with high-quality ingredients and zero BS (Bad Stuff, for those of you who were thinking about something else). The powder is silky smooth and blendable, which makes it easy to layer up for full coverage. It's paraben-free and hypoallergenic, which means it's safe for people with sensitive skin too.
Pros
Built-in mirror
Smooth consistency
Blendable
Adds warmth
Skin-tone enhancement
Buildable formula
Phthalate-free
Cruelty-free
Talc-free
Cons
Only one layer of application may not be enough for the color to pop.
Price at the time of publication: $20
What's unique about this shimmer blush is its irresistible shade — a delightful peach with just a hint of taupe. Designed by a group of professionals, this smooth-setting formula clings to you without feeling sticky or heavy. It provides a natural flush of color to your face with a single layer of application. If you're feeling bolder on a particular day, go ahead and apply several layers and it will still feel as weightless. Its blendability is incomparable and you need not worry about reapplication or touch-ups as it stays on throughout the day.
Pros
Pigmented
Blendable
Sun-kissed appearance
Can be layered
Long-lasting
Lightweight
Cons
If the blush is not stored properly, it tends to dry up slightly.
Price at the time of publication: $29.62
Before you buy a shimmer blush, you should take a look at these helpful pointers to make the right choice.
How To Choose A Shimmer Blush
Skin Tone
When choosing a shimmer blush, it is important to pick one that complements your skin tone. For those of you who have a light complexion, peach, plum, and baby pink work wonders. If you have medium skin tone you could opt for shades like berry, mauve, and apricot. Duskier beauties could look for colors such as tangerine, deep reds, and rich browns.
Texture
Both baked and pressed powders provide intense color and coverage, however, you want the shimmer blush to stay on your skin without feeling cakey or heavy. This is why you should look for a creamy powder that glides smoothly.
Skin Type
A blush highlights our best features but when it looks heavy or unnatural, it can completely ruin our entire look. If you have oily or oil-prone skin, your best bet would be to find a cheek stain. A shimmer cream blush formula is best-suited for those with normal or combination skin. If you have dry skin, stick to a powder formula.
Blendability
One of the biggest mistakes you can make when applying blush is to not blend it properly. Sometimes, the formula itself doesn't allow super blendability. That is why to make your blush look as natural as possible, pick one that blends well and offers buildable coverage.
How To Apply Shimmer Blush
Step 1: Apply your base first. For any makeup look, start with a foundation and follow it up with a concealer.
Step 2: Apply bronzer if you are going to use any.
Step 3: Sweep your brush over the blush lightly. If you are using a creamy formula, you can make use of a makeup sponge as well.
Step 4: Tap off excess product.
Step 5: Apply the blush to the apples of your cheekbones and swipe it towards your temples.
(A neat tip is to smile while applying blush to the apples)
Step 6: Add another coat if necessary.
Step 7: Using the remaining product on the brush, lightly run it over the bridge of your nose, your forehead, and your neck to make everything look uniform.
Why Trust StyleCraze?
Srijita De, a makeup and fashion enthusiast, has compiled this list of the best shimmer blushes after analyzing several products available in the market based on their user reviews. Chaitra has objectively described each product and mentioned its pros and cons to help you make an informed decision. She has also provided a buying guide to help you select what suits you best.
Frequently Asked Questions
Can I use a shimmer blush everyday?
Yes, you can use your preferred shimmer blush everyday. Make sure that the blush does not cause any harm to your skin.
Is matte or shimmer blush better?
Matte blush is great for regular makeup. However, if you want to make your cheeks glow, then shimmer blush is the right pick for you.
Which is the best shimmer blush for mature skin?
People with mature skin can use Milani Baked Blush or the Physicians Formula Shimmer Strips All-In-1 Custom Nude Palette. The subtle shades in these blushes complement mature skin and lend a glow.
Can shimmer blushes be used as highlighters?
Yes, shimmer blushes can be used as highlighters. In fact, blushes and highlighters go hand in hand and are often used together. Make sure that the blush chosen focuses on the high points of your face.
How long do shimmer blushes last?
Most shimmer blushes last for six to eight hours. Some may last longer depending on your lifestyle and skin condition.
Is a shimmer blush good for dry skin?
No, shimmer blushes may not be right for dry skin. Sometimes, these powdered shimmer blushes are difficult to blend and accentuate your aging signs.
Recommended Articles