9 Best Shimmer Blushes Of 2023 You Should Get Your Hands On!
Get your cheeks that extra shimmer of radiance and glow without trying too hard.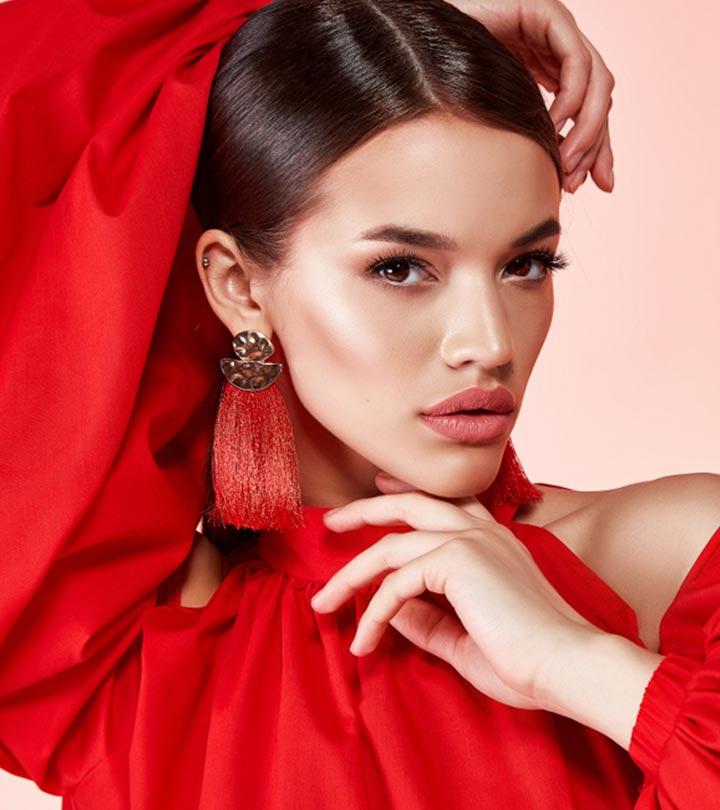 Shimmer blush contains shimmer or reflective particles that are applied on the cheeks. The best shimmer blush makes you look radiant. This shimmer blush can transmit a dewy glow to your face and create a dramatic look when it comes in contact with the right light. Shimmer blush creates a different impact when worn at night, especially for evening occasions. You can also use the shimmer blush as a highlighter to highlight the cheekbones, brow bones, and other high points. But be careful while selecting the shimmer blush as too many reflective particles might catch excess light, and you may end up looking too shiny.
A delicate stroke of shimmer blush makes you look radiant. However, selecting the perfect shimmer blush from the countless products available in the market can be a bit challenging. So, we have put together a list of the 9 best shimmer blushes that blend perfectly with your skin tone.
9 Best Shimmer Blushes Of 2023 For Everyday Wear
Pros
Sunbaked on Italian terracotta tiles
Available in 12 shades
Buildable formula
Richly-pigmented
Cruelty-free
Vegan
Cons
It may not provide long-lasting wear.
Price at the time of publication: $6.5
Pros
12 shades in 1 palette
All-in-1 palette
Mirror and applicator is included
Hypoallergenic
Paraben-free
Gluten-free
Non-comedogenic
Cons
Some may feel that it is not very pigmented.
Price at the time of publication: $17.78
Pros
Contains nourishing and hydrating ingredients
Suitable for all skin tones
Buildable coverage
No artificial fragrances
Available in different colors and matte-finishes
Gluten-free
Cruelty-free
Paraben-free
Cons
It is slightly expensive for the quantity provided.
Price at the time of publication: $14.02
Pros
Superfine pigment particles
Blendable
Buildable formula
Cruelty-free
Available in unique shades like purple and yellow
Cons
Price at the time of publication: $6.79
Pros
Baked powder
Creamy formula
Conditioning ingredients
Can be applied dry or wet
Paraben-free
Cruelty-free
Affordable
Cons
Some may find the packaging too small and difficult for a larger brush to pick up any product.
Price at the time of publication: $7.99
Pros
Suits various skin tones
Adds multidimensional finish
Suits mature and dull skin
Long-wearing
Buildable formula
Looks natural
Cons
None
Price at the time of publication: $27.6
Pros
Highlighter and blush set
Buildable formula
Lasts for up to 16 hours
Smudge-proof
Fade-proof
Ultra-pigmented
Available in other variations for different skin tones
Cons
It contains parabens.
It may not flatter all skin tones.
Price at the time of publication: $10.99
Pros
Built-in mirror
Smooth consistency
Blendable
Buildable formula
Phthalate-free
Cruelty-free
Talc-free
Cons
Only one layer of application may not be enough for the color to pop.
Price at the time of publication: $20
Pros
Pigmented
Blendable
Can be layered
Long-lasting
Lightweight
Cons
If the blush is not stored properly, it tends to dry up slightly.
Price at the time of publication: $29.62
Before you buy a shimmer blush, you should take a look at these helpful pointers to make the right choice.
How To Choose A Shimmer Blush
Skin Tone
When choosing a shimmer blush, it is important to pick one that complements your skin tone. For those of you who have a light complexion, peach, plum, and baby pink work wonders. If you have medium skin tone you could opt for shades like berry, mauve, and apricot. Duskier beauties could look for colors such as tangerine, deep reds, and rich browns.
Texture
Both baked and pressed powders provide intense color and coverage, however, you want the shimmer blush to stay on your skin without feeling cakey or heavy. This is why you should look for a creamy powder that glides smoothly.
Skin Type
A blush highlights our best features but when it looks heavy or unnatural, it can completely ruin our entire look. If you have oily or oil-prone skin, your best bet would be to find a cheek stain. A shimmer cream blush formula is best-suited for those with normal or combination skin. If you have dry skin, stick to a powder formula.
Blendability
One of the biggest mistakes you can make when applying blush is to not blend it properly. Sometimes, the formula itself doesn't allow super blendability. That is why to make your blush look as natural as possible, pick one that blends well and offers buildable coverage.
How To Apply Shimmer Blush
Step 1: Apply your base first. For any makeup look, start with a foundation and follow it up with a concealer.
Step 2: Apply bronzer if you are going to use any.
Step 3: Sweep your brush over the blush lightly. If you are using a creamy formula, you can make use of a makeup sponge as well.
Step 4: Tap off excess product.
Step 5: Apply the blush to the apples of your cheekbones and swipe it towards your temples.
(A neat tip is to smile while applying blush to the apples)
Step 6: Add another coat if necessary.
Step 7: Using the remaining product on the brush, lightly run it over the bridge of your nose, your forehead, and your neck to make everything look uniform.
Why Trust StyleCraze?
Chaitra Krishnan, a makeup and fashion enthusiast, has compiled this list of the best shimmer blushes after analyzing several products available in the market based on their user reviews. Chaitra has objectively described each product and mentioned its pros and cons to help you make an informed decision. She has also provided a buying guide to help you select what suits you best.
Frequently Asked Questions
Can I use a shimmer blush everyday?
Yes, you can use your preferred shimmer blush everyday. Make sure that the blush does not cause any harm to your skin.
Is matte or shimmer blush better?
Matte blush is great for regular makeup. However, if you want to make your cheeks glow, then shimmer blush is the right pick for you.
Which is the best shimmer blush for mature skin?
People with mature skin can use Milani Baked Blush or the Physicians Formula Shimmer Strips All-In-1 Custom Nude Palette. The subtle shades in these blushes complement mature skin and lend a glow.
Can shimmer blushes be used as highlighters?
Yes, shimmer blushes can be used as highlighters. In fact, blushes and highlighters go hand in hand and are often used together. Make sure that the blush chosen focuses on the high points of your face.
How long do shimmer blushes last?
Most shimmer blushes last for six to eight hours. Some may last longer depending on your lifestyle and skin condition.
Is a shimmer blush good for dry skin?
No, shimmer blushes may not be right for dry skin. Sometimes, these powdered shimmer blushes are difficult to blend and accentuate your aging signs.