10 Best Matte Blushes For A Natural Flush On The Cheekbones – 2023
Add a natural glow to your cheeks and achieve a no-makeup look with shine-free products.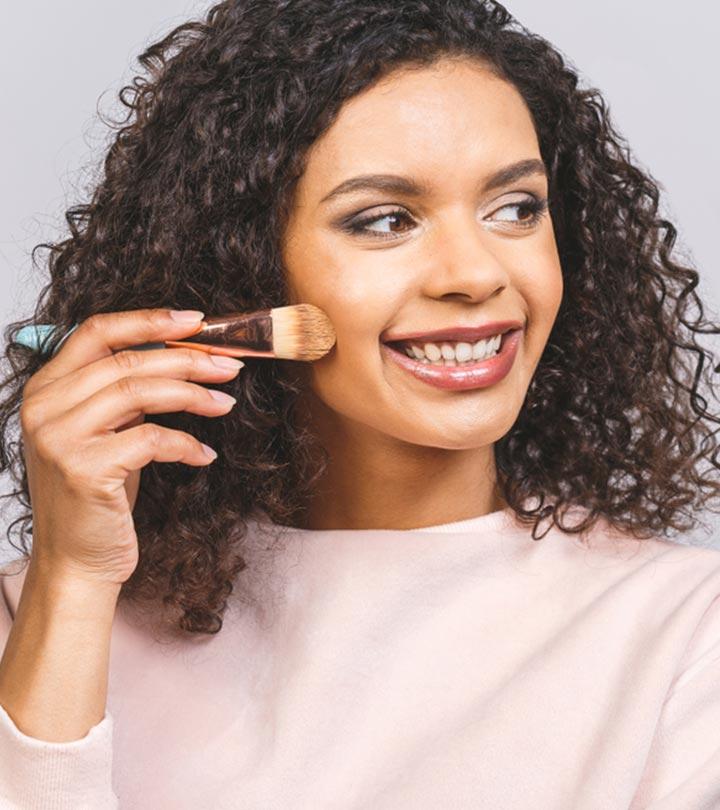 Matte blushes are incredibly underappreciated. Giving the cheekbones a natural glow, it's impossible to tell if you're using one of the best matte blushes or if your crush just strolled by! Not that we have anything against shimmer or gel flushes, but a matte blush, in our opinion, highlights the cheekbones more naturally. Also, the chances of you appearing like a Russian doll with a matte finish are slim to none, so having one in your cosmetic bag is a must. With so many influencers using this magical makeup product to accentuate and flaunt a "no-makeup" look, here's what you must know about the matte blush:
What is a Matte Blush?
No shimmer or shiny reflective, only satin soft and smooth finish— that's a matte blush for you. Delivering a seamless finish on the skin thus making the blush look more natural, it is mostly recommended for oily skin or preferred by those who love to keep the makeup subtle.
Now, are you ready to find the best matte blush shade? For we've lined up 10 best matte blushes for you below:
Read on to know more!
10 Best Matte Blushes Reviews Of 2023
A texture so soft, your cheeks will blush. This super-blendable powder blush by L'oreal is formulated to brighten up your complexion and cheekbones naturally. One of the best matte blushes for oily skin, the formula is oil-free, non-comedogenic, and leaves off a healthy and radiant glow. It is made to match your skin's tone and undertones seamlessly and is available in 12 true-to-you shades too. With included mirror and brush being perfect add-ons, you can blush on your cheeks, foreheads, and nose anywhere, anytime. Learn more about this product in this video.
Pros
Soft powdery texture
Super-blendable
Seamless finish
Oil-free
Non-comedogenic
Available for all skin types
Cons
Delivering a flawless finish both as a blush and as a  lip tint, Stila Convertible Color Cream is a one-stop for those who are always on the go. Subtle, sheer, and richly-tinted, the color adds a natural glow with its creamy yet non-greasy formula. Easy to blend and with a mirror inside, this compact and cute cream-based blush-and-lipstick is what your daily makeup routine needs to keep you blushed for a long time! This video will provide you with added insights about the product.
Pros
2-in-1 Blush and lipstick
Tinted and sheer
Non-greasy
Easy to blend
Compact and travel-friendly
One of the best matte blushes for fair skin
Cons
If you are going to fake that natural blush, do it with perfection. Sweet Cheeks Matte Blush by Nyx Professional Makeup  has an ultra-smooth creamy formula that  delivers a matte finish so natural that you'll look twice to believe if it is real or a blush. Highly-pigmented, you can sweep on the cheeks and the nose bridge for that pink-kissed flush. And given how evenly it blends and sets on the skin, you'll definitely want to try the other colors too that are available in radiant shimmer and matte finishes. Take a look at this video to know more about the product.
Pros
Super-smooth formula
Extra creamy and finely-milled
Flawless matte finish
Highly-pigmented
Blends and sets easily
Cons
Not durable
Light pigmentation
Let all that blush on you be healthy and non-toxic. Han Skincare Cosmetics, a brand known for chemical-free beauty products has this all-natural pressed blush for you. Infused with vitamin E, rice powder, and rich antioxidants like acai oil, fruity extracts, organic shea butter, and organic argan oil, every sweep delivers a healthy glow. And as for the texture? It is buildable, blendable, and satin-soft with the pigment derived from natural plants rather than toxic colorants. A must-try for beginners and sensitive skin beauty experts. 
Pros
Rice plant-based pigment
Builds and blends easily
Soft texture matte finish
Even consistency
Contains ultra-nourishing antioxidants
Non-toxic and free from parabens, synthetic and toxic colorant
Cons
Very light pigment
Expensive
No fine lines or wrinkles, only happy and blushed cheeks! Concealing all the imperfections with a soft matte look, its velvety coverage is a result of the natural ingredients it includes such as the apricot kernel, ginseng root extract, aloe, chamomile extract, kaolin clay, and zinc oxide. Adding a berry pink touch to the apples of your cheeks, it also safeguards the skin from free-radical damage. Making your skin look younger, prettier, and healthier than before, grab this flawless tint today. 
Pros
Conceals fine lines and wrinkles
Protects skin from free-radical damage
Formulated with natural ingredients
Flawless and velvety coverage
Soft and even matte finish
Cruelty-free
Cons
Weak adherence
May not last long
Price at the time of publication: $7.99
One sheer pigment for all your blush-able moments! Go natural, sensual or dramatic, Lorac Color Source Buildable Blush's satin-smooth matte will make you fall in love with this complexion-enhancing shades. Also, it builds and blends easily with a blending brush, giving the skin a radiating touch all thanks to the all-natural and anti-aging antioxidants it includes like pomegranate, acai, and vitamin A, C, and E. 
Pros
Sheer and rich pigment
High-quality buildable blush
Satin smooth matte look
Contains natural and anti-aging antioxidants
Enhances complexion
Cons:
Blending may be difficult
Don't wait for winter to get those pink-pecked cheeks, try Alima Pure Satin Matte Blush instead. Promising a natural flush of color on the skin with its luscious, pure, and satin-matte finish, this compact blush is undoubtedly a keeper. Richly-pigmented with loose-powdery texture, it is non-toxic and free from parabens, sulfates, gluten, synthetic dyes, talc, and other harmful ingredients too. 
Pros
High-impact color
Satin-soft matte look
Easy-to-blend
Non-toxic
Natural flush of colors
Compact and travel-friendly
Cons
Price at the time of publication: $26.0
Like being pampered with choices, how about this 9-in-1 matte blush palette by Vodisa? Assembled for professional makeup artists and easy-to-use for beginners, each pigment is smudge and streak-resistant! Go sheer or create an intense look, this long-wear camouflage blusher is lightweight, deep-pigmented, and guarantees a flawless matte finish. A palette suitable for all skin colors, give your cheeks a different glow every day. 
Pros
Highly-pigmented
Premium-quality blendable blush
Delivers sheer to intense looks
Long-wear
Portable and easy-to-use
Recommended for experts and beginners
Cons
It may be difficult to blend.
Price at the time of publication: $15.99
Give your cheeks the power of two! This blush duo other than delivering you a professional soft and matte look is easy to blend and customizable. Ideal for those who are looking for a rose-kissed effect, this blush is also easy to build with a bronzer and highlighter for a dramatic glow. 100% vegan product and non-toxic, your skin stays protected, flawless, and fabulous all day long. 
Pros
Two blendable shades
Powdery-creamy texture
Easy to build for dramatic effect
Natural and soft matte finish
Non-toxic and skin-friendly
Cruelty-free
Cons
Price at the time of publication: $4.0
Go for this light pink blush if bold and shimmery shades are not your thing. This pressed powder is made with pearlescent minerals that blend beautifully on your skin to give you the desired natural glow. The buttery smooth formula delivers a soft finish, deflecting light away from your imperfections. Apply this on your cheeks and watch it enhance your complexion in no time.
Pros
Hypoallergenic
Velvety smooth texture
Delivers a soft finish
Enhances complexion
Blends well
Cons
Price at the time of publication: $18
Matte blushes are ideal for getting a natural flush on your cheekbones. However, with the number of shades and textures available today, it gets difficult to choose which one is right for you. Check out this buying guide to make it easier for you to choose the best matte blush.
Things To Consider Before Buying The Best Matte Blush For A Natural Flush On The Cheekbones
Make sure you pick the shade of blush that complements your skin tone best. For instance, use shades of peach, nude, and pink if you have fair skin. For people with tanned skin, mauve and orange shades work well. For people with dark skin, deeper shades like brick red, brown, and nude suits.
Keep the formula in mind while buying a matte blush. For instance, if you have dry skin, invest in cream blushes to make your skin look dewy and healthy with a natural flush. However, if you have oily skin, you should pick powder formulations as it doesn't make the skin look shiny or greasy. Instead, it controls the appearance of excess oil on your skin.
Ensure the blush you're buying is manufactured with natural and reliable components. Avoid mineral oils, petrolatum, parabens, sulfates, phthalates, or other harsh ingredients. These substances may clog pores and irritate skin that is already sensitive.
Nobody likes having their makeup touched up repeatedly, especially when they are out having fun or attending an event. Therefore, it's crucial that the matte blush kit you use is of good quality and lasts for a long time. Top up your cream blush with a powder finish for the most long-lasting finish.
Every cosmetic item with shade needs to be well-pigmented, not simply blushed. A high-quality blush usually has a lot of pigment, mixes well, and looks incredibly natural. Additionally, a tiny bit of highly pigmented blush goes a long way.
Go blush confidently, when you have the best matte blush in your makeup kitty. Sweep those cheekbones with one of these gorgeous feel-good shades, and we bet you'll catch yourself smiling all day. We hope this list of 10 best matte blushes makes your shopping experience easier. If you have any suggestions regarding good matte blushes or cheap matte blushes, write to us in the comments below.
Why Trust StyleCraze?
The author, Chaitra Krishnan, is a makeup and beauty enthusiast who loves to review new products in this domain. She is a big fan of using matte blushes and believes that they instantly add a natural glow to your cheeks. She researched and reviewed many products and their user reviews on trusted online forums to curate this list of the best matte blushes for her users. The shortlisted blushes give your makeup a subtle and natural finish.
Happy blushing!
Frequently Asked Questions
Which blush is better – matte or shimmer?
Matte blushes are the best for oily skin. They offer a clean finish that looks neat. Shimmer blushes, on the other hand, offer a nice glow and a shiny effect that is not suitable for oily skin. They also highlight your facial features, especially the cheekbones, and reflect light quite brightly. So, depending on your skin type and the type of finish you are looking for you can choose between a matte or shimmer blush.
Is it okay to use matte blush on sensitive skin?
Yes, many brands offer matte blushes that are suitable for all skin types, including sensitive skin. They offer a non-comedogenic, non-shiny coverage that does not clog pores. Hence, are likely suitable for sensitive skin as well.
Does matte blush last longer?
Yes, matte blushes are highly pigmented and last longer on the skin.
Do you put powder over matte blush?
No, use your setting powder before applying blush. You can also use a setting spray at the end when you are satisfied with your look.
Is matte blush the best for mature skin?
Yes, a good coverage matte blush can help cover pores and fine lines in mature skin. However, apply hydrating base products to avoid looking too dry.
Can you use both matte blush and bronzer?
Yes, but be careful as to choosing the right shade and formulation for your skin types. However, it is not advised for fair/procelain skin tones.
Recommended Articles