15 Best Drugstore Foundations For Dry Skin (2022) – Our Top Picks
Hide all your uneven dry patches with these makeup essentials without breaking the bank.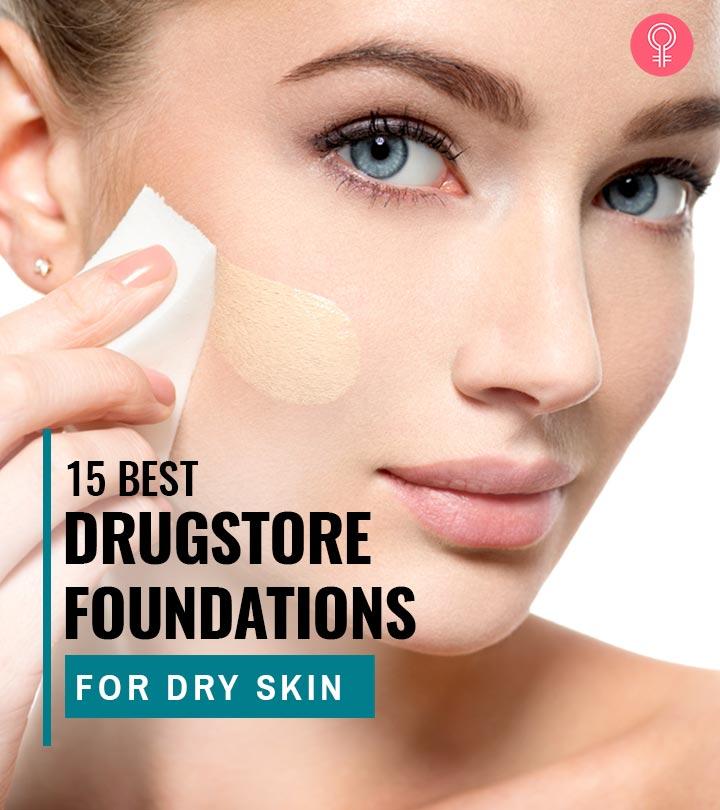 Applying a regular foundation on dry skin can look uneven and flaky. It can also feel uncomfortable and heavy. Knowing this, we have prepared a list of the 15 best drugstore foundations for dry skin that you must consider buying right away. These foundations are designed specifically for dry skin. They cover uneven patches to give you a flawless result and hydrate the skin and add a luminous glow.
These hydrating foundations help enhance the health of the skin further. So, scroll down and check them out.
15 Drugstore Foundations For Dry Skin
The Maybelline Fit Me Dewy + Smooth Foundation with SPF 18 hydrates and soothes skin. It gives skin total coverage and leaves a naturally luminous glow. The lightweight foundation hydrates the rough dry patches and blends well with your skin tone. It is a non-comedogenic formula that mattifies and refines pores. It also leaves a seamless finish. The active ingredient in the foundation is 7% octinoxate, which is an organic acid that filters out the sun's UVB rays and provides a complete shield from sunburn. This foundation is dermatologist-tested and hypoallergenic. It contains glycerin that provides hydration and nourishment. If you want to know more about the benefits of this product, check out this quick review on YouTube.
Pros
Dermatologist-tested
Hypoallergenic
Non-comedogenic
Gives natural, dewy finish
Protects with SPF 18
Hydrates skin
Perfect beauty blender
Maintains natural look
All-day wear
Available in 28 different shades
Cons
Medium coverage
Strong smell
The Revlon ColorStay Longwear Liquid Foundation comes with a Time Release Technology that offers hydration all day long. It is oil-free and balances moisture levels. This liquid foundation wears up to 24 hours with a broad spectrum SPF 20 protection. This foundation formula is blended with 4.4% titanium dioxide and 2% zinc oxide. It protects the skin from UVA and UVB radiation. The foundation is gentle on the skin. It gives a natural finish with a medium to buildable coverage. It is pretty easy to use. Just pump the foundation, blend with a sponge, and your skin is perfectly ready for the makeup. Here's an honest review of the product.
Pros
Provides coverage for 24 hours
Natural finish
SPF 20
Protects skin from UVA and UVB rays
Provides medium to buildable coverage
Oil-free
Moisture-balance
Blends well
Easy to apply
Comes in 24 shades
All-day hydration
Suitable for oily skin
Cons
Consistency could be too thin
The Maybelline New York Dream Velvet is a soft-matte hydrating foundation. It has a unique gel formula that provides medium to full coverage. It easily blends with your skin tone and does not cause drying or roughness. This luxurious, gel-whipped formula is infused with water and glycerin that make you feel fresh and hydrated for 12 hours. The foundation gives you a smooth finish without drying your skin out.
Pros
Gives medium to full coverage
No drying
No roughness
Hydrates skin
Blends easily
Gel-whipped formula
Suitable for combination skin
12-hour wear
Smooth, velvety finish
Cons
No SPF
May settle into fine lines
The Covergirl CG Smoothers Hydrating Makeup Foundation is designed with AquaCurrent Science that provides all-day hydration with a super-moisturizing coverage. The special light-reflecting ingredients instantly minimize imperfections, and cover fine lines and wrinkles. This lightweight foundation blends easily with the skin for a smooth, glossy finish. Silica, dimethicone, and glycerine in the foundation moisturize skin and make it softer.
Pros
Provides all-day hydration
Super-moisturizing
Lightweight
Reduces fine lines
Covers wrinkles and imperfections
Smooth finish
Cons
The L'Oreal Paris Makeup Infallible Pro-Glow Foundation works wonders on dry, rough skin. Its creamy formula goes on smoothly and leaves a dewy finish with a glow that lasts up to 24 hours. This is a lightweight foundation that gives medium coverage with SPF 15 protection. The hydrating formula is made with 3.2% octinoxate that protects skin from UVA and UVB rays. It hides imperfections instantly and leaves you with a healthy, clear complexion. It is available in 12 different shades that easily blend with your skin tone.
Pros
Lightweight
Creamy formula
Hydrates skin
Does not look cakey
Medium to buildable coverage
Covers fine lines
Protects skin from sun damage
24-hour coverage
Cons
Not suitable for fair complexion
Not suitable for sensitive skin
The wet n wild Megacushion Foundation is heavy-duty and lightweight. It adds the right amount of coverage. You can also double-tap to add more for a long-day stay. It blends easily with the skin tone and gives a nice, dewy finish. This high-performing and skin-perfecting formula contains 7% octinoxate, 2.5% octisalate, 6.7% titanium dioxide, and 1.9% zinc oxide that provide broad-spectrum protection from UVA and UVB rays. It is made with coconut derivates and castor oil that boost skin hydration. The foundation makes the skin smooth, shiny, and supple. It comes in an airtight container. It is portable and allows for a hassle-free application.
Pros
Vegan
Broad-spectrum protection
Provides perfect coverage
Hydrating ingredients
Lightweight
Gives a dewy finish
Covers fine lines
Blends easily
Light-diffusing formula
Affordable
Cons
The Milani Conceal + Perfect 2-in-1 water-resistant foundation is a lush, creamy-rich formula that combats under-eye circles, redness, and other skin imperfections. It blends easily with the skin tone and gives a natural-looking finish. This multitasker foundation and concealer give you a bright, bold finish with just one skin-perfecting step. This is a full-coverage foundation that lasts all day to glam your look.
Pros
Water-resistant
Oil-free
Lightweight
Cruelty-free
Medium to full coverage
Provides satin-matte finish
Evens skin tone
Covers imperfections
Covers dark circles
Available in 45 different shades
Cons
Not suitable for skin that is too oily
The Healthy Foundation by Physicians Formula is an ultra-blendable, lightweight, and breathable formula that provides medium coverage with a healthy, smooth, satin finish. This unique formula with a booster infusion of vitamins A, C, and E hydrates skin and provides a flawless, luminous look. The antioxidant blend with SPF 20 protects the skin from the sun and environmental damage. The brightening complex (Chinese Wu-Shu-Yu extract), hyaluronic acid, sunflower seed oil, Mongongo, and Rosemary leaf extract nourish and hydrate skin.
Pros
Hypoallergenic
Fragrance-free
Paraben-free
Gluten-free
Safe for sensitive skin
Infused with natural ingredients
Hydrating ingredients
Non-comedogenic
Clinically-tested
Cons
The Bourjois Paris Healthy Mix Foundation will give your skin a rested, natural glow that lasts for 16 hours. It is an anti-aging formula enriched with fruit therapy extract, and crystalline pigments with hyaluronic acid that nourish and hydrate skin. The power boost of vitamins C, E, and B5 helps treat the skin's imperfections with just a single application. The antioxidant-rich foundation boosts the skin's radiance factor for a fresher-looking complexion.
Pros
Medium to buildable coverage
Lightweight
Contains hyaluronic acid for hydration
Soft and easy to blend
Imparts healthy glow
Flawless complexion
Non-comedogenic
Suitable for all skin types
Available in 12 shades
Cons
The wet n wild Photofocus Dewy Foundation is a weightless, super-nourishing foundation that delivers natural, all-day wear. The silky, creamy, and moisturizing foundation provides medium to full coverage for a flawless finish. This is a 100% cruelty-free foundation that blends seamlessly with the skin tone. It blurs imperfections and helps minimize the appearance of pores. It is available in 20 different shades to match your skin tone.
Pros
Ultra-lightweight
Moisturizing
Delivers medium to full coverage
Long-lasting
Hydrating
Vegan
Gluten-free
Blends easily
Does not make skin look cakey
Cons
The Neutrogena Hydro Boost Hydrating Tint Liquid Foundation boosts hydration and gives a shiny look. This lightweight, oil-free, water-gel formula instantly quenches your skin with hyaluronic acid. The foundation moisturizes, plumps your skin, and reduces fine lines and wrinkles. It is oil-free and non-comedogenic. It makes your skin easy to breathe and gives a long-day coverage. It easily blends with your natural skin tone. It is available in 10 different shades.
Pros
Lightweight
Oil-free
Non-comedogenic
Refreshes skin
24-hour long hydration
Full coverage formula
Plumps skin
Does not settle into fine lines
Cons
The L.A. Girl Pro Coverage is a high definition, long-wear, illuminating liquid foundation. Its lightweight formula gives full coverage and is comfortable for all-day wear. Its added antioxidants make it a perfect makeup product that masks imperfections and also protects skin from sun damage. The antioxidants with glycerin help hydrate and nourish skin, and improve the skin's appearance with a dewy finish. The extra coverage oil-free foundation blends easily with the skin tone. It is available in 15 different shades.
Pros
Lightweight
Oil-free
A long-wear foundation
Illuminating foundation
Provides full-coverage
All-day and everyday wear
Hydrates skin
Provides protection from sun damage
Paraben-free
Cons
Not suitable for extremely dry skin
Thin consistency
The Flower Beauty Light Illusion Foundation is a lightweight, breathable formula that provides a medium to buildable coverage. This light illusion foundation matches seamlessly with your skin tone. It masks all the skin imperfections and leaves skin feeling soft, smooth, and fresh. The broad spectrum SPF 18 protects the skin from sun damage.
Pros
Lightweight
Breathable formula
Provides medium coverage
Hydrating
Protects skin from sun damage
Easy to blend
Light illusion
Cruelty-free
Cons
Not suitable for individuals with olive or yellow skin undertones
The Mary Kay TimeWise Luminous-Wear Liquid Foundation transforms your skin tone to give a brighter and healthier look. It is infused with vitamin E that fights fine lines, wrinkles, and masks all the skin imperfections. The humidity-resistant formula with a blend of peptides makes your skin firm, luminous, younger, and healthier. The blend of jojoba seed oil hydrates skin. The color stays natural for long hours. The foundation is available in 23 skin-perfecting shades.
Pros
Age-defying formula
Reduces fine lines
Corrects skin imperfections
Gives a luminous finish
Suitable for sensitive skin
Hydrating
Keeps your skin fresh for 24 hours
Cons
None
The Burt's Bees Goodness Glows Liquid Makeup Foundation is made with 98.9% natural mineral ingredients that won't compromise with your skin tone and texture. Just a drop of the foundation gives your skin a full-day coverage and hydrates skin all through the day. It is made with meadowfoam seed oil that locks skin moisture and hides all imperfections. This liquid foundation never looks heavy, cakey, or greasy on your skin. It is available in 18 different shades.
Pros
Paraben-free
Phthalate-free
SLS-free
Petrolatum-free
Free from fragrances
Dermatologist-tested
Cruelty-free
Full-day coverage
Hydrates skin
Non-greasy formula
Cons
Difficult to blend
May not give full coverage
These are the best drugstore foundations for your dry skin. These are both cost-effective and hydrating. In the following section, we have summarized how you can apply a foundation to your dry skin.
How To Apply Foundation To Dry Skin 
Start with cleansing, toning, and moisturizing. This preps your skin for the makeup application.
Take a small portion of the foundation, and using your middle or ring finger, pat on your face with light, feathery strokes.
Blend the foundation downward, from the forehead to the chin, using a beauty blender or a sponge.
Depending on the desired finish, you can add a little more foundation by following the above process.
The following section can help you make a wise purchase decision.
How To Choose The Right Product
Your foundation should match the tone of your skin. It should be invisible and blend easily with your skin.
If you want to hide blemishes or skin imperfections, choose full coverage foundations.
Depending on how dry your skin is, choose a natural, radiant, luminous, or dewy finish. Avoid a matte-finish foundation as it may further dry your skin out.
Liquid foundation is best for extremely dry skin. The creamy texture provides hydration to the skin.
Choose a moisturizing foundation that contains hyaluronic acid and vitamin E. These nourish and protect the skin.
Though foundations may usually cause problems with dry skin, the ones listed here are a boon. They not only hide any imperfections, but also hydrate dry skin. Pick the right product from this list. The investment would go a long way in promoting your appearance.
Frequently Asked Questions
How do you get a foundation to stay on dry skin?
You can make the foundation stay on your dry skin by applying a hydrating primer underneath it to create a smooth base. For better results, exfoliate dead skin cells before applying makeup and set your cosmetics with a competent setting spray after application.
Is a drugstore foundation as good as high-end ones?
Yes, drugstore foundations can be as good as their high-end alternatives. They come with gentle formulas at an affordable price range.
Can I apply foundation after moisturizer?
It is not recommended to apply foundation directly after a moisturizer. Apply a primer after your moisturizer and then, follow it with your foundation.
Does dry skin need a primer?
Yes, you can use primer on dry skin. Use a formula with humectants that will keep your skin hydrated while offering a smooth canvas for your other makeup products.
Recommended Articles
Best Drugstore Foundations For Every Skin Type
Best Hydrating Foundations For Parched Skin
Best-Selling Drugstore Full-Coverage Foundations
Best Drugstore Sweat-proof Foundations To Keep Your Makeup Perfectly In Place