11 Best Quick-Dry Nail Polishes For A Smudge-Free Manicure (2023)
Enjoy perfectly finished nails and flaunt the most poppy shades to suit your style.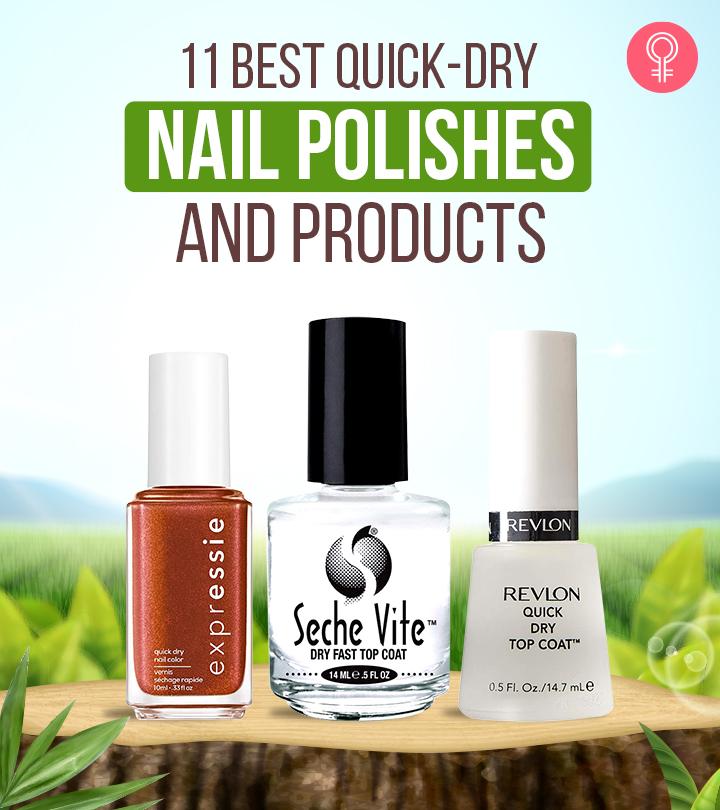 If you love nail polishes but don't have the patience to sit back till they dry, you are at the right place. You will be glad to learn that some of the best quick-dry nail paints can dry in minutes, and some of them even within a matter of seconds. These rapid dry polishes are made with volatile chemicals that absorb the nail polish's solvents and quicken the drying time. When you use such a product, you can rest assured that it won't smear or ruin your manicure. We have carefully prepared a list of the 11 finest quick-dry nail paints on the market. Keep scrolling!
Top Picks
11 Best Quick Dry Nail Polishes And Products Available Right Now
Seche Vite Dry Fast Top Coat is a clear quick-dry top coat. It makes nail polish adhere to your nails and last longer. This quick-dry coat acts as an invisible shield and guarantees a glowing finishing touch. It prevents your nails from staining or turning yellow. It also helps strengthen your nails. It protects the nail color from fading and delivers the plumping effect of a gel. It gives a high-shine finish without the use of a UV/LED light. You can also check this YouTuber's detailed review to know more about the results after using this product.



Pros
Versatile
Quick-dry formula
Long-lasting shine
Easy to remove
No UV/LED light needed
Vegan
Paraben-free
Sulfate-free
Cruelty-free
Triclosan-free
Phthalate-free
Cons

Did you know?
Quick-dry nail polishes have higher solvent (ethyl acetate, butyl acetate, and alcohol) concentrations, which means they will have a higher evaporation rate and, thus, less drying time.
Price at the time of publication: $7.18
Sally Hansen Insta-Dri Top Coat is the best top coat for a long-lasting and chip-resistant finish. Its acrylic polymer formula hardens and dries any nail polish in 30 seconds. Its double-UV filter formula helps protect your nail color and keep it fresh. It prevents fading and yellowing of the nail color and allows it to last up to 10 days.
Pros
Long-lasting
Easy to use
Double-UV filters
Prevents fading and yellowing
Cons
Average quality
Unpleasant alcohol smell
Price at the time of publication: $4.47
OPI Nail Rapidri Nail Polish Dryer is a convenient nail polish spray. It dries nail polish to a smooth, smudge-proof finish in minutes. The quick-drying formula of this spray helps restore the nail polish's shine. It is formulated with jojoba oil and vitamin E that nourish your cuticles. It can also be used to refresh the shine of your nail paint between manicures and make it last longer.
Pros
Easy to apply
Smudge-proof finish
Long-lasting
Scented
Adds shine
Cons
May create a bumpy texture on the nails
Price at the time of publication: $11.39
Poshe Super-Fast Drying Top Coat is a chip-resistant top coat for artificial and natural nails. It dries to the touch in one minute and on the nail in 5 minutes. It protects your nails while enhancing your nail color. It can be applied over nail polish or base coat and is ideal for nail art.
Pros
No UV light needed
Chip-resistant
Prevents yellowing and staining of nails
High-gloss finish
Cons
Very thick formula
Peels off quickly

Fun Fact
Ancient Egyptian women painted their nails, and only those with high social standing were permitted to use darker hues.
Price at the time of publication: $7.75
Essie Expressie Quick-Dry Nail Polish is a fast-drying one-coat nail paint. Its fast-drying formula dries in about one minute. It features an angled brush for easy-application with both hands. Essie has 40 unconventional and trans-seasonal nail colors in a vegan formula in this range.
Pros
One-coat polish
40 unique shades
Dries in about 1 minute
Angled brush for application with both hands
Vegan
Cons
Price at the time of publication: $8.66
Revlon Quick Dry Top Coat is the best topcoat with chip protection and UV filters. It locks color and shine in 30 seconds and improves the wear time of your nail polish. The UV filters in this quick-dry topcoat prevent your nail color from fading. It also protects your nails from yellowing, peeling, and splitting. It glides on smoothly for a flawless finish.
Pros
Sets in 30 seconds
Chip-resistant
UV protection
Prevents yellowing, peeling, and splitting of nails
Long-lasting color
Cons
Price at the time of publication: $5.89
INM Northern Lights Hologram Top Coat is a non-yellowing, fast-drying top coat. The finely processed holographic film particles produce a dazzling 3-dimensional effect. It dries to a smooth touch in 45 seconds and can be removed easily with nail polish remover. This holographic top coat is full of glitter, making it suitable for nail art.
Pros
Holographic effect
Suitable for nail art
Non-yellowing
Micro-blended formula
Long-lasting
Easy to remove
Cons
Price at the time of publication: $8.7
Demert Nail Enamel Dryer is the best non-smearing finishing dryer for manicures on natural and artificial nails. This fast-drying spray conditions your cuticles and nails. It is infused with mink oil and di-panthenol to ensure that your nail polish does not smear.
Pros
Non-smearing
Easy to apply
Suitable for natural and artificial nails
Moisturizes the cuticles and nails
Scented
Cons
Price at the time of publication: $8.0
ella+mila Nail Care Quick Dry Top Coat is a high-gloss quick-drying top coat. It hides the imperfections in the application of the nail enamel. This fast-drying top coat contains a UV inhibitor that prevents the yellowing of nails. It does not contain the harmful chemicals that are commonly found in nail polishes, such as formaldehyde, toluene, dibutyl phthalate (DBP), formaldehyde resin, camphor, TPHP, and xylene. It is also resistant to chipping and peeling.
Pros
High-gloss finish
Hides imperfections
Prevents yellowing of nails
Vegan
Cruelty-free
Cons
Price at the time of publication: $10.49
CND Air Dry Fast-Set Top Coat is a UV-absorbent top coat. This non-yellowing top coat seals and protects your nail color. Its 3-free formula protects your nail polish from chipping and acts as a sunscreen. It also guards against fading and discoloration of nail polish. Thus, it is great for nail art and adhering rhinestones.
Pros
Prevents yellowing of nails
Protects the nail color
Great for nail art and sticking rhinestones
Glossy finish
Long-lasting
Easy to remove
Cons
Price at the time of publication: $20.5
Cote Shop Quick Dry Top Coat is the best top coat with a 2-in-1 formula. It works like a top coat and nail dryer in one. It provides an ultra-shine finish and dries within three minutes. It contains a UV absorber to help prevent nail discoloration. As a top coat, it prevents chipping and fading of your nail paint. It hydrates and seals the nail polish while creating a long-lasting shine.
Pros
Long-lasting shine
Chip-resistant
Prevents nail discoloration
Paraben-free
Gluten-free
Cons
None
Price at the time of publication: $20.95
Choosing the best quick-dry nail polish can be difficult. With so many brands, colors, and formulas to choose from, it can be overwhelming to decide which one is best for you. The segment below will provide some helpful tips to consider when choosing a quick-dry nail polish.
Things To Consider While Choosing A Quick-Dry Nail Polish
Ingredients: Some quick-dry nail polishes offer built-in advantages of nail treatment along with color. Try to find formulas designed to treat issues with nails like weak, brittle nails or ones that include UV protection to prevent fading. If you're cautious about the cosmetics you use, search for brands that don't include harmful ingredients such as paraben, sulfate, triclosan, phthalate, and artificial fragrance.
Color range: It's too much fun to experiment with different colors rather than always using the same shades. Build your collection with a wide shade range of shades so you'll have plenty of choice at your fingertips, whether you favor traditional reds, pinks, neutrals, or modern flashes of color on your nails.
Applicator Brush: Not every nail polish brush works perfectly on nails. To have a chip-free manicure or pedicure, choose a product with an angled brush or one with a greater surface area. Consider the brush's shape as well because both fan and flat brushes have their own advantages and disadvantages. Check out this article to know which brush will be the most helpful for you.
Purpose: There are various factors that can influence your choice of shade of nail polish. For instance, during the summer season, you can look for nudes and neutrals colors, and for the spring season, you can go for pastel colors. For the winter seasons, you can choose darker shades. For small hangouts and short trips, you can go for lighter shades, and for parties and weddings, you can choose glitter or darker shades.
Durability: Quick-dry nail polishes are known for their fast drying time, which makes them less prone to smearing. But it's also important to consider their durability. Look for polishes that have long-lasting formulas that can withstand chipping and peeling for several days.
If you love wearing nail polish but dread sitting for minutes to let it dry, you need the best quick-drying nail polish. These quick-drying nail paints can dry in a few minutes or even seconds. They are enriched with volatile chemicals that get absorbed quickly. In addition, these nail colors have a vegan formula devoid of synthetic toxins like sulfates, parabens, and phthalates. You do not have to worry about smudging with these instant-drying nail colors.
Why Trust StyleCraze?
The author, Baishali Bhattacharya, is a certified image consultant and certified in makeup techniques. She agrees that selecting a nail polish that dries faster can be a tricky task! That is why Baishali has carefully researched and reviewed many quick-dry nail polishes in this list and created the final article for her readers. Her recommended nail colors dry in a matter of seconds and ensures a proper manicure at home.
Frequently Asked Questions
How long does quick-dry nail polish last?
Quick-dry nail polish lasts up to 10 days.
Does quick-dry nail polish dry out your nails?
No. Quick-dry nail polish is free of synthetic toxins, such as sulfates, parabens, and phthalates, that keeps the nails healthy and nourished.
How long does it take for nails to dry with quick drying?
It takes 2-3 minutes for nails to dry with quick drying.
Does a quick-dry nail polish chip faster?
Yes. Quick-dry nail polish chips faster because it dries faster. It does not stick to the nails as well as other nail polishes.
How do I know if my nail polish is dry?
Dip your nails in cold water and let them be there for 5 minutes. Water will drip on top of the nail surface as you remove your hands or feet from the water, indicating that the polish is thoroughly dried.
The following two tabs change content below.