11 Best Chrome Nail Polishes That'll Give Your Nails A Runway Glow!
Chrome nails are a rage in fashion for their futuristic, striking looks.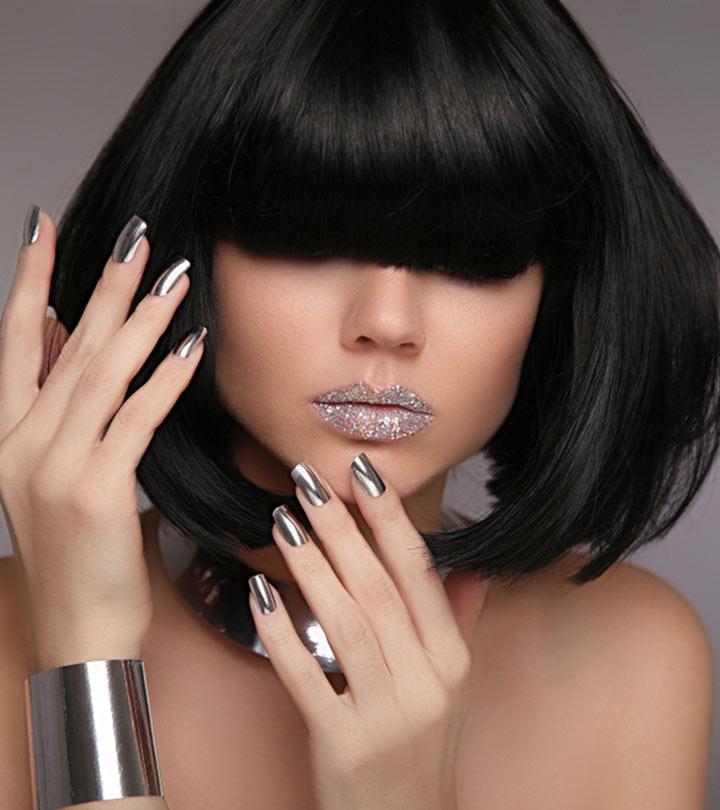 The best chrome nail polish is your ultimate destination when you go out looking for tough, shiny, and edgy nail colors that instantly elevate the way your nails look. Once you try chrome nails, we bet that you can't go back to those mainstream nail colors anymore. These uniformly shiny nail colors offer you mirror nails and look chic at the same time so that you can choose gorgeous-looking shiny nails without any second thoughts.
Chrome manicures follow in the footsteps of holographic highlighters and lipsticks to take your beauty routine to another level. The mirror-like finishes of these manicures with psychedelic finishes are undoubtedly the edgy alternative to rainbow hues. You can pair these chrome nail lacquers with your regular wear outfits or partywear when going out for parties or any other occasion. We have lined up the best choices to help you choose the shades that will flatter you most. Keep reading to check out our curated list!
Style Your Nails With The 11 Best Chrome Nail Polishes Of 2023!
Neither loud nor tacky, this golden nail polish is vintage-looking color suitable to pair with daily wear. Gone are the days when goldens were set aside for parties or special occasions. Also, this shimmering chrome nail polish gel by Sally Hansen is making salon-worthy manicures possible at home. Easy to apply and remove, add this glossy antique gold to your nail collection ASAP. When paired with Sally Hansen's top coat, it can stay put for up to 8 days! It's also chip-resistant and available in over 40 shades in matte and shiny finishes. Watch this YouTuber's honest review to get a better idea about the product and its features.
Pros
Long-lasting for up to 8 days
Requires no UV/LED light curing
Chip-resistant
Seals in moisture
Soak-free removal
Cons
May not last long without a top coat
Price at the time of publication: $5.15
One word — mesmerizing! This amethyst smoke lacquer with a holographic and metallic effect will make you a fan of the color instantly. And what makes this chrome metallic nail polish unique is the anti-fade technology that'll keep this cosmic-inspired color fresh and vibrant on your nails for long periods. Formulated without ingredients like formaldehyde resin, camphor, toluene and dibutyl phthalate, this nail lacquer glides on smoothly and offers a bubble-free finish.
Pros
Bubble-free formula
Glossy finish
Easy to apply and remove
Free from formaldehyde, toluene, camphor, and DBP
Suitable to apply on natural nails, acrylic nails, fake nails, etc.
Cons
Some may find the consistency slightly runny
Price at the time of publication: $2498
Shifting shades with a jaw-dropping metallic hue, this multichrome nail polish will make you wow out loud with every sweep! Easy to apply and long-lasting, this nail paint has a distracting charm that'll catch the eyes of those around you instantly. And the fun part, it pops a new color at a different angle! Don't believe us? Try it to experience this fun and glamorous combo. For best results, you can apply 3 coats of this nail polish or a single coat of it over black nail polish.
Pros
Dries quickly
Suitable for all nail types
Free from formaldehyde, toluene, and DBP
Features a flat precision brush for smooth and quick application
Cons
The lacquer may not come off easily.
Price at the time of publication: $11
Don't mind exploring bold colors? Try this shocking pink with a color-shifting effect; we dare you! With an ultra-glam metallic and chrome effect making it stand out, it's perhaps not the color for conscious souls in the crowd. High on quality and delivering a salon-worthy exquisite finish on the nails, get ready to enjoy a shower of compliments (and envy stares) with this metallic chrome nail polish. The best part is that it is fully opaque and doesn't require a base coat.
Pros
Quick-drying formula
Color-saturated
Requires no base color or curing
Vegan
Cruelty-free
Cons
Some may find the colors darker than expected
Price at the time of publication: $12.5
With a mirror effect, this silver chrome nail polish's unmatched glamour will have you at its mercy. Classy, trendy, and the shiniest nail polish to have ever been created, who needs accessories when this super bright lacquer can add a bling to your outfits effortlessly. Also, it transforms the nails with a stunning glow-up, and the formula is non-toxic and environment-friendly. Need a quick tip? Wait at least 3 minutes after applying a base coat before trying this nail polish.
Pros
Scratch-resistant
Cruelty-free
Vegan
Easy to apply and remove
Contains healthy ingredients
Cons
You may need to apply at least 3 coats
Price at the time of publication: $5.69
It's perhaps safe to say that there's no satisfying a nail enthusiast, right? A chrome for all your moods and outfits, with this set in your makeup pouch or vanity, your nails will never have a dull moment! Packed with iridescent holographic specks, every sweep delivers an effect, which is laser-like and ultra-smooth. The colors are vivid, high-quality, and long-lasting! Moreover, if you are looking for a gift to surprise your chrome-obsessed buddy with, this holographic chrome nail polish would do just the trick.
Pros
Glossy finish
Easy to apply and remove
Fall-proof
Wear-resistant
Chip-resistant
Environment-friendly
Cruelty-free
Cons
May need several coats and may take a long time to dry
Price at the time of publication: $15.99
If your tips need a shimmery makeover, the LONDONTOWN Lakur Nail Lacquer is the right pick for you. This color is stunning and goes well with everything. It's a unique color, a one-step polish that stays long on your nails. It is infused with natural elements such as grapeseed flower oil, evening primrose oil, cucumber extract, chamomile extract, and vitamin E to nourish and strengthen your nails. Up your glam quotient by using this shimmering beauty!
Pros
Vegan
Breathable
Gluten-free
Cruelty-free
High-pigment formula
Contains moisturizing and strengthening botanicals
Glossy finish
Cons
Price at the time of publication: $16
You don't have to be a nail artist to explore an ultra-chic holographic effect. Just sweep and cure this easy-to-use gel on your nail bed, and voila, your fingers are ready to hit the red carpet! Also, with the rainbow specks adding drama and shine to your entire look, this champagne gold lacquer is all you need to shine at those galas and ritzy parties. Want more? It is long-lasting for up to 21 days! It's so ultra-pigmented you'll keep asking yourself why you never tried it out before!
Pros
Non-toxic
Non-sticky
Low odor
Suitable to apply on natural nails, fake nails, acrylic nails, etc.
Cons
Can't be air dried and needs to be cured under UV/LED lamp
Price at the time of publication: $7.99
Whether you are getting ready for the office or for a special night out, Nail Lacquer is the perfect accessory to pair for your nails that you can pair with your outfit and makeup. It is OPI's original nail polish formula that glides smoothly on your nails and lasts long. The metallic silver nail polish provides a gorgeous, timeless look to any outfit, event, and mood. For extended periods, wear a base coat and top coat.
Pros
Fast-drying formula
Can last up to seven days
Chip-resistant
Smooth application
Even coverage
Cons
None
Price at the time of publication: $11.5
What makes Zoya's silver chrome nail lacquer unique? It's sparkly, metallic, and safe for the nails. Yep, no more yellowing or brittle nails! Making the classic silver new and trendy again, Zoya's Trixie is hitting it out of the park with its stunning metallic finish that goes on smoothly and is long-lasting. Also, it is an ideal gift to giveaway for baby showers because they are pregnancy-safe. Indulge already as it is free of camphor, toluene, parabens, lead, DBP, and more harsh chemicals.
Pros
Chip-resistant
Low on odo
Non-toxic
Wear-resistant
Dries quickly
Cons
May not offer long-lasting wear
Price at the time of publication: $10
Another silver, but sassy and with a different shine! Make your nails pop with this ultra-glossy silver by Essie. Formulated to provide full coverage with every use, it leaves a finish so flawless that your squad will wonder if it's real or fake nails. Easy to apply, it's also making mani-pedi sessions salon-worthy at home. Do not miss this sparkler by Essie. This video will give you a better insight into the product.
Pros
Long-lasting formula
High on durability and gloss
Free from toluene, DBP, and formaldehyde
The precision brush ensures streak-free application.
Cons
Price at the time of publication: $8.05
Let your chrome and metallic obsession take over already! There you go, those were the 11 best chrome nail polishes that are must-try for nail enthusiasts this season. Do you still need assistance with choosing the best or need more tips about chrome nail polish? Check out our buying guide below.
How To Pick The Best Chrome Nail Polish?
The shine may distract you, but here are some features you must look out for before buying:
A substandard nail polish can be damaging for the nails, or worse, turn them yellow. So, before you buy, check if the formula is free from harsh chemicals, especially parabens, formaldehyde, camphor, toluene, DPB, and more.
Chipping and smudges can turn nail paints from terrific to tacky in seconds. So, to avoid embarrassment, pick a formula which is long-lasting, chip-resistant, and smudge-proof for the best experience.
The umpteen chrome fusion options can be confusing if you are a beginner, but not anymore. Nail polishes with chrome effect have a stunning mirror-like metallic finish. Holographic and chrome nail polishes have a metallic effect with rainbow specks to add drama. Glossy and chrome nail polishes have shimmering and sparkly particles fused with a metallic effect to deliver a flawless shine.
If you like following nail trends, here are some season-based trending colors you can try. For summers chrome silver, pink, rose gold, champagne gold, and antique will make your nails look hotter than the heat. During the winter you can keep it cool and trendy with grey, burgundy, white, green, blue, and wine!
How To Remove Chrome Nail Polish?
Similar to how you would remove gel nail polish at home. You will need cotton balls, acetone, aluminum foil, and a nail groomer. Here are steps for beginners:
Buff the shine off if you have used a chrome powder.
Next, soak a cotton ball in acetone and place it on your nail bed.
Do not cover your entire fingertip, only the nail bed, as acetone can be drying for the skin.
Wrap aluminum foil around the fingertips and let it sit for 5-7 minutes.
Once done, remove the aluminum foil and with a nail groomer, gently scrape out the nail paint.
Lastly, you can use an acetone-soaked cotton ball to wipe off the residue, if any, and then follow up with hand cream.
Why Trust StyleCraze?
Chaitra Krishnan, the author, is an avid makeup fiend who loves staying on top of chic trends like chrome nail polishes. She has you covered, suggesting various chrome nail polishes with a variety of colors such as gold, blue, and amethyst. All the products mentioned here have been researched and reviewed. She recommends these chrome nail polishes based on their color payoff, quick-drying property, ease of use, and absence of harmful ingredients.
Frequently Asked Questions
How long does a chrome nail polish last?
It depends on the type of chrome nail polish. Regular chrome nail polishes can last for up to 2 weeks if maintained and touched up frequently. However, gel chrome nail polishes can last for up to a month.
How does a chrome nail polish work?
A good sweep of a chrome nail polish will deliver a metallic finish and illuminate your nails with its iridescent glow. Some chrome nail polishes contain holographic specks to leave a rainbow effect with every use.
Can you do chrome nails with regular nail polish?
Yes, you can do chrome nails with regular nail polish. Apply two coats of regular nail polish then tap the chrome powder into the nails and spread the powder fully into the nail. Apply a top coat so that the powder stays in place.
Do you put a top coat over chrome nails?
Yes, use a regular top coat to complete your chrome nail manicure. But a no-wipe gel top coat will give you a premium look.
Can you use eyeshadow as chrome powder for nails?
Yes, eyeshadows can give you a velvety, metallic finish to the nails transforming them into chrome nails.
Can you use chrome polish on top of regular nail polish?
Yes, you can use chrome nail polish on top of regular nail polish.
Recommended Articles: