11 Best Nail Polish Colors For The Toes To Look Absolutely Stunning – 2022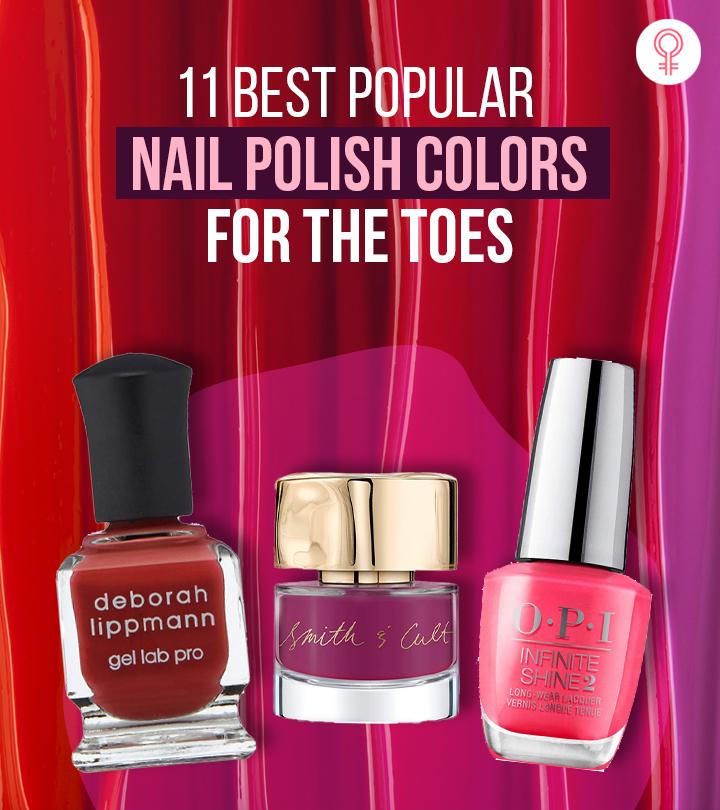 When you show your hands so much love, why not get the best nail polish for toes to give them some love as well? It is not always essential for your fingernail polishes to suit your toenails perfectly. That is when our list of some of the most beautiful shades that can compliment the look of your toenails and transform them to look absolutely stunning. Read on to find out more!
11 Best Cute Nail Polish Colors For TheToes
This5-free, highly pigmented nail polish from tenoverten offers a long-lasting finish with just one coat. It helps in promoting stronger and healthier nails. This nail polish is formulated with horsetail leaf extract and vitamin E to keep your nails hydrated. The essential oils and aloe in the formula make your skin and nails look better and gorgeous. Austin is a dusty blue shade that leaves your nails with a shiny finish. This nail paint is easy to apply and remove.
Pros
Chip-free
Five-free
Highly pigmented
Cruelty-free
Paraben-free
Formaldehyde-free
Phosphate-free
Cons
The long-lasting formula of the JINsoon Nail Lacquer allows for smooth application and a glossy finish. This 10-free formula is non-toxic and crafted without chemicals like xylene, ethyl tosylamide, and triphenyl phosphate. It is infused with highly consistent polymers and resins, which allow the nail paint to last longer and increase its shelflife. Muse is a sheer pink shade that delivers brilliant color and a lasting pedicure. The scientific formula with UV filters protects your nails against fading.
Pros
No chipping
Paraben-free
Cruelty-free
Formaldehyde-free
DBP-free
Camphor-free
Lead-free
Cons
This fast-drying nail lacquer is designed to suit all skin colors. The olive green shade from essie expressie transforms your nails and makes them look beautiful in just 10 minutes. The highly pigmented nail polish provides actual color opacity in just one coat. This 8-free blend is created with high-quality ingredients. The angled brush allows easy application with both your hands. 
Pros
Fast-drying
Vegan
Cruelty-free
Formaldehyde-free
Phthalate-free
Camphor-free
Phosphate-free
Cons
The Smith & Cult Nail Polish promotes beautiful, strong nails as it has an 8-free formula, i.e., it does not contain butyl phthalate, toluene, formaldehyde, formaldehyde resin, xylene, ethyl tosylamide, camphor, and diphenyl phosphate. Analog Fog is an opaque plum shade that delivers even and smooth coverage to brighten up your toes with a glossy finish. The beautiful bottle looks fancy on your makeup counter. The ultra-adherent quality of this lacquer prepares your nails with a smooth finish and maximizes the life of your pedicure.
Pros
Chip-resistant
8-free
Long-lasting
Even application
Vegan
Cruelty-free
Cons
The Zoya Professional Lacquerin Bee is a pastel yellow nail polish that highlights your toenails with its gorgeous shade. The pastel shade suits all skin tones, and its creamy formula glides smoothly on your nails for a long-lasting finish. The biodegradable formula is never tested on animals and does not contain gluten, soya, or artificial fragrance.
Pros
Toluene-free
Formaldehyde-free
Camphor-free
DBP-free
Paraben-free
Xylene-free
Ethyl tosylamide-free
Lead-free
Cons
This nail lacquer by Orlyhas a highly pigmented formula that provides flawless coverage in just two coats. Put The Top Down is a pink neon shade that flatters any skin tone. The 12-free formula is free of harsh chemicals like ethyl tosylamide, xylene, gluten, and toluene. It has a patented gripper cap that makes it easy to open the bottle. The brush with 600 bristles ensures a smooth application. This no-chipping nail polish does not smudge and allows longer wearability.
Pros
Chip-resistant
12-free
Highly pigmented
Vegan
Cruelty-free
Paraben-free
Phthalate-free
Formaldehyde-free
Camphor-free
Cons
None
This gel-based nail polish from O.P.I is long-wearing and gives your nails a glossy finish. Strawberry Margarita is a rich pink shade that adds dimension to your nails. The highly pigmented formula has a smooth texture that glides on your nails without smudging. It is designed with Pro-Stay Technology and remains glossy and vibrant on your nails for a long time. This nail paint is a three-step system that uses primer, color, and gloss to provide longevity and shine.
Pros
Chip-free
Lasts up to 11 days
Easy to apply and remove
Cons
None
This liquid-based nail lacquer from essie is designed to give your toes a striking look. Bikini So Teeny is a sparkling periwinkle blue shade that gives a new dimension to your toenails with a subtle glow. The easy glide brush fits all nail sizes to offer even application. The salon-quality formula provides flawless coverage to your nails with long wearability.
Pros
Chip-free
Easy to apply
DBP-free
Formaldehyde-free
Toluene-free
Cons
The ella+mila Love Nail Polish is designed to deliver even coverage that leaves your nails with brilliant shine. Honeymoon Bliss is a subtle pink shade with a natural hue to add dimension to your nails. The 7-free formula does not contain toluene, formaldehyde, DBP, formaldehyde resin, and camphor. You may check this video for a better understanding of this product.
Pros
Chip-free
Quick-drying formula
Long-lasting
Cruelty-free
Vegan
PETA certified
Cons
The good. kind pure Vegan Nail Polish by Sally Hansen is formulated with plant-based ingredients that promote strong and healthy nails. The potato, corn, sugarcane, and wheat in the formula allow for strong adhesion and long-lasting stay. The 16-free, non-toxic formula does not contain formaldehyde, formaldehyde resin, toluene, xylene, acetone, camphor, ethyl tosylamide, or triphenyl phosphate. The brush is designed with natural plant-based bristles that glide smoothly on your nails for easy application.
Pros
Chip-free
Smooth application
Vegan
16-free
Cruelty-free
Cons
The Gel Lab Pro Nail Paint by Deborah Lippman is a 10-free formula that is non-toxic and gives you healthy and strong nails. It infused with biotin, evening primrose, keratin, rice protein, aucomiea, and green tea extract to promote nail health. Other ingredients like Nonychosine F and bamboo ensure the nail polish is long-wearing and chip-resistant. The nylon and carnauba wax in the formula promotes long-lasting color and shine. I'm My Own Hero is a light mauve shade that goes on smooth. This video review will help you learn more about the product.
Pros
10-free
Long-lasting
Chip-resistant
Vegan
Cruelty-free
Cons
Why Trust StyleCraze?
Baishali Bhattacharya is certified in makeup artistry and loves reviewing and exploring beauty products as they hit the shelves. She did exhaustive research, checked user feedback and product specifications to curate this list of the best nail polish colors for toes. The author has also added a buying guide to ensure you match your nail polish with the right outfit of your choice. Her recommended products are long-wearing and chip-resistant and offer a smooth finish.
Recommended Articles