11 Best Yellow Nail Polishes To Wear This Summer
Grab the perfect yellow shade for your nails and nail your fashion game all summer long.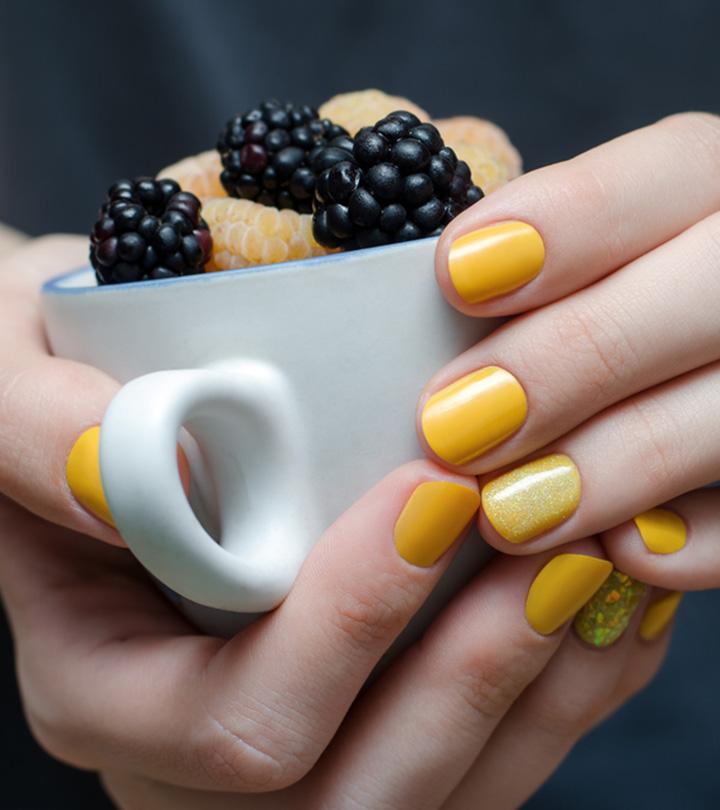 Yellow is one of the most energizing colors, making it an excellent choice for summer and spring as it gives your nails an instant faux glow. So, if you love the hue on your nails, you should consider getting the best yellow nail polish in the shade that you love, as you are most likely to keep wearing it all the time!
If you haven't become a fan of yellow nail polish yet, it is most likely because you haven't found a shade that looks fantastic on you. Don't worry about missing out on the trend, though. We have got you covered with our selection of the 11 best yellow nail polish in various hues that will add a warm glow to your nails. Keep scrolling!
 Top 11 Best Yellow Nail Polishes For Every Occasion
If you think that finding the right shade of yellow is a struggle, you might want to consider this nail polish by essie. This is a quick-dry nail polish with high-shine formula. The nail polish dries within a minute and doesn't chip or flake for 2-3 weeks. Plus, it comes with an angled brush for easy and convenient application. The color and shine will remain intact for weeks and won't fade.
Pros
Vegan formula
No double coats needed
Highly pigmented
Balanced consistency
Glittery finish
Cons
Some may not like the strong odor.
Price at the time of publication: $9.0
If you are looking for a dramatic neon yellow nail polish, this one is the right choice. This soak-off gel polish comes in a pack of 2. One is a regular yellow nail polish, and one bottle features a gel. The nail polish is opaque, and so you don't have to apply multiple coats to make it pop. The gel nail polish cures and dries quickly under the UV or LED lamps. The application is effortless and works well with different nail types.
Pros
Long wearing nail enamel
Chip-resistant
1-step application
Vibrant and intense shade
No chemical fumes
Cons
Some may not like its thick consistency.
Price at the time of publication: $9.7
This nail polish from essie will have you summer-ready in no time as it comes in a chirpy shade of golden yellow. This country-style inspired nail polish features a metallic finish and offers opaque coverage. The nail paint comes with an easy glide brush for an even and quick application. Thus, if you are looking for a breathable and high-impact yellow nail polish, this one is worth giving a try.
Pros
Dries in a minute
Dual-chrome look
Chip and flake-free nail polish
Balanced consistency
Good shelf life
Cons
Multiple coats may be required.
Price at the time of publication: $7.88
China Blaze offers a pale yellow nail polish with a strong orange base perfect for spring and summer. This long-wearing nail polish once applied, lasts for weeks without fading. It features a non-thickening formula and looks opaque on the nails. The nail polish comes in a simple and air tight bottle to ensure that it doesn't dry up in the bottle easily. Moreover, it is free of toxins and harmful compounds.
Pros
Dries off quickly
High-quality brush
Has a mild scent
Non-toxic nail lacquer
Fit for acrylic, natural, fake, and gel nails
Cons
Price at the time of publication: $6.5
This nail polish by Zoya offers a smooth application and glossy finish that is the stuff of dreams! Its shine lasts for weeks and it is note-worthy that it is made using skin-friendly ingredients. It is formulated without harsh compounds, is vegan-friendly, and makes it one of the best choices for pregnant and health-conscious women. Plus, it is fade-proof and won't crack.
Pros
Free from lead, camphor, and parabens
Long-wear nail polish
No side-effects
No UV or LED lamps required for drying
Has minimal odor
High-quality, glossy formula
Cons
May chip if not used with a base coat.
Price at the time of publication: $10.0
A light and soft pastel nail polish are ideal for any season, just like this one. This gel polish comes in a 15 ml bottle and is made using harmless and non-toxic resin to protect your nails from discoloration and damage. The nail paint lasts for 2-3 weeks without chipping or fading. Ideal for manicures and pedicures, this is the ultimate pastel yellow nails, that you can wear on a regular basis.
Pros
Light-resistant bottle for extended shelf life
Doesn't get thick or dry
Color-intact formula
Made using natural resin
No grinding or filing
Cons
Needs to be cured under UV and LED light only.
Price at the time of publication: $5.99
Karma Hues Organic Natural Nail Polish in Dandelion Bouquet is made using organic ingredients and is perfect for a home manicure. This gel nail paint is designed to be gentle and easy on your nails. The best thing about this nail polish is that it is free from harsh odor and comes in 100% recyclable packaging. This nail paint can bring you salon-style results within minutes.
Pros
Cruelty-free
Lasts for up to 2-3 weeks
Bright and appealing color
Safe for children and pregnant women
Chip-resistant
Big and functional brush
Cons
The pigment is slightly transparent and multiple coats may be required.
Price at the time of publication: $10.49
This nail polish by ella+mila is vegan and free from harsh compounds like formaldehyde, phthalates, and camphor. Plus, the subtle hues of this nail polish suits all skin tones. If yellow is your most favorite summer color, you know that you cannot miss this one!
Pros
Breathable and lightweight formula
Opaque and bright
Creamy formula
Long-lasting and chip-resistant
Cruelty-free (certified by PETA)
Minimal odor
Cures within minutes without UV/LED lamp.
Cons
Some may find the nail polish streaky.
Price at the time of publication: $11.39
Jelly Belly+Sally Hansen Insta Dri Nail Color features an improved formula with built-in top and base coats. The topcoat offers a glossy finish that lasts for days without flaking. The nail lacquer provides a pop of color to your nails and is completely chip-resistant, fade-resistant, and waterproof.
Pros
Cures within minutes without UV/LED lamp
Unique bottle to prevent spills and leakage
Breathable and lightweight formula
Opaque and bright
Minimal odor
Cons
Some may find the cap a little small to hold.
Price at the time of publication: $14.8
If you are obsessed with O.P.I nail polish shades, here is one that is sure to become your favorite this season! This nail paint lasts for up to 7 days without fading. The nail polish has a creamy formula, prevents clumping, and glides smoothly on your nails. This nail paint is sure to become one of your absolute summer favorites if you enjoy updating your manicures frequently.
Pros
Long-wear product
Chip-resistant
Minimalist color
Mild scent
Good tenacity
It takes less time to cure
Cons
Multiple coats may be required
Price at the time of publication: $11.49
Update your manicures weekly with this vibrant I L N P Boutique Nail Color. This vegan nail polish features a richly-pigmented formula. It remains intact on your nails for up to 15 days without having to grind or file them. The opaque formula glides on the nails, smoothening any imperfect surface on the nails. This vegan nail paint and its subtle hues make it perfect for all skin tones.
Pros
Accented with shiny gold sparkles
Fully opaque
Great shelf life
Easy to apply and remove
Fast-drying and long-lasting nail polish
Cons
May look clumpy if not applied properly.
Price at the time of publication: $10.0
Now let's take a look at some key features to consider while purchasing yellow nail polishes.
Key Features To Consider While Buying Yellow Nail Polish
Here are several things to keep in mind before buying a yellow nail polish:
Opacity
The yellow pigment can sometimes look transparent, so before buying yellow nail paint, make sure that it is an opaque nail polish base with a thick consistency. Opaque nail polish offers a 1-step application, so you don't have to apply multiple coats. This prevents the nail polish from looking clumpy and smudged.
Quality
High-quality products will last longer and look fabulous. Most of the nail polish easily flakes and chips but a premium quality nail polish will last for days without chipping. Pick a yellow nail polish that offers intense pigment, and smudge-free application. Choose a nail polish that has a longer shelf life and quality.
Safe formula
Bad nail polish can weaken and damage your nails, so pick a yellow nail polish, made using natural resin and healthy ingredients. There are plenty of brands that offer toxin and chemical-free products. Thus, if you have sensitive skin or are looking for vegan nail polishes, always look at the label and check if it's free from phthalates, formaldehyde, and such components.
Why Trust StyleCraze?
The author, Chaitra Krishnan, is a makeup enthusiast who loves experimenting with different styling products and reviewing them for her readers. She has made a comprehensive list of the best yellow nail polishes to help you keep your manicure trendy for people who love trying out pop nail colors. These yellow paints are long-lasting, free of toxins, and add a summer vibe to your nails.
Frequently Asked Questions
Is yellow nail polish suitable for every skin tone?
If you are not satisfied with how yellow nail polish looks on your nails, you can switch to another. For example, if neon colors don't suit your skin, you can try metallic or pastel yellow nail polish.
What does yellow nail polish mean?
Yellow nail polish evokes happiness and a jolt of energy. It adds an instant burst of glow to your look.
Does yellow nail polish look good?
Yes. Yellow nail polish looks flattering on all skin tones. It is an excellent polish choice for the summer months. It brightens up your outfit and radiates positive energy.
Is yellow nail polish in style?
Yes. Yellow nail polish is a funky nail color option that is well-accepted by today's generation. Celebrities like Harry Styles, Beyonce, and Katy Perry love to paint their nails yellow and look bright amidst the crowd.
Can I pull off yellow nail polish?
Yes. Yellow is the color of sunshine and everybody irrespective of skin tone and age can pull off the polish.
Is yellow nail polish hard to apply?
Yes. Yellow nail polishes are usually light. As a result, several layers of polish are necessary to make it opaque. Therefore, it is hard to apply. But, a good quality polish like the essie Fall 2019 Country Retreat Collection and the essie Expressie Quick-Dry Nail Polish comes with an angled applicator that eases the application process.
Does yellow nail polish look good on fair skin?
Yes. Yellow nail polish looks alluring and vibrant on people with fair skin. The color offers a striking glow to your fingers and radiates positive vibes.
When should you throw away nail polish?
Discard nail polish after its expiry date or when it turns into a sticky and gooey paste.
Recommended Articles