11 Best Natural Lip Glosses For Shiny Lips, Makeup Artist-Approved: 2023
Toxin-free products to offer great nourishment while keeping your lips looking pretty!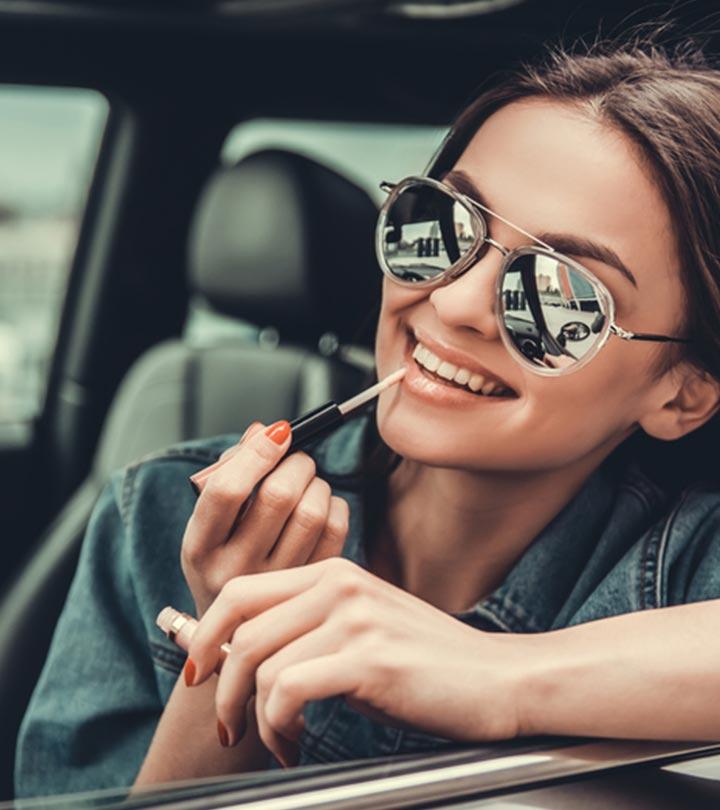 Our lips have extremely delicate skin that tends to get dehydrated quite easily. The best natural lip gloss keeps your lips well moisturized for long hours. Natural lip glosses have formulas enriched with natural and organic ingredients like shea butter, castor oil, almond oil, etc. They are free from chemicals or synthetic ingredients that may harm your skin. This makes them extremely suitable for sensitive skin types as well.
Lip glosses are a part of most women's skincare and makeup routines. There is a lip gloss for every season because our lips need moisture retention and protection from sunlight, wind, pollution, and dust all throughout the day. It is very important to take care of our lips and nourish them regularly. There are several brands that offer lightweight, non-greasy, natural formulas that keep your lips supple all day. While most of them add a colorless, glossy appearance to your lips, some are tinted and add a hint of color to your lips for a more glamorous appearance. In this article, we have enlisted the best natural lip glosses that you can add to your handbags right away! So, go ahead and check them out now.
11 Best Natural Lip Glosses For Glittery & Shiny Lips – 2023
If you are looking for a sheer pink lip tint with a glossy finish, look no further than the Burt's Bees 100% Natural Lip Shine. This all-natural lip gloss is enriched with moisturizing apricot wax and sunflower seed oil for a soft finish. Not only is it made of natural conditioning oils including castor seed oil, and apricot oil, shea butter, cocoa seed butter, and jojoba esters, but it also gives you a sheer finish that can be layered on separately or over your favorite lipstick shade. This coral pink tone will provide you with a sweet shine with the added benefits of being responsibly sourced. Formulated with ingredients that are free from parabens, phthalates, petrolatum, and SLS, you can choose from their versatile color palette for a range of shades like peach and mauve for an undeniably unique look.
Pros
Ultra shiny finish
Contains 100% natural and clean ingredients
Comes in 6 shades
Cruelty-free and responsibly sourced ingredients
Free from parabens, phthalates, petrolatum, and SLS
Cons
It may feel slightly heavy on your lips
Infused with the herbal benefits of the humectant black-jack extract, you can get your hands on the ultra-moisturizing and nourishing benefits of the Kiko Milano 3D Hydra Lip Gloss. This formula is designed to increase hydration levels up to 23% with ingredients like palm oil, cottonseed oil, and linseed oil, that are combined to compliment your skin tone perfectly. The non-sticky and lasting texture of the natural lip gloss plumps your lips, instantly giving your lips a glamorous finish. The transparent and highly pigmented gloss is a must-have if you're looking for a hypoallergenic product that is easy to apply. The Natural Beige shade leaves a soft color that you can sport alone or in combination with lipstick for a lustrous glow.
Pros
Dermatologically-tested
Non-comedogenic
Easy application
Available in 30 flattering shades
Cons
The Kiss Naturals Lava Lip Gloss Kit takes natural lip glosses to a whole new level! You can customize up to 6 personalized lip glosses using the tools that come in eco-friendly packaging. Use natural ingredients like organic castor oil, coconut oil, and safflower oil, along with glycerin and natural plant-derived pigments to concoct the perfectly tinted lip gloss for your lips! All the ingredients in this kit are cruelty-free and let you create a free formula from parabens, synthetics, and harsh chemicals, right from the comfort of your home. Store them in containers that come with the kit and be mesmerized by the lava effect within each gloss tube!
Pros
100% organic and all-natural DIY kit
Eco-friendly packaging
Cruelty-free product
Chemical-free formula
Includes all-natural ingredients
Free from parabens, synthetics, and toxins
Ideal for children above 6 years
Cons
You may find it time-consuming to make and store the lip glosses.
The creative packaging isn't all that will catch your eye with the It's Skin Colorable Draw Tint. This crystal-clear natural lip gloss in the shade PO Pink Syrup is ideal for the plumping effect that you want for your lips. The product promotes natural lip enhancement and makes them appear more fuller. You can wear it alone or use it as a topcoat for a desirable super-shiny finish. Infused with a host of bio-fruit oils, this nourishing and moisturizing formula is also available in multiple shades to choose from. Infused with naturally-derived oils like jojoba seed along with beta-glucan, the lip gloss will leave your lips feeling nourished from within. You can bet on this non-sticky formula for an enviable smooth finish.
Pros
Crystal-clear gloss gives a plumping effect
Contains bio-fruit oils
Available in 16 shades
Non-sticky and smooth finish
Cons
May not offer long-lasting wear
If you are looking for an organic and vegan lip gloss, this 100% pure and natural Lip Elixir from BaeBlu is an excellent option. Made from safe and non-toxic ingredients like shea butter, cocoa butter, cinnamon bark oil, and coconut oil for superior hydration, this all-natural lip gloss is suitable for both moms and daughters alike. It is also enriched with nourishing ingredients like cinnamon bark extract and rosemary leaf extract to give your lips the care it needs. Choose this lip gloss if you want a cruelty-free option that contains no artificial colors or fragrances and instantly adds a shine to your lips. Get a kissable pout that has a pigmented tint and sheer finish with this ethically-made gloss wonder. It also contains vitamin E and B-complex in the form of organic jojoba oil for exceptional results on your lips and damage control.
Pros
Safe, non-toxic ingredients
Suitable for all ages
Vegan, plant-based, and cruelty-free
Made from organic and all-natural ingredients
Non-GMO
No artificial fragrances
Cons
• It may have a slightly thin consistency.
Experience a surge of smoothness with this ILIA Balmy Gloss Tinted Lip Oil with plumping hyaluronic acid. It offers intense moisturizing properties and leaves your lips soft and smooth. The expertly crafted formula is infused with a blend of powerful botanical active ingredients such as meadowfoam seed oil, jojoba esters, sunflower seed oil, shea butter extracts, orange peel extracts, vanilla extract, ginger root extract, and more, you can drench your lips with the hydration they deserve. For instantly fuller lips that are non-sticky, this gloss has a potent formula specially designed with active levels of skincare ingredients to protect your skin from daily environmental stressors.
Pros
Vegan
Silicone-free
Does not contain parabens, gluten, or nanoparticles
Cruelty-free
Contains botanicals
Cons
You may have to retouch the lip gloss often.
Do hot summer days get your lips all dry and irritated? We've got you covered with a clear gloss that contains all-natural ingredients with organic healing powers to help you tackle dehydrated and cracked lips. Infused with organic shea butter, jojoba oil, castor seed oil, coconut oil, sunflower oil, cocoa butter, this sweet-smelling formula uses 100% pure vanilla extract for the beautiful and lasting fragrance. You can completely bank upon this non-toxic, lead-free lip gloss that also contains other botanical extracts like turmeric root powder, oregano leaf extracts, and rosemary extracts for a healthy lip gloss shine!
Pros
Hypoallergenic
Non-sticky and long-lasting
Does not contain preservatives and GMOs
Plant-based ingredients
Free from lead, gluten, petroleum, and phthalates
Rich in vitamins
Cruelty-free
Cons
It may feel slightly heavy on your lips.
If you're looking for a deeply moisturizing formula, the Revlon Super Lustrous The Gloss contains agave, moringa oil, and cupuacu butter that will bless your lips with hydration. Drench your lips with this rose gold shade that conditions your lips to make them appear plump, soft, and supple. The silky gloss comes in 12 available shades that you can choose from and double up as a direct-wear gloss for a high-shine look or layer over your lipstick for a glistening finish. Suitable for all skin tones, this moisturizing natural lip gloss also comes with a plush applicator to give you smooth and even color. This is truly a must-have in your makeup artistry collection.

Pros
Soft and non-sticky feel
Boosts hydration with natural ingredients
Plump-looking lips
Plush applicator for smooth and even color
Cons
It may not suit all skin tones.
For sheer to medium coverage, the Pure Cosmetics Light Up Lip Gloss is the ideal choice. The conditioning lip gloss with nature-based ingredients has a custom-blend formula to soothe and keep your lips protected gently. With ingredients like lanolin, jojoba oil, sweet almond oil, and vitamin E, this paraben-free shimmer gloss works wonders for all skin types. What has to be the coolest feature of this effective product is its LED-lit applicator and side mirror, which allows for an easy on-the-go application that will make this mildly scented gloss a personal favorite for so many of you!
Pros
Contains nourishing natural oils
Features an in-built LED-lit applicator
Available in 15 shades
For sheer to medium coverage
Free from parabens and gluten
Cruelty-free
Cons
Some may find the lip gloss scent to be slightly overpowering.
Looking for a non-sticky lip gloss that will give you sheer coverage and a glossy finish? The 100% Pure Fruit Pigmented Lip Gloss in the shade Pomegranate Wine is everything you need. The medium berry shade delivers a glam shine to your lips for a supple and juicy look. The expertly crafted product is formulated with rich ingredients like bilberry, turmeric extract, blackberry, pomegranate, and red wine, this range of all-natural lip gloss ingredients offers deep hydration. Additionally, this gloss is infused with cocoa butter, sunflower, and vitamin E oils, for a nourishing and anti-aging glow. Achieve perfectly tinted lips with this product that uses antioxidant-rich fruit pigments from fresh fruits as you steer clear from synthetic dyes and embrace this natural wonder!
Pros
Semi-sheer finish
Contains natural and moisturizing ingredients
Contains natural color for lip gloss tint
Vegan
Cruelty-free
Easy to apply
Cons
You may need to use more than the usual gloss for better coverage.
Are you looking for a formula enriched with ingredients that have antioxidant properties? Han Skincare Cosmetics brings you a healthy and natural lip gloss with acai oil, pomegranate, and blueberry extracts that are filled with antioxidants. You can choose this clear natural lip gloss for a hydrating and vibrant pop of color as it contains powerful ingredients like organic shea butter, organic argan oil, and coconut extracts. Formulated with alternatives to chemical elements, this nourishing lip gloss contains vitamin E and grapefruit extracts for that extra care that your skin deserves. This timeless beauty gets its vibrant hues from plants and mineral-based pigments like beetroot and iron oxides to give you a super safe and healthy shine.
Pros
Free from silicones, petrochemicals, nanoparticles, and BHT
Contains natural ingredients
No GMOs or parabens
Cruelty-free
Contains plant and mineral-based pigments
Carmine-free
Cons
May not last for long and requires regular reapplication.
*The prices provided in this article are based on the latest available information. However, they may vary due to changes in pricing by the seller and/or promotional offers.
Now that you've taken a look at the lip glosses containing organic ingredients, you can make a suitable buying decision. If you're wondering how to narrow down your options, we're here to make that process easier! Check out our buying guide to help you.
How To Choose The Best Natural Lip Gloss For You
Choosing the right shade of lip gloss can make or break your appearance. If you want to make a point, go for a dark shade that complements more pale skin tones. For lighter skin tones, nudes, corals, and pastel will do the trick. For darker skin tones, you can opt for reddish tints in your gloss. Those with medium and olive skin tones should settle for something neutral like a rose, mauve, berry. However, if you want a less risky choice and something light to layer your gloss over another lip color, choose subtle pink natural shades that are often suitable for all skin tones. Of course, when selecting a lip color, you will want to consider your skin's undertone but you are because lucky lip glosses are versatile and suit almost all skin tones perfectly. These lip glosses help you achieve the perfect statement-making pout.
Because of the increasing demand, most brands have developed superior formulas that enable the gloss to last longer. Many lip glosses have highly pigmented formulas, which ensures that even though your shine wears off, your color will last longer. Some brands specialize in creating lip glosses that do not need retouching regularly. Ideally, a natural gloss will stay up for up to 4 to 6 hours. So, before making a decision, consider the essence of your usage and how long you'd like it to last without requiring retouching. You can also read reviews from satisfied customers about the lip glosses.
You can use natural lip gloss to steer clear of the increasing risks of cancer, infertility, and other diseases associated with toxic chemicals. You may want to avoid all types of synthetic dyes and fragrances, as well as sketchy ingredients like parabens, menthol, and salicylic acid as well as alcohol, and propylene glycol, as they can be bad for your skin. Aside from the risks, moving to a natural lip gloss has its own set of advantages. These natural lip glosses contain valuable and nourishing nutrients from ingredients like grape seed oil, or vitamin E capsules that are all-natural and botanical formulas they are often made from. When looking for natural lip glosses, don't forget to see if the brand is cruelty-free and vegan as they have definite bonus points.
When looking for a naturally-formulated lip gloss, you don't want to compromise on your style. Choose a glossy, satin finish that best suits your look. Some classic shimmer finishes may come with added glitter to spruce up your makeup. You may find that some plumping lip glosses can enhance your lips naturally too. Look for makeup artist-approved products to help you purchase the perfect lip gloss shade.
Why Trust StyleCraze?
The author of this article, Srijita De, is a makeup enthusiast and loves to explore different products used in makeup. The best natural lip glosses' list is curated after thorough research and reading many online reviews from various trusted platforms. These lip glosses leave a great moisturizing effect on your lips that lasts for hours, and the best part is they are majorly made up of organic ingredients.
Frequently Asked Questions
What ingredients should you avoid in a lip gloss?
When choosing a lip gloss, you could opt for a more organic and natural list of ingredients. Stay away from components with potentially damaging effects like petroleum jelly, artificial flavors, and other harsh chemicals. You can also avoid all parabens, phenol, menthol, and salicylic acid as well as alcohol, propylene glycol, and synthetic fragrances as they can have long-term effects on your skin.
How long does natural lip gloss last?
Lip gloss can last anywhere between a couple of hours or throughout the day. Make sure that you choose the one that best works for you.
Does lip gloss need a preservative?
No, organic lip glosses do not need preservatives. Look for lip glosses that come free of preservatives and other potentially harmful chemicals and ingredients.
What can I use instead of lip gloss?
You can substitute lip gloss with petroleum jelly or carrier oils like organic coconut oil or castor oil.
How do you apply organic lip gloss?
• Exfoliate the dead skin cells from your lips to prepare them, and then moisturize them with a hydrating, nourishing lip balm.
• Use a lip liner to define your lips, and your preferred lipstick to fill them in.
• After that, apply your lip gloss directly to the bottom lip's center, and gently rub your lips together.
Recommended Articles: