10 Best Treadmills For Bad Knees
Workout and engage your muscles without making it difficult for your hurt knees.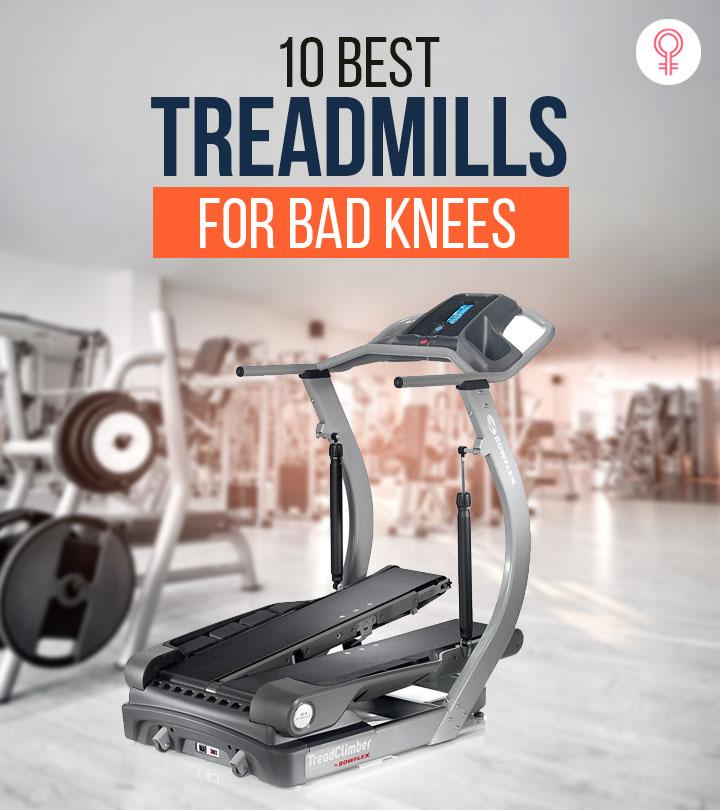 Exercising becomes a greater ordeal when you have bad knees. But with the right type of exercise, you can expect the pain in your knees to gradually decrease, giving you better stability and balance. And one such exercise could be using the best treadmill for bad knees. In fact, studies point out that one of the best ways for those with osteoarthritis for pain reduction and better quality of life is walking on a treadmill (1), (2).
Designed specifically for low-impact exercise, treadmills made for bad knees work your muscles out without worsening the pain. Features such as cushioning in the belt and a good incline make this possible. Now that you know a treadmill can help, let's aid you in choosing one if you have bad knees.
10 Best Treadmills For Bad Knees
No products found.
The Sharewin Treadmill is built with five stable layers that offer an effective running surface, reduce impact and prevent any knee damage. It has 12 preset programs that enable you to adjust your running technique and speed. It has a water-resistant surface, and sound insulted, shock-absorbing, high-strength support layer. The 2.0HP motor in the machine ensures noiseless operation. You can also switch its running base between flat and inclined according to your exercise needs.
It comes with transport wheels that allow you to move and store the treadmill easily. Its multi-functional display helps to better track your exercise. It also contains emergency safety keys that add to its overall safety. The machine is attached with small item holders where you can store your phones or ipads. Check out an honest video review of this treadmill to know about its functions.
Specifications
Dimensions: 24.4 x 48.22 x 24.4 inches
Weight: 62 lbs
Maximum User Weight: 220 lbs
Belt Size: 39.4 x 14 inches
Music Port: No
Pros
Easy to store
Large display
Comes with emergency safety keys
Noiseless operation
Easy to assemble
Lightweight
Value for money
Water-resistant surface
Cons
Too small
Emits a burning smell
The Bowflex Tread Climber TC20 minimizes the impact on your knees while running and is best for household use. Its dual treadle system is a combination of a treadmill, an elliptical trainer, and a stair climber. The Goal Oriented Coaching technology helps in tailoring activity and fitness goals based on personal needs.
This three-in-one cardio machine is integrated with a wireless heart rate monitor that helps maximize workout efficiency. It comes with three landmarks and five standard workouts that can be programmed. The backlit LCD enables easy monitoring of the speed, time, calories, heart rate, and distance. The ergonomic console holds a water bottle and books for easy access. This product also features a Bowflex body weight loss plan, an instant Quick Start, transport wheels for easy mobility, a speed range of 0.5 to 4.5 miles per hour, and extra-long foot treadles. To find out more about this Bowflex Tread Climber TC20, watch this Youtuber's review video.
Specifications
Dimensions: 55 x 31.5 x 55.25 inches
Weight: 217 lbs
Maximum User Weight: 300 lbs
Belt Size: 51 x 30.5 inches
Music Port: No
Pros
Wireless heart rate monitor
3-year warranty
Extra-long foot treadles
Comes with wheels for easy transportation
Cons
This Sunny Health and Fitness Walking Treadmill offers shock absorption for low impact on the knees while walking. It has a speed range of 0.6mph- 5 mph that allows you to go from a slow walk to a quick jog. The quick speed and dedicated mode button let you personalize the training goals. The multi-grip handrails assist in various workouts for the arms, shoulders, back, and lower body.
This treadmill is also equipped with non-slip foam padded handlebars for added support. The user-friendly console with backlit LED screen displays the speed, calories, and distance modules. The low profile deck and front-mounted transportation wheels enable easy storage and movement of this equipment, respectively. You can stop the treadmill instantly when necessary, using the emergency safety key – just pull the magnetic key from the console. If you are still unsure, check out this honest review.
Specifications
Dimensions: 58 x 29 x 53 inches
Weight: 123 lbs
Maximum User Weight: 295 lbs
Belt Size: 49 x 19.5 inches
Music Port: No
Pros
Easy to store
Comes with handrails
Sturdy
Lightweight
Cons
Takes a while to assemble
The Proform Performance 300i Treadmill is equipped with ProShox cushioning that protects your joints while running. It is preloaded with 16 workout programs and offers a one-year free membership of iFit that lets you access various workout programs and live sessions. You can switch between walking, jogging, and running with the single-touch button.
The machine also features a 10% quick incline control and a grip pulse EKG heart rate monitor. The commercial plus motor stays cool even during the toughest workouts and offers a comfortable experience. This treadmill is Bluetooth enabled with multimedia support for tablets and music players. The easy folding deck and space-saver design keep your house clutter-free.
Specifications
Dimensions: 64.7 x 28.9 x 55 inches
Weight: 149 lbs
Maximum User Weight: 300 lbs
Belt Size: 50 x 16 inches
Music Port: Yes
Pros
EKG heart rate monitor
Preloaded workout programs
Quick incline control
Multimedia support
iFit membership
Space-saving design
Cons
The Lifespan Fitness TR3000i Treadmill has eight compression shock absorbers with responsive cushioning for low-impact training. It is equipped with 21 certified exercise programs that are designed by exercise physiologists. The guided console navigation is user-friendly and keeps track of your exercises.
This treadmill offers 15 inclination levels and a speed range of 0.5 mph – 12 mph for intense and effective training. It also features a 3-speed cooling fan and patented step counting abilities. The Intelli-Guard ensures your safety by stopping belt motion automatically within 20 seconds after you step away from the deck. The EZfold technology with hydraulic shock enables easy folding and unfolding.
Specifications
Dimensions: 71 x 33 x 56 inches
Weight: 220.46 lbs
Maximum User Weight: 350 lbs
Belt Size: 56 x 20 inches
Music Port: Yes
Pros
3- speed cooling fan
Easy to fold and unfold
Integrated with fitness apps
Patented step counting technology
User-friendly
Compression shock absorbers
Cons
The Read Relax 2 in 1 Under Desk Treadmill comes with an adjustable speed system that is remote-controlled. This flexible machine offers shock-absorbing effects to effectively absorb impact during running and protect your knees and ankles. It is installed with a 2.25HP noise-canceling motor and comes with an extra-wide, non-slip track surface. The machine is set on running wheels that help the users to move it around and store it easily. The LED screen helps you monitor your training. The high-quality Bluetooth player installed in it helps you to listen to good music while training.
Specifications
Dimensions:  52.7×26.6×40 inch(unfolded), 54.7×26.6×4.7 inch(folded)
Weight: 67.506 lbs
Maximum User Weight: 240 lbs
Belt Size: 42.5×17 inch.
Music Port: Yes
Pros
Noiseless operation
Inbuilt Bluetooth player
Lightweight
Non-slip track surface
Easy to assemble
Easy to store
Comes with an adjustable speed
Cons
Gets heated up after long-time use
The Horizon Fit T202 Treadmill maximizes at-home workouts with comfort and convenience. It is equipped with a perfect Flex Plus cushioning system for low-impact training. It offers 12 level inclinations with a speed range of 0.5 mph to 12 mph. This treadmill comes with a 31- day goal training feature and 12 customizable programming options.
The two 4-digit LED consoles, alphanumeric display, and LED brickyard workout profile save workout data and enable quick adjustments. This treadmill features a quiet motor along with Coolfit fitness fan, inbuilt iPod compatible speakers, and pulse and heart rate monitor. The FeatherLIGHT folding lift system with hydraulic shock enables easy set up and storage of this treadmill.
Specifications
Dimensions: 75 x 34 x 58 inches
Weight: 196 lbs
Maximum User Weight: 325 lbs
Belt Size: 55 x 20 inches
Music Port: Yes
Pros
User-friendly console
Easy to fold
Easy to store
Lifetime warranty
Quiet operation
Durable
Cons
Shakes while in use
Connectivity issues
The YeYeBest Folding Treadmill is equipped with an infrared speed control function. It is installed with a 2.25HP electric DC motor that enables noiseless operation. The machine adopts the silkworm shock absorption technology, the cushioning principle of professional running shoes to protect your knees and joints from injury. It comes with a digital display to track your exercise and a table stand that helps you multitask while exercising. The transport wheels of the machine help you to carry it around and store it without any difficulty.
Specifications
Dimensions: 23″D x 57.9″W x 38″H
Weight: 110 lbs
Maximum User Weight: 300 lbs
Belt Size: 46.8 inches x 15.6 inches
Music Port: No
Pros
Infrared speed regulation
Comes with a table stand
Noiseless operation
Anti-skid platform
Foldable
Compact
Easy to assemble
Easy-to-read digital display
Firm handle
Affordable
Cons
None
This high capacity treadmill is equipped with a safe, comforting shock absorption technology for a painless running experience. The heavy-duty frame and an extra-large belt ensure safe and effective walking. The machine comes with a touchscreen LCD console that displays the time, speed, distance, and calories, and pulse.
This treadmill also features extra-large safety handles with the EKG grip for improved security and balance. The heart rate monitors and speed controls are installed in the handle bars for convenience and easy access during workouts. The 1.5 HP motor ensures long-lasting performance and comes with a five-year warranty. It folds and moves easily with space-saving design and built-in wheels, respectively.
Specifications
Dimensions: 47 x 29 x 51 inches
Weight: 110 lbs
Maximum User Weight: 350 lbs
Deck Size: 36 x 16 inches
Music Port: No
Pros
Budget-friendly
Easy to fold
5-year warranty
Easy to assemble
Cons
The Smooth Fitness 5.25 Folding Treadmill offers a great speed range and with six preset workouts, including interval speed, interval incline, weight loss, 5K quick learning, and heart rate control. The interactive LCD console tracks and displays the time, speed, distance, calories, and pulse.
The patented swing arm suspension system ensures there is less impact on the joints while walking or running. This treadmill features a 2.5 HP motor, a speed range of 0.5 to 10 mph, two-inch commercial grade rollers, and a hand grip pulse monitor that is located at the front of the console. The dual-stage, soft drop folding and unfolding mechanism enable easy usage and storage.
Specifications
Dimensions: 73 x 36 x 60 inches
Weight: 195 lbs
Maximum User Weight: 300 lbs
Belt Size: 53 x 20 inches
Music Port: Yes
Pros
Easy to fold
Handgrip pulse monitor
Lifetime warranty
Triple-laminated phenolic deck
Cons
People who have bad knees tend to stay away from any physical activities, fearing it will worsen their condition. Treadmills not only provide an even surface to walk or jog but also absorb the shock to lower the impact on the knees. However, consider the following points while using a treadmill.
How To Protect Your Knees While Running On ATreadmill
Start your routine with 7-10 minutes of warm-up exercises.
Begin by setting the machine at the lowest speeds and inclination. Start slow and progress gradually so that your body can adapt.
Note: Consult a physician if you feel any pain.
You should also consider the following points before choosing a treadmill.
How To Choose A Treadmill For Bad Knees
Running Surface Area: The running surface area should match your gait, width, and stride length. A narrow surface area will force you to alter your walking style, putting more stress on your knees.
Incline: The inclination shows the uphill and downhill movement and helps burn 40% more fat than flat trainers. However, check with your doctor to know how much inclination you can expose your knees to. Look at the degrees of inclination offered by the treadmill. It might be possible that even level-1 inclination is unsuitable for your knees.
Speed: The speed of a treadmill varies from 0.5 mph to 12 mph, deciding the intensity of your walking or running. Check the minimum speed count variation with each press. It must match your strides length and walking speed.
Deck Size: Check the footprint of the treadmill and how easily it can be stored. A small deck size also means that it is easily portable.
Cushioning: Cushioning absorbs most of the knee shocks. It ensures that knees and joints do not experience the impact of walking and running on a treadmill.
Control Panel: A user-friendly control panel offers easy adjustments, preset workout programs, fitness data, and multimedia support. The latest treadmills offer interactive touchscreen control panels for a better experience.
Ease Of Use: It is important that you understand the controls and adjustments of the machine thoroughly. Right from the assembly, maintenance to regular usage, it should be easy to understand.
Weight Capacity: Most treadmills support users weighing up to 300-350 lbs. The machine should also withstand heavy load for a long duration.
Numerous people have taken advantage of treadmill training to improve their bad knees and alleviate pain. However, it is important to keep the following points in mind while using a treadmill if you have bad knees and joints.
Safety Tips For Using A Treadmill For Arthritis, Bad Knees, And Joints
Use good shoes as they absorb shock while running.
Learn the controls thoroughly, especially the fast-stop button.
Always hold on to the side rails.
Understand the safety key feature in the treadmill.
Ensure to stay centered in the running deck to avoid accidental falls.
Start the treadmill and then step on to the running deck to understand the speed.
Do not ignore any kind of strain during the training, as it can lead to inflammation.
Do low-impact activities without twisting your knees and hips.
Start steadily as overworking on treadmills can stress the anterior cruciate ligament, leading to further complications of the lower limbs.
Use the lowest incline angle as you begin and increase gradually.
Maintain good posture across the workout routine to avoid stress on joints.
Why Trust StyleCraze?
Aditi Naskar has a diploma in health and wellness. She is passionate about fitness and believes that physical activity is key to a long and healthy life. She has scoured countless customer reviews online to curate this list of the finest treadmills for bad knees. She considered factors like quality, features, and utility to shortlist the devices. These treadmills are designed to decrease your pain and protect your knees from further damage.
Frequently Asked Questions
What are the differences in a normal treadmill belt and a multi-ply one?
A multi-ply treadmill belt lasts longer and provides better stability during running or walking than a normal treadmill belt.
Are there any foldable treadmills in this list?
All the listed products are foldable and enable easy storage.
Is running on the treadmills bad for knees?
With proper precaution and knowledge, running on treadmills can improve your knees' condition, making them stable and fit.
Sources
Recommended Articles