11 Best Treadmills For Seniors (2023): Walk Safely At Home
They come with special customizable features that make working out easy for any elderly.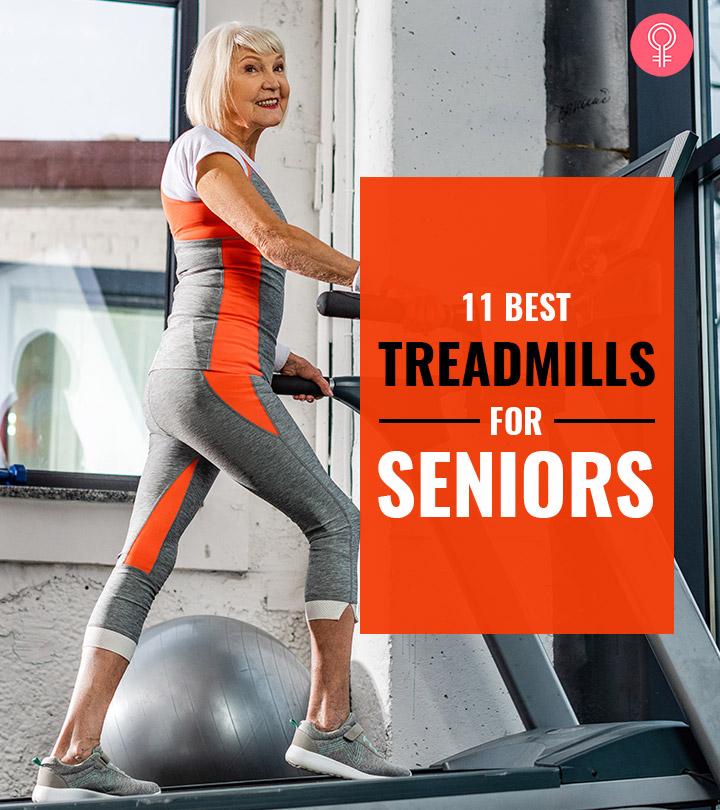 The need for keeping fit does not just end at youth, and the older you get, the more is the need to keep fit. One way to go about it is to get yourself the best treadmill for seniors, specially designed to promote healthy aging. Studies prove that stationery walkers can enhance the quality of life in older women (1). As you age, your physical activities will reduce and cause flexibility problems. Here is a list of the 11 best treadmills ideal for seniors to help them maintain their health without exerting more than necessary pressure.
11 Best Treadmills For Senior Users
If you are looking for standard treadmills for seniors, always look for comfort and ease of use. The NordicTrack T Series Treadmill has a 10° incline and one-touch controls, which can be easily used by older adults. It also comes with a 1-month iFit membership, where you get personal coaching experience. It has a space-saving design. It has FlexSelect cushioning that helps to soften the impact on your joints that you will usually experience while walking or jogging on the road. Check out this review for a detailed understanding about the product.
Specifications
Dimensions: 73″ L x 36″ W x 54″ H (unfolded)
User Weight Capacity: 300 lbs
Motor: 2.6 CHP
Speed: 0-10 mph
Pros
Real-time workout tracking
5" backlit iFit display
Auxiliary music port
Dual 2" digitally amplified speakers
0-10 mph live speed control
10-year frame warranty
2-year parts warranty
Cons
Needs iFit activation/subscription for operating/unlocking the device.
Price at the time of publication: $649.0
This treadmill is specifically designed for homes and combines quality and performance. It has 12 preset programs offering a wide variety of workouts. It has side rails that seniors can use for support. Moreover, the speed range is between 0. 5-10 mph, so seniors can easily match their pace. The cushioned deck helps to minimize stress on the joints. The LCD helps you keep track of the speed, time, distance, calories, and pulse. The treadmill also has preset speed settings that enable easy access and control of your workout. It operates quietly and has a foldable design and transport wheels, which make it easy to move. If you are looking for a compact treadmill for your home, this should be perfect. This video review will help you understand more about the product.
Specifications
Dimensions: 63. 4"L x 28. 75" W x 51. 4" H (assembled)
User Weight Capacity: 250 lbs
Motor: 2. 25 HP
Speed: 0. 5 -10 mph
Pros
Quiet motor
Large 16″ x 50" walking/running surface
5" LCD display
Speed range 0. 5-10 mph (suitable for users of all fitness range)
3 manual incline settings
Handgrip pulse sensors
XTRA Soft Cushioned Deck
Sturdy heavy gauge steel frame
Folding deck design
Accessory holder
Cons
No automatic power off
No bottle holder
Price at the time of publication: $384.99
This treadmill has nine built-in workout programs along with handrail controls. You can easily press buttons on the handrail to start, stop, pause, and control the speed of the treadmill. It has 49L x 15. 5W inches of running surface and a phone/tablet holder that adds to the user comfort and accessibility during the workout. The quick speed buttons are easy to access and operate by seniors. The shock absorption deck prevents any injury to the joints while working out. If you are still unsure, check out this honest review.
Specifications
Dimensions: 36L X 25.5W X 58H inches (unfolded)
User Weight Capacity: 220 lbs
Motor: 2.2 HP
Speed: 0.5-9 mph
Pros
Transportation wheels
Emergency stop clip
Adjustable incline (3 levels)
Easy to fold and compact
Soft drop system (for handsfree unfolding)
Cons
Price at the time of publication: $349.08
This is one of the bestselling electric treadmills by the brand. It is easily foldable and portable. It has a heavy-duty and high capacity 2.5 HP motor, and the belt surface measures 20″ x 56″. This treadmill has 15 levels of adjustable incline and 21 trainer programs that are designed by exercise physiologists and target weight loss, healthy living, and heart rate programs. These trainer programs are equally beneficial for seniors. You can insert a USB into the built-in port on the console to save your exercise data. It is also equipped with Intelli-Guard, a feature that pauses belt motion 20 seconds after you get off the treadmill deck. This feature ensures user protection. The best thing is, the brand offers a lifetime warranty on the frame and motor.
Specifications
Dimensions: 70.25″ L x 33″ W x 55″ H (unfolded)
User Weight Capacity: 300 lbs
Motor: 2.5 HP
Speed: 0.5-11 mph
Pros
Robotically-welded, all-steel frame
Hydraulic shock to assist in folding and unfolding
Soft-drop system supports the weight of the treadmill
Guided console navigation
Built-in safety features
Automatic pause (20 seconds after you get off)
Three-year parts warranty
Duplicate safety buttons on the side rails
Cons
USB drive not included.
Makes noise at 0 incline.
This treadmill has a built-in fit coach system that can be paired with your tablet for accessing the training modules. It has a manually adjustable incline, so it is easy for you to target specific muscles while working out. Moreover, it has a convenient space-saving design. The Comfort Cell cushioning technology of this treadmill supports your joints, making workouts more comfortable. Its 16 inches x 50 inches tread belt can accommodate users of all heights.
Note: This treadmill can be activated without iFit activation. Refer to the user manual before activating your treadmill or press the Bluetooth button for 30 seconds for activation (as reviewed by the users).
Specifications
Dimensions: 55.7 x 26 x 10.4 inches (unfolded)
User Weight Capacity: 275 lbs
Motor: 2.25 HP
Speed: 0-10 mph
Pros
iFit In-Home Personal Training enabled
Bluetooth connectivity
Comfort Cell cushioning
2 position manual inclines
1-year motor warranty
90-day parts and labor warranty
30-day free membership to iFit Coach
Easy to set up
Cons
The heart rate monitor may malfunction in a few machines.
Price at the time of publication: $384.78
The Exerpeutic TF1000 can support up to 400 lbs user weight. It has shock absorption benefits, so you need not worry about hurting the joints, especially if an older individual is using it. The motor of this device runs on "Quite Drive" technology that helps to reduce any noise. It has a wide belt that ensures complete safety and security. The LCD console displays the distance walked, time, speed, calories burned, and pulse. This treadmill has Heart Pulse pads on the handles for targeting the heart rate and speed control buttons for adjusting the speed as per your convenience. It also has extra-long 18" safety handles, which is twice the standard length for added support. The reinforced frame can accommodate a high weight capacity.
Specifications
Dimensions: 51.2 x 32 x 63 inches (unfolded)
User Weight Capacity: 400 lbs
Motor: 1.5 HP
Speed: Up to 4 mph
Pros
Wide belt (40″ L x 20″ W)
Heart Pulse pads
Speed control buttons
2 manual incline positions
LCD display console
Extra-long safety handles
Easy to fold
Transportation wheels
Cons
The belt can be a bit noisy (needs lubrication).
Price at the time of publication: $850
If you are looking for a hassle-free treadmill for seniors, the SereneLife Smart Folding Treadmill is a perfect choice. It is not for serious runners or heavy running but is perfect for older individuals. It has an electric motorized plug-in design and is a slim and compact treadmill. It is portable and has a hydraulic folding system for easy setup and storage. You can connect the device with the 'FitShow' app via Bluetooth, where you can record and review your training data, check training stats, and challenge friends. It has 12 preset training modes for cardio fitness, weight loss, and building stamina.
Specifications
Dimensions: 50.8 x 24 x 49.2 inches (unfolded)
User Weight Capacity: 265 lbs
Motor: 1. 0HP
Speed: 0. 6-6 mph
Pros
LCD digital display
Safety keys
Safety handles
Wide and comfortable running surface
Built-in book and magazine tray
3 level incline
Smooth operation
Cons
Might make some noise.
Not suitable for taller individuals.
Price at the time of publication: $289.21
This folding treadmill has a compact footprint and features a fast-folding design that is easy to store and transport. It has a multi-functional LCD display that helps you track your time, speed, distance, and calories. You can also plug in your phone or USB flash drive to follow your training videos or listen to workout tracks. It has easy to access buttons on the handles to help you start or stop the device instantly. You can also change your speed settings with these buttons during the workout. The tread belt has an anti-slip high-density lawn texture to absorb shock and provide comfort and safety.
Specifications
Dimensions: 55" x 23.5" x 43" inches (unfolded)
User Weight Capacity: 240 lbs
Motor: 1.5 HP
Speed: 0.5–7.5 mph
Pros
Dual speakers
Anti-slip lawn texture running belt
Quiet operation
High-temperature resistance
Fast folding design
Cons
No pause button (Need to end it and start again, losing minutes and distance).
Price at the time of publication: $343.09
This treadmill has an ergonomic design that helps minimize any impact or injury to your joints while running and maximize comfort levels. It has 26 workout programs along with a fully-featured console. It also has Bluetooth connectivity, so you can easily sync your workout data. The wide 20″ x 60″ running path with StrikeZone cushioning system allows you to run smoothly without any discomfort. It has a SoftDrop folding system to let you easily store and fold the device.
Specifications
Dimensions: 57.6 x 35.2 x 72.2 inches
User Weight Capacity: 350 lbs
Motor: 3.0 CHP
Speed: 0-12 mph
Pros
Rugged professional-grade deck
Quiet operation
StrikeZone cushioning system (minimizes impact)
26 different workout programs
Dual track display with high-resolution monitors
Built-in charging port
3-speed adjustable fan
Sturdy
Cons
Price at the time of publication: $1499
This sturdy treadmill is built to support both light and intense workouts. It has eight preset workout apps to choose from, and all these apps are designed by a certified personal trainer. The treadmill has one-touch controls that let you adjust your speed and incline without interrupting your workout rhythm. It also has a ProShox Cushioning system that effectively reduces the impact on your joints and makes the workout more comfortable. This treadmill has a Commercial Plus motor that is smooth and powerful yet quiet. This machine is perfect for walking and light running.
Specifications
Dimensions: 70 x 33 x 53 inches
User Weight Capacity: 300 lbs
Motor: 2.0 CHP
Speed: 0-10 MPH
Pros
Automatic incline adjustability
Easily foldable design
One-touch controls
Heart rate monitoring (dual handlebar grip sensor)
Sound system compatible with iPod
Integrated tablet holder
Large LCD display
Cons
The calorie count may not be accurate in some machines.
Need to register with iFit to unlock the machine (may not be convenient for all).
Price at the time of publication: $1247.45
This treadmill has been tested up to 400 lbs user weight capacity, so it can easily support people of any age and any body size, including seniors. It utilizes "Quiet Drive" technology that reduces noise when you are using the machine. It has extra-long safety handles with heart pulse sensors to measure your target heart rate. The speed control buttons are in the handlebars for ease of use. These are 18″ long, about twice longer than the handles of any standard treadmill. The reinforced frame has a superior weight capacity. It also has a two-level manual incline. The treadmill belt's size is 40″L x 20″W and can accommodate anyone with ease.
Specifications
Dimensions: 51.2 x 32 x 63 inches
User Weight Capacity: 400 lbs
Motor: 1.5 HP
Speed: Up to 4 mph
Pros
Extra-long safety handles
Heart pulse sensors
Extra-wide 20 inches belt
LCD display
Accessory holder
Quiet operation
Cons
The cushioning is not enough for high-speed jogs (Suitable for light walks and jogs).
Price at the time of publication: $620.07
These are the best treadmill for seniors that you can consider buying. While selecting the best and standard treadmills for seniors, no matter what the specs and features are, you need to focus on the comfort level and safety and ease of use. Here are a few tips to help you out.
How To Choose The Best Treadmills For The Older Adults
Look for the following factors before you zero in on a treadmill:
Design: Look for a lightweight and easy-to-move treadmill. You can also buy small treadmills for seniors if they are planning to use it just for walking and a little bit of jogging. A folding and compact treadmill is the best if you have a small space. You can also buy a standard treadmill that both the young and the older individuals can use. However, make sure it is sturdy and has extended side rails.
Core Components: If the treadmill is going to be used only for brisk walking and jogging, you do not need a strong motor. A motor with power between 1 CHP and 2 CHP is enough. Also, get a treadmill with a stronger motor as it does not make noise.
Cushioning: Proper cushioning helps protect the joints by lowering impact. High-end treadmills often have air cushioning systems. Check for this feature before buying one.
Belt Size: If you are just walking and jogging on the treadmill, you need not worry about the belt size. However, if you are pretty tall (over 6 feet), go for 45'' long belts. Usually, treadmill belts are between 40" to 50".
Safety Features: Senior treadmills must be equipped with safety features, such as an easily accessible stop button, safety tether, and dashed tread belt.
Here are a few safety tips that you should keep in mind while using treadmills.
A Few Tips For Using Treadmills For Seniors
Do not always walk using the handrails as it can strain your elbows and shoulders. Use it only for support.
Start walking by straddling on the belt. Start slowly and then increase the speed gradually.
Do not increase both the speed and the incline. Increase either of them – otherwise, walking or jogging will become difficult.
Always wear shoes on moving treadmills. Jogging or walking barefoot might cause blisters, scrapes, and other injuries.
Never get off a running treadmill. Let the treadmill slow down and shut off completely and then get off.
Why Trust StyleCraze?
The author, Aditi Naskar, has a diploma in health and wellness and loves to review fitness and exercise equipment. She has carefully researched the products and reviewed a host of online reviews on trusted forums to pick the best treadmills for senior citizens. The treadmills listed in this article are shortlisted based on specific requirements of the seniors, the necessary quality parameters, and additional features.
Frequently Asked Questions
Is walking good for seniors?
Yes, it helps them stay active and fit and keeps their joints in good shape.
How much exercise is recommended for older adults?
About 30 minutes of daily moderate exercise is enough for healthy seniors aged 65 years and above. However, if you have any health conditions, consult a doctor.
How fast should seniors walk on a treadmill?
Depending on your age, it should be anywhere between 80-115 beats per minute. However, it is better to start slow and then find a comfortable speed.
What workouts can the elderly perform on treadmills?
They can try slow and brisk walking, and if comfortable, they can also do slow and brisk jogging.
Is treadmill walking bad for the joints?
All modern and high-end treadmills come with a cushioning deck that helps to minimize the impact on the joints. This makes the workout comfortable.
How fast should a 70-year-old walk on a treadmill?
A 70-year-old can walk at a rate of 2.5 miles per hour on a treadmill to get good health benefits. However, you can always increase or decrease the speed according to their comfort.
Is a treadmill or stationary bike better for seniors?
Treadmills are excellent for seniors who want to get in shape without injuries. Cycling on a bike might hurt their joints or back.