10 Best Drugstore Korean Cleansers That Suit Your Budget
Follow a skin care routine that keeps your skin clean, healthy, and glowing.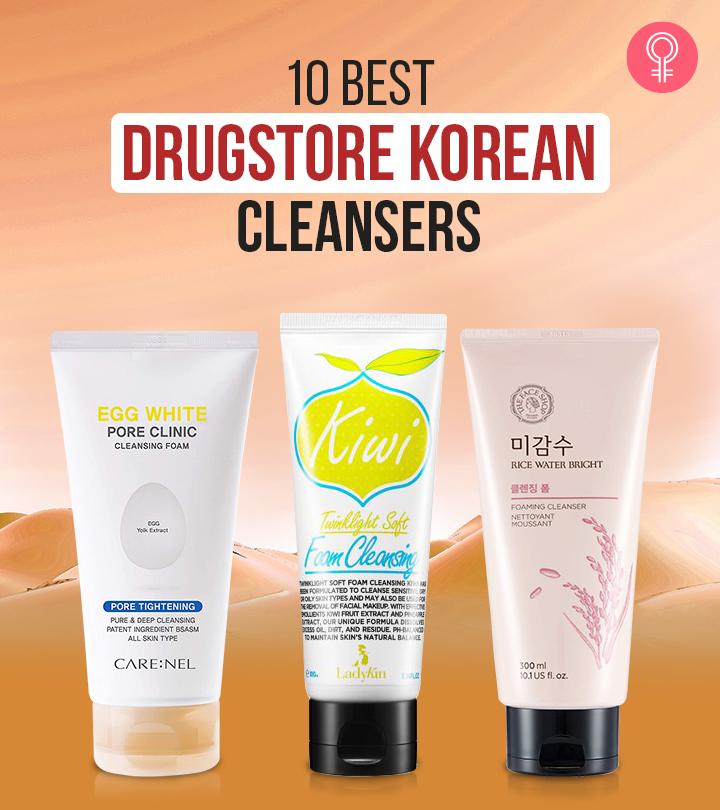 Cleansing is an essential part of your skincare routine, and you want to make sure you choose the right cleanser for your skin. Korean beauty products are used by many today because they are easy and affordable. Hence, it comes as no surprise to us that you would want to opt for the best drugstore Korean cleanser for your skin care regime. They contain natural and innovative formulas that clean your skin well and leave it feeling smooth and soft. Here is our list of the top drugstore Korean cleansers you can take a look at!
10 Best Drugstore Korean Cleansers
The Ladykin Kiwi Twinklight Soft Foam Cleansing is designed to eliminate dead skin cells, deeply cleanse the pores, and minimize their appearance. It is infused with a blend of kiwi and pineapple extracts that contains essential vitamins and organic acids to target blackheads and large pores. It also nourishes and replenishes your skin with moisture and nutrients that keep it healthy.
Key ingredients: Kiwi extract and Pineapple extract
Pros
Pleasant fragrance
Non-irritating
A little goes a long way
Paraben-free
Mineral oil-free
Cons
None
Price at the time of publication: $6.69
This powder-based cleanser from Oseque gently cleanses your skin and makes it soft. It is made using naturally derived ingredients like ginseng, green tea, rosemary, and chamomile that help strengthen the skin barrier and protect it from environmental damage. The pore-refining cleanser formula is also enriched with Amino Acid Complex that nourishes the skin and minimizes skin damage. The natural dual enzyme complex in the cleanser consists of bromelain and papain that control sebum, tighten pores, and remove impurities and dead skin cells without any irritation.
Key ingredients: Amino Acid Complex, Panax ginseng extract, Camellia extract, Chamomile extract, and Rosmarinus officinalis extract
Pros
Mild fragrance
Non-drying
Hypoallergenic
Suitable for all skin types
Cons
None

Price at the time of publication: $16.63
The Cosrx Low pH Good Morning Gel Cleanser is infused with betaine salicylate, a plant-derived beta hydroxy acid that clears deep-seated impurities and improves skin texture. It also contains tea tree oil that helps soothe irritated skin and redness and styrax japonicus branch/fruit/leaf extract that clarifies the skin. This brightening cleanser formula is ideal for all skin types and can be used to control excess sebum and restore the pH balance, making your skin glow. If you are an absolute beginner, this video review based on the reviewer's experience might be useful.
Key ingredients: Betaine salicylate, Styrax japonicus branch/fruit/leaf extract, and Tea tree oil
Pros
pH-balanced
Brightens the skin
Paraben-free
Vegan
Cruelty-free
Artificial fragrance-free
Cons
Not suitable for sensitive skin.
Price at the time of publication: $7.0
The Mizon Snail Repairing Foam Cleanser is designed with a gentle skin-revitalizing formula containing the goodness of the Centella asiatica herb. The exfoliating cleanser melts away impurities, reduces the appearance of blackheads, deeply hydrates the skin, and enhances your overall skin tone. This dermatologist-tested drugstore Korean cleanser is powered by snail secretion filtrate, enriched with protein and glycolic acid, to provide multiple anti-aging benefits, such as plumping wrinkles, enhancing elasticity, and boosting skin firmness. It also contains papaya extracts that gently exfoliate the skin and centella, portulaca, and green tea extracts that protect the skin and prevent damage. Always do a patch test on your neck, jawline, or inner arm and wait for at least 24 hours for any reactions.
Key ingredients: Snail secretion filtrate, Papaya fruit extract, and Green tea extract
Pros
Gentle
Suitable for sensitive skin
Dermatologically tested
Contains natural ingredients
Cons
Price at the time of publication: $9.29
The Lookatme Bubble Purifying Foaming Cleanser deeply hydrates and refreshes the skin and is ideal for all skin types. It helps enhance skin elasticity, control sebum production, and unclog pores, leaving you with radiant, younger-looking skin. This drugstore Korean anti-aging cleanser is infused with hydrolyzed collagen that intensely hydrates the skin, improves elasticity, and fights the signs of aging. Other active ingredients, like tea tree, chamomile, and mint extracts, soothe the skin and reduce redness.
Key ingredients: Hydrolyzed collagen, Tea tree, Chamomile, and Peppermint extract
Pros
Hydrating cleanser
Reduces breakouts
Pleasant fragrance
Non-toxic
Synthetic additive-free
SLS-free
Formaldehyde-free
Triclosan-free
Phthalate-free
Vegan
Cons
None
Price at the time of publication: $20.22
This rice water cleanser from The Face Shop is designed to help you get glass-like skin. It is enriched with rice water, which is rich in minerals, ceramides, and vitamins A, B and E. It helps brighten the skin, prevent cell aging, improve skin resistance, and nourish the epidermis. The rice extracts in this sensitive skin cleanser also help clear the skin and even out the skin tone. The cleanser also has soapwort which gently cleanses the skin without drying it out. Check out the tester's experience in this review for a thorough understanding of the product.
Key ingredients: Rice water and Soapwort
Pros
Hydrating formula
Mild fragrance
Safe for sensitive skin
Paraben-free
Alcohol-free
Paraffin-free
Allergen-free
Cons
Price at the time of publication: $18
The Egg White Pore Clinic Cleansing Foam from Care:Nel is an all-in-one cleansing, moisturizing, purifying, and tightening formula. It helps melt away dirt, grime, makeup, and impurities from the skin surface while sealing in essential moisture to give you silky-smooth and healthy skin. The egg yolk extracts in the cleanser help tighten the pores, control excess oil, reduce blackheads, and firm up the skin. The amino acid-enriched egg white seeps into the pores and provides deep cleansing without stripping the skin of its natural oils.
This blackhead-clearing cleanser formula also contains the patented BSASM formula that is made using the right ratio of seven exclusive botanical ingredients that prevent water loss after cleansing. These ingredients include licorice, green tea, rosemary, gotu kola, chamomile, Chinese skullcap, and Hu zhang extracts. The makeup-removing cleanser formula also includes cucumber, pumpkin, banana, neem, and grapefruit extracts that nourish and soothe the skin.
Key ingredients: Egg yolk extract, Egg whites extract, and MultiEx BSASM
Pros
Mild fragrance
Gentle
A little goes a long way
Value for money
Cons
Not suitable for dry skin
Price at the time of publication: $12.9
The TonyMoly Clean Dew Lemon Foam Cleanser has a refreshing formula that gives you healthy, dewy, and glowing skin. It is formulated using 96% aloe vera extract that hydrates, moisturizes, and soothes dry and sensitive skin. The aloe vera cleanser also contains lemon extract that targets uneven skin tone and makes your skin look brighter and more radiant. The blueberry extract is rich in vitamins and minerals that defend the skin against environmental aggressors, leaving it feeling softer and smoother. The red grapefruit extract in the formula boosts skin elasticity and fights the signs of aging. Patch testing is essential before using the product to prevent any adverse effects.
Key ingredients: Aloe vera extract, Lemon extract, Red grapefruit extract, and Blueberry extract
Pros
Hydrating formula
Pleasant fragrance
Value for money
A little goes a long way
Cons
Price at the time of publication: $7.5
The Soon Jung Whip Cleanser is gentle and lightweight with a low pH level, leaving no chance for skin irritation. It is formulated using panthensoside, a combination of panthenol and madecassoside that heals damaged and irritated skin. While panthenol protects the skin's natural barrier and hydrates the skin, madecassoside calms irritated skin. The hypoallergenic cream cleanser formula has a whipped cream-like texture to reduce friction with the skin.
Key ingredients: Panthenol and Madecassoside
Pros
Hypoallergenic
Non-comedogenic
Non-irritating
Low pH
Safe for sensitive skin
Mineral oil-free
Paraben-free
Cruelty-free
Pigment-free
Polyacrylamide-free
Silicone-free
No synthetic perfume
Cons
Price at the time of publication: $27.0
The Innisfree Pore Clearing Facial Foam offers deep cleansing to your clogged pores and impurities while leaving the skin feeling super refreshed. It is a refreshing foam cleanser with Jeju Volcanic Clusters – particles smaller than pores – that effectively whisks away excess oil and impurities for a refreshed and clear complexion. The oil-free cleanser contains lactic acid that helps exfoliate all the dead skin cells. It removes excess sebum and offers your skin a matte look.
Key ingredients: Jeju Volcanic Clusters and Lactic acid
Pros
Cruelty-free
Mineral oil-free
Silicone oil-free
Paraben-free
Sulfate-free
No synthetic colorants
Cons
None
Price at the time of publication: $12
Why Trust StyleCraze?
The author, Shiboli Chakraborti, is a certified skin care coach and writes research-based product reviews for StyleCraze. She compiled this list of the best Korean drugstore cleansers keeping in mind their natural formulas and affordability. Besides researching a wide variety of Korean cleansers, she evaluated user feedback from trusted online forums. These cleansers are non-irritating and hypoallergenic and impart glow to your skin.
Frequently Asked Questions
Is Korean cleanser good for oily skin?
Yes, Korean cleansers are ideal for oily and acne-prone skin. Oil cleansers are made to thoroughly exfoliate the face and clear the pores of debris to maintain it clear and rejuvenated.
Is Korean cleanser good for dry skin?
Yes. Although Korean cleansers are known for their exfoliating features, they are also effective for hydrating dry skin. The Lookatme Bubble Purifying Foaming Cleanser is the best Korean cleanser to try if you have dry skin.
Is Korean cleanser good for rosacea?
Yes, Korean cleansers like The Face Shop Rice Water Bright Foaming Cleanser are very effective for sensitive skin, especially for rosacea. They clean the skin well without triggering any further reaction.
Is Korean cleanser good for teenage skin?
Yes. Teenagers often have oily and dull skin with breakouts. Korean cleansers work perfectly to cleanse their skin gently without aggravating existing acne.
How often should you use a Korean drugstore cleanser?
You can use a Korean drugstore cleanser twice or thrice weekly to cleanse or exfoliate your facial skin.
Do drugstore Korean cleansers expire?
Yes, all Korean drugstore cleansers have a shelf life of 1-2 years.
Can I use a Korean cleanser while pregnant?
Yes, many Korean cleansers are safe to use during pregnancy. However, it will be wise to check out the ingredient list to avoid any harsh chemicals.
Which Korean cleanser is the best for acne?
The Innisfree Pore Clearing Facial Foam is the best Korean acne-fighting cleanser to remove excess sebum from your skin and prevent acne breakouts.
Recommended Articles