15 Best Collagen Serums To Improve The Appearance Of Your Skin
Add these top-quality serums and pamper your skin for a youthful radiance.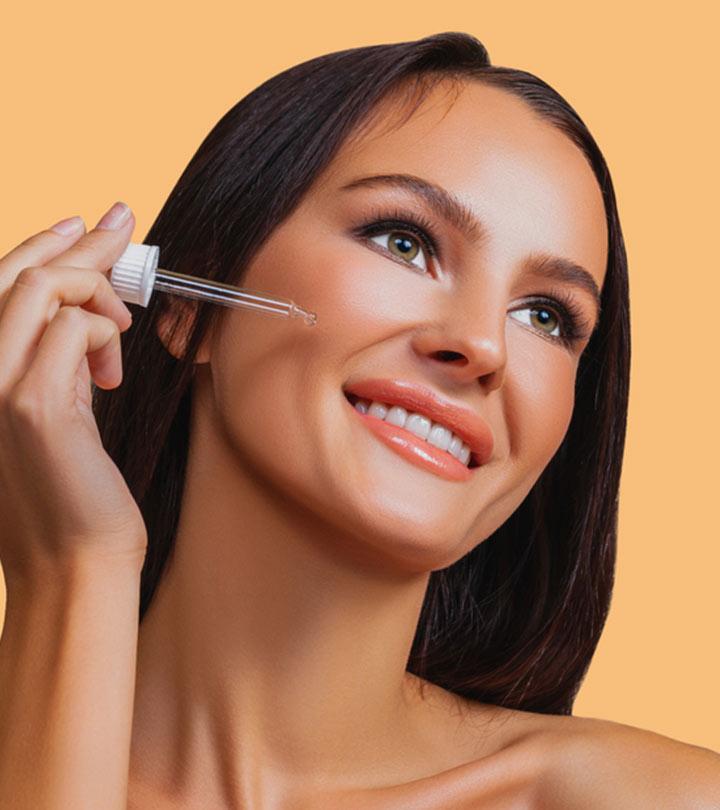 If fine lines and saggy skin have started bothering you, it is time you got your hands on the best collagen serum out there. While aging is a natural process none of us can escape, certain lifestyle changes, proper nutrition, and taking care of your skin every day can help you age gracefully. Collagen serums are a powerful way to fight the signs of aging and boost your skin's natural elasticity to make you look younger and radiant. These serums are enriched with antioxidants, peptides, and hyaluronic acid that help keep your skin firm, plump, and hydrated.
Just like any skin care product, collagen-infused anti-aging serums can also offer additional benefits to suit your dry, oily, or combination skin. To help you pick the right one for your needs, we have listed the 15 best collagen serums to keep you looking radiant and youthful. Check them out below!
15 Best Collagen Serums To Fight Ageing
Pros
Fight skin aging symptoms
Reduces the appearance of fine lines
Cruelty-free
Organic formula
Helps control acne
Cons
May not get absorbed quickly
Price at the time of publication: $9.99
Pros
Cruelty-free
Fights free radicals
Helps even skin tone
Made from natural ingredients
Cons
May not be suitable for oily skin
Price at the time of publication: $27.95
Not many brands have dominated the anti-aging market like Olay has. True to the brand's reputation, this Olay Wrinkle Correction Serum reduces wrinkles in just 28 days. The niacinamide in the product improves skin complexion by fighting pigmentation. Made with Olay's Vitamin B3+ collagen formula, this serum absorbs swiftly on the skin's surface, offering you smooth, radiant skin. You may check this video for a better understanding of this product.
Pros
Moisturizing formula
Free of parabens and phthalates
No mineral oil and synthetic dues
Reduces wrinkles
Cons
May not be suitable for senstive skin type
Price at the time of publication: $24.7
We all know that the key to firm and youthful skin is collage. This Advanced Clinicals Collagen Serum reduces wrinkles, fine lines, age spots, dark circles, and puffiness. Infused with algae extracts, soy portion, and glycerin, it supports supple skin, improves elasticity, and offers a dewy glow. The formula also includes aloe vera and olive oil to provide the skin with hydration. This serum is free from parabens and fights signs of aging in just 4 weeks.
Pros
Paraben-free
Hydrating formula
Results within 4 weeks
Great for everyday use
Cons
The scent may be overpowering for some
Price at the time of publication: $17.99
Are you looking for a serum to add to your anti-aging skincare routine? This QRxLabs Peptide Complex Serum is perfect for fighting visible signs and will give you smoother and younger-looking skin in just 4 weeks. With a proprietary blend of chamomile extracts, Gotu kola, horsetail extracts, and jojoba seed oil, this serum will soothe your skin, reduce inflammation, accelerate the formation of collagen while rendering supple skin. Infused with hyaluronic acid, this peptide complex serum provides intense hydration for healthy-looking skin.
Pros
No oily residue
Accelerates skin repair
Great for everyday use
Improves skin elasticity
Cons
May not be suitable for sensitive skin
Are you developing fine lines sooner than you expected? Well, hold your horses before you go under the needle. This Mizon Original Skin Energy Collagen Serum is great for those looking at a non-invasive solution to fight aging. Enriched with 90% highly concentrated marine collagen ampule, this formula will tighten and tone your skin. It includes hydrating ingredients like glycerine and niacinamide to provide moisture and to improve skin elasticity.
Pros
Unscented
Paraben-free
No artificial colors added
Ideal for sensitive skin
Cons
Formula may be a bit oily
Price at the time of publication: $17.4
If you have been worried about developing fine lines on your face, this Zone365 Collagen Anti-aging Face Serum is the ultimate solution. This ultra-hydrating formula contains jojoba oils and potent collagen peptide to help reduce wrinkles and boost skin cell production. This serum includes 10% hyaluronic acid that helps eliminate dark spots, blackheads, discoloration, and skin a natural face lift.
Pros
Tightens skin
Suitable for all skin types
Protection sun damage
Great for everyday use
Cons
May not be suitable for extremely dry skin
Price at the time of publication: $11.99
Pros
Cruelty-free
Paraben-free
Improves skin elasticity
No preservatives, synthetic dyes, SLS, formaldehyde releasers and mineral oil
Cons
Price at the time of publication: $15.97
Pros
Talc-free
Non-greasy
Paraben-free
Absorbs quickly
No alcohol, mineral oil and synthetic dyes
Cons
May take a while for results to show
Price at the time of publication: $13.4
This clinically proven anti-aging serum boosts collagen production, decreases pigmentation and tightens skin. It efficiently fights aging and brightens skin tone. The formula includes vitamin C that works as a toner and matrixyl 3000 that targets wrinkles. This serum also contains trylagen, which makes skin look younger and retinol that decreases pore size. Hydration and smooth skin is easily achievable as this serum includes vitamin E and hyaluronic acid.
Pros
Vegan
Cruelty-free
Fragrance-free
Absorbs quickly
Non-irritating formula
Safe for all skin types
Cons
Price at the time of publication: $18.95
With a power blend of hibiscus flower, hyaluronic acid, and vitamin C, this Teami Vit-C Tea Infused Serum fights signs of aging and leaves you with fresh, radiant skin. It repairs skin damage, hydrates deeply, reduces fine lines and replenishes dull skin with nutrients to give you smoother and quenched skin. This gentle formula will never dry out your skin and always keep it hydrated. It is infused with real tea, which is rich in anti-aging and antioxidant properties to help keep skin youthful and plump.
Pros
Cruelty-free
Suitable for all skin types
Organic ingredients
Antioxidant rich formula
Free of synthetic dyes, fragrances, preservatives and harmful fillers
Cons
Price at the time of publication: $32.89
Pros
Lightweight
Dye-free
Mineral oil-free
Quick results
Suitable for all skin types
Cons
None
Price at the time of publication: $21.48
Pros
Cruelty-free
Paraben-free
Absorbs quickly
Phthalate-free
SLS-free
PETA-certified
Cons
None
Price at the time of publication: $24.97
Move over the gold facial frenzy, we have found you a gold anti-aging serum. Sounds like a day at a luxurious spa, doesn't it? Well, within the comfort of your home you can use this SpaLife 24K Gold Collagen Infused Anti-aging Serum, that uses the antioxidant properties of gold to fight aging. This formula includes colloidal gold flakes that stimulate natural collagen production and collagen potion that boosts skin elasticity. Regular use of this serum will reduce fine line, wrinkles and dark spots.
Pros
Smoothen skin
Absorbs quickly
Ultra-moisturizing formula
Promotes radiant complexion
Cons
Formula may be a bit too thin
Price at the time of publication: $12.99
Sagging skin got you worried about aging? Well, age gracefully with this Progenix Collagen Instant Plumping Serum that reduces the appearance of expression lines. This formula includes vitamin E and ginseng extract that obstruct free radicals. It also includes Matrixyl 3000, which enhances production of collagen that repairs skin damage and visibly reduces wrinkles.
Pros
Cruelty-free
Paraben-free
Great for everyday use
Shows results within 4 weeks
Cons
Price at the time of publication: $9.99
Now that you are caught up on collagen serums in the market, here's a deep dive into what they are all about.
How Does Collagen Serum Work?
If you have looked up on anti-aging products online, you know collagen is the miracle ingredient to look for. It will keep improving your skin's elasticity, make it firm and plump. There are 16 types of collagen in your body, but the collagen serum enhances the one present in your skin cells that is responsible for elasticity and texture.
Collage serum won't replace the collagen you have lost as these molecules are too big to enter the dermis on external application. These serums just fill in the fine lines and help retain moisture in your skin making it smoother and tighter.
So, how does one pick which collagen serum is the best for them. Here's a quick look.
How To Choose The Best Collagen Serum?
There is no one-works-for-all serum in the market. You must understand your skin type, especially if you have sensitive skin, before buying a collagen serum.
Oily and combination skin
Pick a lighter serum lotion if you have an oily or combination skin. A water-based serum will be your best bet. We suggest you try the SpaLife 24K Gold Collagen Infused Anti-aging Serum.
If you already have blemishes or acne, look for a serum that has salicylic acid and niacinamide as it will break up the oil that causes acne. We recommend the Olay Wrinkle Correction Serum for oily and acne-prone skin type.
Look for collagen serum that have ultra-hydrating formulas. You do not want to buy one with alcohol that would end up drying your skin further. Try to choose serums with hydrating ingredients such as shea butter and citric acid
Now that you know how to pick a collagen serum for yourself, here's a brief look at how to use one.
How To Use Collagen Serum?
To get maximum advantage of your collagen serum, make it part of your morning and night time skin care routine. Wash your face well and then massage the serum on to your face, neck and decolletage. Be sure to apply sunscreen too.
You must be wondering, what is so special about collagen serums. Let's break it down for you.
Benefits Of Using Collagen Serum
Here are the advantages of using collagen serum.
Lifts sagging skin
As you age, your skin's collagen begins to collage causing your skin to sag. A collagen serum will lift your skin. This will help not only lift saggy skin but also smoothen wrinkles and fine lines.
Improves elasticity and reduces wrinkles
As the skin loses during the aging process, use of collagen serum everyday will improve your skin's texture and boosts elasticity. Collagen serum will also fill in the expression lines in your skin, reducing the appearance of fine lines and wrinkles.
Tips To Maintain Natural Collagen Production
Here are a few ways that you can maintain natural collagen in your face
Massage: A good facial massage will enhance the production of collagen in skin. Along with the collagen serum, you can easily include this step in your everyday beauty routine.
Vitamin C rich diet: Vitamin C can help stimulate the production of collagen in your skin and prevent damage caused by UV rays. You can include food rich in Vitamin C in your diet or even apply a vitamin C rich serum for the best results.
Stop smoking: Nothing ages you like smoking cigarettes. Smoking reduces the level of collagen produced in the skin, according to studies.
Drink more water: If your cells are running a dehydrated environment, the collagen's shape may get easily distorted. Keep your skin hydrated for healthy collagen.
Why Trust StyleCraze?
Kirtana Divakar is passionate about skin care, often spending time researching and reviewing products to help your skin look firm, plump and hydrated. Her article on the best collagen serums can help you get younger-looking skin. These collagen-infused anti-aging serums are shortlisted after thorough research and going through online reviews and feedback on their efficacy.
Frequently Asked Questions
Does collagen serum really work?
While the collagen serum cannot replace the lost collagen in your skin, it can fill in the lines and help you retain moisture.
Is collagen serum good for wrinkles?
Yes. Collagen serums are designed to boost the production of structural proteins that fight wrinkles, saggy skin and fine lines.
How long does it take for collagen serum to work?
Research shows that collagen serums take 4 to 12 weeks to show results.
How often should I apply a collagen serum?
Apply your serum twice daily, once in the morning and once at night for optimal anti-aging results.
Is collagen serum safe during pregnancy
All peptide collagen serums are safe to use during pregnancy. However, it is best to consult your doctor regarding this.
Do I still need a separate moisturizer if I'm using a collagen serum?
If you have oily skin, you can use a collagen serum in place of a moisturizer as they are deeply hydrating.
Can I preserve my collagen levels?
Yes, with religious application of sunscreen, you can protect your skin from sun damage and maintain collagen level.
Can I use collagen serum after microneedling?
It is advisable to use the serum while using a derma-roller during the microneedling procedure.
Recommended Articles: