6 Best Black Nail Polishes In 2023 – Our Top Picks
It is time to ignite your inner Gothic vibe with these must-have nail colors.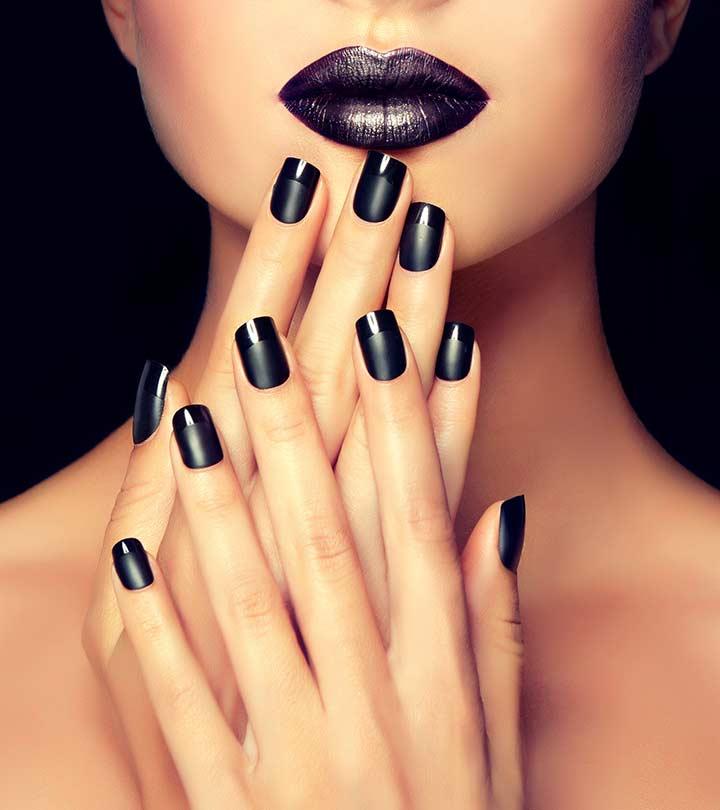 Black is the most attractive and intoxicating nail color. It goes well with every outfit. The best back nail polishes make you stand out from the crowd when paired with a stunning personality. It looks chic, and you can use it as a base color for nail art. Black is the preferred color with glitter polishes. It's not just for goths but everyone. This color also creates an illusion of a lighter complexion. We have curated a list of the best black nail polishes that make your hands look elegant and beautiful. Check them out below!
6 Black Nail Polishes Designs And Shades In 2023
1.
Best With A Creme Finish:
Jordana Black
This is my all time favourite jet black polish. And I mean it because I have finished up three bottles till date. The polish is intense black in colour in a creme finish so that you can almost get away wearing a single coat if you are short of time. The finish is very glossy. Requires two coats.
Pros
Premium-quality ingredients
Chip-resistant
Long-lasting results
Creamy finish
Cons
None
2.
Best With A Glossy Finish:
Essie Licorice
Licorice is a deep black colour in a creme finish. The polish is so glossy, it almost looks like you are wearing a topcoat over it. This is a characteristic of most of Essie's polishes. Be ready to shell out the moolah though. The color works with fine silver holographic glitter to make a cosmic pattern on your nails.
Pros
Offers glossy shine
Flawless coverage
Hydrating formula
Long-wearing color
Streak-free application
Glides easily
Quick-dry formula
Suitable for home manicures
Cons
Price at the time of publication: $7.0
The Sally Hansen Hard as Nails Xtreme Wear Nail Color Black Out gives your nail an intense black color with a shiny finish in just one swipe. This long-lasting nail paint is quick drying and won't fade easily. It provides your nail with extra durable protection with the exclusive flexiglass complex to prevent breakage and thus make your manicure last longer. This is best when you want to dress up for an occasion.
Pros
Easy to wear
Strengthens nails
Anti-fading
One swipe coverage
Glossy finish
Can last up to 10 days
Cons
Takes time to dry
Some may find the brush very thin
Price at the time of publication: $2.53
The OPI Nail Lacquer, Black Onyx, Black Nail Polish is designed with a high quality, long-lasting formula that gives a super rich color to your nail and lasts up to a whole week. This polish for statement nails provides a glossy finish and seals the nail to prevent peeling. You can even use it on nail extensions. A perfect nail varnish for special occasions, it also comes with a wide brush applicator that makes the paint glide smoothly over your nail for a flawless finish.
Pros
Shiny finish
Chip-resistant
Long-lasting
High-quality formula
Streak-less finish
Cons
May stain your natural nails
Extremely thick formula
If you want to add something extra to your regular black shade, this matte black is the way to go. Matte Vinyl is a trendy polish in a pure matte finish. The matte finish gives a completely different look and would look fabulous if you add some glitter over it. You can also add tiny silver shimmers for that stark look. Requires two coats.
Pros
Long-lasting coverage
Sparkling opaque finish
Suitable for everyday wear
Ultra-smooth application
Durable paint brush
Rich color-payoff
Fade-proof
UV-protected
Cons
Stains the nails
Difficult to remove
Price at the time of publication: $8.04
If black is what you wear frequently and are quite particular about quality, no harm in investing in this one. Liquid Leather is just a long-lasting black creme in a super glossy finish. Requires two coats.
Pros
Glossy finish
Creamy coverage
Long-lasting effect
Chip-resistant
Quick-dry formula
Strengthens the nails
Cons
Price at the time of publication: $5.47
Why Trust Stylecraze?
Jyotsna Rao is a product writer and skin care and makeup enthusiast. She uses her research skills to present informative and objective content on the top products in the market. In this post, she has presented a list of the best black nail polishes based on quality, finish, and user feedback. She has also included a buying guide to help you make the right decision.
Frequently Asked Questions
Is black nail polish in style?
Yes, black nail polishes are in trend; they symbolize boldness and rebellion, making it a favorite color for every young soul. It adds uniqueness to your nails and looks very appealing.
Are black nails professional?
Yes, black nail polish works very well with every look, whether casual, neutral, or professional.
Can black nail polish stain nails?
Yes, with regular usage, the black or dark shade polishes can leave stains on the nails.
Can you wear black nail polish to a wedding?
Yes, black nail polish will compliment any outfit you wear to a wedding event.
Does black nail polish look good on dark skin?
Yes, it gives a very bold impression.
How can I take off black nail polish?
Simply put your nails in a bowl filled with nail polish remover and start rubbing cotton swabs over them to remove the stains.