6 Best Black Nail Polishes In 2022 – Our Top Picks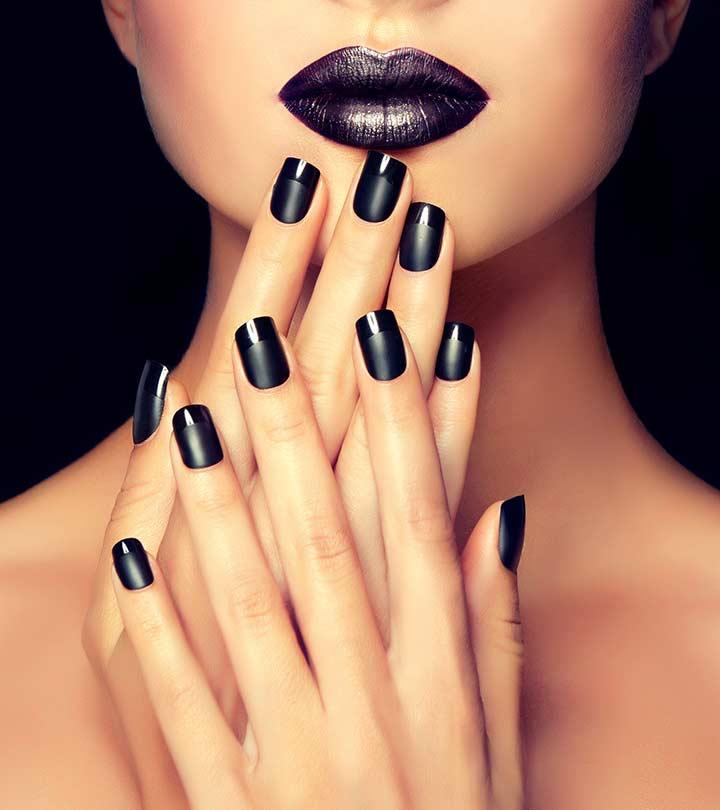 Black is the most attractive and intoxicating nail color. It goes well with every outfit. The best back nail polishes make you stand out from the crowd when paired with a stunning personality. It looks chic, and you can use it as a base color for nail art. Black goes best with glitters. It's not just for goths but everyone. This color also creates an illusion of a lighter complexion. We have curated a list of the best black nail polishes that make your hands look elegant and beautiful. Check them out below!
6 Black Nail Polishes Designs And Shades In 2022
1. Best With A Creme Finish: Jordana Black:
This is my all time favourite black polish. And I mean it because I have finished up three bottles till date. The polish is intense black in colour in a creme finish so that you can almost get away wearing a single coat. The finish is very glossy. Requires two coats.
Similar Products:
Licorice is a deep black colour in a creme finish. The polish is so glossy, it almost looks like you are wearing a topcoat over it. This is a characteristic of most of Essie's polishes. Be ready to shell out the moolah though.
Similar Products:
[ Read: Best Blue Nail Polishes ]
Black is the most preferred color to pair glitter polishes with. But here is a combo of both together. Cosmic is a black polish with loads of fine silver holographic glitter. When you are short of time and want to dress up your nails for an occasion, this is the polish to reach out for. This could be a bit sheer so wear it over a regular black.
Similar Products:
Here is a black polish with a difference. Over The Top is a metallic nail polish grey-black shade with some tiny silver shimmers in it. This polish is good if you want to wear black but want to avoid its stark look. Requires two coats.
Similar Products:
If you want to add something extra to your regular black, matte is the way to go. Matte Vinyl is a polish in a pure matte finish. The matte finish gives a completely different look and would look fabulous if you add some glitter over it. Requires two coats.
If black is what you wear frequently and are quite particular about quality, No harm in investing in this one. Liquid Leather is just a black creme in a super glossy finish. Requires two coats.
So which one of these according to you is the best black nail polish? Do comment and let us know! You can also get more nail polish ideas.

Why Trust Stylecraze?
Jyotsna Rao is a product writer and skin care and makeup enthusiast. She uses her research skills to present informative and objective content on the top products in the market. In this post, she has presented a list of the best black nail polishes based on quality, finish, and user feedback. She has also included a buying guide to help you make the right decision.