9 Best Sprays And Drops To Dry Nails
Quickly dry your wet nail polishes with these sprays to avoid smearing the colors.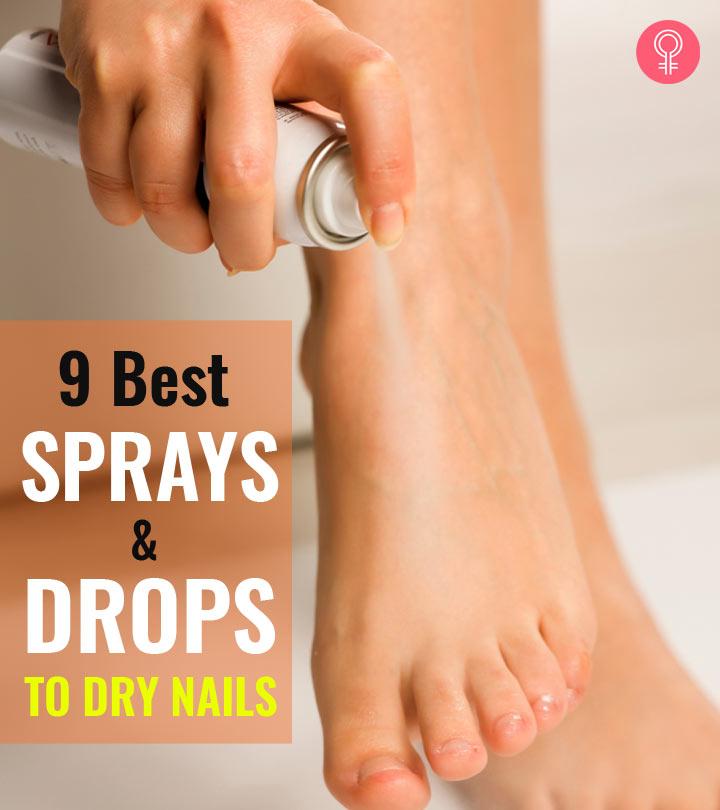 It is tiring (and frustrating) to wait for your nails to dry slowly. This is where the best nail drying sprays and drops come in to help you slay without having to be careful with your freshly-painted nails. After all, who wants to live through the fear of accidentally smudging or smearing your wet nail polish when putting on your clothes are in a hurry. These protective products form a glossy layer that makes your nail paint shine. So, pick your fave out of the 9 best nail drying sprays listed below.
9 Best Sprays And Drops To Dry Nails
The O.P.I Rapidry is a topcoat spray protector for your nails. Use it in between manicures to make your nail polish shine. It dries nail polish smoothly without any smudges. It sets the polish within 60 seconds. It uses the nail lacquer formula that reinvented quality nail color. It is a non-aerosol spray. It creates a barrier over the nail polish coating and protects it. Learn more about the product in this video.
Pros
Quick-drying
Works for darker and lighter shades of nail polish
No smearing or smudging
Good fragrance
Cons
Less quantity for the price.
May leave bubbles on the polish.
Price at the time of publication: $11.39
The duri Drop'n Go Polish Drying Drops dry nail polish fast and seal the coating. They protect nail polish from smudging and prolong its longevity. They also protect the shine and finish of the nail polish. This product is formulated without DBP, parabens, toluene, camphor, formaldehyde resin, and formaldehyde. It comes with an easy-to-use dropper and keeps the polish hydrated and fresh. It is vegan-friendly – it is not tested on animals, nor does it use any animal-derived ingredients.
Pros
Smoothes out brush lines
Prolongs the longevity of manicures
Hydrates and protects the nails
Formulated without 5 toxins – Toluene, DBP, Camphor, Formaldehyde, and Formaldehyde resin
Paraben-free
Vegan
Cons
Has an off-putting smell.
Price at the time of publication: $9.49
The Valmy Gotas Secantes has a light, transparent formula that spreads quickly and penetrates the nail polish to ensure it dries quickly. It contains silicones that make the nails shiny. These drying drops protect the nails from dents, scratches, or any other nicks and prevent the nail polish from getting smudged. They also accelerate the drying process and do not change the color of the enamel. They can be used for the finger and toenails. The product is extremely convenient to use.
Pros
Quick-drying
Works as a protective topcoat
Makes nails shine
Easy to use
Cons
The smell may be too strong for some people.
Price at the time of publication: $9.99
The Golden Rose Nail Color Quick Dryer Spray speeds up the drying time of nail polishes. It prevents smudges, dents, and nicks and ensures that your nail color dries within minutes without any matte effect. It softens and moisturizes your cuticles as it contains sweet almond oil and grape seed oil. Spray this dryer about 8-10 centimeters away from your fingertips and wait for 30 seconds for it to dry.
Pros
Speeds up the drying time
Nourishes the cuticles
Non-aerosol spray
Protects the nails
Imparts a glossy shine
Cons
Packaging issues
Doesn't work as fast as it claims to.
Price at the time of publication: $7.57
The Onyx Professional Nail Dryer is a professional salon spray to dry the nails. It prevents nail polish from smearing by drying your nails quickly. It uses a unique formula that also conditions your nails and cuticles. It has an island coconut scent and comes with a nail file. This video gives you more information about the product.
Pros
Conditions nails and cuticles
Prevents nail and polish chipping
No smears
Nice coconutty scent
Glossy look
Cons
Leaves an oily residue on the nails.
Price at the time of publication: $17.99
The DeMert Nail Enamel Dryer is a professional manicurist finishing spray. It contains d-panthenol, organic protein, and mink oil to provide quick drying and condition the nails and cuticles. It prevents any nail polish smearing and provides a fine finish.
Pros
Quick-drying
Easy to use
Gentle
Conditions the nails and cuticles
Cons
Overpowering smell
May leave an oily residue.
Price at the time of publication: $8.0
[a0mazon box="B07MMNDGJ8″ template="custom" image_size="large" tracking_id="tsr-makeuppro-20″]
The Emma Cheetah Nail Polish Dryer Spray provides a smooth and smudge-proof finish. It dries and coats the nail polish within two minutes. It adds gloss and durability to the nail polish. It has a nice jasmine scent and dries the nails within 45 seconds. Use it daily for best results.
Pros
Enhances shine
Pleasant jasmine smell
Cons
Price at the time of publication: $15
The Mavala Mavadry Spray dries nail polish within a few seconds. It prevents flaking and enhances the nail color. It also acts like a manicure dryer. This nail dryer spray prevents smearing or smudges. It makes the nail polish shine and also reduces nail chipping.
Pros
Dries nails fast
Smoothes out brush lines
Good for manicures
Glossy shine
Protects nails
Cons
Price at the time of publication: $15.75
The Sephora Formula X Nail Drying Spray uses a special formula to penetrate the polish from the base coat to the topcoat. It dries each layer of the nail polish thoroughly and leaves a smooth and solid finish. It keeps the nail polish shiny and works well for manicures and pedicures.
Pros
Dries multiple layers of nail polish
Works well for manicures and pedicures
Boosts shine
Cons
None
Waiting for your nails to dry slowly is exhausting. The top nail drying sprays and drops may help you rock your freshly painted nails without needing to be cautious. Here are some factors to consider before buying the best sprays and drops to dry nails.
Things To Consider Before Buying The Best Sprays And Drops To Dry Nails
Ingredients: Opt for sprays and oils that include beneficial elements such as kukui nut oil, panthenol (vitamin B5), and rice protein that hydrate the cuticles and nourish the nails while preventing dents and smudging of the nail polish. These ingredients also smooth out brush lines, and impart a glossy shine to the nails.
Chemical-free Formula: Many brands include a variety of chemicals that can be quite damaging to the nails. Look for sprays and drops that do not include DBP, parabens, toluene, camphor, or formaldehyde.
Ease of use: Look for sprays that can be applied quickly and easily. Look for products that come with an easy-to-use dropper so that the product can be applied more effectively.
Drying Time: Nail polish often takes a long time to completely dry, and during this period, the nail polish smudges. When purchasing the spray and drops to dry nails, be sure to select a product that will help the nail polish dry as rapidly as possible.
Frequently Asked Questions
Why does nail polish take so long to dry?
Nail polishes take a long time to dry due to the ingredients used. These ingredients take time to set on the nails. It also depends on the size and number of coats you apply.
How long does nail polish take to dry?
Depending on how you apply them, nail polishes can take from 10-20 minutes to dry. If you want your nail polish to dry faster.
Does cold water help dry nails?
Yes. Cold water lowers the polish's chemical reaction rate and helps dry the nail faster. However, they also reduce the evaporating speed of the solvents in the nail polish.
What dries nails quickly?
Submerging your freshly painted nails in ice water dries the polish faster. In addition, setting a cool temperature in your blow dryer is also effective in quick drying.
Does hand sanitizer dry nail polish?
No. Hand sanitizer contains alcohol that softens the polish and eventually dissolves it.
Does cooking spray really dry nails?
Yes. A cooking spray contains oil that seeps into the polish and effectively thins out the formula. As a result, it helps in drying the polish quickly.
Does a hair dryer dry nails faster?
Yes. A hairdryer set in a coot temperature dries nail polish quickly.
How do you know if your nails are dry?
Your nails are dry when the polish emits no odor whatsoever. Some people gently touch their nails to check if they are dry, but you could run the risk of smudging your manicure.
Recommended Articles