7 Best Kylie Skin Care Products, According To Reviews The Kylie cosmetics brand was founded by Kylie Jenner. She is a popular media personality, noted fashion icon, and a reality TV star. Kylie's skin care line has taken the beauty world by storm for its unique and innovative formulas. They are vegan and free from cruelty, sulfates, and parabens. Also, she has been personally involved in the product formulations to check their effectiveness. This article explores the 7 best Kylie Brand Daily Skin Care Routine Products. Scroll down and check them out.
7 Kylie Brand Daily Skin Care Routine Products
Kylie Skin face wash offers a gentle but deep cleansing experience. It is infused with kiwi seed oil that is known to improve skin elasticity. The vitamin C and E in this foaming face wash fight age spots and help to maintain the moisture content. It has coconut-based surfactants that are mild and effective in gently removing oil, dirt, and makeup residue. The glycerin content in this formula works well for both dry and oily skin. The light fragrance is soothing and pleasant. You can also check this YouTube video for a complete idea about the product.
Pros
Dermatologist-tested
Gluten-free
Paraben-free
Vegan
Sulfate-free
Cruelty-free
Cons
None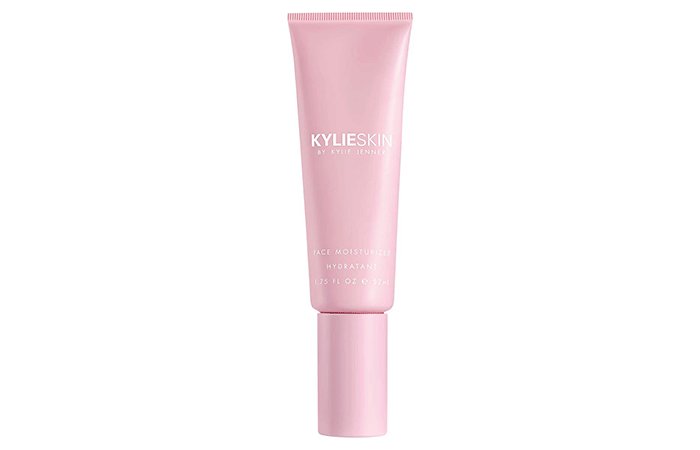 The Kylie Skin face moisturizer is a cream-based formulation that deeply hydrates your skin, making it soft and supple. It has shea butter, oat bran, orange peel, and banana leaf extract. All of these skin-friendly ingredients work together to make your skin look nourished, bright and achieve a soft-to-the-touch finish. Glycerin helps to balance the moisture level of any skin type and decreases excess oil, while sodium hyaluronate plumps up the skin. The Kylie Skin moisturizer can be used in the morning as a base for makeup or at night to hydrate and rejuvenate the skin while you sleep.
Pros
Non-comedogenic
Non-greasy
Dermatologist-tested
Artificial fragrance-free
Cruelty-free
Gluten-free
Paraben-free
Vegan
Sulfate-free
Cons
Might cause breakouts on sensitive skin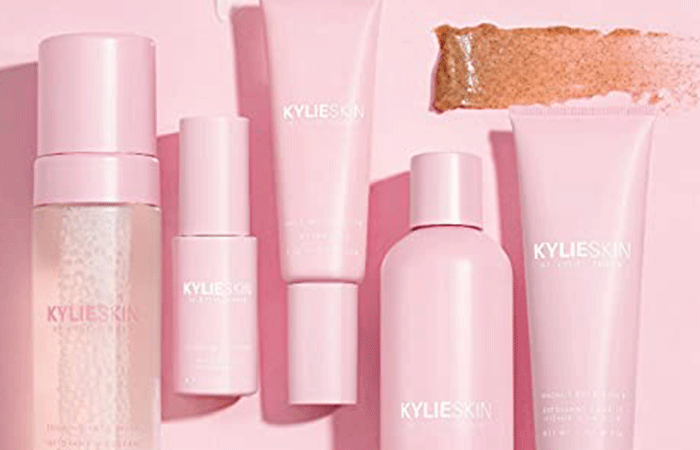 The Kylie Skincare set is a perfect combination of all the products required to follow a good skincare routine. This set includes a face wash, a toner, a face scrub, a serum, a moisturizer, and an eye cream. The all-in-one set cleanses, tones, exfoliates, and hydrates the skin.
The luxurious foaming face wash gently cleanses the face of dirt, impurities, makeup, and excess oil.
The walnut face scrub exfoliates dead and dry skin, and leaves the skin bright and fresh.
The vanilla milk toner has apple extracts, avocado oil, squalene, and glycerin. It replenishes the skin while reducing the appearance of open pores.
The face moisturizer is blended with emollients and humectants which keep the skin hydrated and oil-free. It has a non-greasy formulation keeping the skin smooth and feathery soft.
Next is the Vitamin C serum that penetrates the top layer of the skin and improves overall skin health. It adds a bright glow to seemingly dull skin.
The eye cream in this set is a blend of green tea, caffeine, vitamin E, and pomegranate extracts. These ingredients are known to reduce puffiness, dark circles, wrinkles, and fine lines around the eye. It also provides hydration and brightens the delicate eye area.
Pros
Lightweight
Non-greasy
Dermatologist-tested
Paraben-free
Vegan
Sulfate-free
Gluten-free
Cruelty-free
Cons
Expensive
Some products may be unsuitable for sensitive skin
The Kylie Skin Milk Toner is an alcohol-free formula that is a great addition to your skincare regime. It is enriched with kiwi seed oil, avocado oil, and apple extract, that soothes your stressed facial skin while restoring its natural hydration levels. Additionally, it has squalene, moisturizing oil that strengthens the skin's moisture barrier. Apricot kernel oil is an emollient that soothes and hydrates the skin along with sodium hyaluronate. Jojoba oil offers lightweight conditioning. This unique blend thus unclogs pores and minimizes their appearance while purifying the skin. If you want to know more about the results, take a look at this review on YouTube.
Pros
Alcohol-free
Dermatologist-tested
Gluten-free
Paraben-free
Vegan
Sulfate-free
Cruelty-free
Cons
Light artificial fragrance of vanilla
Not suitable for acne-prone skin
Kylie's Walnut face scrub is a formulation of skin-smoothing fruit extracts of apricot, orange, lemon, and kiwi, along with the fine walnut powder. Walnut powder is a gentle, yet effective, exfoliating ingredient, while the fruit extracts help to gently smooth your skin. The scrub reveals the inner glowing skin by removing the upper dead skin cells. It also contains ginseng extract which energizes the stressed skin while the humectant glycerin balances its moisture level. It decreases the oily appearance and hydrates dry skin. Squalene present in this formula is a refined moisturizing oil that is derived from olives and strengthens the skin's moisture barrier. Sodium hyaluronate plumps the facial skin and provides ultra-hydration giving it a radiant, soft look.
Pros
Dermatologist-tested
Gluten-free
Paraben-free
Vegan
Sulfate-free
Artificial fragrance-free
Cons
May be rough on some skin types
The eye cream from Kylie Skin brightens and hydrates the delicate skin around the eyes. It offers the ultimate revitalization to dull, dark, and aging skin. An effective blend of green tea, caffeine, and vitamin E, along with pomegranate extracts, reduce wrinkles, fine lines, and puffiness of the eyes. Vitamin E is an antioxidant that hydrates the skin, while shea butter provides moisturization. Jojoba oil conditions the skin and gives it a weightless, relaxed, and rejuvenated feel. Caffeine and vitamin C are known to reduce dark circles, which are the common bane of today's lifestyle.
Pros
Dermatologist-tested
Artificial fragrance-free
Gluten-free
Paraben-free
Vegan
Sulfate-free
Cruelty-free
Cons
May cause burning sensation on sensitive skin
The vitamin C serum from Kylie Skin contains a potent form of Vitamin C that brightens your dull skin. This serum is packed with camellia oleifera leaf extract that is an excellent antioxidant. It also has safflower seed oil and glycerin that are known to be powerful moisturizing agents, protecting the skin's moisture barrier. Incorporate it into your daily skincare routine to achieve glowing and healthy-looking skin.
Pros
Cruelty-free
Gluten-free
Paraben-free
Vegan
Sulfate-free
Artificial fragrance-free
Dermatologist-tested
Cons
Overpowering scent
Not suitable for sensitive skin
When it comes to luxury skincare brands, Kylie is one of our favorites. With various products and their unique formulations, Kylie's skin care products have been ruling the industry for a while now. The products are cruelty-free and devoid of synthetic ingredients like sulfates and parabens. So whether you are looking for a face wash, moisturizer, scrubs, serums, or toners, the skincare line by Kylie has got you covered. Incorporating these products into your daily skincare routine will help you achieve healthy and glowing skin.
Why Trust StyleCraze?
The author, Shiboli Chakraborti, is a certified skin care coach who loves experimenting with innovative skin care products. She vouches for The Kylie Skin cosmetics brand for its unique makeup formulas. Shiboli has carefully researched the products and referred to online user reviews to pick the best ones for her readers. Kylie Skin products not only maintain your healthy skin but also improve the quality of your skin. It is a must-have for people looking for cruelty-free, sulfate-free, and paraben-free products.
Recommended Articles
The following two tabs change content below.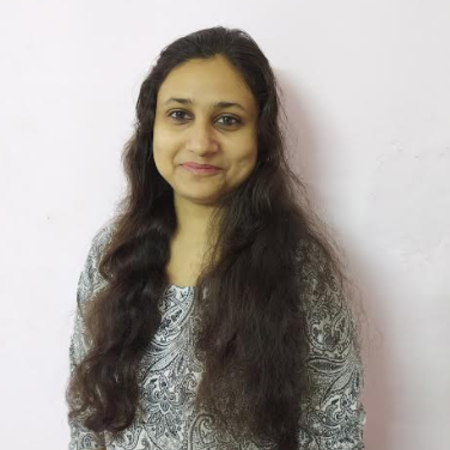 Shiboli has a master's degree in English literature from The English and Foreign Languages University, Hyderabad, and is a certified...
more