Top 7 Foam Rollers For Pregnancy That Will Relieve Your Muscles
Perform your pregnancy exercises and relaxing yoga safely and comfortably.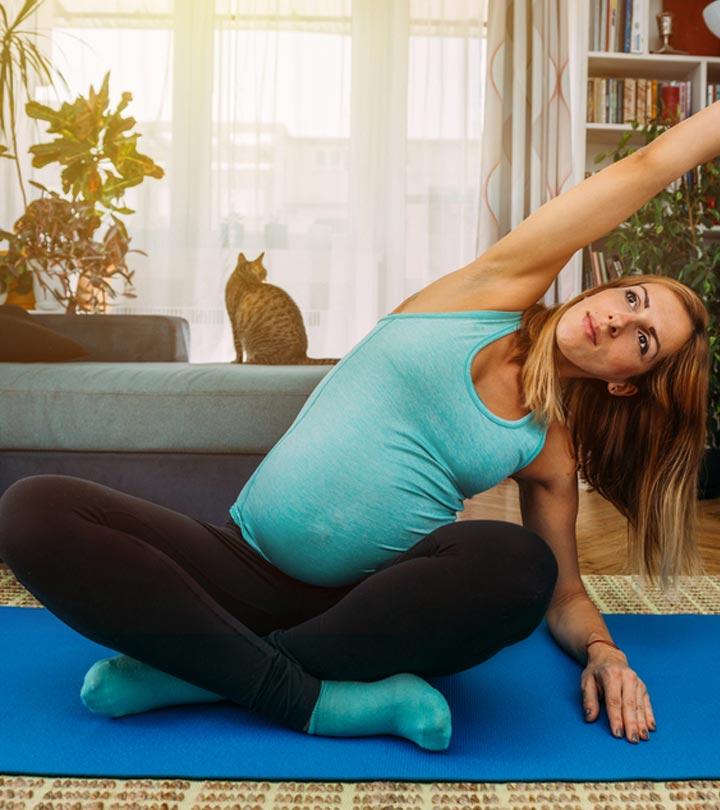 Pregnancy is a phase in a woman's life that fills her with joy and excitement, but is inevitably accompanied by pains and aches, mostly in the back. However, investing in the best foam roller for pregnancy can eliminate the pain so that all that's left to feel is excitement and happiness of experiencing motherhood.
Foam rolling works to increase the blood circulation in your body, oxygenating your muscles so that you're relieved of soreness in the muscles. While massages can help a great deal, they're not the most convenient option on a day-to-day basis. So, what are you waiting for? We've curated a list of the top picks to make it easier for you to make a choice. Pick one from our list of the 7 best foam rollers for pregnant women and choose the right exercise using a foam roller for relief from back aches and muscle soreness!
7 Best Foam Rollers For Pregnancy In 2023
Pros

High-density foam for noise dampening
5 customizable vibration frequencies
3-hour battery life for sustained use
Hypo-allergenic surface
Provides full-body support
Cons
Price at the time of publication: $149
Pros
Weighs only 1 lb
Lightweight and easy to carry around
100% EVA foam used to make the foam roller
Protected by US Patents 9,345,921 and 9,656,112
Includes an e-book that can be downloaded from the manufacturer's website.
Cons
The foam roller may not be suitable for people taller than 6 feet.
Price at the time of publication: $32.85
Pros
Includes a 3-year warranty
Repels liquids, doesn't get soiled
Available in 4 different sizes based on your needs
Molded with polypropylene foam technology and each roller has 2lbs per cubic foot density.
Cons
The roller may tend to attract hair and other things that have static.
Price at the time of publication: $41.55
Pros
Eco-friendly
Features a heavy-duty ABS hollow core for durability.
3D textured lightweight EPP core roller for ultimate pain relief.
Cons
The foam roller may be a bit too hard on the outside and soft on the inside.
Price at the time of publication: $26.82
Pros
Can take up to 325 lbs weight.
Includes a 1-year manufacturer warranty.
Light and easy to carry, only 12 inches long.
More durable than regular polypropylene rollers.
Cons
The foam roller may not be too dense.
Price at the time of publication: $68.99
Pros
Lightweight
Travel-friendly
2 hour battery life
3 pre-set speed system
Portable
Cons
None
Price at the time of publication: $149
Pros
Can be used for rehab after an injury.
Available in 3 different sizes based on different needs.
Can be easily cleaned with a wet cloth and mild detergent.
Cons
The roller may be oversized for anyone under 5'4".
Price at the time of publication: $59.95
Foam rollers can certainly help you through your pregnancy. With so many options to choose from, let us help you make the best choice for your pregnancy needs.
Buying Guide For Best Foam Roller For Pregnancy
With so many brands out there boasting multiple types of foam rollers with new features added every day, choosing the right foam roller has become an important decision that you must spend time on. Consider all the factors of foam rollers carefully but buy one with the final recommendation of your doctor.
Before buying a foam roller that you can use during pregnancy, look for the following features:
Safety:
The safety of the product is one of the most essential factors you must look into. You need to be careful about you and your baby, hence knowing how safe the foam roller is must be the top priority. From materials used to safety while using it, do your research before you begin rolling.
Texture:
The foam roller is meant to provide you comfort and not give you bruises and injuries in the process. The texture of the foam roller should be one that soothes your pains and doesn't aggravate any new issues on your skin. A slightly soft roller is always recommended for beginners.
Features:
The features of the foam roller are an important criterion as they will decide whether the roller is going to give you what you need from it. Some rollers are advanced with additional features like an inbuilt vibrator that massages your body and relaxes you. However, if you do not want very fussy rollers, look for a roller with simple features that do the job of relaxing your muscles.
Size and Shape:
The size of the roller is really important and must be known before you buy it. It determines if it is suitable for your height, weight, and how long-lasting it will eventually be. Generally larger foam rollers are better as they can work on most of your body parts together.
The shape of the foam roller will determine how it works for your body size and how smoothly it rolls on the floor. If possible, always test it out and see how you like the rolling movement.
Your weight, size, and body shape will keep evolving during pregnancy and you will look very different in the last trimester than you did during the first. Pain, discomfort, and belly size will keep growing which is why you must need to know how you can use a foam roller to the best and fullest potential.
Lower Back:
Seat yourself on the foam roller with your feet in front of you and hands on the floor behind you. Move a little forward so that the foam roller is placed between the bones of your hips. Now roll up and down for five to eight times. After this, tip your knees from one side to the other while releasing the hip. Hold still right below your hip and above the upper thigh and take deep breaths for 30 seconds.
Calf muscles:
Sit down with the foam roller placed before you and extend your legs over them. The calves must rest on the roller in this position. This is a great exercise during the initial months of pregnancy when you can easily push your hands down and lift your hips above the ground. Roll your calves for about half to a full minute while tipping your feet from right to left so you can find the knots in your muscles. When you finally find one, roll it slowly and take a deep breath with each movement while the muscles release.
Outer and upper thighs:
In the last few weeks of your pregnancy, rolling face down with your elbows placed on the floor is not possible due to the size of your belly and very dangerous too as it could put pressure on your spine. Instead, get a self-massage stick and roll it on the outer and upper thighs while seated in a chair.
Foam rolling during pregnancy is a great way to reduce fluid retention that can occur in the third trimester especially in the mother's feet, legs, glutes, and ankles. It also helps in improving mobility and decreasing muscle soreness as foam rollers can work to increase circulation in and around the muscle with the help of a precise physical activity.
Pregnancy is nature's miracle and being able to give birth to new life is an honor. It seems with great honor comes great pain, but with foam roller exercises for pregnancy, you can enjoy each trimester. Foam rolling for pregnant women is not very difficult to do, and back pain and leg pain gets released very quickly. It also keeps you moving in some way or the other which is important while your belly grows. With a large variety of pregnancy foam rollers now available, the choices are plenty and the color options are gorgeous. The best foam rollers for pregnancy will help you deal with each muscle pain head-on and soon you will realize how easy it is to relax in the comfort and safety of your own home.
Why Trust Stylecraze?
The author, Shreya Vishwanathan, is a health and fitness enthusiast who has a deep understanding of consumer psyche and behavior and enjoys focusing her skills on optimizing her readers' experience. She listed the best foam rollers for pregnancy that help increase blood circulation and relieve stiffness or soreness in the muscles. Her review process involves researching and comparing several products based on their key features, benefits, and user reviews across various e-commerce platforms.
Frequently Asked Questions
Are foam rollers safe during pregnancy?
Yes, they are as long as you are following instructions given by a professional and do not suffer from any other issue that may prevent the use of foam rollers for body pain.
Is it bad to bend when pregnant?
While it is not bad to bend when you are pregnant, bending in the later months may simply feel uncomfortable.
Is stretching good for a pregnant woman?
Stretching has many benefits for pregnant women including the ability to stay relaxed, fit, and ready to deal with labor! It also helps reduce pains and aches that are associated with pregnancy.
Is a hard or soft foam roller better?
A very soft foam roller may not be able to provide the amount of pressure it is supposed to while a very hard foam roller can cause trauma or bruising. For a first time user, however, a slightly soft foam roller is advised.
Can a foam roller help in dealing with knee pain?
Yes, it can with the help of a technique called myofascial release. It involves general sustained pressure which is applied right into the connective tissue of the body so that pain is eliminated and motion is restored.
Can foam rollers aggravate one's injury?
Yes, they can which is why it is important to limit one's rolling to only half a minute or 90 seconds for each muscle group.
Is a foam roller very useful?
Foam rolling for pregnant women is ideal because it increases blood circulation which results in the oxygenation of muscles. Fluid is transferred during this motion that carries nutrition and oxygen to the muscles which is great for pregnancy.
Recommended Articles