15 Best Face Moisturizers With SPF For Acne-Prone Skin – Top Picks
Protect your skin from sun rays and give it lasting hydration to make it supple and healthy.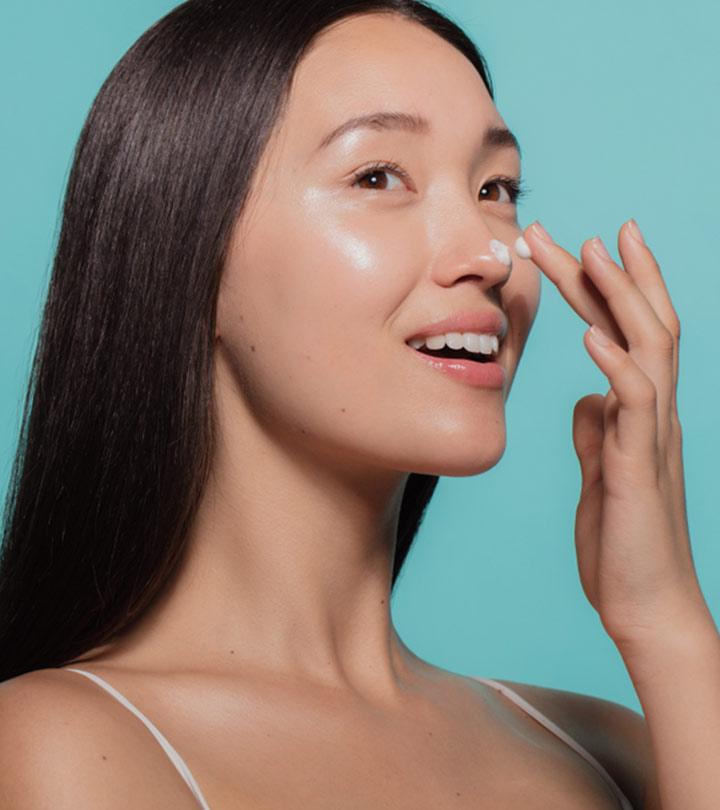 If you have acne-prone skin, layering the skin with multiple products can suffocate the skin and cause severe breakouts. However, you cannot ignore layering moisturizer with SPF when stepping out into the sun. This is where the best moisturizer with SPF for acne-prone skin can help you out. This dual-purpose product eliminates the need to use two separate products for hydration and sun protection. It gives you better results than using different kinds of acne-fighting products along with a moisturizer.
Dr. Priya Gill, a Malaysian dermatologist, says, "Oily skin is caused by the over-production of sebum from your sebaceous (oil) glands. This excess sebum can be due to many factors such as stress, poor diet, hormonal shifts, pollution, and improper skin care. By applying the right moisturizer to your skin, your sebum levels will begin to decrease and your skin will become less oily.
When you use moisturizers with SPF, your skin gets both hydration and protection from sun damage. In addition, they are gentle and lightweight on your skin and do not cause any harm to your acne-prone skin. So, are you ready to replace all those acne-fighting creams with this single skin care product that does the job of many? Scroll down to check out the best moisturizers with SPF suitable for acne-prone skin and transform your skin care game.
15 Best Moisturizers With SPF For Acne-Prone Skin
On the top of our list is the all-time favorite and dermatologist-recommended CeraVe AM facial moisturizer. As the name suggests, it is formulated for use in the morning. With a broad spectrum SPF 30, this moisturizer gives you your daily dose of UV protection without the need for added layering. It is fragrance, paraben, and oil-free. It is also non-comedogenic, making it more than ideal for acne-prone skin. To make things even better, this acne-prone skin moisturizer with SPF contains ceramides, hyaluronic acid, and niacinamide — gentle active ingredients that help in making your skin super healthy and glowing without a hint of breakouts. To understand more about the usage of this product, click on the YouTube video given below.
Pros
Affordable
Contains active ingredients
Recommended for daily use
Fragrance, paraben, and oil-free
Easy to use pump-out dispenser
Non-comedogenic and non-greasy
Protects against UVB rays
Cons
Not ideal for use under makeup
This product is from Neutrogena's Bright Boost line and contains a broad spectrum UVA/UVB SPF 30 that protects your skin from sun damage while improving and brightening your skin tone. This day cream is formulated to visibly reduce hyperpigmentation caused by sun damage or acne, improve uneven skin tone, reduce redness, and hydrate the skin. That's a whole lot of things in a small bottle, we know! Use it daily to let the moringa seed extract and vitamin E work their magic. This product is non-greasy, sheer, lightweight, and works well under your makeup! It is also non-comedogenic, making it ideal for your skin care routine. Go through the YouTube video given below to understand the features of this product.
Pros
Affordable
Brightens skin tone
Can be used under makeup
Firming, plumping, and hydrating
Non-greasy
Non-comedogenic
Cons
All oily-skinned folks who have patches of dry, flakey skin and are sick of looking for the right product — we've got just the thing for you. Cetaphil understands that just because you have acne-prone oily skin, does not mean your skin is adequately moisturized. Which is why they have gifted us with this 4-in-1 oil control product. This wonder product not only moisturizes the skin, but also helps in absorbing excess oils, reduces shine, hydrates, and provides broad-spectrum UVA/UVB protection. It is specially formulated for oily skin to relieve dryness and soften the skin. It is lightweight, non-greasy, and contains a lower concentration of sunscreen filters to reduce the chances of a breakout.
Pros
Ideal for irritated skin
Suitable under makeup
Paraben and fragrance-free
Easy to use pump-out dispenser
Can be used with acne medication
Dermatologically developed and tested
Cons
May cause discomfort around eyes in rare cases
Here's a DRMTLGY product that has descended from the big leagues into our laps to give us clear and healthy skin for days! Formulated to suit all skin types, especially acne-prone skin, it is fragrance, oil and paraben-free, non-greasy, and unlike most sunscreens, it doesn't leave a white cast! With a broad spectrum SPF 45, this acne skin moisturizer provides advanced skin protection for all skin tones. With a combination of anti-aging products like hyaluronic acid, niacinamide, and zinc oxide, this product is the best multi-tasking moisturizer you could have asked for. To make things even better, it is gluten, cruelty, and hormone-free to give you a guilt-free skincare experience.
Pros
Hydrates the skin
Fights free radicals
Combats signs of skin-aging
Ideal all-round moisturizer
Corrects uneven skin tone and dark spots
Provides antioxidant protection
Easy to use pump-out dispenser
Cons
If you haven't been living under a rock, you've probably heard all the rave about Differin. Most popular for its retinol products, this brand has changed the face of the affordable skincare regime. This oil-absorbing moisturizer for acne-prone skin with broad-spectrum SPF is lightweight, does not irritate the skin, oil-free, and contains SPF 30. Its Micropearl technology absorbs all the oil on the surface and leaves the skin with a clean, matte finish. It is non-greasy, non-comedogenic, fragrance-free, and hypoallergenic — a dream come true for all acne-prone-skinned folks out there! To understand the functionality better, check out the product review by this YouTuber.
Pros
Ideal for daily use
Does not leave a white cast
Can be layered with Differin gel
Oil-absorbing
Non-greasy
Cons
It may burn the eyes if applied incorrectly.
Here is another one of our favorites. A sheer mattifying moisturizer, that one melts like butter on your skin (but definitely does not feel like butter — don't worry!). It spreads easily and leaves your skin without a greasy shine. The soft matte touch makes it ideal for daily use and an excellent makeup base. In addition to using mineral and chemical UV filters with a blend of marine extracts, this formula is water-resistant, giving you a longer application compared to other products.
Pros
Doesn't leave a white cast
Water-resistant
Non-greasy
Matte-finish
Mineral sunscreen
Contains antioxidants to combat environmental stressors
Cons
Another big-league product that assures professional-grade skincare and results without a single breakout, this acne moisturizer with a broad spectrum SPF helps fight all signs of aging. With medium-weight consistency, this product strikes the perfect balance between a moisturizer and a sunscreen. It helps to improve photoaged skin by using a blend of antioxidant white tea, polyphenols, and unique polypeptides. It is paraben, fragrance, and artificial color-free to ensure that your skin stays calm and doesn't breakout. It is also cruelty and gluten-free and is vegan, making sure you have a guilt-free skincare experience.
Pros
SPF 50
Anti-aging properties
Cruelty and gluten-free
Ideal for sensitive acne-prone skin
Easy to use pump-out dispenser
Can be used under makeup
Paraben, fragrance, and artificial color-free
Cons
May not be ideal for oily skin
This acne-prone skin moisturizer with SPF is so good and safe (for you and the environment) that it has been winning awards for the past 5 years now! The reef-safe mineral sunblock ingredients used in this product leaves your skin with no white cast and irritation. There are no chemicals used in the UV filters and it is completely natural and organic. With deeply hydrating ingredients such as shea butter, aloe, and a bunch of antioxidants, this product leaves your skin soft and glowing. Packed with non-toxic and cruelty-free ingredients that are especially gentle with sensitive skin, ensuring you don't suffer unnecessary breakouts.
Pros
Anti-aging properties
Transparent protection
Non-toxic
Organic
Ideal for sensitive acne-prone skin
Contains anti-aging green tea and pomegranate
Cons
May not be ideal for oily skin
Specially formulated for acne-prone skin, this product is the go-to daily SPF moisturizer you are looking for! It contains soy complex to help improve overall skin health and complexion, and broad-spectrum SPF 30 to protect your skin from further damage. The soy complex helps even out skin tone and texture to give you soft, smooth, and clear skin. You can wear it under your makeup with ease and if you keep using it, trust it to eventually make your foundation obsolete. It is lightweight, fast-absorbing, oil-free, and non-comedogenic — the perfect recipe for oily acne-prone skin.
Pros
Affordable
Protecting and hydrating
Evens skin tone and texture
Easy to use pump-out dispenser
Oil-free
Non-comedogenic
Non-greasy
Cons
Alright, this product is for everyone, including our skincare fanatics who love layering on serums, treatments, you name it! This AM moisturizer gives you the perfect matte finish with sufficient SPF 30. It is lightweight, oil-free, and contains antioxidants to promote youthful-looking skin while protecting it from sun damage. To make things even better, this moisturizer for acne-prone skin softens the look of your enlarged pores, irrespective of your skin type. This product contains no fragrance, parabens. As the brand likes to say, this product is just effective, science-backed, and nothing else.
Pros
Matte finish
Leaves no cast
Reduces visible pores
No fragrance
Paraben-free
Cons
This Kimberly Sayer product is exactly what it says! Ultra-lightweight and easy to absorb. It opens up clogged pores, ensuring no future breakouts. It contains a unique blend of lemon oil and zinc oxide to detoxify your skin, minimize oil production, dry up existing acne and zits, and ensure that you don't get more of them! It is the prevention and the cure; how great is that? With SPF 30, this moisturizer is all you need to combat acne while starting your day. The formula leaves you with a soft matte finish that is ideal to use under your makeup. It also contains sunflower seed oil, coconut oil, and aloe leaf juice among others to keep your skin hydrated and nourished.
Pros
SPF 30
Vegan
Cruelty-free
Ideal for under makeup use
Easy to use pump-out dispenser
A fusion of organic beauty and science
Cons
It may not be best-suited for dry skin.
For all our makeup lovers out there, who love to apply makeup but don't like what it does to your skin, this product is for you. If you hate the heavy and cakey feel of sunscreen under your makeup, this product is for you too. Specially formulated for oily and sensitive skin, this sunscreen feels super light, leaves a matte non-greasy finish that is hard not to love. Using a blend of botanical extracts, vitamins, zinc oxide, and antioxidants, this product protects your skin from harmful UVA/UVB damage.
Pros
Cruelty-free
Lightweight daily moisturizer
Provides dual protection
Soothes redness and reduces roughness
Contains Japanese green tea and camomile extracts
Cons
Some may find it slightly greasy.
To all our planet warriors out there who make conscious decisions not just for their skincare but also for the planet, this product is for you. The minimalist packaging of this product is made from sustainable plant-based material. And this is just the packaging! The product gets better than that. You get SPF 30, blood orange extract, hibiscus extract, and aloe vera, all packed in one bottle. The SPF blocks 97% of UV rays to prevent cellular damage and DNA degeneration, whereas the antioxidant-rich formula neutralizes harmful free-radicals to prevent aging.
Pros
Lightweight
Non-greasy
Can be worn under makeup
Improves skin health and prevents from further damage
Packaging made from sustainable and plant-based materials
Cons
The consistency may feel runny for some.
Another planet warrior favorite, this reef-safe natural zinc sunscreen is the only thing you need to say goodbye to a lifeguard's nose. Using cutting edge non-nano zinc, TreeActiv has gifted us with this index-matched sunscreen moisturizer that camouflages into the skin without leaving a white film. With SPF 30, this product also offers hydration, which locks into the layers of your skin to give you a beautiful radiance. To make things even better, this formula is not irritating and super gentle, making it ideal for all our sensitive acne-prone skinned folks out there.
Pros
Affordable
Non-nano zinc technology
Awesome sunblock technology
Can be used under makeup
Easy to use pump-out dispenser
Cons
Some users may find the consistency to be too thick
Last (but not least!) on our list is this sleek premium beauty product that promises you a grease-free daytime SPF moisturizer for acne-prone skin that makes your skin happy! By happy we mean, it relieves dryness, provides lightweight hydration, and visibly minimizes fine lines and wrinkles to finally give you soft, youthful, and plump skin. The stuff of all our dreams really. It is formulated without parabens, sulfates, phthalates, gluten, mineral Oil, and any other common unwanted ingredients in our beauty products.
Pros
Non-greasy
Ideal for all skin types
Does not leave a white cast
Works extremely well on sensitive and combination skin
Cons
Well, that brings us to the end of our list of the 15 best moisturizers with SPF for acne-prone skin. To make things easier for you, here is a brief buying guide that assists you in making your final choice!
How To Choose A Moisturizer With SPF For Acne
Before you dive deep into your shopping cart, picking every item that you can probably relate to, we suggest keeping the following things in mind to make sure that your multitasking moisturizer is the best fit for you.
It is important to know that 'acne-prone' skin is a skin condition and not a specific skin type in itself. Most commonly, people who suffer from acne, either have sensitive skin that tends to get irritated, which leads to breakouts, or oily skin that clogs your pores causing sebum to build up, which eventually causes acne. In some rare circumstances, you could be in the center with combination skin, where patches of your skin, most commonly the chin, flare up and other patches, most commonly the T-zone, clog. It is important to identify your skin type to invest in products with ingredients that are best suitable for your skin.
Whoever said beauty comes with a price was wrong. It can come with a price if you want, but doesn't necessarily have to. Our list has everything for everyone! Affordable skincare products that promise positive results, just as much as the expensive ones do. Here, the decision comes down to you. If you are experimenting and are unsure if the product is for you, we'd recommend committing to an affordable product. Allow your wallet to breathe in ease while you decide what is made for you and what isn't.
Having a non-comedogenic product is a good idea for everyone but it is truly the holy grail for all the oily-skinned folks out there. Non-comedogenic products don't clog the pores in your skin, ensuring that there is no product build-up that causes acne and excessive oiliness.
Fragrance-free formulation
Alright now, fragrance is a touchy subject. We obviously love smelling like freshly cut daisies but it's not always the best idea to put it on our face, especially with sensitive skin. If your skin is sensitive and tends to react easily, we'd suggest staying away from fragrance as much as possible and invest in products that understand this and make fragrance-free formulations
We haven't met a single person who is fond of sunscreen casting. It leaves a whitewashed look behind that is neither desirable nor required. You deserve to show off your true self, without leftover sunscreen casting! There are plenty of products on our list that leave you without a white cast and plenty that are ideal for use under your makeup.
Well, that brings us to the end of our buying guide and a long list of products for you to choose from. Remember, both a moisturizer and SPF are a must-have in your skincare regime, irrespective of your skin type. For acne-prone sensitive skin, it is important to make sure you buy something that doesn't trigger irritation to flare-up acne, whereas for acne-prone oily skin use something that doesn't clog your pores. Get this right and watch your skin transform. You can thank us later! Go enjoy clear and radiant skin for you.
Why Trust StyleCraze?
The author, Vaishnavi Kothuri, is a hair and beauty enthusiast who stays up to date with the latest skin care products. Finding the right moisturizer with SPF for acne-prone skin isn't an easy task as there are loads of choices, but she's found the best ones. She compiled a comprehensive and detailed list of the top products after surveying several product reviews on the market. With moisturizers containing SPF, your skin can be moisturized and protected against sun damage.
Frequently Asked Questions
Is SPF good for acne-prone skin?
SPF goes beyond the barriers of skincare and dives deep into skin health. It is a crucial step that people should never skip! Since it is so crucial, it would be odd for us to suggest that it isn't good for acne-prone skin, but truth be told- most over-the-counter sunscreens with greasy formulations tend to cause further breakouts in acne-prone skin. But remember, sunscreen is a preventive measure, not the cure- you need it despite the fact it breaks you out! Thankfully the cosmetic industry recognized our struggle and gifted us with Moisturizers for acne-prone skin that contain SPF- the solution to all our problems.
Can moisturizer with SPF cause acne?
Technically, yes. The oils in the SPF can clog or irritate your pores and cause acne. However, there are enough products out there, and on our list, which don't contain any oil and are non-comedogenic. You can say goodbye to blocked pores and say hello to clear protected skin.
Does SPF in moisturizer work?
Absolutely! It is obviously not as effective as a thick layer of plain greasy sunscreen, but they definitely do the job.
Can I use a moisturizer with SPF instead of sunscreen?
You can use a moisturizer with sunscreen if it has a SPF value of 40 and above. However, a pure sunscreen offers more protection with its SPF and PA+++ gradations to shield your skin from both UVA and UVB rays.
What is a good SPF moisturizer for sensitive and oily acne-prone skin?
The Differin Moisturizer is a a good SPF moisturizer for sensitive and oily acne-prone skin. It is also an affordable option that works wonders.
Recommended Articles: