11 Best Halloween Eyeshadow Palettes For A Spooky Look – 2023
Match the eerie theme and create your wild-eye looks with the hues in these palettes.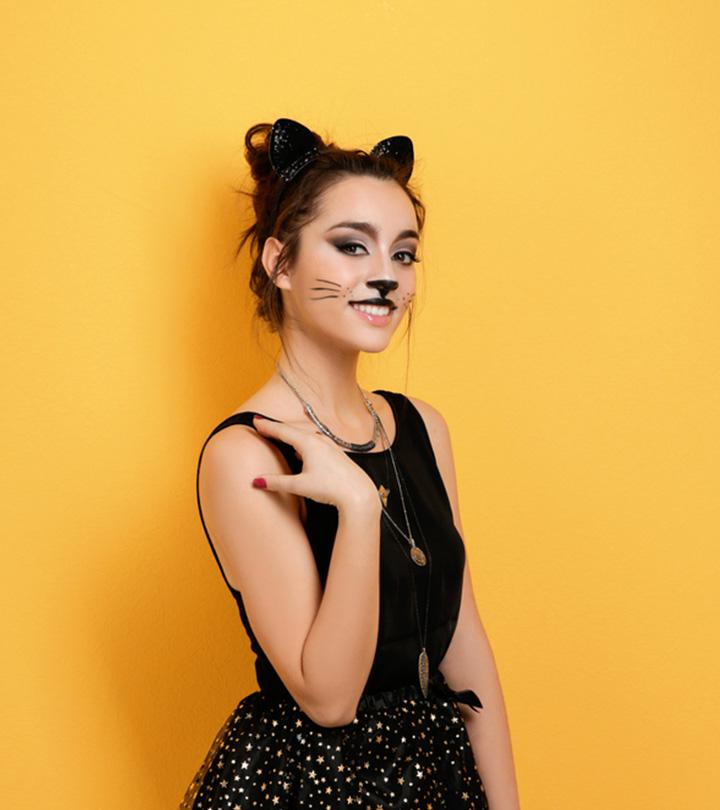 We all love Halloween. It is that time of the year when you can get to be your creative best. It is a time when everyone loves to don the costumes of their favorite movie or TV icons. What better way to dress the part of your favorite character than with the help of a wonderful Halloween eyeshadow palette? Many brands have a special place for Halloween in their ranks as each year they come out with a palette that helps you recreate the character you love. If you are a newbie or an expert, a good Halloween eyeshadow palette can accentuate the shape of your eyes and give them life. If you haven't ordered your Halloween palette, don't panic. Time is on your side, my friend. To help you prepare for your best Halloween look yet, we have created a list of the best Halloween eyeshadow palettes out there to help you look your spookiest best. What's more, these palettes have a wide variety of shades that can be used all year round, making them a versatile product to have in your kitty.
11 Best Halloween Eyeshadow Palettes Worth Adding To Your Vanity In 2023
Whether you're dressing up as a princess this Halloween, or are planning to scare all the neighborhood kids with your villainous get-up, this Halloween eyeshadow palette will have you covered. This gorgeous palette has 18 warm, desert-inspired shades in a range of metallic, matte, and glossy finishes to help you create any look you desire. Richly pigmented and long lasting, these vibrant shades have a smooth, creamy texture which makes them easy to apply and blend.
Pros
Multi-purpose and versatile shades
Complements all skin tones
Waterproof and ultra-blendable
Creamy, smooth texture
Cons
Some might find the consistency of these eyeshadow cakes a bit crumbly.
Price at the time of publication: $7.99
Step out of your comfort zone and create dramatic, show-stopping looks with this Halloween-inspired makeup palette which has 39 stunning colors to play around with. Super creamy and highly blendable, these vibrant and diverse shades can be used either dry or wet to design the makeup look of your dreams. Made with skin-friendly ingredients, this palette will help you finish up your Halloween clown costume perfectly without irritating your skin. And there's more, the versatile shades and long-lasting color make this makeup essential the perfect gift for your sister, best friend, or favorite co-worker. This video will help you make an informed decision about your purchase.
Pros
39 richly pigmented, highly blendable shades
Hypoallergenic and skin-friendly
Ideal for gifting
Vegan and cruelty-free
Cons
Some might find the scent of this makeup palette a bit intense.
Price at the time of publication: $9.99
Here's an oil-based Halloween color palette which is a favorite amongst professionals and beginners alike. Ideal for eye makeup as well as face and body painting, these waterproof colors are easy to apply and blend seamlessly to create looks ranging from simple to complex. These 15 versatile shades allow you to get creative and transform your face into that of a jungle animal or a clown with a few easy steps. And there's more! These oil-based paints can be easily removed with some olive oil or makeup remover, making it a safe choice for kids as well.
Pros
Easy to apply and remove
Hypoallergenic and non-toxic
Waterproof formula
Ideal for halloween and stage makeup
Cons
Might not be best suited for those with extremely oily skin
Price at the time of publication: $14.99
This avocado-inspired Halloween palette will help you create such gorgeous looks, everyone around you will turn green with envy! Consisting of 14 richly pigmented shades with a mix of matte and glittery finish, these buildable colors can be used to perfect any makeup look, whether you're dressing up as Hulk, the Grinch, or the evil queen for Halloween. A must-have in your makeup bag, give this glamorous palette a try, and you will definitely thank us later! Watch this video to get a detailed review of the product.
Pros
Compact and lightweight
An exclusively green palette
Easy to blend
Long-lasting colors
Vegan and cruelty-free
Cons
Some might find the texture of these eyeshadows a bit chalky.
Price at the time of publication: $9.99
Get your hands on this amazing Halloween-themed makeup palette and let your creative juices flow! This collection of 12 flashy colors is ideal to create crazy, over-the-top looks that will make sure you're the life of the party. And there's more, these colors are extracted from natural plant pigments, making them safe and non-irritating for all skin types. Easy to blend, these waterproof and sweat-resistant colors can be removed easily, making them a popular pick for children's parties and fancy dress get-ups.
Pros
12 vibrant oil-based shades
Waterproof and sweat-resistant
Suitable for sensitive skin
Easy to remove
Cons
Some might find the texture of these colors a bit sticky.
Price at the time of publication: $7.41
Here's a colorful Halloween makeup palette which is designed to help you recreate the gory, scary looks straight out of a horror movie! Paint your face with realistic bruises and cuts which are sure to etch you in the memories of anyone who encounters you on the scariest day of the year. This 5-shade palette of color cream makeup provides good versatility in creating different intensities of bruising and is easy to apply without professional help. A pro tip— start with a white base and use the bloody rose to create a fresh bruise look, and add a touch of burnt maroon and midnight sky to create an older bruise.
Pros
5 creamy and highly versatile colors
Suitable to create realistic cuts and bruises
Suitable for all skin types
Easy to remove
Cons
May need touch ups after a few hours
Price at the time of publication: $15.99
Shimmer and shine like a mermaid with this gorgeous color palette which has 32 beautiful, glittery shades to create dazzling looks. These tantalizing colors help take your makeup skills to a different level and can be used for daily wear or to bring your Halloween avatar to life. Smooth and easy to blend, this Halloween makeup palette is not only safe and non-toxic, but also lasts all day long, helping you transition seamlessly from day to night. Ideal for a unique gift for the makeup lover in your life, this luxurious palette of loose pigments is designed to impress.
Pros
32 glittery, long-lasting shades
100% safe and non-toxic
Smooth and creamy texture
Vegan and cruelty-free
Cons
Might not be best suited for those with allergy-prone skin.
Price at the time of publication: $24.99
If you're looking for a bright, rainbow-inspired makeup palette to perfect your Halloween look this year, you're in the right place! This eyeshadow palette has 9 highly pigmented colors with a smooth, powdery texture to help you create fun, vivid looks for the party of the year. Long-lasting and waterproof, these colors are easy to blend and have a non-irritating formula which makes them suitable for all skin types. So what are you waiting for? Try this makeup palette for unbelievable opaque coverage and get ready for the compliments to start pouring in!
Pros
Long-lasting and easy to blend
Waterproof formula
Made with safe, non-toxic ingredients
Vegan and cruelty-free
Cons
Some might find these eyeshadows a bit hard to remove.
Price at the time of publication: $11.99
Get ready to dazzle everyone with your hypnotizing looks and become the superstar of your party with this unique Halloween eyeshadow palette which has a collection of stunning glow-in-the-dark glitters to take your look to the next level. Make your eyes pop with these creamy, velvety-soft colors which are easy to use and can be layered effortlessly. Suitable for use on both the face and as body makeup, these colors glow anywhere with UV or black light, making them a must-have for the next dance party you go to!
Pros
24 highly pigmented, glow-in-the-dark glitters
Hypoallergenic and skin-friendly
Waterproof and long-lasting
Cruelty-free
Cons
Some might find the colors in this makeup palette a bit hard to blend.
Price at the time of publication: $16.99
If you want only one versatile eyeshadow palette in your makeup bag that works well to create all kinds of looks, whether it's for everyday wear, party makeup, or a stunning Halloween get-up, this product is an ideal choice. This eyeshadow palette has an impressive collection of 60 colors— ranging from nudes and neutrals to bright and vibrant shades, available in matte, metallic, and glittery finishes. Long lasting and easy to blend, these beautiful shades are made of high quality ingredients that ensure the color lasts all day long.
Pros
60 flattering, highly blendable shades
Long-lasting and waterproof formula
Ideal for gifting
Vegan and cruelty-free
Cons
Might not be best suited for those with extremely sensitive skin
Price at the time of publication: $13.99
Elevate your Halloween costume and paint your face like a professional with this multi-textured palette which is sure to have you winning all costume contests. This palette includes 54 bright, bold colors in finishes ranging from glittery to matte to help you create a wide variety of looks and special effects. The thick, creamy texture ensures flawless coverage and the wide variety of gorgeous colors makes this product ideal for all occasions. Easy to apply and remove, this makeup palette is a must-have essential in the makeup bags of all those who enjoy dressing up for fun themed parties and colorful carnivals.
Pros
Wide variety of colors
Richly pigmented and highly blendable
Long-lasting and waterproof formula
Ideal for costume makeup
Vegan and cruelty-free
Cons
Might not be best suited for those with extremely sensitive skin
Price at the time of publication: $26.99
Now that we've had a look at our pick of the 11 best Halloween eyeshadow palettes in 2023, let us look at a few things to consider when picking the best product to create a truly spooky look.
How To Choose A Halloween Eyeshadow Palette
Depending on the unique Halloween get-up you have in mind, pick a color palette which will help bring your costume to life. Going for a stunning princessy look? Pick an eyeshadow palette with bright, vibrant colors with a glittery finish. And when you're trying to scare the neighborhood kids with your ghost-like get-up, an eyeshadow palette with blindingly neon shades and darker colors with a matte finish might be your ideal pick. Make sure the eyeshadow palette you pick matches well with your skin tone, and you'll be creating dazzling, Instagram-worthy looks in no time!
While we all want to create a Halloween look which will be the talk of the party, we don't want to do it at the cost of our skin getting damaged! To keep your skin healthy while you play around with colors, pick an eyeshadow palette which is well suited to your unique skin type. Pick creamy, nourishing colors if you have dry, flaky skin and stick to colors with a smooth, powdery texture if you're dealing with oily, acne-prone skin. Those with sensitive skin should pick an eyeshadow palette which is hypoallergenic, dermatologist-approved, and free of harsh ingredients and chemicals.
A quick look at the ingredients list will tell you volumes about the Halloween beauty products you're about to pick. Steer clear of questionable ingredients like parabens, phthalates, and sulfates, and opt for makeup products made of skin-friendly ingredients. Make sure the eyeshadows you're picking are water soluble and easy to remove so you're not stuck trying to scrub them off after the party. Lastly, go for products labeled as vegan and cruelty-free if you're conscious about using animal-derived products.
Why Trust StyleCraze?
Chaitra Krishnan, the author of this article, is a makeup connoisseur with a passion for providing you with the best makeup products on the market. For this article, she browsed through numerous reviews to curate this list of the best Halloween eyeshadow palettes. These products offer versatile shades and superior blendability to create flawless Halloween looks for all types of costumes.
Frequently Asked Questions
What is the best eyeshadow palette for beginners?
A nude or neutral color palette can be a good option for beginners. The Prism Makeup Eyeshadow Palette – Supreme Seductress is a palette you can start with which has a range of nudes and neutrals.
How do you apply eyeshadow?
The first step in applying eyeshadow is choosing a good brush. Start with a base color and concentrate the darker shades on the crease. You can also add a shimmery shade to highlight the eyes.
What color of eyeshadow is the best for fair skin?
If you have a pale to fair skin tone, you can go with shades such as earthy warm tones, gold, bronze, or champagne. The UCANBE Luxury Gathering Eyeshadow Palette has a good range of shades that would complement a fair complexion.
How long do eyeshadows wear?
Eyeshadow palettes from good brands have a wearability of anywhere between six to twelve hours.
Are Halloween eyeshadows waterproof?
Most eyeshadow palettes are waterproof. For example, the UCANBE Cruise Face & Body Painting Palette has a waterproof formula that comes in fun shades to create different looks.