Top 11 Best Paints To Use On Your Face and Body
Get creative with your skin with these skin-friendly and highly pigmented body paints.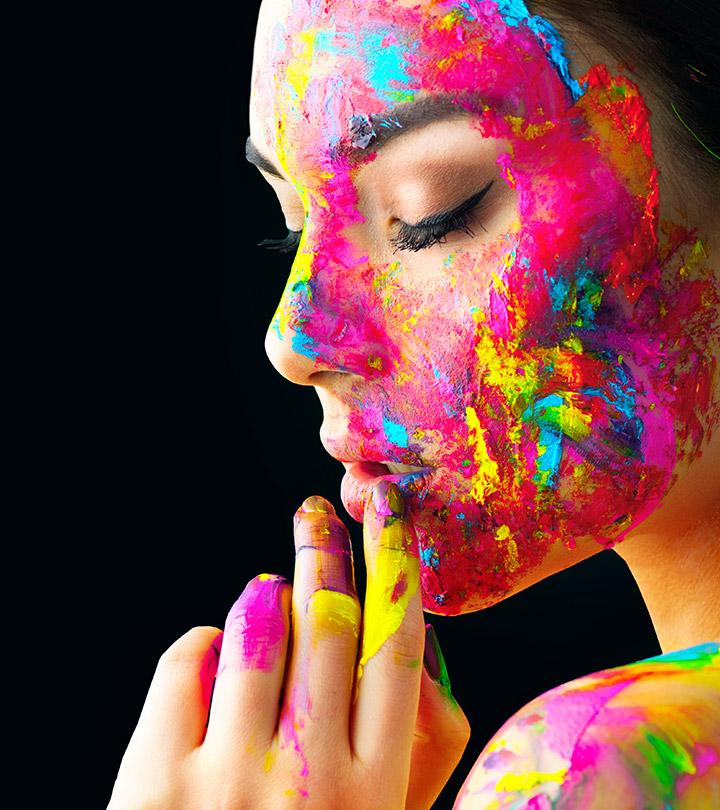 The best body paints can help you express yourself uniquely and attractively. These products are safe for your body and face. They help you create beautiful art patterns and designs that manifest your choices and tastes. The market offers endless options of body paints in cream and liquid forms. Therefore, finding the right and suitable products might look like an overwhelming task. Fret not! Our list consists of the best-rated body paints that you are sure to love. So, swipe up and grab them!
How To Choose Your Body Paint
Good body paint is usually non-greasy, which spreads smoothly & evenly with a brush.
An ideal body paint should dry out within a couple of minutes of applying without leaving any stain and blends entirely with other colors.
The best part about body paints, which is fit to use for the body, is the soluble water-based paints because they require no special equipment to wash off.
A good body paint usually comes with an FDI approved trademark guarantee.
Suitable body paint can never irritate your skin, even during long hours.
Never purchase loose body paints. Always buy sealed and packed body paints for the safety of your skin.
In the next section, we will talk about the various body paints and how we can use them to their best potential.
11 Best Body Paints Of 2022
This 8-palette body paint of vibrant colors by Mehron is designed adhering to FDA protocols. This product can be used as body paint and as a face-paint. It is a water-based body paint with a metallic colored palette that quickly spreads, creating an opaque screen over the body. These vibrant color body paints are infused with cocoa butter, glycerine, aloe, avocado oil, and chamomile. It is no wonder then that it is considered as the best body paint available in the market today!
Pros
A range of well-pigmented bold colors
Easy to blend
The packaging comes with a mirror on the box for mobility and convenience
The paint is water-soluble, making it convenient to wash off
The paint does not become cakey after long hours
Cons
The metallic color palette is dull to use
This body paint is harmless and non-toxic on your skin. It contains a broad palette of colors with sparkles and is made using ingredients that are approved safe by the US Food and Drug Administration (FDA). This product is fit for use on delicate skin and causes no damage to the surface of your skin. These paints are washable and easily get removed with just soap and water. This body paint is carefully reviewed by dermatologists.
Pros
This product is user-friendly with a guide for every secret in the book and techniques
Composed of non-irritating ingredients
Suitable for all type of skin and are fragrance-free
Cons
It may not be sweat-proof
This ASTM D-4236 certified body paint is one of a kind as it glows when exposed to blacklight or UV light. This kit comprises a set of 6 colors: blue, yellow and red, yellow and white, purple, and brown colors with pink, green, and orange as the base colors. This paint is devoid of any hazardous materials and dries up within a few minutes, making it very easy for application.
Pros
Water-soluble
Zero skin irritation
The paint dries off quickly
It glows when exposed to blacklight or UV light
Stays for a very long period
Cons
Sometimes colors do not glow due to errors in the application
This non-toxic face paint kit is safe to use on your skin as it is made using superior-grade ingredients. It is no surprise then that it is one of the highly sought after body paints in the market today. It comes in a vivid color palette that is oil-based. These colors are brighter than water-based body paints as the oil creates a radiant effect when applied on the skin.Watch this video for more information about the product.
Pros
Palette of 12 colors and ten brushes for application
Non-toxic and non-irritating
Long-lasting
Cons
Stains clothes
It is difficult to wash away and sticks to the skin
This premium quality body paint is hand-made and produced in Germany. It is available in an array of colors to choose from that are easily washable. What makes this palette irresistible is that it comprises colors with a bright neon glow. This makes it the perfect makeup accessory for a memorable night like a party with your besties or a high-profile photoshoot!
Pros
It leaves no stains
Easy to remove from skin and clothes
It contains a set of vibrant, bold neon colors
Cons
Long term use may cause allergies and rashes on the skin
This FDA-approved face and body paint is your one-stop solution to add the X-factor to your makeup game! It is made using ingredients that are safe to use on your kid's skin and is a testament to its mild formulation. It makes for a great addition to your makeup for events like stage shows, Halloween, etc. This water-based body paint glides on your skin, making application easy.
Pros
This palette of colors includes the distinctive gold and silver colors
Safe and non-toxic
Easily removable colors
Cons
The applicator is soft and may get damaged
What makes this body paint a great purchase is that it is environment-friendly! This product is ASTM D-4236 and EN71-3 certified and is safe for use on skin. This body paint comes in 12 vibrant and bold colors. They are no-toxic and easy to clean with just water and soap.
Pros
Non-toxic and safe ingredients
An exciting range of colors to experiment
Can be used on the face and body
Easily removable
Cons
The body paint takes a lot of time to dry
This palette comes in a combination of 12 colors that are completely safe and easy to use. This product is made using hypoallergenic ingredients that are suitable for the skin. Its smooth texture makes it easy to apply and blend. This video helps you know more about the product.
Pros
Safe on skin
Easy to apply
Non-toxic and easily washable
Cons
The colors are bold and do not blend easily
It is a water-based body paint that is FDA-approved and is safe to use on your skin. This color is easy to apply using an air-brush and blends very well with the other shades. Since it is water-soluble, the colors dry fast. Its water-based formulation makes it easy to wash off your skin.
Pros
Water-based paints
Dries swiftly allowing to paint over easily
Effortless application
Cons
This is one of the brightest body paints available in the market right now! With vivid non-toxic colors that are safe to use, these paints dry off quickly, making application a hassle-free experience. It is also certified to be safe for use on sensitive skin and can be applied without worrying about rashes or allergic reactions.
Pros
Can be washed-off quickly without any skin irritation or staining of clothes
Can be used long-term with at least 20 applications
ASTM D-4236 certified
Cons
This neon fluorescent paint is a certified non-toxic body paint that doesn't have any ill-effects on the skin. It is a water-based paint set with colors that blaze and glow in the dark. What makes it cool is that if worn during the day time, it reflects neon colors. It is easily washable, making it your perfect friend for a party or Halloween!
Pros
Comes off easily using just water and soap
Long-lasting
Comes with a money-back option
Cons
Can stain clothing if handled carelessly
An insight into the world of body paints revealed that most of the body paints are safe for skin and made adhering to international standards. However, water-based body paints could be considered a great option as they are easier to apply and remove.
Why Trust StyleCraze?
The author of this post, Chaitra Krishnan, is a makeup and fashion enthusiast. Here, she brings you a list of the best paints to use on your face and body. Face and body painting is a wonderful way of expressing creativity, but the safety of the products is a concern. Our writer has meticulously searched for skin-safe options and has also included the pros and cons of each product. The buying guide provided is sure to help you select what suits you best.
Frequently Asked Questions
Which paint is used as body paint?
Basically, three types of paints are highly recommended for body paints:
• Water-based paints
• Metallic paints
• Alcohol-based paints
The water-based paints are the best ones as they are non-toxic, safe for kids and can be washed easily after use. However, you could always choose from water-based, metallic, or alcohol-based paints. Metallic colors are known to cause irritation on the skin due to metal components present in them. These paints do not come off easily as compared to water-based paints. Alcohol-based paints are used to create special effects on the body. These paints are not at all easy to remove and require a lot of rubbing.
How long does it take for body paint to dry?
The paint takes approximately 1-2 minutes per layer to dry completely. However, this time may differ in terms of metallic or oil-based body paints. Drying of body paint also depends upon the temperature and other climatic conditions. The use of a hairdryer speeds up the drying process.
Can face paint be used on the body?
There are a few paints that can be used on the body and face. Usually, face paints have less pigmentation as compared to body paints. But, it is advisable not to buy paints if they are not made especially for body and face as this may lead to high risk of skin allergy.
How do you remove body paint?
Paint can be removed by using water and soap (in case of water-based paint) or by using oil or astringent (in case of alcohol-based paint).
Recommended Articles: