Top 11 Best Paints To Use On Your Face and Body
Get creative with your skin with these skin-friendly and highly pigmented body paints.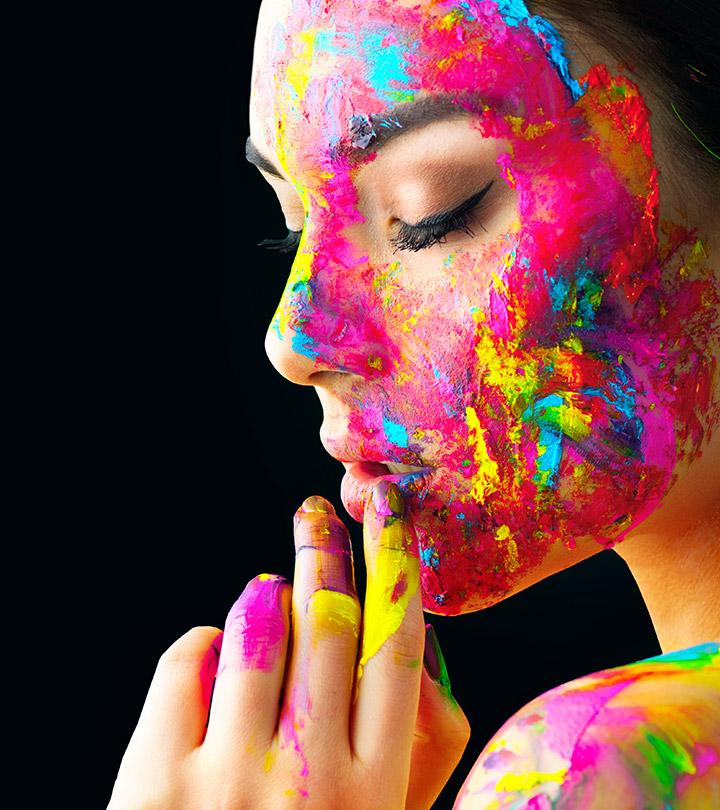 The best body paints can help you express yourself uniquely and attractively. These products are safe for your body and face. They help you create beautiful art patterns and designs that manifest your choices and tastes. The market offers endless options of body paints in cream and liquid forms. Therefore, finding the right and suitable products might look like an overwhelming task. Fret not! Our list consists of the best-rated body paints that you are sure to love. So, swipe up and grab them!
How To Choose Your Body Paint
Good body paint is usually non-greasy, which spreads smoothly & evenly with a brush.
An ideal body paint should dry out within a couple of minutes of applying without leaving any stain and blends entirely with other colors.
The best part about body paints, which is fit to use for the body, is the soluble water-based paints because they require no special equipment to wash off.
A good body paint usually comes with an FDI approved trademark guarantee.
Suitable body paint can never irritate your skin, even during long hours.
Never purchase loose body paints. Always buy sealed and packed body paints for the safety of your skin.
In the next section, we will talk about the various body paints and how we can use them to their best potential.
11 Best Body Paints Of 2023
Price at the time of publication: $13.95
Price at the time of publication: $18.99
Price at the time of publication: $12.99
Price at the time of publication: $9.99
Price at the time of publication: $9.98
Price at the time of publication: $20.99
Price at the time of publication: $39.99
Price at the time of publication: $19.99
This is one of the brightest body paints available in the market right now! With vivid non-toxic colors that are safe to use, these paints dry off quickly, making application a hassle-free experience. It is also certified to be safe for use on sensitive skin and can be applied without worrying about rashes or allergic reactions.
Price at the time of publication: $27.95
Price at the time of publication: $9.95
An insight into the world of body paints revealed that most of the body paints are safe for skin and made adhering to international standards. However, water-based body paints could be considered a great option as they are easier to apply and remove.
Why Trust StyleCraze?
The author of this post, Chaitra Krishnan, is a makeup and fashion enthusiast. Here, she brings you a list of the best paints to use on your face and body. Face and body painting is a wonderful way of expressing creativity, but the safety of the products is a concern. Our writer has meticulously searched for skin-safe options and has also included the pros and cons of each product. The buying guide provided is sure to help you select what suits you best.
Frequently Asked Questions
Which paint is used as body paint?
Basically, three types of paints are highly recommended for body paints:
• Water-based paints
• Metallic paints
• Alcohol-based paints
The water-based paints are the best ones as they are non-toxic, safe for kids and can be washed easily after use. However, you could always choose from water-based, metallic, or alcohol-based paints. Metallic colors are known to cause irritation on the skin due to metal components present in them. These paints do not come off easily as compared to water-based paints. Alcohol-based paints are used to create special effects on the body. These paints are not at all easy to remove and require a lot of rubbing.
How long does it take for body paint to dry?
The paint takes approximately 1-2 minutes per layer to dry completely. However, this time may differ in terms of metallic or oil-based body paints. Drying of body paint also depends upon the temperature and other climatic conditions. The use of a hairdryer speeds up the drying process.
Can face paint be used on the body?
There are a few paints that can be used on the body and face. Usually, face paints have less pigmentation as compared to body paints. But, it is advisable not to buy paints if they are not made especially for body and face as this may lead to high risk of skin allergy.
How do you remove body paint?
Paint can be removed by using water and soap (in case of water-based paint) or by using oil or astringent (in case of alcohol-based paint).
Recommended Articles: