7 Best BB Creams For Hair That You Should Absolutely Try In 2021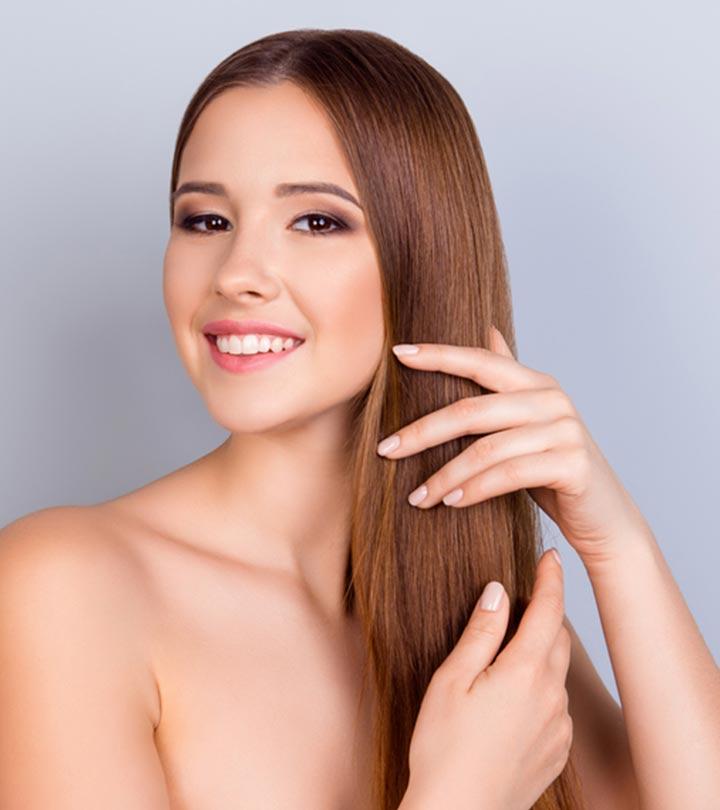 BB cream or blemish balm is a hit in the field of skincare, and now it works as a magic potion for your hair as well. The BB cream provides several protective properties and deep conditioning to your hair. It makes your tresses frizz-free, shiny, voluminous, smooth, healthy, and supple without causing hair breakage and split ends.
The appearance of these BB creams is similar to conditioners, and it is perfect for treating your unruly and tangled hair. Infused with rich ingredients, BB cream gives your hair structure and makes it flawless without weighing it down. Plus, this versatile product protects your mane against harmful UV rays. Check out our list of the top 7 BB creams for hair and pick the best one for your tresses.
Top 7 BB Creams For Hair In 2021 – Reviews With Buying Guide
Want to treat your dry and damaged hair? Use this BB cream that will lend you healthy hair by taming flyaways, controlling frizz, and providing moisturization. This silky smoothing balm will also protect your tresses against heat while repairing and making them shiny. You can achieve beautifully smooth and soft strands with this leave-in BB cream that helps you style without damaging your tresses. For better results, you should apply this cream on damp hair after shampooing it. This way, you will be able to detangle your hair knots effortlessly and achieve luminous and supple hair.
Pros
Lightweight
Smells great
Non-greasy
Everyday use
Suitable for all hair types
Cons
Looking for a multifunctional hair cream? Then opt for this BB cream that comes with 10-in-1 multi-benefits to repair your unruly hair. Using BB cream will give you flawless hair with a smooth and silky texture. You can apply this light cream daily to achieve detangled, voluminous, and shiny tresses. Whether you have long, fine hair or curly tresses, this BB cream will work wonders on all hair types. Also, it will protect your mane against any damage like heat when using a blow dryer or styling iron. This hair product will soften your strands and treat the dryness or frizziness with every application.
Pros
Vegan
Color-safe
Smells good
Paraben-free
Provides sun protection
Cons
Prime your hair with this BB cream for a long-lasting effect between shampooing and fill uneven hair cuticles. This multifunctional BB cream moisturizes, smoothens, and protects your tresses against heat styling appliances. It thickens your hair, making it voluminous, and restores the silkiness on application. This rich priming cream controls frizz and adds elasticity to prevent brittle hair. It is infused with several ingredients such as superfruit extract, moringa pterygosperma seed extract, vitamins A and E, and keratin. All these elements and antioxidant properties will make your hair retain shine, moisture, and strength.
Pros
Protects color
Anti-aging benefits
Humidity-resistant
Perfect for all hair types
Protects against UVA/UVB rays
Cons
May not be ideal for everyday use
Restore the strength of your curls with this BB cream that nourishes and hydrates your hair, making it easily manageable. It prevents frizz and fights humidity while providing control and elasticity to your brittle, dry hair. This leave-in hair cream is perfect for protecting your tresses against sun damage and other environmental changes. Plus, it can be used every day after washing your hair as it will help detangle knots easily and make your hair silky soft and shiny. Infused with chia, amino acid, and jojoba oil, this BB cream works best as a styling product that provides thermal protection to your strands when using styling irons or hair dryers.
Pros
Non-greasy
Alcohol-free
Color-safe
Not tested on animals
Free of gluten, phosphate, paraben, and sulfate
Cons
Are you searching for a BB cream that is suitable for use on all types of hair? Get this Hearty Perfect 10-in-1 BB cream, which is one amazing solution to your various hair problems. It will reduce frizz and hair breakage, leaving you with lustrous shiny tresses. Formulated with argan oil and keratin protein, this BB cream will add moisture and provide nourishment to your hair as well as to your scalp. This is a healthier way to hydrate and style your tresses to achieve silky soft and manageable hair. You can also use styling appliances after the application of this hair cream without worrying about heat damage. This all-in-one BB cream for hair reduces split ends and hair loss while giving you detangled moisturized strands.
Pros
Portable
Affordable
Easy to apply
For daily use
Nice fragrance
Cons
Style your hair with this BB cream that provides thermal protection and gives you bouncy, shiny tresses. Enriched with hydrolyzed silk protein, jojoba oil, silk amino acid, monoi oil, and acacia collagen, this versatile hair BB cream adds softness, volume, and moisture to your unruly dry hair. You will achieve the ultimate repair and smoothness while taming flyaways with this leave-in hair cream. This BB cream also contains anti-aging properties and protects against harmful UV rays. Apply a dime-sized amount of this product to your damp hair and use a comb to spread the cream evenly.
Pros
Color-safe
Paraben-free
Ultra-lightweight
Reduces split ends
Perfect for all hair types
Cons
Want a BB cream that works perfectly as a styling primer for hair? Then try this amazing BB cream that not only makes styling hassle-free but also adds shine and repairs split ends. This miracle silk smoothing hair cream is a leave-in product that should be applied on damp hair as it will make the process of detangling your knots effortless without hair loss or breakage. Suitable for all hair types, it includes heat and sun protection properties and anti-aging benefits. This cream helps maintain elasticity and regain strength to keep your tresses nourished, smooth, and healthy.
Pros
Affordable
Color-safe
Gluten-free
Cruelty-free
Humidity-resistant
Cons
May not last all day long
Go through the buying guide below to make the right decision while choosing a BB cream for your hair.
Buying Guide 
How To Choose BB Cream For Hair
Long-lasting: Pick the BB cream for your hair that has great staying power and one that can be used every day without causing damage.
UV protection: This multifunctional product contains SPF due to which it became popular in the skincare department. So, choose a BB cream that will give protection against harmful UV rays to your hair as well.
Hair type/texture: Before choosing a BB cream, you should know your hair type as some of these creams might not work on dry hair or oily hair.
Hair treatment: Make sure your BB cream also repairs and treats your unruly, frizzy tresses.
How To Use BB Cream For Hair
BB cream is used as a leave-in hair treatment, and the steps to apply it are as follows:
Step 1: Shampoo your hair properly.
Step 2: Towel-dry your tresses.
Step 3: Apply a hazelnut-sized amount of BB cream, starting from the tip of your damp hair, and proceed towards the roots.
Step 4: Do not rinse your hair.
BB cream delivers several hair benefits in one bottle. It is popular in the cosmetics world and is now gaining attention in the hair care department as well. These creams are the best frizz fighters with anti-aging benefits and also prime your hair to maintain the right texture and style for longer. BB cream makes your tresses soft, shiny, and flawless by taming the flyaways and reducing split ends. This perfect hair cream is an instant way to style your mane every day. To experience the benefits, you should get one of these miracle potions now. We hope our list of the top 7 BB creams for hair helps you choose the right one.
Frequently Asked Questions
What does BB cream do for your hair?
BB cream provides a healthier as well as polished look to your hair, making it silky soft and luminous.
What is the difference between CC Cream and BB cream?
There is no big difference between BB creams and CC creams. BB cream conditions and nourishes your hair while providing more frizz control and resistance. On the other hand, CC cream works great for dry and damaged hair as it provides hydration and moisture to your tresses.