12 Best BB Creams For Mature Skin To Buy Online In 2023
Conceal your early signs of aging and blemishes with the best lightweight formula.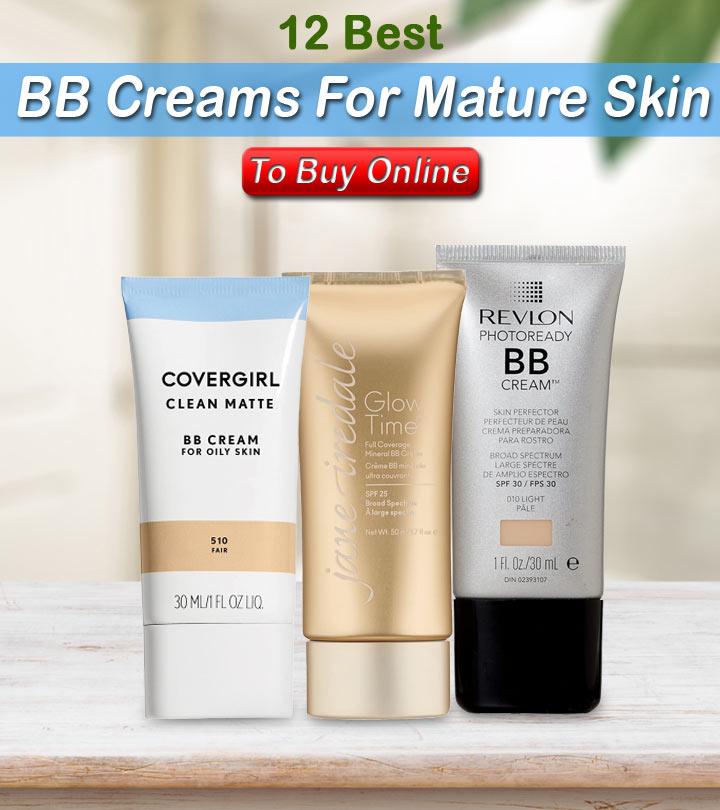 The best bb cream for mature skin will benefit your skin in multiple ways. It contains ingredients that maintain the skin's elasticity, moisturize it, and protect it from the harmful rays of the sun. As we age, our skin loses its elasticity and becomes drier. Products such as foundation tend to clog our pores more, making our skin look dull and lifeless. Bb creams offer the perfect replacement for foundation, making it an essential product for your skincare routine and it delivers exceptional results. Take a look at our list of bb creams that will let your skin age beautifully and gracefully.
The Magic Skin Beautifier BB Cream from the celebrity-endorsed brand L'Oreal Paris creates the perfect wrinkle-smoothing finish. It is a multi-tasking BB cream that performs four actions – primes your skin to create a smooth texture, color corrects for an even complexion, hydrates your skin for all-day moisture, and blurs imperfections. It blends easily and imparts a perfect firming effect. It is an ultra-lightweight cream infused with antioxidants and vitamins C and E. To get a better understanding of the product, you can check out this video on YouTube detailing a reviewer's experience with the same.
Pros
Lightweight
Hydrates the skin
Blurs imperfections
Brightens the dull skin
Cons
Not suitable for pale skin
Thick consistency
This 5-in-1 vitamin-rich formula is a perfect blend of anti-aging ingredients like vitamin C, retinol, hyaluronic acid, antioxidants, pro-xylene, and tinted mineral pigments that give you natural-looking and youthful-looking skin.
It is a Korean triple-function BB cream that covers wrinkles, brightens your skin, and has SPF 30 UV protection which gives the skin an ultimate radiance. It is enriched with caviar, gold, and niacinamide that help restore the moisture and elasticity of the skin. It blends easily into the skin and provides extra care to tired skin by reducing the appearance of freckles, dark spots, and other blemishes, resulting in a flawless finish.. Check out the review detailing a tester's experience with this product for more information.
Pros
Suitable for a wide range of skin tones
Provides perfect coverage
Nourishes the skin
Covers fine lines and wrinkles
Moisturizes the skin
SPF protection
Available in 7 shades
Cons
Thick and heavy consistency
Covergirl Clean Matte BB Cream is perfect for oily skin. It is a water-based BB cream that goes on easily on the skin and blends perfectly to give a natural look. This BB cream by the celebrity-endorsed brand delivers perfect medium coverage to create an even skin tone, hide blemishes, and keep you shine-free all day long. Its oil-free and non-comedogenic formula does not clog your pores. Multiple Amazon reviewers recommend this cream for those who are looking for a lightweight formula with light to medium coverage.
Pros
Oil-free formula
Matte finish
Water-based formula
Buildable coverage
Long-lasting
Non-comedogenic
Does not clog pores
Cons
Not suitable for dry and sensitive skin
No SPF
Garnier SkinActive BB Cream is a 5-in-1 tinted moisturizer with powerful anti-aging benefits that brighten dull skin. This anti-aging BB cream reduces wrinkles, evens out your skin tone, and makes your skin firm. It comes with UVA/UVB protection which prevents sun damage and hydrates your skin.This 5-in-1 vitamin-rich formula is a perfect blend of anti-aging ingredients like vitamin C, retinol, hyaluronic acid, antioxidants, pro-xylene, and tinted mineral pigments that give you natural-looking and youthful-looking skin.
This 5-in-1 vitamin-rich formula is a perfect blend of vitamin C, retinol, hyaluronic acid, antioxidants, pro-xylane, and tinted mineral pigments that soothe and brighten your skin while perfecting its appearance.
Pros
24-hour hydration
SPF 15
Reduces age spots
Long-lasting
Lightweight
Suitable for all skin types
Dermatologically tested
Cons
Low coverage
Greasy formula
Marcelle BB Cream Illuminator is a dermatologist-tested skin enhancer. It is a hydrating balm with self-adjusting pigments, antioxidants, chamomile, and aloe. It is a great alternative to foundation and can deliver an even and radiant complexion with sheer coverage. The ingredients in this cream can improve your complexion and moisturize, soothe, and protect your skin from the premature signs of aging while offering a natural, smooth finish. It is free of irritants and is safe for sensitive skin.
Pros
Reduces the appearance of imperfections
Illuminating effect
Hypoallergenic
Fragrance-free
Paraben-free
Oil-free
Promotes skin regeneration
Long-term hydration
Affordable
Dermatologist-tested
Cons
Thick and heavy consistency
Bella Terra Mineral BB Cream is the best 3-in-1 mineral-based full-coverage beauty cream for acne-prone mature skin. It conceals and moisturizes your skin and provides anti-aging benefits. This tinted BB cream erases the appearance of dark circles, scars, fine lines, and acne. It has a lightweight and hydrating formula with natural mineral ingredients. It is suitable for oily, dry, acne-prone, sensitive,, and combination skin types.
Pros
Paraben-free
No preservatives
Lightweight
Full coverage
Hypoallergenic
Fragrance-free
Alcohol-free
Cruelty-free
Suitable for all skin types, including sensitive skin
Available in 6 shades
Cons
Revlon PhotoReady BB Cream is a lightweight, multi-benefit cream that works as a moisturizer, concealer, foundation, and primer to deliver exceptional results. It is a daily wear product that should be a part of your beauty arsenal. It can hydrate, smoothen, conceal, and protect your skin to give it a brightened and perfect look. This BB cream can protect your skin from sun damage with its SPF 30 while also hiding dark circles and imperfections.
Pros
Instant glow
Lightweight
Moisturizes the skin
Available in 3 shades
Cons
Low coverage
Does not blend well
The purlisse BB Concealer is a weightless, moisturizing, multi-tasking concealer that enhances skin complexion, softens and evens out the uneven skin tone, and hydrates the skin. It is enriched with a mix of Asian plant extracts, gogi, and hawthorn berries that help to brighten the skin. At the same time, jasmine enhances skin texture and retains its moisture to create a lovely and flawless complexion. It softens and evens the undereye area while concealing darkness, redness, fine lines, and wrinkles. So buy it online or go and pick it up from a department store, it's the best investment you can make to disguise wrinkles and fine lines and give your skin a luminous, smooth finish with a nourishing effect instantly. According to Amazon reviews, this cream lasts a long time and gives amazing coverage that conceals all your blemishes beautifully.
Pros
Improves skin complexion
Softens & evens skin tone
Hydrates the skin
Covers fine lines and wrinkles
Suitable for all skin types
Cons
None
Dr. Jart+ Premium BB Beauty Balm is a skin-perfecting cream for lighter skin tones. The cream is a blend of a bi-peptide complex infused with white gold that provides anti-aging properties and boosts collagen production. This cream perfects your skin's appearance and provides SPF 45 sun protection. Multiple reviewers on Amazon recommend this high-quality BB cream for sensitive and acne-prone skin.
Pros
SPF 45
Sulfate-free
Phthalate-free
Moisturizes the skin
Smoothing effect
Lightweight
Suitable for lighter skin tones
Cons
Sticky formula
Poor quality
The Clinique Age Defense BB Cream offers a broad spectrum sun protection of SPF 30 and works for very dry to dry, combination oily, dry combination, oily, and normal skin types. It is enriched with natural extracts and antioxidants for prevention. The matte formula provides full coverage to hide imperfection and blemishes to deliver exceptional results. It also works great as a primer that imparts a matte finish and holds the makeup for a long time. It is 100% allergy-tested and fragrance-free. The value for money it offers makes this BB cream a fan-favorite drugstore cosmetic product. Check out some online reviews or videos detailing a tester's experience with the product to learn more.
Pros
Doesn't sweat in the Sun
SPF 30
Pluming effect
Fragrance-free
Works as a primer
Cons
Thick texture might become cakey
May look whitish
Hydroxatone Anti-Aging BB Cream is a multi-tasking BB and anti-aging cream for all skin types. It conceals, protects, hydrates, soothes, and brightens your skin and reduces the appearance of the signs of aging. It contains SPF 40 and is available in a universal tone.
Pros
SPF 40
Does not clog pores
Wrinkle-reducing formula
Moisturizes the skin
Dewy finish
Suitable for all skin types
Cons
Available in only one shade
EverGlam BB Beauty Balm is an all-in-one multifunctional BB cream for creating that flawless and natural look in seconds. It blends easily and minimizes the appearance of pores, fine lines, imperfections, redness, scars, and wrinkles. This skin perfector also works as a concealer, enhancer, moisturizer, and sunscreen. This BB cream is enriched with natural botanical extracts that have skin-soothing, moisture-retaining, antioxidant, anti-aging, and anti-wrinkle properties. It is a lightweight moisturizer with an oil-control formula that provides hydration and nourishment to your dry, dehydrated skin. It improves skin elasticity, firmness, and tone and is suitable for all skin types. Conduct a patch test beforehand to avoid reactions.
Pros
Full coverage
Soothing formula
SPF 30
Pore minimizing
Multipurpose
Long-lasting hydration
Lightweight
Non-oily texture
Paraben-free
Cruelty-free
Suitable for all skin types
Cons
*The prices provided in this article are based on the latest available information. However, they may vary due to changes in pricing by the seller and/or promotional offers.
Those with mature skin avoid using foundations primarily because they may look cakey and patchy. BB creams are hence perfect for mature and aging skin. They provide enough coverage to hide blemishes and fine lines. In addition, they are lightweight and don't crease the skin. If you're looking for the best BB cream but are confused about which one to get your hands on, here's a buying guide to help you decide.
How To Choose The Best BB Cream If You Have Mature Skin
Your skin type is the most important thing to consider when looking for a BB cream. As you get older, your skin gets drier, so look for BB creams with ingredients that deeply hydrate and moisturize your skin. However, if you have oily skin, opt for a product that feels lightweight and non-greasy. Avoid BB creams that are too thick, as they can make you sweat. If you have normal skin and want a BB cream for daily wear and coverage, go for those that have anti-aging ingredients and promise skin regeneration.
Avoid ingredients like harmful parabens, sulfates, phthalates, alcohol, and other such chemicals in your BB cream. It is hard to fix any damage to mature skin, so stick to simple ingredients. If you have concerns about the quality, go for one dermatologist-tested. Additionally, look for natural fruit extracts, antioxidants, peptides, aloe vera, collagen-infused ingredients, and other soothing and hydrating ingredients to avoid patchiness.
Choose a BB cream depending on your skin concerns. For instance, if you have fine lines, dark circles, scars, acne, or uneven skin, choose a product that provides coverage and treats these problems. Opt for a BB cream with peptides, antioxidants, and hyaluronic acid that boosts collagen production in your skin and reduces the appearance of aging signs. On the other hand, look for oil-free and non-comedogenic sunscreen, if you have acne-prone skin.
If you plan to wear the BB cream outdoors all day, make sure you get one with sun protection. It is best to go for sweat-resistant cream if you live in a hot or humid climate.
Why Trust StyleCraze?
The author, Shiboli Chakraborti, is a certified skin care coach. She recommends using BB creams for aging skin to replace foundation and multiple other facial products. She did hours of product research and a thorough analysis of customer reviews as well as product formulations to shortlist the best BB creams for mature that are available online. These products are formulated with gentle ingredients that moisturize the skin, maintain the skin's elasticity, and protect it from the harmful rays of the sun.
Frequently Asked Questions
Is BB cream good for aged skin?
Yes, BB cream is a perfect product for someone with mature skin. It can hydrate the skin and provide better toning.
Is BB or CC cream better for mature skin?
CC cream would be a better choice for people with mature skin as it provides more coverage than BB cream.
What's the difference between BB cream and CC cream?
BB creams provide better hydration to the skin and cover blemishes effortlessly, but CC creams offer better coverage, neutralize some pigmentation, and settle in a matte finish.
How can I apply BB cream on mature skin?
•  Wash your face and pat it dry.
•  Apply a tinted moisturizer.
•  Use your BB cream and gently spread it on your skin to get a seamless finish.
Is BB cream better than a foundation for mature skin?
Foundations offer more coverage than a regular BB cream, which helps hide and cover up the blemishes and fine lines of the skin. You can go for a BB cream if you want a natural look and a foundation can help you look flawless.
What type of skin is BB cream for?
BB cream works fine on all skin types, but its moisturizing features work the best on dry skin.
Recommended Articles