10 Best Anti-Aging Eye Creams For 30s
Fight dark circles and all signs of aging around the eyes to look fresh and youthful.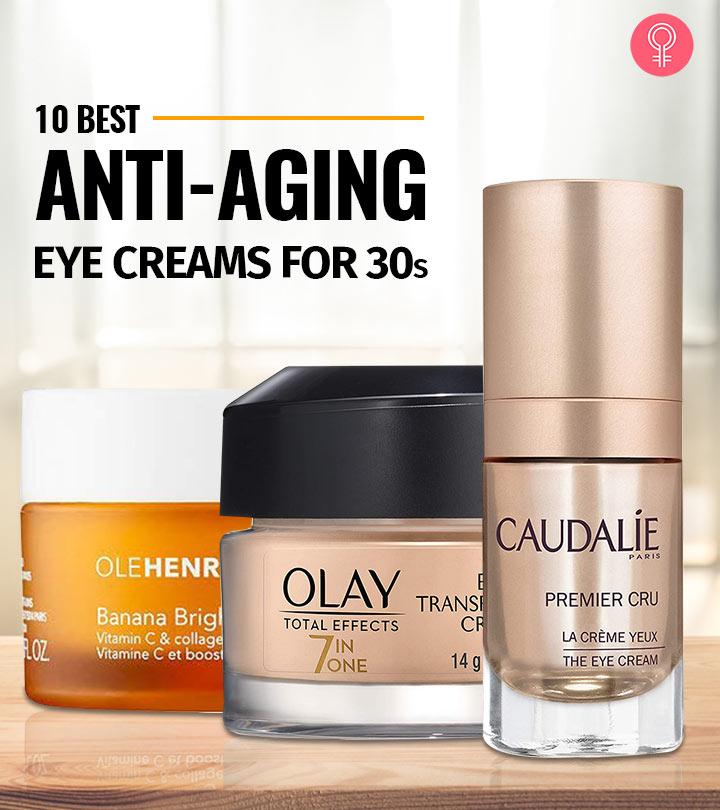 Are you looking for the best anti-aging eye cream for the 30s? We have exactly what you need. The 30s is the time in your life that your skin takes a shift from the glow of youth to the fine lines and wrinkles around your eyes. The secret to keeping your skin look fresh and youthful is to fight the aging signs before they start to appear. While the skin around your eyes is most sensitive and prone to wrinkles, the best way is to start with an anti-aging eye cream. Here are the 10 highest-rated creams to invest in.
The Best Anti-Aging Eye Creams For 30s
The Neutrogena Rapid Wrinkle Repair Under Eye Cream comes in a 0.5 fluid ounce tube. The cream has retinol that helps in reducing the appearance of fine lines, dark circles, and wrinkles. The retinol SA cream also helps fade the stubborn crow's feet. It also brightens and evens the skin tone in the under-eye area. The cream works quickly with visible results in just one week. Along with retinol SA, the formula contains a unique combination of other ingredients. It is clinically proven to leave skin feeling smoother and looking younger. The glucose complex, which is a retinol SA booster, accelerates the skin's surface activity for faster results. The cream also contains hyaluronic acid that adds hydration. It also rejuvenates the skin appearance.
Key Ingredients: Water, retinol SA, and glucose complex.
Pros
Lightweight
Ideal for sensitive skin
Retinol fades crow's feet and wrinkles
Hyaluronic acid hydrates skin
Cons
The Olay Total Effects 7-in-one Anti-Aging Transforming Eye Cream is formulated to fight the seven signs of aging. It replenishes skin moisture, reduces dark circles and puffiness, and enhances the brightness around the eyes. The cream also makes your skin smooth and even-toned. The formula of the eye cream is rich in vitamins. It contains a vitaniacin complex along with vitamins B and E. These exfoliate the skin and enhance its natural self-renewal process. The cream has an oil-free and non-greasy formula that is fast-absorbing. This cream keeps the skin irritant-free. Here's a personal review video to help you get a better understanding of the product.
Key Ingredients: Water, glycerin, vitamins B and E.
Pros
 Moisturizing
Ideal for sensitive skin
Light fragrance
Fast-absorbing
Oil-free and non-greasy
Vitaniacin complex exfoliates skin
Cons
None
The Dermalogica Multivitamin Power Firm is a powerful firming complex eye cream. It helps combat fine lines around the delicate eye area and accelerate the skin's natural repair process with vitamin A (retinol). It also contains antioxidants like vitamins C and E that improve elasticity while scavenging free radicals. The formula contains silicones as well. It shields vulnerable skin and acts as a protective barrier against further assault. The seaweed extracts in the eye cream help firm the skin and minimize the appearance of fine lines. It works great under makeup and makes a great makeup prep prior to concealer application. The eye cream is formulated without any artificial fragrances and colors.
Key Ingredients: Retinol, vitamins C and E.
Pros
Moisturizing
Fragrance-free
Works great with make-up
No artificial colors
Vitamins C and E fight free radical damage
Seaweed extracts reduce fine lines
Cons
 The TruSkin Eye Cream fights and neutralizes free radicals. The powerful formula contains vitamins C, E, and B5, hyaluronic acid, glycolic acid, avocado, coconut, sunflower oil, cucumber, and organic licorice.This cruelty-freeeye cream soothes redness and inflammation. It helps stimulate collagen production and smoothens under-eye fine lines and wrinkles. This product makes your skinplump up and impartsa youthful glow to your under-eyes.
Key Ingredients: Vitamin C, Vitamin E, Vitamin B5, Hyaluronic acid, Peptide complex,Matrixyl 3000, and Glycolic acid.
Pros
Vegan
Cruelty-free
Sulfate-free
Paraben-free
Phthalate-free
PEG-free
Cons
None
The Drunk Elephant C-Tango Multivitamin Eye Cream has a brightening combination of eight peptides, five forms of vitamin C, and cucumber extract. These ingredients result in firmer, stronger-looking skin around the eye area. The cream also contains potent antioxidants, replenishing ceramides, plant oils, and soothing actives that refresh the skin for a radiant glow. The cream is gentle enough to use daily, day and night. It is also powerful enough to improve signs of skin damage. The eye cream does not contain any artificial fragrances and is lightweight and cruelty-free. It is also 100% free of any essential oils and silicones. This video will give you a better insight into the qualities of the cream.
Key Ingredients: Power 5c vitamin complex, 8-peptide blend, cucumber, superoxide dismutase, hesperidin methyl chalcone, ubiquinone, vitamin E.
Pros
Lightweight
Moisturizing
No artificial fragrances
Cruelty-free
Silicone-free
Cons
The Perricone MD Hypoallergenic Firming Eye Cream is non-greasy and hypoallergenic. It is absorbed instantly to provide essential hydration to the delicate skin around the eyes. It contains hyaluronic acid that provides essential hydration for visibly plumper skin. The cream also contains squalane that hydrates and helps visibly reduce the appearance of fine lines and discoloration. It is designed for delicate skin and is dermatologist-tested. The eye cream is non-comedogenic and won't clog your pores. It is also safe to use post a cosmetic procedure. It is free of parabens, sulfates, and phthalates. Check out this YouTuber's video where she gives an all-round review of the product.
Key Ingredients: Water, olive leaf extract.
Pros
Moisturizing
Paraben-free
Sulfate-free
Phthalate-free
Doesn't clog pores
Designed for delicate skin
Non-greasy
Hypoallergenic
Squalane reduces fine lines
Dermatologist-tested
Cons
The Caudalie Premier Cru Anti-Aging Eye Cream is dubbed as the "photoshop for the eyes." It is a bestselling eye cream that targets dark circles, puffiness, fine lines, and wrinkles. This makes the eyes look filtered – soft, smooth, and bright instantly. The formula works deeply to deliver long-term results. The eye cream is powered by Caudalie's three signature patents – resveratrol, viniferine, and grape seeds. The resveratrol lifts and firms the skin, while viniferine and grape seed polyphenols brighten and protect the skin against environmental aggressors, respectively. The eye cream reduces dark circles and blurs fine lines. It also works well under makeup. Its ultra-hydrating, luxurious texture melts into skin for instant brightening and works well under a concealer. It can also be used as a natural highlighter. The eye cream is cruelty-free and does not contain parabens, mineral oils, and phthalates. For every purchase you make from Caudalie, the company donates 1% of the sales to plant trees.
Key Ingredients: Water, grape seed oil, resveratrol, and viniferine.
Pros
Moisturizing
Hydrating
Cruelty-free
Paraben-free
Phthalate-free
Mineral oil-free
Natural highlighter
Resveratrol firms the skin
Cons
None
The Kate Somerville +Retinol Firming Eye Cream visibly firms, hydrates, and brightens the skin around your eyes and gives you a more youthful appearance. The cream contains retinol that improves skin firmness and elasticity around the eyes. It instantly brightens and minimizes the appearance of pores. The eye cream is clinically proven to minimize the imperfections around your eyes after just 1 use, thanks to the presence of retinol and bio retinol that improve the appearance of coarse wrinkles and crow's feet around the eyes. The hyaluronic acid in the cream increases hydration and helps smoothen skin appearance. The eye cream comes with a unique gold applicator tip that feels cool during application. It also helps with targeted application and bends a little to give a gentle massage to the eye area.
Key Ingredients: Retinol, bio retinol, bidens pilosa extract (aka spanish needles), palm, cotton, linseed seed oils, hyaluronic acid, and lime pearl.
Pros
Moisturizing
Won't clog pores
Unique applicator makes application easy
Retinol improves skin firmness
Minimizes imperfections around the eyes with one use.
Cons
The IT Cosmetics Bye Bye Under Eye Eye Cream is developed with the help of plastic surgeons. It is intensely hydrating and quick absorbing. It is designed to smoothen the appearance of lines and wrinkles around the eyes. The cream also reduces dark circles, firms under eye area, and soothes puffy eyes. The formula is infused with skin-loving collagen, caffeine, hyaluronic acid, and cucumber. These ingredients help attract and maintain moisture. This enhances suppleness and restores radiance to your eyes. Here's a personal review video to help you get a better understanding of the product.
Key Ingredients: Collagen, caffeine, hyaluronic acid, and cucumber.
Pros
Soothes puffy eyes
Moisturizing
Fast-absorbing
Good texture
Developed by plastic surgeons
Cons
None
The Fresh Black Tea Age-Delay Eye Concentrate reduces dark circles, puffiness, and fine lines around the eyes. It also visibly increases radiance. The eye cream contains black tea complex that inhibits damaging free radicals and helps improve skin elasticity. It also contains noni fruit juice that is known to retain and increase skin moisture. It is a fast-absorbing eye cream that is also lightweight and suitable for every skin type. The cream works to revive tired eyes and reduces all signs of aging for a smooth, renewed, and younger look. It is free of sulfates, parabens, and phthalates.
Key Ingredients: Kombucha, black tea extract, blackberry leaf extract, lychee seed extract, and noni fruit juice.
Pros
Lightweight
Paraben-free
Sulfate-free
Phthalate-free
Suitable for all skin types
Reduces puffiness
Black tea complex fights free radicals and improves skin elasticity
Noni fruit juice retains skin moisture
Cons
None
These are the 10 best anti-aging eye creams available on the market. Before you make a purchase, you must ensure the eye cream contains certain important ingredients. We have listed those in the following section.
What To Look For In An Anti-Aging Eye Cream
Hyaluronic Acid – Hyaluronic acid helps retain moisture in your skin. This acid is found naturally in our skin. However, we produce less hyaluronic acid as we age. Hence, it is essential to use an eye cream that contains hyaluronic acid.
Antioxidants – As we age, our body goes through a process called oxidation. This causes the release of chemicals called free radicals. These free radicals can be harmful to the skin. Hence, we need a powerful antioxidant to protect us from these chemicals. Antioxidants can be found in many plants. An eye cream that has plant-derived ingredients can be a good source of antioxidants.
Retinol – Retinol is a vitamin A derivative that is directly associated with anti-aging. It is mainly used to stimulate collagen production in the skin. Although it is effective, it may cause sensitivity. As our under eye area is quite delicate, we should be cautious while using a retinol-based eye cream.
Peptides – As we know, the skin is a protective barrier that protects our body from the external environment. Hence, topical application of any cream won't be effective if the product cannot penetrate the skin. This is where peptides play a role. They make sure the product goes deep into the skin to create a reaction for collagen production and cell renewal.
Why Trust Stylecraze
Oyendrila Kanjilal, the author, is a certified skin care coach with a keen interest in trying on different skin care products. She went through many online reviews and has done thorough research to compile the list of the best anti-aging eye creams for women in their 30s. She says one should invest in a good anti-aging eye cream for keeping aging signs at bay. These products are moisturizing, lightweight, and non-greasy.
Frequently Asked Questions
What age should you start using an eye cream?
It is better to start using eye cream from an early age. Generally, people start using an anti-aging eye cream in their 30s, when they start noticing the signs. However, using eye creams in your 20s can help delay the appearance of wrinkles.
Eye cream or eye serum – which is better?
An eye cream hydrates and moisturizes the under eye area. An eye serum penetrates the skin deeper and reduces dark circles. Both have their own importance.
Does an eye cream actually work?
Yes. Though eye creams may not totally eliminate the appearance of aging signs, they can make them less visible.
Recommended Articles