12 Best Lip Glosses For Fair Skin For 2022- Reviews & Buying Guide
Enjoy a stunning sheen on your lips with a mild color that complements your skin tone.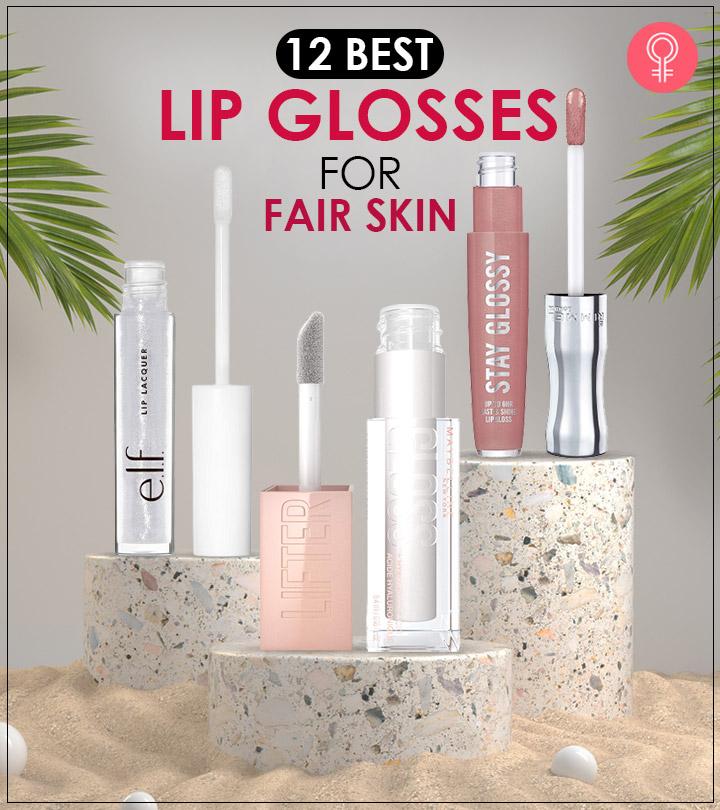 If you have been searching for the best lip glosses for fair skin, you are at the right place. Lighter skin tones tend to stick to colors like peach and pink to keep up with their undertones. If you have been trying to broaden the possibilities and try something new, we have lip glosses that will give a tint and shine while keeping your lips moisturized and protected. From mauve gloss to pretty pinks, here are the 12 highest-rated lip glosses to choose from.
12 Best Lip Glosses For Fair Skin
Vitamin-rich e.l.f. Lip Lacquer nourishes your lips and gives them a dazzling shine. It is non-sticky, non-tacky, and imparts a subtle color. Its vitamin A content hydrates and keeps your lips moisturized, while vitamin E nourishes and keeps them soft. This lip lacquer is available in 10 shades and can be worn alone or layered on your favorite lipstick.
Key ingredients: Vitamins A and E
Pros
Non-sticky
Cruelty- free
Paraben-free
Phthalate-free
Easy to apply
Long-lasting
Cons
None
The Rimmel Stay Glossy Lipgloss has a super shine formula that moisturizes your lips. This lustrous lip gloss spreads smoothly on your lips, making it soft and glowing. It is long-lasting, non-sticky, and stays for up to 6 hours, offering a bold finish. This lip gloss is perfect to wear alone or on top of your lipstick. It has a hint of glitter that does not come off and is suitable for fair skin tone. Its wide range of shades makes this brand a winner among others. Watch this video for more information about the product.
Key Ingredients: Lanolin oil and Mineral oil
Pros
Lightweight
Non-sticky
Lasts for 6 hours
Cons
The Maybelline Lifter Gloss is enriched with hyaluronic acid that smoothens your lips and adds a brilliant shine to them. The lip gloss hydrates and plumps up your lips to make them appear fuller. It is available in a wide variety of modern shades like ice, pearl, topaz, crystal, amber, and more. Apply using the wand applicator to the center of your upper lip and take it along the contours, gliding it across the entire bottom lip. Use it solo for a natural look or coat your favorite lipstick with it for a dazzling appearance. This video helps you know more about the product.
Key ingredients: Hyaluronic acid
Pros
Easy to apply
Non-sticky
Long-lasting
Vanilla scented
Cons
The Burt's Bees Lip Shimmer is a perfect combination of moisture and color, giving you shimmering vibrant lips. It is infused with shea butter, vitamin E, and antioxidant-rich fruit oils, which provide natural nourishment and moisturization, making your lips soft and glowing. This lip gloss has a smooth texture, and you can wear it alone or coat over your favorite lipstick. It comes in a slim tube that is easy to carry. The product has peppermint flavor that gives a refreshing feel, making you kiss-ready. Check out this video to know more about this product.
Key ingredients: Peppermint oil, Sunflower oil, Vitamin E, and Shea butter
Pros
All-natural ingredients
Paraben-free
Phthalate-free
Cruelty-free
Cons
If lush color and ample shine are your lip gloss goal, go for Revlon Super Lustrous The Gloss. This lightweight, non-sticky lip gloss offers shimmering color and moisture to your lips, making them look plumper. It is infused with moringa oil, agave, and cupuacu butter to hydrate your lips, adding a glossy shine to it. The gloss comes with a big, bold applicator that can layer a generous amount of the product onto your lips. It is available in 24 beautiful shades.
Key ingredients: Agave, Moringa oil, and Cupuacu butter
Pros
Dewy shine
Lightweight
Non-sticky
Easy to apply
Cons
None
The Buxom Full-On Lip Polish has a best-selling formula that plumps up your lips, makes them shimmer, and gives a tingly refreshing feel. It is infused with vitamin A and E to moisturize your lips, leaving them soft and luscious. The lip polish is available in a variety of shades in sparkly, shimmery, and pearly finishes and can be applied alone or layered on top of any lipstick shade. This product contains peptides offering a plump look, hyaluronic acid providing hydration, and cooling menthol with a tingly sensation. Say 'Yes' to this irresistible lip gloss to flaunt the perfect pout!
Key ingredients- Vitamin A, Vitamin E, Hyaluronic acid, and Menthol
Pros
Highly pigmented
Shimmery finish
Cons
Might have an unpleasant smell
The Neutrogena Hydro Boost Moisturizing Lip Gloss has a 3-in-1 formula with the vibrant color of lipstick, beautiful shine of a gloss, and nourishment of a balm. It is non-sticky, non-drying and gives your lips a fuller look, and makes them smoother and supple. This gloss gives your lips a luminous tinted shimmer and a luxurious feel. It is infused with hyaluronic acid to keep your lips hydrated with a long-lasting shine. It comes with a wand applicator and is easy to apply. This lip gloss is ideal for regular use and can be worn alone or on top of your favorite lipstick. It is available in 14 shades, perfect for fair skin tones.
Key ingredients: Hyaluronic acid
Pros
Long-lasting
Non-sticky
Non-drying
Easy to apply
Cons
The Palladio Lip Gloss does justice to color and moisture, making it the best choice for fair skin tone. It is enriched with green tea, ginseng, aloe vera, chamomile, ginkgo biloba, and vitamins A, C, D, and E. The lip gloss soothes your lips without making them sticky. This nourishing product provides intense color, gorgeous shine, and quick moisturization to your lips. It reduces lip wrinkles, softens them, and gives a beautiful shine.
Key ingredients: Vitamins A, C, D, and E, Green tea, Ginseng, Aloe vera, Chamomile, and Ginkgo Biloba
Pros
Cruelty-free
Paraben-free
Lightweight
High shine
Non-sticky
Cons
None
What makes wet n wild Mega Last Stained Glass Lip Gloss remarkable is that it is the first transfer-proof and kiss-proof lip gloss on the market that promises to stay for 8 hours. This lip gloss merges comfort, shine, and lasting power to provide vibrant color and moisturization to your lips. It is lightweight, creamy, and nourishes your lips, making them soft and supple. Apply it to the center and smoothen it outwards towards the corners of the mouth, giving your lips an even shiny tone.
Key ingredients: Castor oil
Pros
Transfer-free
Gluten-free
Cruelty-free
Vegan
Long-lasting
No residue
Cons
None
The Pacifica Enlightened Gloss Mineral Lip Shine provides your lips a natural shine without using any plasticizers. It is smooth, non-sticky, and gives your lips long-lasting color while hydrating and nourishing them. The product is infused with coconut oil, cocoa butter, vitamin E, and other antioxidants, protecting your lips and keeping them healthy. Its fragrance of coconut and vanilla makes this lip gloss irresistible. This toxin-free lip gloss is a perfect addition to your beauty regime.
Key ingredients: Coconut oil, Cocoa butter, and Vitamin E
Pros
Non-sticky
Paraben-free
Phthalate-free
Cruelty-free
Vegan
Smells good
Cons
A beautiful bright shimmery pink color looks the best on fair skin, and this is exactly what Sara Happ The Pink Slip One Luxe Gloss delivers. It is infused with macadamia oil, jojoba oil, and sweet almond to moisturize, soften, and nourish your lips. This non-drying lip gloss improves the health of your lips and makes them shiny. Its anti-inflammatory properties heal chapped lips, keeping them soft and comfortable. After exfoliating your lips, apply it using a cushioned applicator, and be ready for a long-lasting shine with subtle color.
Key ingredients: Macadamia oil, Jojoba oil, and Sweet almond
Pros
Non-drying
Cruelty-free
Paraben-free
Cons
The L'Oréal Paris Colour Riche Le Gloss has a hydrating formula that moisturizes your lips, keeping them supple and soft. It is infused with omega 3, vitamin E, and argan oil to provide a gorgeous shine to your lips. You can wear it solo or customize it by coating your lipstick with it. It is available in 15 spectacular shades and has a luxurious creamy texture to flatter your lips.
Key ingredients: Omega 3, Vitamin E, and Argon oil
Pros
Creamy texture
Satiny finish
Long-lasting
Cons
While we have familiarized you with the different brands and options of lip glosses available for fair skin, here are a few aspects to consider before you make your choice.
How To Choose The Best Lip Glosses For Fair Skin
Color: A bright red or soft pink, or coral shades will be ideal for you. Whatever you pick, make sure it does not give you a washed-out appearance. Avoid shades like yellow or golden.
Ingredients: Look for organic ingredients that are safe for the skin and help with nourishment. Stay away from paraben, silicone, and other harmful substances.
Shine: While picking your high shiny lip gloss, make sure the glitter does not come off, giving it a messy look.
Longevity: One swipe of the product and it should go on for hours because you do not want to keep needing touch-ups.
Texture: A good lip gloss will be non-greasy and non-sticky giving your lips a comfortable glow.
Reviews: Check the product reviews. Feedback from people who have used the product should give you an honest opinion about its quality.
From bold reds to soft pinks, you will find all the pretty color choices in our list to complement your fair skin tone and undertone. So, go ahead and pick the best lip gloss for fair skin that suits all occasions and also keeps your lips supple, shining, and healthy.
Why Trust StyleCraze?
Baishali Bhattacharya, the author of this article, is certified in makeup artistry. Her expertise in the field of makeup motivates her to choose the best lip glosses for fair skin. She has conducted thorough research and filtered out the best lip glosses available on the market. These are long-lasting, easy to apply and keep your lips moisturized.
Frequently Asked Questions
Does lip gloss dry out your lips?
No. Lip glosses that contain hydrating ingredients do not dry out your lips. Instead, they keep your lips supple and soft.
How long does lip gloss stay on?
Good quality lip glosses usually stay on the lips for six to eight hours.
Is too much lip gloss harmful?
Yes. If you put on too much lip gloss, your lips will turn super greasy. In addition, the lips may dry out eventually.
Can you sleep with lip gloss on?
No. Do not sleep with lip gloss on as it can dry your lips.
Are lip glosses good for lips?
Yes. Lip glosses partially moisturize your lips and add shine and shimmer to them.
What is lip gloss made of?
Lip glosses are made up of emollients like coconut oil and vitamin E, thickeners like waxes and clays, and coloring agents.
Should I wear lip gloss every day?
No. Wearing lip glosses daily can dry out your lips. So instead, wear them every two to four days.
Can I sanitize lip gloss?
Yes. Dip the gloss applicator in 70% rubbing alcohol to sanitize it and let it sit for 15 minutes.
Recommended Articles