9 Best Burgundy Nail Polishes That Are Trending For Fall In 2023
Look bold and sophisticated with these great-quality, long-lasting nail paints.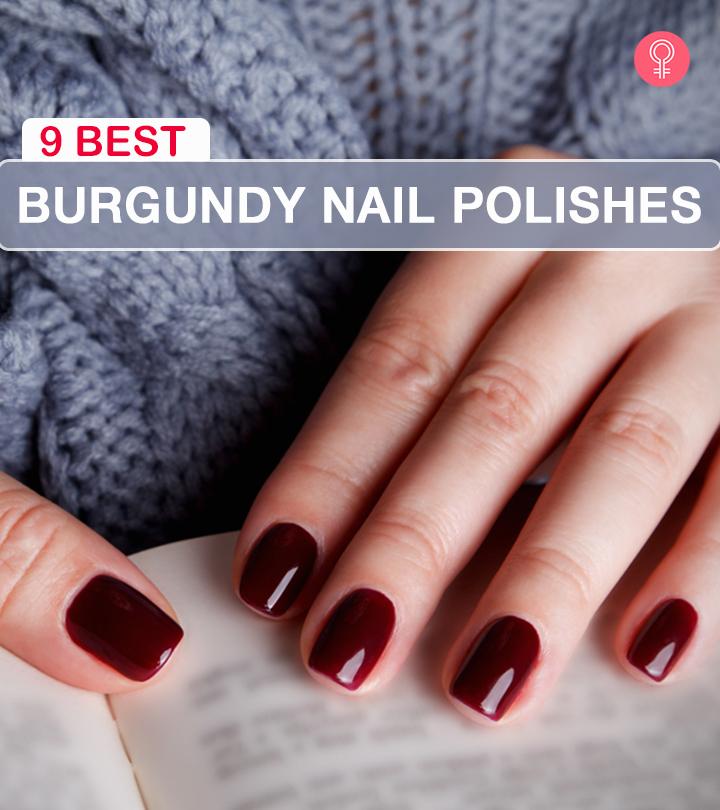 If you are fond of reds and wines in nail polish shades, get yourself some of the best burgundy nail polish out there. Burgundy, with the right blend of purple, red, brown, and wine, gives you a rich decadent shade perfect for the fall and winters. It adds a touch of warmth to windy autumn days and makes those dry wintery nights glamorous. To help you choose, we have enlisted the 9 best burgundy nail polishes that you'll love!
9 Best Burgundy Nail Polishes
Launched in 1979, the Burgundy Frost is one of the top products from the Wild Shine edition of nail polishes. It has a new and improved formula and packaging. It comes with a high shine finish, making your nails look glamorous and glossy. It is 3-free, i.e., it does not contain formaldehyde, toluene, or phthalates.
Pros
Smooth application
Glossy
Fast-drying
Long-lasting
Formaldehyde-free
Toluene-free
Phthalate-free
Cons
Price at the time of publication: $5.56
The Manucurist Green Nail polish in the shade Dark Pansy Burgundy is the queen of polishes with its glossy and elegant formula. The velvet burgundy shade of this nail polish offers a royal look to your nails. Made from the extracts of cotton, corn, sugarcane, and cassava, this nail color forms a solid film on your nails and imparts them with a smooth and shiny finish. The bamboo sap and sunflower seed oil in the polish hydrate your nails. Apply a coat of Green Base Coat and a Green Top Coat before and after applying the burgundy nail color for long-lasting shine.
Pros
Professional quality brush

Bio-sourced ingredients

No toxic chemicals

Vegan

Eco-friendly packaging

Easy application

Long-lasting
Cons
Price at the time of publication: $14
The Born Pretty Gel Nail Polish is a high-quality nail color that lasts for more than 28 days without peeling or chipping if applied properly. This highly pigmented polish has a shiny finish. It is free of 11 toxins and releases a mild odor. Additionally, this nail polish is cruelty-free.
Pros
Easy-glide brush
Highly pigmented
11 Toxin-free
Low odor
Cruelty-free
Cons
Price at the time of publication: $6.99
The VENALISA Burgundy Gel Nail Polish is a long-wearing formula made from natural resin. It does not have any harmful effects on the nails, thanks to its non-toxic formulation. This burgundy shade looks exceptional and perfect for every occasion. It has a premium gel finish that lasts easily up to 3 weeks. The lightweight and smooth formula glide easily without causing air bubbles or thick coating. It can be set under UV or LED Lamp for 90-120 secs for a clean and shiny coat. This nail polish also comes in a wide range of 22 vibrant and rich shades!
Pros
Durable
Safe
Eco-friendly
Non-toxic
High quality
Easy to apply and remove
Lasts up to 20 days
Cons
Price at the time of publication: $7.99
Give your nails a touch of glam and shimmer with ILNP Dear Santa – Deep Burgundy Duochrome Nail Polish. The duo-chrome effect this burgundy nail polish leaves on your nails looks subtle yet elegant. The deep red-to-gold shimmer lasts long without fading away. In addition, the formula is free from toxins and has durable chip-resistant properties. So, you can enjoy your manicure session without hassle with easy application and removal.

Pros
 Chip-resistant
Long lasting shine
Non-toxic formula
Toluene-free
Dibutyl Phthalate-free
Formaldehyde-free
TPHP-free
Xylene-free
Camphor-free
Formaldehyde resin-free
Cruelty-free
Vegan
Cons
Price at the time of publication: $10
The Christian Dior 970 Nuit 1947 is the first couture gel-effect nail polish. The advanced formula offers a glass-shine finish and long-lasting wear. It is made of special pigments that offer a vibrant and bright color. It also has a precision brush that provides the right amount of nail polish in a single sweep. It can be removed easily with a nail polish remover. To get a better understanding of the product, you can check out this video on YouTube.
Pros
Smooth application
Glossy
Easy removal
Fast-drying
Long-lasting
Stays for long
Cons
Price at the time of publication: $56.95
The Essie's Nail Polish Soulmate offers a high-quality glossy shine, full coverage, and durability. It comes with a brush that fits all nail sizes. Pair it off with a base and top coat, and you are good to go.
Pros
Easy application
Smooth finish
Glossy
Fast-drying
Cons
Price at the time of publication: $7.2
The OPI Nail Lacquer in the shade Malaga Wine is a rich and intense color that gives your nails a much-needed oomph. The formula of this nail polish is made from high-quality ingredients, which gives you a high-intensity shine with its crème finish and glossy glass-like effect. It lasts up to seven days and is easy to remove afterward. It has a fast-drying formula, and the color looks lustrous and vivid.
Pros
Highly pigmented
High on shine
Fast-drying formula
Lasts for up to 7 days
Easy to apply and remove
Cons
 Color may slightly vary
Can be blotchy
Price at the time of publication: $10.79
The Beetles Gel Nail Polish in the shade B-Burgundy Red is a chic color that looks vibrant on all skin tones. This formula is free from toxins and safe for the skin and nails. Low on odor, this versatile burgundy nail polish is perfect for everyday use and can be that perfect shade for special occasions or the festive season. The nail polish can last seamlessly for a few weeks with proper application. It can be cured under UV or LED light for around 90 to 120 seconds. The nail polish comes in a wide range of 25+ color hues to choose from.
Pros
 Smudge-free
Low odor
Easy to apply and remove
Toluene-free
Dibutyl Phthalate-free
Formaldehyde-free
TPHP-free
Xylene-free
Camphor-free
Formaldehyde resin-free
Paraben-free
Lead-free
Cruelty-free
Cons
Takes a long time to dry
Gooey consistency
Price at the time of publication: $7.99
Burgundy is the most captivating, deep color of the fall and winter seasons. The color is stunning and can be paired with different fashion accessories. With so many shades and brands available in the market, choosing the right shade for yourself would be difficult. Take a look at a few of the tips to buy the perfect nail polish for yourself.
How To Choose The Best Burgundy Nail Polishes That Are Trending For Fall In 2023
While choosing burgundy nail polish, consider the finish of the polish. Since nail polish is available in matte, glitter, gel form, or glossy finish, many options exist. In addition, the finish of the nail polish is closely linked to its longevity. For instance, opt for gel-based color if you want nail paint to last for 2-3 weeks.
Try to match the color of the nail polish with your skin tone and outfit to add elegance and class to your personality. Try adding some nail art if you want to go out of the box with your burgundy nail polish. For instance, a contrasting shade like pale pink can be clubbed with a burgundy color while doing nail art.
If you have dry and brittle nails, opt for nail polish with moisturizing and strengthening ingredients like vitamin E, calcium, camelia extract, etc. Also, look for nitrocellulose, a resin that holds the nail polish. Ethyl acetate, butyl acetate, propyl acetate, and isopropyl acetate is a solvent that helps polish to apply and dry quickly. All these compounds are skin-friendly and do not irritate the skin. It would be best if you considered having these ingredients in your nail polish, especially in the fall and winter seasons when nails are not in their best condition.
Avoid toxic ingredients like formaldehyde and toluene, which can cause cancer and damage your liver and kidneys. Instead, opt for nail polishes that are 3-free, 5-free, 7-free, and 12-free nail lacquer, free from formaldehyde, toluene, DBP, formaldehyde resin, camphor, xylene, ethyl tosylamide, and triphenyl phosphate.
Why Trust Stylecraze?
The author of this article, Baishali Bhattacharya, is our in-house expert certified in makeup techniques. She is always on the lookout for the best burgundy nail polishes that add a warm touch to your manicure. She tried out multiple nail polishes from reputed brands and curated this list of premium burgundy nail polishes to choose from. These nail polishes are quick-drying and long-lasting, leaving you with rich and glamorous nails.
Frequently Asked Questions
What does burgundy nail polish mean?
Burgundy nail polish signifies maturity, elegance, and sophistication.
Is it safe to wear burgundy nail polish during pregnancy?
Yes. Look for non-toxic, pregnancy-safe nail polish formulas in burgundy color to wear during pregnancy.
How long does burgundy nail polish take to properly dry?
The drying time of a nail polish depends on its formula and how many coats you apply to your nails.
Is burgundy nail polish toxic?
No, safe, chemical-free formulas of burgundy nail polish are not toxic.
Is burgundy nail polish good for dark skin?
Yes, it pops elegantly on a darker skin tone.
Recommended Articles