9 Best Burgundy Nail Polishes That Are Trending For Fall In 2022
Look bold and sophisticated with these great-quality, long-lasting nail paints.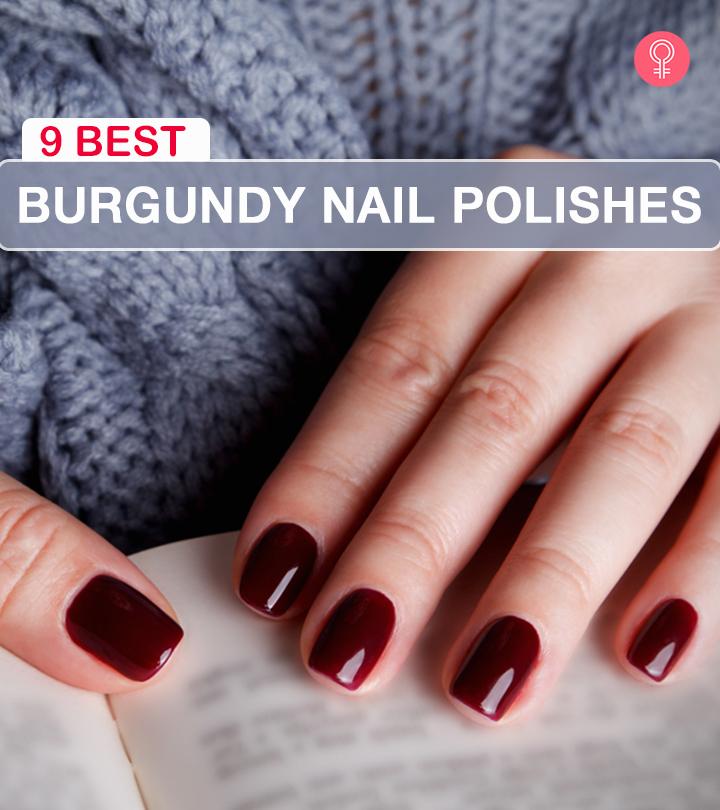 If you are fond of reds and wines in nail polish shades, get yourself some of the best burgundy nail polish out there. Burgundy, with the right blend of purple, red, brown, and wine, gives you a rich decadent shade perfect for the fall and winters. It adds a touch of warmth to windy autumn days and makes those dry wintery nights glamorous. To help you choose, we have enlisted the 9 best burgundy nail polishes that you'll love!
9 Best Burgundy Nail Polishes
Launched in 1979, the Burgundy Frost is one of the top products from the Wild Shine edition of nail polishes. It has a new and improved formula and packaging. It comes with a high shine finish, making your nails look glamorous and glossy. It is 3-free, i.e., it does not contain formaldehyde, toluene, or phthalates.
Pros
Smooth application
Glossy
Fast-drying
Long-lasting
Formaldehyde-free
Toluene-free
Phthalate-free
Cons
The Daisy DND Duo Burgundy Mist comes with gel nail polish and a top lacquer coat. This new formula eliminates the need for a base coat and bond. It lasts for 21 days. You can use it with UV and LED lamps. The Burgundy Mist is a deep shade of burgundy that will make your nails look glossy, especially when paired with the lacquer. Clean your nails before applying the polish. Apply a thin layer of Burgundy Mist and seal the free edges. Let it cure for two minutes and then apply another layer, followed by the top coat.
Pros
Long-lasting
Fast-drying
Smooth finish
Glossy
Cons
Color may vary.
Watery consistency
The Joligel Burgundy Red nail polish has high saturation and adhesion. It does not peel, chip off, or shrink. It offers a semi-permanent mirror finish with a glossy shine. It is long-lasting and can be used with UV and LED dryers. It is made of high-standard resin with low arsenic and mercury content.
Pros
Smooth application
Fast-drying
Glossy
No shrinkage
No peeling
Easy removal
Cons
The Faby Nails Vertigo Burgundy is a shade of deep burgundy. It offers shine and good grip without chipping or shrinkage. It can be applied easily, offers optimal coverage, and dries very fast. Apply two thin layers of it after the base coat, and then apply a top coat for the final finish. This nail polish is 5-free – it is free of formaldehyde, toluene, DBP, formaldehyde resin, and camphor.
Pros
Fast-drying
Smooth finish
Easy application
Shiny
5-free
Cruelty-free
Cons
None
The Glossfinity Burgundy Crush by Max Factor comes with a newly designed brush. The brush helps to apply the nail polish evenly and keeps nail varnishes flawless. It offers a glossy finish with vibrant color and stays up to seven days.
Pros
Smooth application
Quick-drying
Nice color Glossy
Cons
The Christian Dior 970 Nuit 1947 is the first couture gel-effect nail polish. The advanced formula offers a glass-shine finish and long-lasting wear. It is made of special pigments that offer a vibrant and bright color. It also has a precision brush that provides the right amount of nail polish in a single sweep. It can be removed easily with a nail polish remover. To get a better understanding of the product, you can check out this video on YouTube.
Pros
Smooth application
Glossy
Easy removal
Fast-drying
Long-lasting
Stays for long
Cons
The Essie's Nail Polish Soulmate offers a high-quality glossy shine, full coverage, and durability. It comes with a brush that fits all nail sizes. Pair it off with a base and top coat, and you are good to go.
Pros
Easy application
Smooth finish
Glossy
Fast-drying
Cons
The Clavuz Burgundy Gel set comes in four shades of burgundy, ranging in intensity and color. It applies smoothly with a glossy shine like gel nail polish. It lasts for two to three weeks and can be cured with UV and LED dryers. It does not run off or shrink. It is color-resistant and flexible. It can also be used with fake nails.
Pros
Long-lasting
Glossy
Easy application
Cons
Thick texture
May be sticky.
The New York Color Broadway Burgundy Frost is a shade of pinkish burgundy. This long-lasting formula helps you achieve a salon-quality manicure at home. It does not chip or peel easily.
Pros
Fast-drying
Applies easily Easy application
Smooth finish
Glossy
Cons
Why Trust Stylecraze?
The author of this article, Baishali Bhattacharya, is our in-house expert certified in makeup techniques. She is always on the lookout for the best burgundy nail polishes that add a warm touch to your manicure. She tried out multiple nail polishes from reputed brands and curated this list of premium burgundy nail polishes to choose from. These nail polishes are quick-drying and long-lasting, leaving you with rich and glamorous nails.
Frequently Asked Questions
What does burgundy nail polish mean?
Burgundy nail polish signifies maturity, elegance, and sophistication.
Is it safe to wear burgundy nail polish during pregnancy?
Yes. Look for non-toxic, pregnancy-safe nail polish formulas in burgundy color to wear during pregnancy.
How long does burgundy nail polish take to properly dry?
The drying time of a nail polish depends on its formula and how many coats you apply to your nails.
Is burgundy nail polish toxic?
No, safe, chemical-free formulas of burgundy nail polish are not toxic.
Is burgundy nail polish good for dark skin?
Yes, it pops elegantly on a darker skin tone.
Recommended Articles