Best Red Nail Polishes – Our Top 10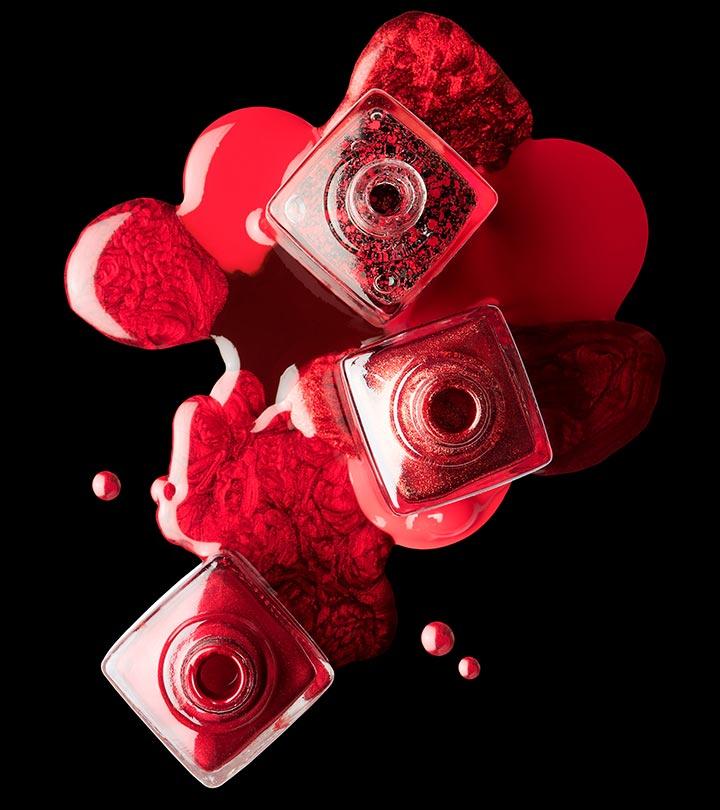 Red was once considered quite a bold shade and not many women would dare to incorporate it in their vanity. Times have changed today and you can see almost everyone sporting red lips and nails. When worn in the right shade suitable on your skin tone, red polish can make a dramatic impression. Dusky skin tones can look good with darker shades of red while fair to medium tones can rock reds with orange undertones. Red nail polish looks very classy and chic. What is best about the colour is that you can easily pair it with any type and colour of outfit without looking out of place. Check out some gorgeous shades of red nail polish below and take a pick of your favorite ones.
Best Red Nail Polish Shades
Flashy shade, this one is. Red Flash is a clear polish with lots of small and chunky red hexagon glitters. The polish offers very good coverage and three coats give you full opacity or you can pair it with a regular red. Perfect if you want to add something extra to your regular reds.


I am Not Really a Waitress is a pretty dark red in a metallic finish. It comes from OPI's Best Of The Best collection and I think it truly belongs there. It might be quite bold for some, but would look wonderful to wear on a night out. Requires two coats.
[ Read: Top Neon Nail Polishes ]
3. OPI Jinx:
This one comes from OPI's very popular Bond Girls Collection. It is a bright coral red color with orange undertones and strong gold shimmer. Looks totally amazing with their liquid sand formula. You definitely need this OPI red glitter nail polish. Requires two coats.
4. NYX Dark Glitter:
Dark Glitter is truly a one of its kind polish. It has a black sheer base and is packed with fine and medium red glitters. The black is barely visible as the red glitter takes centre stage, giving it the look of a dark red polish. Pair it over a regular black polish for best results.
[ Read: Best Pink Nail Polishes ]
I would be in heaven if I could get my hands on this pretty. Coming from The Wizard of Ooh Ahz Returns Collection, it is a dark red polish packed with fine red shimmers. The shimmers give it a foil like finish. One of the most unique and gorgeous reds ever. Requires two coats.
[ Read: Best Chanel Nail Polishes ]
This is my favorite red of all. Hot Red is a true red colour in a creme finish. The color is gorgeous and will suit almost all skin tones. It is my go – to shade when I can't think of which shade to wear. Requires two coats. This blood red nail polish is to die for.

[ Read: Best Elle 18 Nail Pop Shades ]
Here is the perfect polish for all the brides out there. Devil May Care is a clear polish packed with red and gold glitters. The polish is sheer is sheer so you may have to pair it over another red. I love how festive and gorgeous the shade is.
Sooki is a muted cherry red shade in a creme finish. This is one shade to opt for if you are afraid of bright and bold reds. Requires two coats.


No products found.
Carrie Ann is a cool metallic red with lots of tiny silver shimmers. The shimmers make this one super, super sparkly. Requires two coats.
This one is something which almost everyone will love. Fishnet Stockings is a dark red polish in a creme finish. The shade almost leans towards maroon but is nonetheless beautiful. Requires two coats.


[ Read: Best Essie Nail Polishes And Swatches ]
*Subject to Availability
Now thinking to get a nail art in red? Which of these red nail polishes you like to choose? Give your feedback through comment section below.