Top 15 Red Nail Polishes Of 2022
Get a classy and professional manicure look on your fingertips within seconds.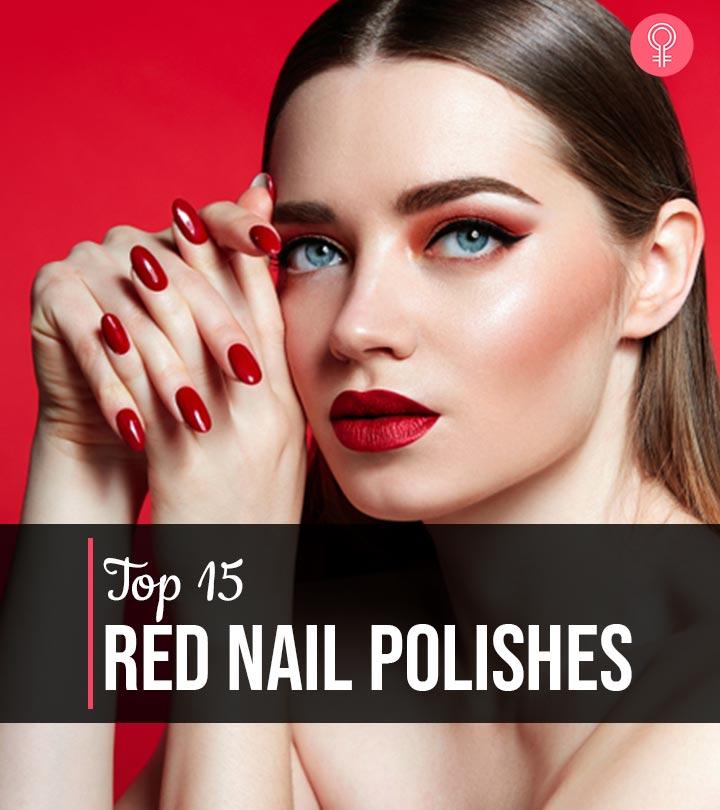 Red was once considered daring, defiant even, and most women dared not incorporate it into their vanity. However, the times, they are a-changin', and from red nail polishes to red lipsticks, this shade is now a common sight in the makeup industry. Red nail polish can create a dramatic fashion statement when worn in the right shade suited to your skin tone. The darker shades of red look gorgeous on dusky skin tones, while the orangish-red hues are perfect for fair to medium tones. Red nail polish is very chic and classy and can be paired with any outfit! Check out our top picks of red polish from the list below.
15 Best Red Nail Polishes
A bright, shiny, luscious red nail polish is all you need in your vanity. This red nail polish in the shade Big Apple Red by O.P.I will give you the confidence to flaunt your hands and make a bold style statement. This signature O.P.I formula has more of a berry red color.
This nail polish stays on for up to 7 days without wearing off. Apply two coats of this formula and match it with any of your favorite outfits.
Pros
Thick formula
Offers good coverage
Does not wear off
Cons
None
There is nothing like a true blood-red nail polish that inspires you with a little extra confidence. If you are looking for an iconic, bold red color for your nails, the shade Red-iance by Sally Hansen is here with its innovative formula. This fancy red color adds radiance to your look, and its formula is infused with argan oil that provides an instant moisturizing effect to your nails and makes them healthy.
Pros
Moisturizes the nails
Provides nourishment
Easy to apply
Cons
This crisp red nail polish by Revlon Nail Enamel has a Chip-Defiant Formula that provides gorgeously smooth color. This formula, along with the anti-fade technology, helps the nail polish stay on for a long time. It is formulated without formaldehyde, dibutyl phthalate, toluene, formaldehyde resin, and camphor. The shade leans more toward coral and is perfect for people who do not prefer tangy red tones.
Pros
Chip-resistant
Anti-fade technology
Long-lasting
Formulated without added preservatives
Flawless application
Cons
None
This shade of red is perfect for people with a warm or olive skin tone. This shiny staple red nail polish is free from DBP, toluene, and formaldehyde. It is durable and gives you your desired, flawless coverage.
Paint your nails with two coats of this polish and apply a top coat to give you a perfectly shiny and chip-free nail look. Click here to check out a detailed personal review of this product.
Pros
Free of added preservatives
Flawless coverage
Chip-resistant
Cons
This Deborah Lippmann Nail Polish in the shade It's Raining Men is a beautiful neutral shade of red. Its dual-patented formula with 10 active ingredients adds glamour to your nails and keeps them healthy. This is more of a watermelon red color that is not too heavy and has a pretty, summery touch to it.
The formula is opaque and creamy, and it applies effortlessly without chipping off. The brush is soft and full, which makes application even easier. This rich, velvety shade works on all skin tones.
Pros
Nourishes your nails
Opaque coverage
Soft, wide brush for easy application
Suitable for all skin tones
Cons
Smith & Cult's Kundalini Hustle Nail Polish is a beautiful and glamorous red color that looks flattering with any skin tone. You can achieve a true red color with just one swipe. Use it with the brand's top coat for a chip-free, glossy finish. Its formula is vegan and free from any kind of added preservatives.
Pros
Suitable for all skin tones
Opaque and thick formula
Vegan
Free from preservatives
Chip-resistant
Cons
Might feel a little cakey
There's no way you can go wrong with this strawberry red nail color by ZOYA. It is a bright, clean, and true medium shade of red that has a glossy and creamy finish. Its luxurious formula gives you the perfect balance of color saturation and hydration. This nail polish is significantly long-lasting and has a 10-free formula.
Pros
10-free formula
Creamy consistency
Long-lasting
Vegan
Glossy finish
Cons
None
This classic red nail polish shade by JINsoom is inspired by the 1929 film Coquette. This modern red color has a warm, feminine touch. Its formula is infused with a UV filter, and it does not fade or wear away. The 5-free formula also does not contain any harsh chemicals. It creates a long-lasting manicure. This double-patented formula also offers a smooth finish and is vegan-friendly.
Pros
5-free formula
Infused with a UV filter
No harsh chemicals
Long-lasting
Vegan
Cons
Not suitable for all skin tones
This beautiful Christmas red shade of nail polish offers opaque coverage with a single swipe. The polish lasts for quite some time without staining or chipping. Its formula dries quickly to give you gorgeous nails on the go.
This nail polish promotes healthy nail growth and is free from added chemicals. Its soft, non-thickening consistency gives you the exact bold red color that you desire.
Pros
Opaque coverage
Long-lasting
Free from added chemicals
Non-thickening formula
Cons
None
Flaunt this intense and vibrant red by Christian Dior with sheer elegance. This gel-effect nail polish has an advanced formula that is highly pigmented and provides the perfect finish with just a single swipe. The shade Rouge looks striking on all skin tones and gives your nails a glass-like shine.
Pros
Gel-effect finish
Highly pigmented
Suitable for all skin tones
Long-lasting
Cons
None
Rouge Louboutin is a timeless and radiant shade of red. This nail color goes well with every skin tone. You can also pair this signature red shade with your Red Bottoms. Its formula is highly pigmented, chip-resistant, and free from toluene, DBP, and formaldehyde. Get that brilliant, shiny finish that you have always wanted with this classic nail polish. Its applicator gives you a perfectly smooth finish. To understand the nuances of the product in detail, you can check out this review.
Pros
Suitable for all skin tones
Highly pigmented
Chip-resistant
Free from harmful chemicals
Smooth application
Does not streak or bubble
Cons
None
This classy red shade by Morgan Taylor Professional Nail Lacquer gives your nails a bright and exotic look. You can sport this color with any outfit. The formula turns opaque with two coats and helps you achieve full coverage that does not wear off easily.
Pros
Does not wear off
Full coverage
Long-lasting
Cons
None
Oribe The Lacquer High Shine Nail Polish is an ultra-long wear nail polish. This red nail polish gives you the ultimate coverage. Its color does not fade away. It stays on for quite a while and satisfactorily flatters all skin tones.
Just apply two thin coats of this polish to get that brilliantly glamorous nail look. Its formula is thick, and you will instantly fall in love with it once you have it on your nails. Its Shade-Lock Technology delivers full coverage and high impact color and locks it in for ultra-long wear. This polish has an 8-free formula, which makes it safe to use.
Pros
Long-lasting
Highly pigmented
Suitable for all skin tones
8-free formula
Chip-resistant
Cons
None
Tom Ford Nail Lacquer in the shade Scarlet Chinois is a vibrant red nail color that gives your nails a sparkling shine. Its formula offers you high coverage and lasts long. Dress your nails with this robust and blendable color infused with a creamy and safe formula. It goes with all skin tones and matches every outfit.
Pros
High coverage
Long-lasting
No harmful ingredients
Suitable for all skin tones
Cons
None
This fiery red nail polish by Chanel has a rich and creamy formula that sits comfortably on your nails. Its newly upgraded 5-free formula features bioceramics and ceramides that are responsible for strengthening your nails. The shade Gitane is more of a tomato red color that works best for people with medium skin tones. The new and improvised brush helps you with an even application. Check out this YouTuber's review of this product.
Pros
Creamy formula
5-free formula
Strengthens your nails
Even application
Cons
None
Why Trust StyleCraze?
Baishali Bhattacharya, the author of this article, is certified in makeup artistry. She is also a nail art enthusiast and an expert in choosing the best nail polish and accessories. This well-researched list of red nail polishes covers everything you need to create a dramatic fashion statement. The chic and classy red nail polishes mentioned here offer good coverage and are durable.
Frequently Asked Questions
What is the best quality red nail polish?
If you are looking for the best quality red nail polish that is long-lasting, chip-resistant, and gives you opaque coverage, go for OPI Nail Lacquer in the shade Big Apple Red.
Is red nail polish in style?
Red nail polish is very much in fashion. It looks classy, modern, and elegant. Be it for regular wear, the festive season, or a grand party – you can never go wrong with red nails.
Does red nail polish look good on everyone?
Yes, the right shade of red can suit every skin tone.
What do your nails say about your personality?
Check out the following nail shapes and their corresponding personality traits:
Long vertical nails show an artistic and sweet-tempered personality.
Triangular nails show an over-sensitive personality trait.
Oval nails show jovial, friendly nature that is adaptable to change.
Wide nails show open-mindedness and are emotionally expressive.
Almond-shaped nails show a caring, imaginative, trustworthy, and loyal nature.
Square nails show leadership skills, courage, and a focussed mind.
What are the 5 common nail problems?
The common nail problems are brittle nails, onycholysis or when your nail separates from its nail bed, paronychia or nail inflammation, nail ridges, and leukonychia or white lines and spots.
Recommended Articles
Best Nail Polish Colors For All Skin Tones
Best Burgundy Nail Polishes
Best Nail Polish Shades For Fair Skin
Best Nail Polish Colors To Make Your Hands Look Younger