15 Best Nail Polish Organizers Of 2022, According To Reviews
Organization is key to finding the perfect nail color without creating a mess.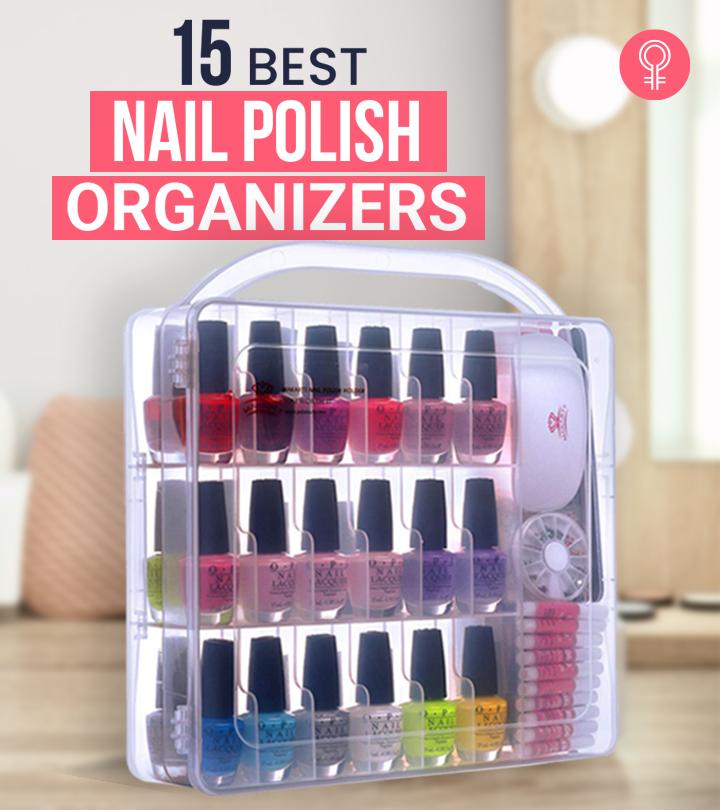 If you are bored of digging through your cluttered drawers for your favorite nail polish, it is time to look for the best nail polish organizer that can help you keep them neatly arranged. With a nail polish organizer at your disposal, you can keep several nail polishes arranged and on display. They are small and light and can fit in practically any brand of nail paint bottle. We have listed 15 of the finest nail polish organizers on the market right now in this article. Take a look at them below!
15 Best Nail Polish Organizers Available Right Now
Makartt Universal Clear Nail Polish Organizer is the best see-through nail polish organizer. This compact organizer can store 48 bottles of nail polish in a visibly accessible manner. It can be placed on your counter top or dresser horizontally or upright. It provides you a good view of the color and brand of all the nail polishes in the case. This universal nail polish organizer is suitable for most nail polish brands. Its flexible-design organizer features adjustable dividers on each side that help you create more room for other nail tools like brushes and files. This organizer comes with a secure snap-latch made from sturdy material. You may check this video for a better understanding of this product.
Pros
Transparent
Compact
Flexible design
Adjustable dividers
Holds 48 bottles of nail polish
Portable
Easy to use
Durable
Sturdy
Cons
Home-It Acrylic Nail Polish Organizer is the best counter-display organizer. It is made from heavy-duty acrylic and can hold 60 bottles of nail polish. The five stair-step style tiers with side rails keep your bottles perfectly in place. It is designed to hold all kinds of makeup accessories like nail polishes and lipsticks. Each nail polish bottle is clearly visible and easily accessible.
Pros
Versatile
Durable
5-tiered design
Holds 60 bottles of nail polish
Easy to assemble
Sturdy
Easy to clean
Saves space
Cons
Sorbus Wall-Mounted 5-Tier Nail Polish Organizer is a durable metal rack. It features 5 shelves of varying lengths with a decorative bird-and-tree silhouette design. You can keep your nail polishes and other beauty essentials in an organized, secure, and ready-to-use way on this rack. It is easy to install and holds up to 70 nail polish bottles. Also, you can arrange them by brand, color, and size.
Pros
Durable
Easy to install
Lightweight
Sturdy
Multipurpose
Suitable for home storage and professional use
Cons
None
STORi Clear Plastic Multi-Level Nail Polish Organizer is the best lightweight nail polish organizer. This multi-level organizer is made from clear plastic and holds up to 40 nail polish bottles. You can easily view and locate nail polishes in this organizer. You can also store your nail polish remover and nail clippers in it for a quick manicure.
Pros
Holds 40 nail polish bottles
Lightweight
Sturdy
Durable
Easy to clean
Easy to store
Cons
Sagler Rack Acrylic Organizer is the best wall-mounted nail polish organizer. This clear acrylic nail polish holder can hold up to 102 bottles of nail polish. It has 6 rows, and you can keep 17 nail polish bottles on each. This wall-mounted organizer can hold nail polishes of all brands. It is sturdy and has two holes at the top for easy wall mounting.
Pros
Durable
Sturdy
Easy to install
Holds up to 102 nail polish bottles
Cons
Average quality
Poor packaging
The KINGROW Nail Polish Organizer is a transparent organizer made of acrylic with a stepped-wedge pattern. It offers maximum visibility of stored items. This organizer has 6 layers and can hold up to 72 nail polish bottles. In addition, it has a railing so that the nail polish doesn't tip over. You can also use this organizer to hold essential oils, a small mirror, tiny little toys, etc. Moreover, you can hang it on the wall to save more space.
Pros
Easy to use
Easy assembly
Smooth finish
Durable
Cons
Does not hold 72 bottles as claimed
Bounce Generation Nail Polish Case is the best portable nail polish organizer. This rose gold travel makeup case features drawers and dividers. It has 35 dividers in the top portion to store the nail polishes and one large bottom drawer. This cosmetic organizer has an aluminum frame and is very travel-friendly. The large bottom drawer can store various other cosmetics, brushes, and mirrors.
Pros
Holds 35 nail polish bottles
Portable
Travel-friendly
Sturdy
Large storage capacity
Can be used to store other makeup and accessories
Cons
None
LIANTRAL Wooden Nail Polish Organizer can be used to store nail polishes and essential oils. This lightweight organizer can hold up to 45 pieces of 10 ml, 15 ml, 20 ml, and 30 ml vials. This versatile storage rack is perfect for displaying your nail polishes. It can be kept in the living room, bedroom, or office. The pull-out design with 3 removable shelves allows you to pick and store the bottles easily. It also has one drawer to store other small things.
Pros
Holds 30 bottles of nail polish
Lightweight
Versatile
Pull-out design
Removable shelves
Sturdy
Extra drawer
Cons
NIUBEE Wall-Mounted Nail Polish Organizer is an easy to assemble clear nail polish organizer with 6 racks. The racks are made of 1/8" thick clear acrylic. This wall-mounted nail polish organizer is designed with removable anti-slip stop inserts on the ends to prevent your nail polishes from sliding off. Each rack can hold about 10-15 bottles. Since the racks are transparent, you can organize all your nail polishes by color and brand.
Pros
Holds 60-90 nail polish bottles
Durable
Easy to assemble
Sturdy
Easy to install
Removable anti-slip stop inserts
Cons
None
Luxja Nail Polish Carrying Case is a heavy-duty nylon nail polish organizer. This durable and scratch-resistant carrying case has a soft padded interior that protects your nail polishes. Its double-layer design has several pockets and elastic bands for storing nail files, cuticle cutters, nail art brushes, clippers, and nail polish remover. This carrying case can hold up to 20 bottles of nail polish. Its dividers are flexible and detachable. This video review will help you learn more about the product.
Pros
Sturdy
Durable
Heavy-duty
High-quality fabric
Double-layer design
Easy to clean
Scratch-resistant
Protects the nail polish bottles
Travel-friendly
Suitable for home and daily use
Cons
SoCal Buttercup Nail Polish Organizer is a wall-mounted round shelf. It is made from stainless steel with top-quality powder coating. You can easily arrange up to 40 nail polish bottles (of 15 ml) by their color or size in this organizer. You can quickly find the bottle you are looking for on this shelf. It has 4 sturdy shelves and a tree-of-life design.
Pros
Lightweight
Durable
Sturdy
Easy to assemble
Gorgeous design
Holds 40 nail polish bottles
Cons
Some nail polish bottles may not fit on this shelf
Gospire 6-Tier Acrylic Nail Polish Organizer is a high-quality display rack. The 6-tier design of this nail polish holder can hold up to 66 bottles. It saves a lot of space, and you can store jewelry and makeup items in it as well. The removable stepped-wedge design allows you to store cosmetics of different sizes in it.
Pros
High quality
Sturdy
Easy to install
Eco-friendly
Cons
None
Makartt Portable Gel Nail Polish Organizer is a flexible-design nail polish organizer. It is made with thick PP plastic and can hold up to 36 nail polish bottles. This organizer is specially designed for irregular, longer, fatter, or wider nail polish bottles and nail accessories. It has one large separate compartment for random nail supplies. This nail polish case has a double-strength closing latch and a sturdy handle.
Pros
Portable
Flexible design
Durable
Eco-friendly
Sturdylatch and handle
Travel-friendly
Cons
The Foraineam Nail Polish Organizer is made from transparent and heavy-duty thick plastic. It can hold up to 48 pieces of nail polish and you can store the items either upright or horizontally. The organizer features adjustable dividers so that you can place the dividers according to the size of your bottles. Additionally, the organizer comes with a handle for convenient carrying.
Pros
Adjustable divider
Space-saver
Durable design
Dust-free
Cons
None
The Famrad Nail Polish Organizer is made of heavy-duty nylon material. It comes with a zip closure and has multiple compartments. The bottom compartment of the organizer can hold up to 30 nail polish bottles in an upright position. You can also store cuticle cutters, nail filers, cotton, and other accessories in the top compartment. The top compartment has many pockets with an elastic band for secure storage. Moreover, the interior is softly padded to keep the bottles safe and prevent breakage.
Pros
Multiple compartment
Double layer design
Portable
Strong handle
Washable
Cons
None
Why Trust Stylecraze
Passionate about reviewing makeup and fashion products to help enhance her readers' lives, Baishali Bhattacharya is a certified image consultant. Here, she lists the best nail polish organizers that can keep your favorite colors within easy reach at all times without taking up too much space in your closet. After researching multiple products across the category, she has handpicked the top-rated options based on their quality, features, and benefits.
Recommended Articles