10 Amazing Travel Makeup Kits And Palettes
Don't compromise on your makeup while traveling – pack everything you need easily!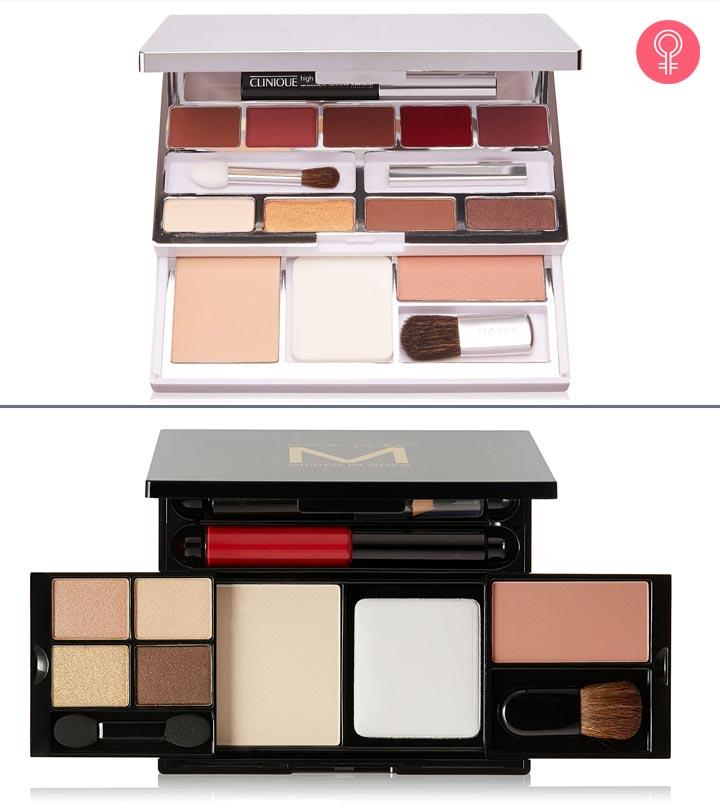 Traveling light is the best way to do it, and it becomes all the more convenient when you have the best travel makeup kits! We have to carry a whole bunch of makeup items while vacationing, which may be an added burden. That's why travel-sized makeup kits make life easier! With these kits, there is no need to pack the items separately because we can find them all in a single kit. Mascara, eyeshadows, blush, eyeliners, and more ー everything is included in a set of palettes that enhances our oomph factor even when we are holidaying. From lip shades to foundation, primers, eye makeup, and sunscreen – you can have it all in one kit. Scroll down and check out the best travel makeup kits.
10 Best Travel Makeup Kits With Buying Guide And Reviews
Designed with a unique shape, the BR Portable All In One Makeup Kit is just what you need to give you company when you travel. It is an all-in-one mini makeup kit palette that can be used for your face, lip, and eye makeup. It comes in a trendy shell-shaped palette that the necessary brushes and applicators you need to put on your makeup. The travel size makeup kit has mirrors included for your convenience and is the perfect compact size so you can carry it with you in your purse.
Pros
Variety of color palettes
Mirror, brushes, and applicators included
Good quality kit
Long-lasting and portable
Great gifting option
Cons
Makeup might not be premium quality
Price at the time of publication: $12
Be party-ready with the variety of makeup options to choose from with the Shany Fix Me Up Makeup Kit. One of the best professional travel makeup kits, this kit has three tiers of makeup options to help you dress up like a true diva. It contains 30 different eye shadows that are vibrant, soft, and comes with a matte and pearl finish. It also has eight lip colors and four different makeup applicators. The lip colors have a smooth glossy finish and leave you looking like a fashionista. It is one of the best travel beauty kits. In this YouTube video, you will find a detailed review of this product.
Pros
Cruelty-free products
Contains three large matte brushes
Silky soft makeup
True-to-color and pigmented
Comes with a mascara
Cons
Might not be easy to remove makeup
Price at the time of publication: $9.95
Get your hands on this kit and you no longer have to worry about carrying an entire bag of makeup essentials. With up to 64 colors to choose from, the BR Deluxe Makeup Palette is your one stop kit for all your makeup needs. This is a makeup travel kit that includes everything like a palette of eyeshadow, blush, and powder. It also has different applicators, lip gloss, and mascara to give you that pretty and dressy look. The product opens into an expandable swing kit where everything is displayed and ready for you to choose from.
Pros
Wide range of color palettes to choose from
Compact design
All-in-one makeup kit
Includes applicators as per your requirement
Cons
Difficult to blend the eyeshadows
Price at the time of publication: $19.88
Fan of nude shades? This one is just for you! The Jane Iredale Pure & Simple Makeup Kit is made of minerals that are specially formulated for your skin. It has a weightless texture and comes in four subtle colors to suit the natural tone of your skin, even used by professional makeup artists. The full face makeup kit consists of a mineral foundation, blush, eyeshadow, and a lip and cheek stain that are packed with skin-nourishing antioxidants. The weightless foundation has a sheer matte finish and is oil-free. Get those gorgeous eyes, lips, and cheeks with this travel-friendly makeup kit. Check out this video on YouTube for a detailed understanding of the product.
Pros
Nourishes and soothes skin
Contains antioxidants beneficial for skin
Free of parabens and gluten
Certified vegan and cruelty-free
Gentle and safe for sensitive eyes
Cons
Price at the time of publication: $36
A travel set that is trendy, stylish, and is a one-stop solution for all your makeup needs, the SHANY Luxe Book Makeup Kit is your go-to choice that forms a complete makeup kit. It is made for makeup enthusiasts and consists of three panels of makeup and makeup accessories. The first panel has a mirror, three brow powders, and three eyebrow stencils. It also comes with two highlighters to give you the perfectly raised brows and cheekbones. The second panel opens to 30 different eyeshadows that have a matte or shimmer finish along with four applicators and two classic shades of lip glosses. The last and final panel includes a makeup brush, 15 lipstick creams in matte, gloss, and creamy finishes, and four shades of blushes that suit all skin tones.
Pros
All-in-one makeup kit
Contains a double-ended brush
100% cruelty-free
Perfect gift option
Contains a brow contour kit
Cons
Might not suit sensitive skin
Price at the time of publication: $32.89
A palette that brings out the beauty of every skin tone, the Clinique All-in-One Color Palette has an array of colors that suit different shades of skin. It provides a matte finish and leaves you with a smooth layer of perfect makeup. Get your travel makeup tips with the makeup kit that includes four colors of eyeshadows, five shades of lipstick, and two soft-pressed powders that can be used as blush. It also comes with a black mascara that brings out your lashes giving you all-around beauty with just one kit. It is the best travel size makeup sets.
Pros
High-impact mascara
Natural-looking color palette
Long-lasting lipsticks
The powder has good coverage
Size fits in a purse
Cons
Price at the time of publication: $56
A good makeup kit that gives you just the start you need, the Jane Iredale Starter Kit consists of all the basic items needed to create a simple yet flawless makeup look. It comes in a travel-size cosmetic kit with a large mirror, primer, foundation, powder, and hydration spray that work together to give you a radiant and healthy-looking glow. The primer nourishes your skin and preps it for the makeup by moisturizing and brightening it. The combination of the foundation and powder performs several important functions such as giving you a good base layer, concealing imperfections, as well as sun protection. It is a complete makeup kit with brushes.
Pros
Travel-friendly starter kit
Beautifies and nourishes the skin
Combines to form a concealer and sunscreen
Hydration spray conditions and protects the skin
Plumps skin
Cons
Price at the time of publication: $56
One of the most loved makeup kits, the Maybelline New York Gilded In Gold Makeup Kit has a combination of metallic palettes that work perfectly for a glamorous night out. This is a limited edition high end makeup kit that gives you a glow-up with its metallic shades of eyeshadows, liners, blush, highlighter, and lip colors. If you're a fan of all things that glitter, this gold kit is just for you. However, this makeup kit also features a range of matte finish bronzers, shadows, and lipsticks that you can flaunt during both day and night.
Pros
Brand credibility
Dark and smooth eyeliner
Neutral colors with a hint of sparkle
Variety of pearly metallic and matte shades
Perfect for a simple classic look
Cons
Does not include a mascara
Price at the time of publication: $24.99
The SHANY Classy & Sassy All-In-One Makeup Kit includes highly-pigmented matte and shimmery shades of 24 eyeshadows, 27 lip creams, two blushes, and a bronzer. It also comes with a wide built-in mirror and six applicators. This makeup kit is perfect for every mood and on-the-go use. The lightweight and sleek black design make it an ideal gift for makeup addicts.
Pros
Highly-pigmented shades
Lightweight
Cruelty-free
Comes with precise applicators
Suitable for all skin tones
Cons
None
Price at the time of publication: $7.95
This limited-edition makeup palette comes with a contour, blush, highlighter, and eyeshadow. It also has a sweet-smelling primer, a lip gloss, and a black intense mascara. The Too Faced Dream Queen Limited Edition Makeup Collection has 24 different shades of eyeshadow that suits your every mood. It also has a hydrating spray that leaves you feeling refreshed and rejuvenated. The makeup palette comes with four different shades of face powders that you can experiment with and has a gold-toned highlighter to get your skin glowing and popping. It is the most affordable and best makeup travel kits.
Pros
Variety of shades to choose from
Perfectly pigmented makeup
Contains a hydrating spray
Comes with a foldover makeup bag
Cons
Does not come with a makeup brush
Price at the time of publication: $82
Buying Guide – How To Choose The Right Makeup Kit?
Choosing the right makeup kit can be a difficult task because of the wide range of options available to you. Therefore, the important thing to remember is to choose your makeup kit depending on your makeup needs. For example, if you are someone who uses eye makeup and not too keen on makeup for your lips and face, then the best thing for you to do is to choose a makeup kit that has an eyeshadow palette, mascara, and eyeliner. If you are the kind who enjoys rocking a bold lip, then pick a travel makeup sets that gives you the option of various shades of lipstick with gloss, or matte finish. Similarly, even the kind of color palettes you choose should be of your liking. The goal here is to achieve maximum usability, be it during travel or every day and the makeup kit you choose should fit this criterion. Also, remember to check the color of the foundation and concealer to make sure they suit your skin tone.
Why Trust StyleCraze?
The author, Chaitra Krishnan, is a makeup enthusiast. She has scanned multiple products before presenting this list of the best travel makeup kits to organize all your beauty products. With these products, there is no need to pack the makeup items separately because we can find them all in a single kit. From lip shades to foundation, primers, eye makeup, and sunscreen – you can have it all in one kit.
Frequently Asked Questions
What does a makeup kit consist of?
A makeup kit consists of a primer, foundation, concealer, contouring palette, eyeshadows, lip liners, lipsticks, brow product, setting powder, and setting spray.
How do you travel with a makeup kit?
Pack your products in a clear cosmetic bag to see clearly what is inside and pick out things accordingly. Keep the products nice and tight to avoid breaking any of them. Fill in the empty spaces with bubble wraps to restrict their movement.
How long will travel-size makeup and skincare products last?
Travel size makeup and skin care last for approximately two years. Check the label of the kit and the skin care items to know their shelf life.
How do I protect my makeup when traveling?
•  Place cotton pads over your eyeshadow palette to keep the colors in place.
•  Seal the top of your liquid products with scotch tape to prevent spillage.
•  Place your makeup kit in the center of your suitcase to minimize the risk of falling and breaking.
•  Do not carry huge bottles of makeup. Instead, transfer the products into small reusable containers.
•  Use bubble wraps or small towels between makeup products to prevent friction between the items.
Recommended Articles: