12 Best Cystic Acne Treatments That Work Like A Charm – 2022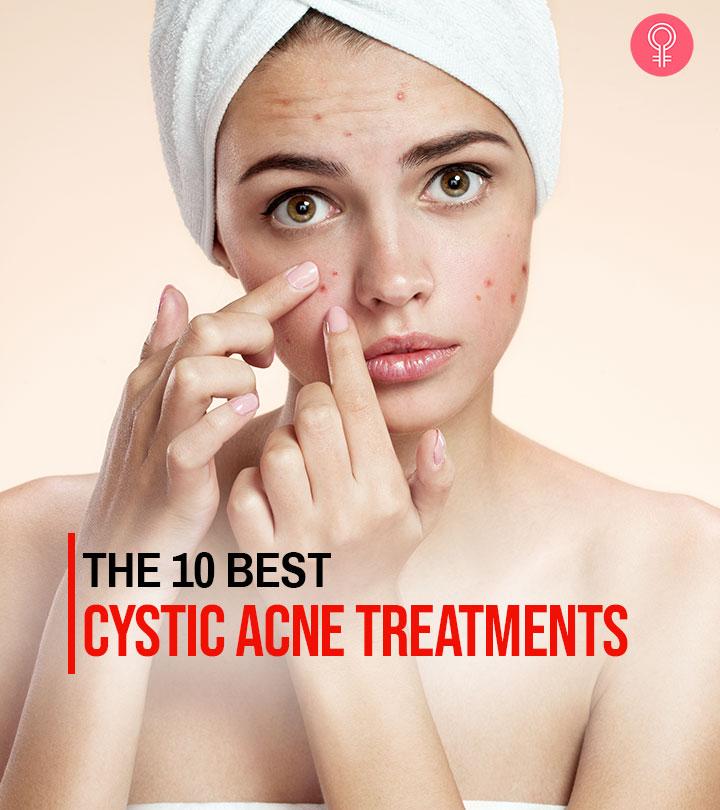 Cystic acne is the most painful and pus-filled acne that usually occurs with clogged pores. It affects the deeper skin layers and is tough to treat. But the best cystic acne treatments can come in handy if you want to try some OTC treatments at home before going to a dermatologist.
Cystic acne can also spread if it pops. It is the most severe form among all the acne types. But it can be difficult to find the best product to remedy cystic acne. So, for your convenience, we have put together a list of the 10 best products that you can use to treat cystic acne. Check the out below!
Top 10 Cystic Acne Treatments To Try At Home
The Avarelle Acne Patch is made with hydrocolloid dressing, tea tree, and calendula oils that are extremely gentle on your skin and help to extract the gunk and clear zita. It contains Centella Asiatica (often referred to as Cica), a powerhouse of antioxidants that promotes healing. The patches come in different sizes and blend well with all skin tones. To make an informed decision before buying, you can check out this video.
Pros
Available in different sizes
Easy-peel design
Dust-free
Re-sealable packaging
Hydrocolloid technology
Drug-free
Sticks well
Works on all skin types
Cons
May not work on severe cystic acne.
Dermatologists often prescribe retinoids for treating acne. If you want to try a similar OTC formulation, check out the Differin Gel. It contains 0.1% adapalene, a retinoid-like compound that has similar effects. It reduces inflammation, cleanses the skin pores, and restores the skin texture. You have to use it as a spot treatment in your morning or evening skin care routine.
Pros
FDA approved
Developed by dermatologists
Alcohol-free
Fragrance-free
Oil-free
Water-based formula
Non-comedogenic
Reduces scarring
Reduces hyperpigmentation
Cons
None
When you have cystic acne, you need to go easy on the facial cleanser and use a mild formula. The Cetaphil Daily Facial Cleanser cleanses your skin thoroughly without drying it. It is a low-lather formula that does not damage the natural moisture shield of your skin. This clinically proven product is suitable for normal, oily, and sensitive skin types.
Pros
Dermatologist-recommended
Hypoallergenic
Clinically-proven
Aluminum-free
Non-comedogenic
Mild
Non-irritating
Cons
Some users may not like the fragrance.
The Acne-Free Oil-Free Cleanser contains 2.5% advanced micronized benzoyl peroxide – an effective anti-acne ingredient. It clears and prevents blackheads, whiteheads, pimples, and cystic acne. It contains ceramides that soothe inflammation and promote healing. The ceramides also help maintain the natural moisture barrier of the skin and keep your dehydrated skin moist.
Pros
Safe for face and body acne
Dermatologist recommended
Fragrance-free
Reduce blemishes
Cons
May dry out sensitive skin.
The Differin Daily Deep Cleanser is for those with sensitive skin. It contains 5% benzoyl peroxide that cleanses the skin thoroughly, reduces excess oil, and prevents further inflammation. It is less abrasive on your face and prevents redness and irritation.
Pros
Paraben-free
No harsh chemicals
Hydrating
Cons
If you want visible results, this product claims to give it in just three days. The La Roche-Posay Effaclar Duo Acne Treatment is a widely used OTC product for acne control. It is an oil-free formula that contains micro-exfoliating LHA (Lipo-Hydroxy Acid) and benzoyl peroxide that go deep inside the skin pores and clear blackheads and whiteheads. It is suitable for all skin types, including sensitive skin.
Pros
Dermatologist tested
Suitable for sensitive skin
Non-drying
Fast absorbing
Oil-free
Paraben-free
Cons
Might cause mild irritation.
This is an extremely effective spot-treatment for stubborn cystic acne. The Proactive Emergency Blemish Relief contains prescription-grade (5%) micro-crystal benzoyl peroxide. You have to apply a thin layer of the product to the affected area. It helps to absorb excess oil, clean the skin pore, reduce acne inflammation, and prevent blemishes. Click here to check out this YouTuber's unbiased review.
Pros
Dermatologist tested
Non-comedogenic
Cons
Not suitable for sensitive skin
Expensive for the quantity
The active ingredient of this product is 4% benzoyl peroxide. It contains three emollients and four humectants to balance out the drying nature of benzoyl peroxide. The PanOxyl Acne Creamy Wash is gentle yet powerful that clears up existing acne quickly, controls oil production, and prevents new blemishes. It helps your skin shed dead cells and prevent clogging the pores.
Pros
pH-balanced
Non-irritating
Non-drying
Cons
Might not suit sensitive skin.
This acne patch is unlike other hydrocolloid patches. The Killa Kit is meant for acne in its early stages. This hydrocolloid patch has a Microdart delivery system that helps deliver the ingredients to the zit to stop its progress. It contains salicylic acid, a potent acne-fighting ingredient, along with niacinamide, hyaluronic acid, and oligopeptide-76. These ingredients calm the zit and aid skin healing. Here's a personal review video to help you get a better understanding of the product.
Pros
Vegan
Cruelty-free
Dermatologist-backed
Cons
Got acne on your back and shoulders? This ingredient-driven acne treatment spray by Glyton can help. The formula contains salicylic acid that helps dissolve dirt and oil, along with benzoyl peroxide to kill the acne-causing bacteria and sulfur to absorb excess oil and clear the breakouts.
Pros
Fragrance-free
Non-comedogenic
Oil-free
Cons
The products mentioned in the above list are effective to a certain degree and work on mild to moderate acne. However, using them may not "treat" cystic acne. You will need to use these products along with ointments, medications, and other treatment methods (after consulting a dermatologist) to keep your acne under control and prevent any scarring and blemishes. Go ahead and choose a product from our list that you think can address your condition. In case you experience any irritation, consult a dermatologist immediately.
Why Trust StyleCraze?
The author, Shiboli Chakraborti, is a certified skin care coach and understands the hardships cystic acne can pose. She has compiled this list of the best cystic acne treatment products following extensive research of the treatment options available and an in-depth analysis of the reviews posted by users on multiple online forums. These mild over-the-counter products have non-irritating and non-comedogenic formulas.
Frequently Asked Questions
Does cystic acne go away?
Cystic acne improves with proper treatment. You need to consult a doctor and follow the medications to get clear skin.
Recommended Articles