10 Best Jump Ropes For Boxing
If you are into boxing, use these sturdy jumping ropes to build agility.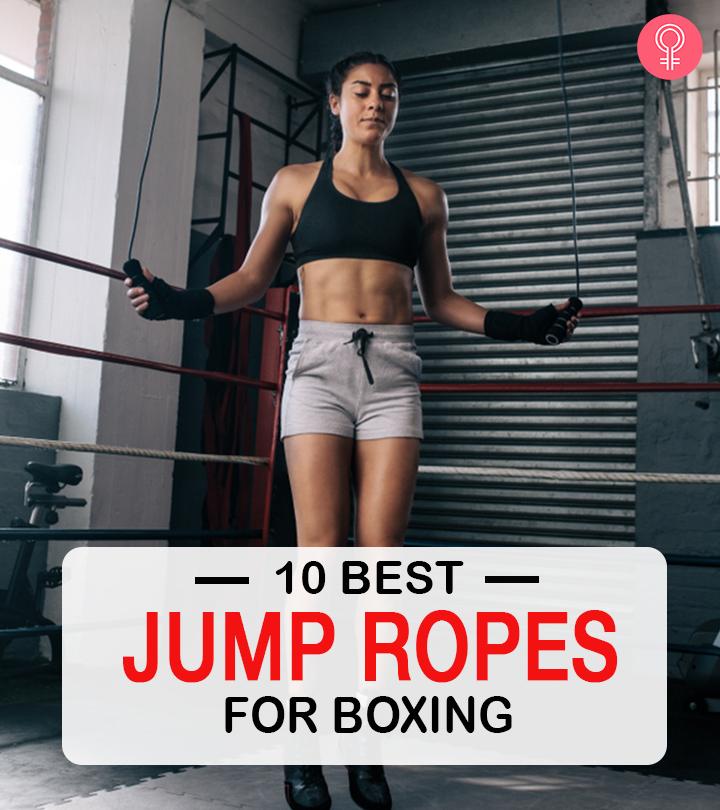 If you have a keen interest in boxing, you will know why you need to invest in the best jumping rope for boxing. Whether starting as a beginner or enhancing your skills like a pro, investing in the right tools will help you build your speed, dexterity, agility, and balance. It will also improve your coordination and concentration for the sport. So if you have been looking for a good cardio workout to keep fit for being a boxer, here are 10 jump ropes that will help you get a jump start.
10 Best Jump Ropes For Boxing
The Survival And Cross Jump Rope is fully adjustable to provide a good endurance workout. It is built with 5-inch handles and a 10-foot cable. Whether you are a beginner or a well-experienced athlete, this jump rope is easy to handle. You can use it like a casual skipping rope or for an extensive boxing workout. It has lightweight handles with a tangle and twist-free coated steel cable. They are connected to ball bearings that provide easy and proper rotation, smooth motion, and super-fast speeds for your workout. It is made of high-quality material to ensure a long life. It comes with a downloadable exercise manual to help you achieve a more enhanced workout experience. This jump rope is easy and convenient to use, especially for cardio exercises. Here's a review video to help you get a better understanding of the product.
Pros
Fully adjustable
Easy to use
Lightweight
Compact
Easy to carry 
Cons
Light coated rope may break.
Has a thin cable. 
The WOD Nation Speed Jump Rope creates a stable rope swing that helps you recover quickly from inaccurate swings. You can customize this jump rope with a snip using a wire cutter. This jump rope is designed to move fast and to last a long time. It uses a patented four bearing system: two bearings in the handle and two on the tips to hold the coated steel cable. This gives your body convenient motion and swing. The handles are nylon resin. This jump rope comes with a spare cable and a carry on bag. It should be used on a smooth gym surface. Do not use it on cement, asphalt, or any other rough surfaces as it may damage its coating. Need more information? Watch this video to make an informed decision about the product.
Pros
Patented lightening fast bearings
Lightweight
Adjustable rope length
Comes with a nylon carrying bag 
Cons
Packaging issues
Not good for beginners. 
The Ellenium Speed Jump Rope uses new ultra-light technology. Its patented bearing technology allows for frictionless rotation. It has a self-locking mechanism, which allows the jump rope cable to be set up with ease. This jump rope is built for speed and is easily adjustable and extendable. It is made with stainless steel parts that prevent rust. The handles are made with aluminum that can withstand drops and prolonged use. It uses 360 degrees swivel built-in steel hyper bearing rotating technology. This improves the rotation power of the jump rope, giving you extreme flexibility and movement. It is designed to recover from inaccurate swings easily. The three-meter rope is coated with a high-quality polymer, which is lightweight, durable, and reduces friction. It has an anti-slip grip for prolonged use, which works even with sweaty hands. This jump rope is good for boxing, MMA, and fitness enthusiasts. It provides a good cardio workout, and you can also use it to enhance your strength. It comes with a carrying pouch and user manual.
Pros
Easy to set up
Lightweight and ergonomic handles
Adjustable length
Easy rotation
Fast movement
Effortless spin 
Cons
May twist and tangle easily.
The Bear KompleX Jump Rope has the highest quality cable. It is made with a slick bearing casing, which allows you to control speed and keep a steady pace. You can also use it for CrossFit training. The jump rope is made to be fast and allows you to recover quickly from inaccurate swings. It is great for boxing and fitness and conditioning. The jump rope is made with all durable parts. It comes with a carrying bag and two interchangeable rope cables and speed bearings. The handles are easily adjustable. It is tough and durable.
Pros
Lightweight rope
Good workout rope
Adjustable
Smooth rotation
Smooth bearings
Cons
Kinks near the handles.
Tangles easily. 
The 5 Billion Attack Jump Rope is ergonomic. The non-slip handles have grooves on them that help with easy gripping. The jump rope has a sweatband, which allows you to hold it without worrying about slipping. The training rope comes with a fully adjustable 10 feet long cable. It can be used by people of all ages. It uses ball bearings to give easy and convenient movement. It can reach speeds up to 320 jumps per minute. You can use it for boxing, cardio exercises, and personal training. It comes with an anti-abrasion tube and a carry-on bag. 
Pros
Ergonomic non-slip handles
Adjustable length
360-degree spin
Maximum speed
Quick-absorbing material 
Cons
The Goothdurs Speed Jump Rope is new and improved. It is the perfect workout rope for athletes. It is designed to move fast, so you can make better progress. It comes with a self-locking adjustment and is screw-free, which makes adjustment easy. You just have to cut the cable with pliers to adjust the jump rope. The maximum length of the jump rope is 14 inches. Each handle has 360-degree ball bearings that allow you to swing smoothly and fast with little effort. This jump rope doesn't tangle. The aluminum handles are light and have an anti-slip design, which is great for long workouts. This jump rope is good for boxing, MMA, and fitness. The cable is covered with durable rubber coating. It comes with an anti-wear pipe and a carry-on bag.
Pros
Easy rotation
Self-locking adjustment
360-degree rotation design
Non-slip handle
Lightweight
Adjustable rope length 
Cons
The XYLsports Jump Rope is great for aerobic exercises that burn a lot of calories. It helps improve flexibility and develop core strength. It works for all ages. It comes with a 9 feet, 8 inches adjustable cable with foam grips. It provides a smooth swing with less effort. It is exclusively designed for fitness and sports lovers. It doesn't tangle easily and is easily uncoiled. It is made with premium quality materials and is extremely durable.
Pros
Comfortable foam grips
Swings smoothly
Uncoils easily
Durable
Portable 
Cons
Does not work well outdoors.
The AUPCON Speed Jump Rope is made with PVC cover and steel wire. It uses 360-degree ball bearings that ensure smooth and fast rope swing. It provides excellent flexibility and also helps you recover from inaccurate swings. The handles are made of plastic and are ergonomic and anti-slip made for fast movement and prolonged workouts. The rope is made with wire steel with PVC cover and is 10 feet long. It is easily adjustable and fitted with screws. You can cut the wire with cutters to make them work with your height. This jump rope is good for cardio exercises, boxing, and CrossFit. It is lightweight and durable. 
Pros
Adjustable length
360-degree rotation ball bearings
Anti-slip handles
Lightweight
Easy to store 
Cons
The TIT COOPOPE Jump Rope is good for aerobic exercises that burn a lot of calories. It improves flexibility and helps develop core strength. The jump rope is 2 meters 8 inches long, and the length is adjustable. It has a lightweight design with comfortable foam handles that reduce strain on the hands and make long workouts easy. This jump rope is good for boxing, MMA, and weight loss. This pack includes two jumping ropes with two carrying bags. 
Pros
Easy rotation
Adjustable rope length
Comfortable foam handles
Comes with a carrying bag
Cons
The Ziyue Jump Rope is effective in building endurance, stamina, and reflexes. It outlines a number of highly effective workout techniques. It helps supercharge your workouts. It is made with premium 3M PVC quality material and can withstand prolonged and heavy-duty usage. The rope is long and can be customized to your height. This jump rope uses ball bearings that ensure smooth and effortless spin. It lets you reach high speeds and is super stable. It allows you to recover from inaccurate swings. The handles are ergonomic and offer extra comfort. They also prevent the palms from sweating and provide a firm grip. 
Pros
Adjustable rope length
Ergonomically designed handles
Comes with super-speed ball bearings
Good grip
Good for long workouts
Lightweight 
Cons
The rope may twist easily.
Snaps after a few uses.
In the next section, we have discussed the factors you should consider before buying a jumping rope. Scroll down for more information.
What To Look For When Shopping For A Jump Rope – Buying Guide
Rope Material: Most heavy-duty jump ropes use PVC steel or aluminum for prolonged workouts. They are good for an easy grip and to move fast.
Weight: Opt for lightweight but durable jump ropes. Lightweight ropes allow free and fast movement. They also help you recover fast and help you build speed and agility.
Handles: Make sure the handles have a good grip. Many jump ropes now come with material that prevents your palms from sweating. This is good for long workouts.
Adjustable Length: Most jump ropes for boxing come with longer cables. You can simply adjust the cable by cutting the wire and adjusting the cable into the handles with screws or locking mechanisms.
Ease Of Rotation: Most jump ropes for boxing use ball bearings to provide easy rotation and spin. They move faster and work well for long workouts.
Why Trust StyleCraze?
The author, Aditi Naskar, has a diploma in health and wellness and is a fitness fanatic. She browsed through multiple forums for user feedback and checked many reviews online to compile this list of the best jump ropes for boxing. She also went through websites of different brands to research the products in detail before shortlisting them. These products can improve your concentration and coordination for boxing.
Frequently Asked Questions
What are the benefits of jump roping?
Jump ropes help improve your agility, speed, endurance, and core strength. They also help improve your stamina and coordination. They build balance and help in calorie burning. They make you quick and light on your feet.
Recommended articles
Best Selling Cordless Jump Ropes
Best Jump Ropes For Double Unders Available Online
Best Beaded Jump Ropes For All Ages
Best Weighted Jump Ropes For Home Workouts
Best Digital Jump Ropes