15 Best Nail Clippers For Fingernails And Toenails – 2023
Because neat, clean, and polished-looking nails can make a lasting first impression.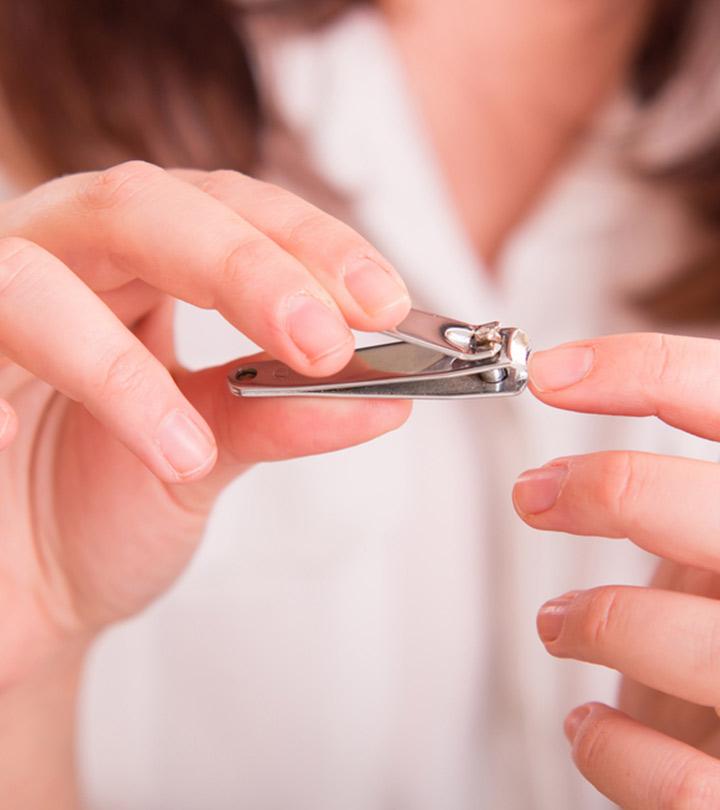 To achieve perfectly maintained nails, you need to get a hold of the best nail clippers. We are sure that you are no fan of nail tearing, splitting, or the oh-so-painful ingrowths! Therefore, having the right nail clipper in your grooming kit is significant for keeping your nails intact in their natural shape and preventing annoying ingrowths. Whether you are a nail art enthusiast or not, keeping your nails prim and proper is always a good idea. After all, you would not want to extend your hand for a shake with ungroomed and unkempt nails, right? So, get ready to keep your fingernails and toenails well-groomed with the right nail clippers. We also took the liberty to compile some of our top picks for you.
Scroll through our list and keep the nails of your fingers and toes on fleek by choosing the right one. Read on to know more and pick one that suits you best!
Top 15 Best Nail Clippers Of 2023 To Spruce Up Your Nails! (With Reviews)
This set of fingernail and toenail clippers is all you need to keep your nails trimmed and neat always. Made of surgical-grade stainless steel, they ensure precise clipping with the hand-sharpened blades effortlessly. And that's not all; the reinforced handle creates ideal leverage to deliver a clean cut with every use. Also, Harperton Nail Clipper Set will not cramp the fingers, all thanks to its ergonomic design! Yep, you don't have to worry about ingrowths, nail splitting, or fungus with this one. Try it! This video review will help you learn more about the product.
Pros
Durable clippers
Anti-dull and anti-rust
Easy to handle and clean
Ideal for clipping thick nails too
Cons
Price at the time of publication: $9.4
For thick fingernails or toenails, this heavy-duty nail clipper would be ideal. Opening 15mm wide to cut long and thick nails, its sharp and curved blades ensure a neat trim in one go effortlessly. Moreover, the credit for its clean cuts also goes to the premium stainless-steel construction and the unique reinforced handle. Preventing the user from putting extra pressure while clipping, the handle also has a good grip and is non-slip, making it a great option for senior adults. And to top it all, it's suitable for clipping ingrown toenails as well. Give it a try! This video will help you make an informed decision about your purchase.
Pros
Ergonomic and durable
Extra-long and extra-wide
Includes a nail file to smooth edges
Prevents nail splitting, fungus, and ingrowth
Ideal for clipping both fingernails and toenails
Cons
Not suitable for thin nails
Price at the time of publication: $9.97
Nail art enthusiasts, here's an acrylic nail clipper that you must not miss! Made of premium stainless steel and featuring a strong spring, it guarantees long-lasting usability and neat trimming with every use. Moreover, its sharp blades are versatile enough to clip acrylic nails in 4 different cut styles such as round, pointed, well, and straight. Want more? This professional nail clipper has an ergonomic design making it comfortable to use for all. Try it!
Pros
Durable clipper
Ensures a neat cut
Lightweight and portable
Ideal for clipping false, gel, and fake nails
Cons
Beginners may need practice
Price at the time of publication: $5.99
With this toenail clipper, a pedicure session at home will be easy and salon-worthy! Yep, get ready to spruce up those toenails as this clipper has a curved and sharp jaw for precise clipping. Besides this, it has a contoured and ergonomic handle, so you can use it with either hand without feeling uncomfortable. And that's not all; it comes with a built-in and foldaway nail file to smooth the edges after clipping. Do not skip it!
Pros
Durable and sturdy
Premium-quality clipper
Lightweight and easy-to-use
Ideal for both professionals and beginners
Cons
Not ideal for clipping thick or rough toenails
Price at the time of publication: $2.48
Are you looking for heavy-duty and high-quality nail clippers? If yes, then these 430 stainless steel clippers with curved-edge blades will suit your fancy! Constructed with long and ergonomic handles to make the mani-pedi session a joy ride, these clippers are easy-to-use and guarantee neat clipping with every use. The set includes a small fingernail clipper with a baked enamel finish, and a large toenail clipper to trim off those thick nails. Leaving your nails groomed and with no nicks or splits, these high-quality nail clippers come in a tin storage box and are ideal for gifting too.
Pros
Sturdy, durable, and portable
Ensures a non-slip and good grip
The ultra-sharp blades clips nail effortlessly.
Cons
Not ideal if you need wide jaw clippers
Price at the time of publication: $9.97
Ingrown toenails can be painful if not dealt with ASAP. Hence, this set with a podiatrist toenail trimmer and a file would be great for those with an ingrown nail problem or looking for professional clippers. Ultra-sharp and made of medical-grade stainless steel material, this ingrown toenail nail clipper has a 25-degree arc to fit the nail curve and clip off ingrown or sharp edges without harming your toe. Besides this, it is suitable to clip thick nails or hardened toenail too. Also, given its handle is made of ABS material, it guarantees a non-slip grip as well. Go on, oust those painful ingrowths with this one!
Pros
Sturdy and durable
Lightweight and easy-to-use
Prevents nail splitting, fungus, or infection
Anti-corrode, anti-tarnish, and anti-rust
The handle is soft and comfort-friendly.
Cons
May not be suitable for beginners
Price at the time of publication: $8.99
No more twisting or turning to cut and shape nails! Here's a rotating nail clipper designed to deliver the utmost comfort while clipping nails. With the ultra-sharp blades rotating 360 degrees, you can set the ideal angle and get the precise shape effortlessly! And as far as the handle is concerned, it is long, ergonomic, and ensures a non-slip grip as well. Give it a try if you haven't already!
Pros
Lightweight and safe
Sturdy and ensures long-lasting durability
Ideal to cut both fingernails and toenails
Cons
Not suitable to cut tough or thick nails
Price at the time of publication: $9.99
From the creator of Samurai Sword, here is a nail clipper that'll awaken the manicure enthusiast in you. Also, given its heavy-duty stainless-steel and zinc alloy construction, it's an ideal tool for those with gripping issues or arthritis too. From delivering clean cuts to clipping off the thickest nail effortlessly, this Japan-made nail clipper ensures no painful moments whatsoever! Just what you need to make the nail clipping session easy for you and your family, give this nail clipper a try ASAP.
Pros
Ultra-sharp and high-quality clipper
Built-in with ridges for an anti-slip grip
Prevents nail ripping, tearing, or splitting
Durable, ergonomic, and comfort-friendly
The extra leverage ensures a smooth trim.
Cons
Price at the time of publication: $17.95
Travelers, all eyes on this stainless steel nail clipper that'll keep your nails clean and tidy on the go! Compact enough to fit in even the smallest pockets of your travel bag, this nail clipper comes built-in with a file, skai punch, and an accessible keychain. Besides this, it has an ergonomic design to ensure the utmost comfort while trimming the nails. Also, Swiss Army tools are ideal for gifting as well on birthdays or Christmas. Do not skip it!
Pros
Lightweight nail clipper
Made of premium-quality stainless steel
Portable, safe, and easy-to-use
Ideal for cutting fingernails and toenails
Cons
Not suitable for thicker nails
Price at the time of publication: $16.38
Uneven nails, what's that? Tweezerman nail clippers guarantee precise cutting while keeping the natural shape of your nail intact! Designed with a curved jaw for fingernails and a straight blade for toenails, you don't have to worry about ingrowns with this set in your kitty. And that's not all; it's made of premium-quality stainless steel and has ultra-sharp blades to give you a satisfying cut with every use. Still, want to skip this pair of clippers?
Pros
Sturdy and durable
Easy to use and clean
Prevents nail splitting or fungus
Lightweight, safe, and comfort-friendly
Cons
Not ideal for tough or thick nails
Price at the time of publication: $9
Shape those fake nails as you want with this acrylic nail clipper by Morgles. Ideal for salon and personal use; it is constructed with a sturdy spring for long-lasting durability and an ergonomic handle for comfort. And as for the blade, it is ultra-sharp and intense! So, whether you want a well-cut, round-cut, or straight-cut angle, this clipper can shape them in one effortless cut! Give it a try if you haven't already.
Pros
Compact nail clipper
Premium quality construction
Lightweight and portable
Suitable for clipping acrylic, fake, plastic, and artificial nails
Cons
Beginners may require practice
Price at the time of publication: $4.99
No more nail splashing every time you clip them! Here's a nail cutter that comes with built-in storage (a catcher) that stacks all the nails neatly after clipping. Yep, grooming nails doesn't have to be a clip-and-catch game anymore! Moreover, this clipper is made of surgical-grade stainless steel and has a sturdy lever that ensures an effortless cut with every use. And besides this, the curved blades are hand-sharpened to deliver precise cutting irrespective of whether you have regular or thick nails. Yep, add this tidy beast to your grooming kit ASAP!
Pros
Hand-polished and rust-proof
Ensures long-lasting durability
Includes a slide-out file to smooth edges
Comfort-friendly, portable, and easy-to-clean
The set includes a leather pouch for convenient storage.
Cons
May be too sharp for delicate nails
Price at the time of publication: $7.49
Ax those thick and stubborn nails with this nail clipper designed with an extra-wide jaw! Yep, quit using scissors or other harmful tools that may hamper your nails or trigger ingrowths when this nail clipper for thick nails can groom them effortlessly. Moreover, you don't have to use too much pressure with this tool as its extra-sturdy and reinforced handle claims to do the job effortlessly. Also, it is made of premium stainless steel and has ultra-sharp double-curved edges for precise cutting. Go on, keep your nails groomed with this super-strong clipper.
Pros
Opens 15mm wide
Ensures a good grip
Includes a nail file to smooth edges
Ergonomic and anti-slip
Ideal for long and ingrown nails too
Suitable for those with diabetes, nail fungus, paronychia, etc.
Cons
Price at the time of publication: $12.75
Clip your stubborn nails safely with the wide jaw CUGLB Nail Clippers. You can effortlessly groom your nails without worrying about ingrowths. It comes with a leverage design that assists in easy pressing. Additionally, this leverage helps to know the unused status and using status. The wide arm design makes you hold the nails effortlessly and comfortably. Moreover, the kit includes a nail file to assist in shaping your nails.
Pros
Easy to grip
High-quality material
Durable
Strong and sharp blades
Cons
Price at the time of publication: $7.99
Lastly, this toenail clipper with straight blades for grooming those thick and stubborn nails! Ultra-sharp and designed with an ergonomic handle to prevent finger cramping, it also opens wide enough to fit and cut long nails. And the best part is, it comes with a catcher, which means all your clipping sessions will be mess-free too. Moreover, this smart clipper is ideal to use from both left and right sides, making it a great option for gifting elders. Do not skip it!
Pros
Sturdy and durable
Comfortable and portable
Made of heavy-duty stainless steel
Straight-edge blade ensures no ingrowths
The built-in nail file is ideal for buffing edges.
Cons
Price at the time of publication: $11.95
Salon-worthy nails now look easy to do at home! There you go, those were the 15 best nail clippers for fingers and toes in 2023. Do you still need assistance with choosing the right nail clipper? If yes, then check out our buying guide below.
Buying Guide:
How To Choose The Right Nail Clipper?
It is simple! Look out for the following features in the product:
Blade shape: To keep your nail curve intact, always inspect the blade's shape before buying. Curve edges are ideal for precise cutting and maintaining the fingernails, whereas the straight blades are preferred to prevent ingrowth in toenails. So, choose accordingly.
Blade sharpness: Dull clippers can be catastrophic for your nail's health and shape. Also, the chance of splitting, tearing, ripping, or even nail fungus is high if the blades go dull or are too sharp. Hence, choosing the right sharpness is ideal according to your nail type as well.
Ergonomic design: Why deal with finger cramps when a nail clipper with an ergonomic design guarantees the utmost comfort? Inspect the handle, grip, and length before buying a nail clipper for the best experience.
Heady-duty construction: Unless you want to end up with a broken nail clipper while trimming those tough nails, pick an option with a heavy-duty stainless-steel construction for long-lasting durability.
Suitable for your nail type: Lastly, choosing a nail clipper that suits your nail type is imperative! For thick nails, picking a nail cutter with heavy-duty construction is ideal for a precise and effortless cut. However, for those with delicate nails, a regular and lightweight nail clipper would suffice.
Makeup artist Alysha Tucker says, "Be sure to clean and sanitize your clippers after every use, especially when dealing with ingrown nails or cuticles. It is recommended to boil the clippers for 30 minutes and scrub with soap and water. Then dry and wipe with alcohol or hydrogen peroxide."
Why Trust StyleCraze?
The author, Chaitra Krishnan, is a makeup and fashion expert. Her passion lies in trying out various makeup items and putting together different looks. Chaitra studied hundreds of online reviews and customer feedback to put together the list of the best nail clippers to groom your nails. She selected all the products keeping safety, convenience, and durability in mind. The clippers are suitable for all nail types and offer a good grip for precision.
Frequently Asked Questions
Is there a difference between nail clippers and toenail clippers?
The major difference between fingernail clippers and toenail clippers is that the former is smaller in size than the latter. The cutting edge of fingernail clippers is curved slightly inwards while toenail clippers have a straighter cutting edge.
What nail clippers do podiatrists use?
Podiatrists use nail clippers that are made of high-quality surgical-grade stainless steel. These clippers can cut and trim rough nails painlessly.
Should toenail clippers be straight or curved?
The cutting edge in toenail clippers must be straight. This will help you trim your nails in the right shape and avoid the growth of ingrown toenails.
Why do toenails get thick?
Toenails can get thick due to repeated injuries or skin conditions like psoriasis which causes cells to build up rapidly on the skin's surface.
When should I clip my nails?
Some people recommend clipping nails every week, while some think it is better to wait a month before clipping or filing nails again. However, it largely depends on the rate of your nail growth.
Recommended Articles