13 Best Nail Clippers For Fingernails And Toenails Of 2020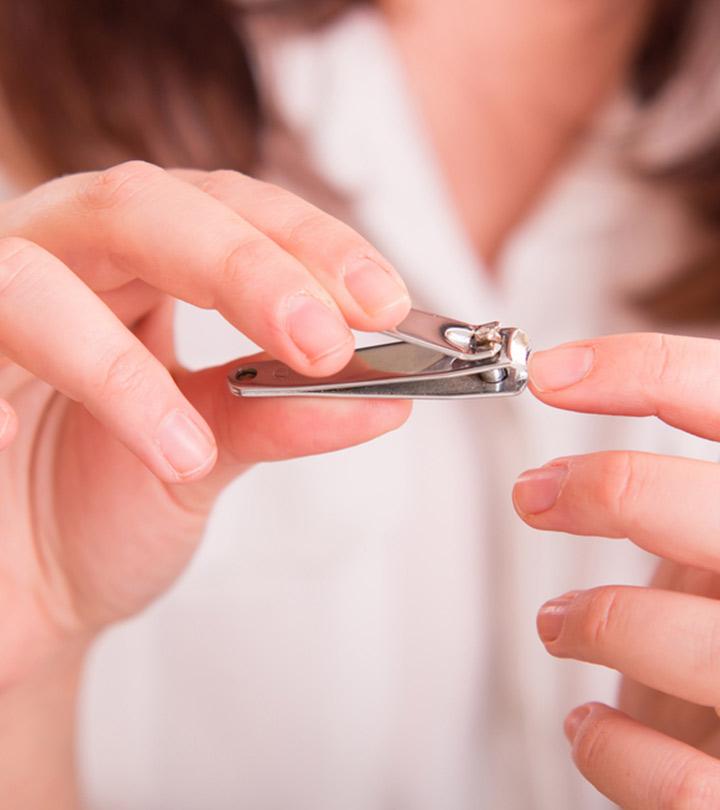 Clipping nails is a crucial part of your grooming routine, and it requires utmost care and caution to avoid causing cuts and scrapes. The trickiest part, however, is choosing the right clipper. If you pick the wrong clipper, you may end up clipping off your skin or causing more damage.
These days, every imaginable type of clipper is available in the market! Some are best suited for clipping hard toenails while some are great to tackle ingrown nails. So if you are looking for some functional and durable nail clippers, here are the top 13 nail clippers that are great for daily use. Read on to know more!
13 Best Nail Clippers To Own In 2020
These clippers might seem like old-school clippers but feature a unique handle that allows them to cradle your fingers so you can easily control how deep you cut your nails.  This way you also reduce the risk of infection, if any. The sharp blades of these clippers prevent nail splitting and slice even the toughest toenails. Available at a comparatively affordable price, this fingernail and toenail clipper is just the right one for everyday use!
Pros
Unique handle to cradle fingers
Sharp blades for smooth cutting
The set comes with a small and large clipper
Heavy-duty and sturdy clippers
Cons
The embedded handle makes it difficult to file the nails
These Swiss army clippers feature four different functions for daily use. It comes with a nail filer, screwdriver, a heavy-duty nail clipper, and key ring. This professional manicure set is made using stainless steel and is lightweight and easy to carry. The best part is that they provide a lifetime guarantee on the material, so you do not have to worry about rust or corrosion.
Pros
Compact and lightweight folding nail clipper
Lever-designed scissors with serrated edges
Ergonomic nail clipper
Attractive design, comfortable to hold and use
Great for travel
Sharp and well-aligned blades
Cons
May not work on rigid and broad toenails
Small size clippers
This affordable clipper comes with a curved blade made of stainless steel and features a zinc alloy lever that provides an accurate cut. So if you are worried about jagged or ripped nails, these are the clippers that will work through your thick nails too. The lever also offers an improved grip with its ergonomic design, so your fingers will remain in place while you are clipping the nails.
Pros
Anti-slip clippers
Curved steel blade and design for a precise cut
Made using high-quality Japanese steel
Comes with ridges that offer a comfortable hold
Functional and comfortable design
Cons
Ingrown nails are difficult to deal with, and it is crucial to use the right clippers to prevent any infection or damage. If you have thick or ingrown nails, these toenail clippers made using surgical grade stainless steel do an efficient job at trimming them. This professional clipper is ideal for uneven, thick nails caused due to breakage, uneven growth, or fungus. The blades are curved to easily contour around the nails and carefully manage the ingrown nails.
Pros
Offers dexterity
Sharp-pointed tips to trim ingrown nails smoothly
Professional surgical-grade stainless steel blades
Ridged handles for increasing traction
Great for cutting and trimming nails affected by fungus or infections
Cons
Not suitable for hard finger or toenails
Some might find it challenging to use
No products found.
These nail clippers have a practical design and are great for everyday use. The sharp blades work well on thick or regular finger and toenails while the built-in catcher traps the clippings preventing any mess. This is an ideal set of nail cutters for regular grooming and comes with a sharp blade for precise and accurate cutting. With these nail cutters, you don't have to worry about split or jagged nails anymore!
Pros
Features an anti-slip lever
Ergonomic nail clipper
Rust-proof and durable design
Prevents jagged or ripped nails
Comes with a catcher to trap clipped nails
Great for trimming nails with ease and accuracy
Cons
May not offer a string grip
If you prefer to use the traditional swing-out nail cleaners and filers, here is one that will allow you to clip your nails effortlessly. This nail cutter comes with a built-in cleaner with a curved edge so it can easily glide in and remove dust and impurities from your nails. The rugged surface also helps you file and shape your nails precisely. So if you regularly trim file and clean your nails, this is the nail-cutter your grooming kit is missing!
Pros
Offers 3 functions-clipping, file and cleaning
Comes with a swinging filer and cleaner
Matte finish nail cutter
Sharp trimmer to clip off nails easily
Available at an affordable price
Cons
Not great for thick toenails
This 2-in-1 toenail clipper is designed with an curved, wide jaw so you can easily clip those rigid and tough toenails. The angled cutting head is a great addition, while the cutting edges are sharp. Also, if you are looking for an anti-slip and tight grip nail clipper, this one is a great choice that will clip off even hardened nails easily. As a bonus, the clipper also comes with a clipping catcher and a built-in file so you can switch up the shape of your nails. It is the best manicure sets.
Pros
Straight edge blade for better clipping
Angled jaw toenail clipper for thick toenails
Cuts precisely without hurting
Rust-proof
Practical design for everyday use
Cons
Nail catcher is not useful
Not durable
This is a premium grade and non-slip clipper that comes with a curved s shape file designed for small nails. This clipper is ideal for toddlers and children and thus features baby nail scissor-like blades to clip the nails without hurting the baby. Also, the clipper comes with overlapping blades that offer smooth and silent snipping. The file comfortably contours nails for a smooth finish after clipping.
Pros
Smooth and safe clipper for children and newborns
Eliminates risk of cutting the skin
Comes with a curved S-shaped file
Comes with a spy hole to see what you are cutting
Cons
Sharp blades so you have to be careful about causing cuts and scrapes
Irrespective of hardened toenails or conditions like Athlete's foot, this toenail clipper is the one you need. It comes with a wide-open jaw so you can easily clip off your grown nails without causing any further damage. The best part of this product is that it comes with a lifetime warranty. Just like conventional nail cutters, this one has an in-built file and a cleaning brush to help you file and groom your nails. These clippers are less expensive and are ideal for everyday use too.
Pros
Unique and modern design
Comes with a built-in brush
Also works for thick toenails
Offers a comfortable grip
Lifetime warranty against any manufacturing defects
 Cons
May be hard to use
Bulky and inconvenient to carry around
This nail clipper cuts the nails so clean that you will not need any polishing or filing. The clipper leaves the nails smooth and fine finish and has a file so you can switch between the trendiest nail shapes this season! It has a uniquely designed body that is not too bulky, and thus it is great for travel too. Made using stainless steel, the clippers are designed to last and offer comfortable clipping.
 Pros
Heavy-duty stainless steel nail clipper
Cuts hardened nails evenly
Stylish and refreshing design
Cons
Not suitable for thin fingernails
For a perfect manicure, you can consider this Muji nail clipper that comes with elegant, slim lines and sharp cutting surfaces so you can smoothly cut your nails without hurting the surrounding skin. Considering the sharpness of the blades cutting skin tags off with nail clippers is very easy and its overall performance, this is one clipper that works on thin fingernails as well on the hard and rough toenails. It is the best home manicure set.
Pros
Ergonomically-designed
Sleek and functional design
Unisex clipper for finger and toenails
Cons
May rust
Not suited for long term use
No products found.
These deluxe nail clippers come with strong and sharp high precision blades for trimming fingernails with precision without damaging the skin. These clippers are durable and easy to clean and can be used for years.Available in both small and large sizes so you can use them to trim your fingernails and toenails, as per your convenience. The curved edges prevent damage and will also allow you to clip your nails in the desired shape and fulfill all your mani-pedi needs!
Pros
Comes in 2 sizes
Ideal for thick toenails and fingernails
Curved edges prevent damage
Made using high-quality steel
Cons
May not work on ingrown nails and thick toenails
These wide jaw nail clippers work quite well on thick nails. The extra-wide jaws help trim thick and stubborn toenails caused by various health conditions without hurting your skin, while the nipper removes ingrown nails with ease.  It is reinforced with a clipper handle so you don't have to apply too much pressure while grooming nails. This manicure kit is designed using stainless steel and has sharp edges that prevent nails from splitting.
 Pros
Premium-grade manicure kit
Also handles ingrown nails caused due to fungus and infections
Prevents nails from splitting
Offers a salon-style finish
Also great for elders and people with gripping issues 
Cons
Let us now dive in and understand what nail clippers are and how to choose the right one.
Types Of Nail Clippers
From plastic nail clippers to the heavy-duty stainless steel clippers, there are plenty of nail clippers available in the market. The two common types of clippers are the plier type and the compound leveler. Some clippers also come with a built-in file and cleaner making them multi-purpose nail cutters.
How To Choose The Best Nail Clippers
To choose the best nail clipper, look at the material, the sharpness, price, and design of the clipper.
There are clippers available for different purposes, so if you want to deal with the toenails, get slim and curved-edge surgical grade clippers that are specially designed for managing the ingrown nails.
For thick toenails, choose the clippers that come with a wide-open jaw so the thick nails can be easily clipped off.
For everyday use, you can select sturdy and stainless steel clippers that come with a file and cleaner so you can get a great manicure without hurting your nails and surrounding skin.
These are the top 13 practical and heavy-duty nail clippers you can choose from to trim your nails like a pro! If you are looking to buy a nail clipper to deal with ingrown nails, or you want a sturdy and ultra-sharp clipper to keep your nails in shape, these are among the best options you can consider. So, which of these are you looking to get your hands on? Let us know in the comments below!
Expert's Answers For Readers' Questions
What's the best way to clip nails?
Don't cut your nails straight across; soak the nails in warm water, so they become smooth and soft. Use the clipper to cut the nails in chunks and make sure that you don't cut the cuticles. Clip off up to a certain level and then use the file to shape and smoothen the nails.
How short should I cut my nails?
Start by trimming small sections. Once you reach the base and witness your cuticles, stop using the nail cutter. Use the file to smoothen out the corners and polish the nails. Make sure that you don't clip off the cuticles as it may lead to infections.
Recommended Articles