9 Best 1.5-Inch Curling Irons Of 2023
The much-desired, beach-perfect wavy curls can be yours with these amazing tools.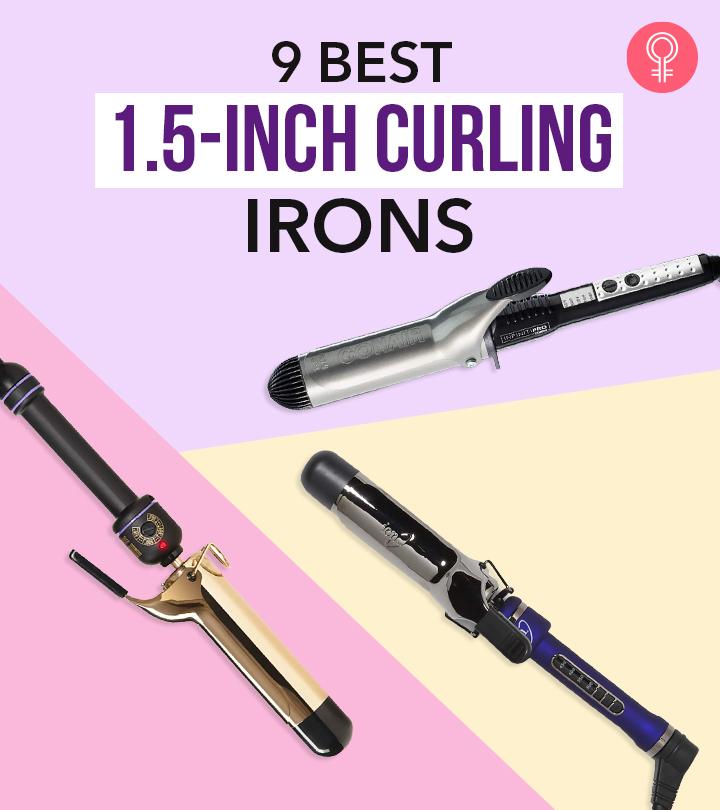 With the best 1.5-inch curling iron in your hands, you can get those wavy curls anytime. When you are using the best, you can rest assured that it would be designed to protect your hair from any damage. With so many curling irons in the market, how do you even find the best? Let us help! Here are the 9 best 1.5 inch curling irons that we have carefully reviewed so that you can make a great choice.
9 Best 1.5-Inch Curling Irons Of 2023
The INFINITIPRO BY CONAIR Curling Iron comes with nanotechnology that gives one long-lasting, voluminous, and frizz-free curls. Its tourmaline ceramic plate ensures uniform heat distribution and prevents hotspots. The plate also reduces frizz. The curling iron can heat up to 400o F in just 30 seconds.
Its infrared technology generates hair-friendly heat that gives a gentle and smooth touch to your scalp. Its ceramic easy-glide surface allows hair to glide easily without any pulls or snags. It has five adjustable heat settings that give you the hair curls you desire. Its LED lights indicate the desired temperature. The curling iron comes with a bonus protective heat shield. To make an informed decision before buying, you can check out this video.
Pros
Uniform heat distribution
No frizz
No snags or pulls
Adjustable heat settings
Hair-friendly heat
Heats in 30 seconds
Protective heat shield included
Lightweight
Affordable
Cons
Price at the time of publication: $26.99
The Hot Tools Signature Series Gold Curling Iron comes with gold-plated barrels. The product gives you fast curls that last long. It is loaded with pulse technology that helps the plates retain consistent heat for a long time. It has multiple heat settings that can be chosen according to your hair type. Its temperature ranges from 280o F to 430o F. The curling iron heats up in 30 seconds.
It also has a comfortable grip and glides smoothly on the hair. It suits all hair types. It is equipped with a 6-feet long tangle-free swivel cord. Click here to check out this YouTuber's unbiased review.
Pros
Consistent heat
Suits all hair types
Heats in 30 seconds
Multiple heat settings
Comfortable grip
Lightweight
Durable
Cons
None
Price at the time of publication: $37.89
The MegaWise Pro 1.5 inch Ceramic Hair Curling Iron is specially designed to offer quick heating with PTC technology. It is equipped with adjustable temperature settings to suit fine/ coarse/ curly hair. Additionally, it features an auto-off function that locks the curling iron after 60 minutes of no use. The device comes with an anti-scald nano grip, anti-scald case, and anti-scald handle to protect you from heat burns. In addition, this curling iron is designed with a tourmaline ceramic coating that minimizes heat damage and promotes healthy-looking hair.
Pros
Suitable for all hair types
Anti-skid grip
LED display
User-friendly
Cons
Price at the time of publication: $19.99
The MiroPure Professional Curling Iron gives you stylish hair curls wherever and whenever you desire. It turns on within 2 seconds and heats up in less than 30 seconds, thanks to its positive temperature coefficient (PTC) heat technology. It has an extra smooth tip that rolls along your hair, giving great curls, reducing frizz, and adding attractive shine.
The even heat distribution technology keeps the hair safe from hot spots and heat burns. A dual voltage system of 100 V to 240 V means you can use the curler across the world. The curling iron is also very convenient to use, with a single button serving as the On/Off control. Its 6 temperature settings range from 310o F to 410 o F. The curling iron comes with heat-resistant gloves and hairpins.
Pros
Turns on in 2 seconds
Heats up in 30 seconds
Even heat distribution
Universal voltage
Suits all hair types
Heat-resistant gloves included
Cons
Not ideal for short hair
Expensive
Price at the time of publication: $39.99
Whether you like to sport beachy waves or carry soft curls, the BaBylissPRO Nano Titanium 1½" Spring Curling Iron is here for all your hair styling needs. This iron uses advanced technology to help you create textured waves and curls, regardless of your hair type. The nano titanium is an excellent heat conductor that provides stability at high temperatures and maintains an even temperature throughout.
Its ceramic-coated barrel uses Sol-Gel technology to make it sturdier and smoother for salon-quality curls. The far-infrared heat penetrate the hair shaft from inside to style your hair without damage. It features a Turbo Heat button that instantly heats up the barrel and temperature settings for up to 450°F.
Pros
Lightweight
Sturdy
Professional grade curls
Multiple heat settings
Corrosion-resistant
Durable
Heats up instantly
Long swivel cord
Cons
Price at the time of publication: $47.99
The CHI Ceramic Tourmaline Curling Iron offers even heat distribution. It releases negative ions and generates infrared heat that generates great curls and reduces frizz and static. The curler's ceramic barrel allows it to glide on your hair smoothly. It heats within 30 seconds.
The curling iron is loaded with modern features like digital temperature control, LCD screen, and a 1-hour auto shut-off system. It comes with variable heat settings and you may choose the best temperature that gives you bouncy curls. Its dual-voltage feature makes it ideal for use during travel.
Pros
Smooth operation
Heats in 30 seconds
Auto shut-off feature
Digital temperature control
Universal voltage
Lightweight
Cons
Price at the time of publication: $42.5
The Sultra The Bombshell Curling Iron gives you the best curls in just about 8 seconds. Its negative ion technology adds moisture to your hair strands by penetrating the hair cortex. Its advanced ceramic technology generates infrared heat rays that help smoothen and straighten the hair cuticle.
The highest temperature of the curling iron is 395o F. Its dual heating system ensures the heat is evenly distributed. The curling iron suits all hair types. Its universal voltage makes it an ideal travel companion. It also comes with a complimentary glove and an iron pad for efficient use.
Pros
Durable
Lightweight
Suits all hair types
Even heat distribution
Universal voltage
Cons
No multiple heat settings
Expensive
Price at the time of publication: $99.0
The Le Angelique Curling Iron has an 8-inch extra-long non-stick ceramic barrel that rolls on your hair to create the perfect curls with incredible smoothness. The negative ions keep your hair fresh and moisturized. The multiple temperature settings from 250o to 400o F ensure you get the desired heat for stylish curls. It is durable and fit for heavy-duty use. The iron maintains even heat while curling. It has a safety switch light indicator and an easy-grip handle.
Pros
Multiple heat settings
Durable
Safety switch light indicator
Extra-long barrel
Easy-grip handle
Maintains even heat
Cons
Price at the time of publication: $62.99
The Mint Professional Series Curling Iron gives you long-lasting curls that look natural and stylish. It comes with a unique dual-heating system that ensures even heat distribution from the base to the barrel. It gives uniformity to your curls. Its ionic tourmaline ceramic barrel is extra-long and grips your hair properly without overlapping. It ensures you get perfect and flexible curls.
The iron's cool tip has a band that turns from black to white once it is fully heated. It has adjustable temperatures ranging from 270o to 430o F. It comes with a 360-degree rotating swivel cord that keeps your hair from tangling. It also has a 60-minute auto shut-off feature. It offers frizz-free curls. The grooves on the cool tip protect your fingers from any burns.
Pros
Even heat distribution
360-degree swivel cord
Adjustable temperature settings
Frizz-free curls
Extra-long barrel
Auto shut-off feature
Universal dual voltage
Grooves protect fingers from heat
Cons
Price at the time of publication: $99.97
If you crave those loose curls, then the 1.5-inch curling irons are ideal for you. However, with so many options available, it may get confusing to find the right one. Therefore, we have curated a list of essential things to consider before buying the best curling irons. Check it out now!
Things To Consider Before Buying Best Curling Irons
Choose a curling iron with adjustable heat settings because they offer versatility. They help to create various curling styles that suit many hair types. Adjustable temperature settings ensure even heat distribution. It is vital to stop overheating the iron, which can damage the hair strands. You can also opt for curlers with a protective heat shield that helps prevent hair damage from hotspots.
The hair curler should glide on your hair strands smoothly without much pressure. It should not create snags or pulls that could damage the hair texture. You can opt for a curling iron with infrared technology to help your hair gently roll on the tool. It can help you create perfect waves. Additionally, go for lightweight heat irons that have a comfortable grip to prevent mishaps.
Durable and User Friendly
Always opt for a curling iron with user-friendly features. Look for features like PTC technology in the tool, which ensures quick heating and an auto-off option. You can also go for hair curlers equipped with tourmaline ceramic coating to promote hair health and reduce hair damage. The hot iron can also have an LED display, digital temperature control, and support universal voltage.
Look for a hair-curling tool with other helpful accessories, such as heat-resistant gloves, an easy grip handle, a long swivel cord, and a carrying pouch. Additionally, it should be ergonomic in design, cost-effective, and create long-lasting curls that enhance your looks.
Why Trust Stylecraze
The author, Shiboli Chakraborti, is a certified skin care coach who enjoys experimenting with the latest hair styling products. She believes salon-styled hair can become reality whenever you use the right products, such as the best 1.5-inch curling iron. After conducting extensive research and reviewing numerous online reviews, she compiled the top products list. These curling irons make it easy to get the wavy curls you've always wanted.
Frequently Asked Questions
What is a 1.5-inch curling iron good for?
The barrel size of a curling iron makes a lot of difference. Smaller barrels give you tighter curls while larger barrels give relaxed, long-lasting curls. A 1.5-inch curling iron gives you long-lasting curls.
Should I get a 1-inch or a 1.5-inch curling iron?
It is better to go for a 1.5-inch curling iron. It has two significant advantages. Firstly, the curls will stay long, and you do not have to use the device twice a day. Secondly, the curling iron will suit every hair type, including long or coarse hair.
How do I know the size of my curling iron?
Measuring the circumference of your curling iron and dividing it by 3.14 will give you its size.
What is the difference between a 25mm and 32mm curling iron?
The difference lies in the barrel sizes. The 25mm curling iron has a 1-inch barrel, while the 32mm curling iron has a 1.25-inch barrel. The former creates tighter curls while the latter creates relaxed and long-lasting curls.
What is the thinnest size curling iron?
The thinnest size of curling iron is a ½'' curling iron to achieve tight curls. They are best for curling very short hair like a bob or shoulder length.
Can you curl hair with a 1.5 curling iron?
Yes. If you have long hair and want larger curls, use a 1.5" curling iron.
What is the best size curling iron for beachy waves?
1 ¼" size curling iron is best for setting versatile beach waves. The pin curl adds texture and loosens your beach waves to look thick and bouncy.
How do I know what size curling iron I need?
There are different wand sizes available in the market to choose from. The sizes vary from ¾-inch, 1-inch, 1 ¼-inch, 1 ½-inch, 2-inch, and even bigger. So, choose the barrel size based on your hair length and the type of curl you desire. The smaller the barrel size, the tighter the curl, and the larger the barrel, the looser the curl. ¾'-inch wands are best for shorter hairstyles (bobs) to add volume and curls. The 1-1 ¼-inch barrels are for medium-length hair (below shoulder). More than 2-inch barrels are ideal for long hair (hip line).
Recommended Articles