7 Best Ariana Grande Perfumes That Will Make You Say Thank You But Never Next
Just like her superhit music, these gorgeous perfumes are truly phenomenal!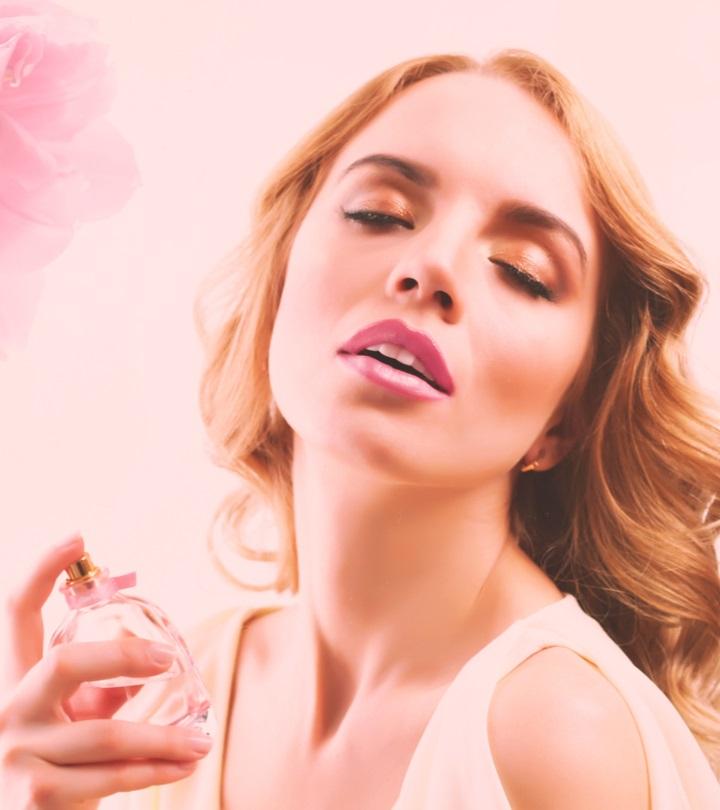 You can't ignore the powerhouse that Ariana is irrespective of your love and hate for her. Her music, beauty, grace, and talent speak volumes about her. Similarly, the best Ariana Grande perfumes designed by her are no less.
We have all tried to master her phenomenal songs by voice, on guitar, etc., tried to queen ourselves in her outfits while faintly acing her perfect ponytail. But that's not enough. You must try Ariana's line of perfumes to ensure you feel and look beautiful no matter where you are for what occasion. They make you feel nothing but perfect all day long.
Each perfume from this range is created and curated thoughtfully by Ariana and reflects her solid energy to ensure her fans feel like they have a piece of her everywhere. If you love fresh fruits or underlying floral notes that skip your heartbeat subtly, the range of perfumes has got you all and more. If you want to get your hands on one of her creations and are wondering where to begin, worry not! We have listed some of the best Ariana Grande perfumes for you. Have a look!
Smell Your Best With The Top 7 Ariana Grande Perfumes Of 2021
Ariana stepped into the world of perfume making with this signature scent that encompasses everything she loves. It has top notes of crispy pear, pink grapefruit, and delicate raspberry that tug at your heart's strings. With the promise of enveloping you in a plush bouquet of feminine and floral scents, the heart notes consist of soft muguet and rosebuds enveloped into a glorious bloom of creamy vanilla orchid. The irresistible scent will allow you to wrap yourself in luxury as the fragrance dissipates into a blend of musk, blonde woods, and a subtle hint of fluffy marshmallow. If this was not all, the Ariana Grande Ari perfume is concealed in a timeless and sophisticated gem-shaped bottle with a plush and playful pom-pom attached. Gift it to a loved one, or indulge in its elegance yourself! Go ahead and check out this YouTuber's video for more details about the product.
Pros
Light, floral scent
Aesthetically pleasing bottle
The scent is not overpowering
Available in 5 different sizes
Affordable
Cons
Short longevity and may need to be reapplied every few hours
Delight your senses to the wonderful world of delicious candy, tempting berries, and inviting florals with this sweet like candy Ariana Grande perfume. With the opening, heart, and drydown notes of exotic ingredients like vanilla, sweet marshmallow,  Italian bergamot, and blackberry, every sniff of this Ariana Grande fragrance will transport you to candy heartland. The long-lasting yet subtle fragrance is everything you need on a day out in the summer, and the pink spherical bottle makes this a must-have scent on your dresser. To get a better understanding of the product, you can check out this video on YouTube.
Pros
Light and airy fragrance with a candy-like undertone
Floral and feminine fragrance
Aesthetically pleasing designer bottle with pom-pom attached to the nozzle
Available in 4 different sizes
Affordable
Cons
Sweeter vanilla notes tend to overpower other elements of the fragrance
Find yourself captivated by the mysterious yet magical scent of the Ariana Grande moonlight perfume. The fragrance opens with an alluring mix of juicy blackcurrant and plum. It is accompanied by fresh undertones of marshmallow and peony for an aroma that is sensual, daring, and bold. The base notes of sandalwood, black amber, and vanilla leave you reaching out to this bottle more often than not due to its hypnotic and seductive scent. Ideal for the date night you've been preparing for or a long overdue girl's night, all you need is to spray some of this perfume, and you'll be ready to steal the spotlight. You can check out this YouTuber's review to learn more about this fragrance.
Pros
Unique and enticing scet
Strong opening notes make for a noticeable lingering fragrance
Aesthetic iridescent lilac-pink bottle with pom-pom
Ideal for winter months and nighttime
Cons
Scent may be overpowering for some
Why should girls have all the fun? Perfect for him, her, and everyone, her brother inspires this limited edition Ariana Grande perfume. Unlike other Ariana Grande's perfumes, this one comes with a flirtatious undertone and playful yet lingering woody and floral scent that appeals to all. The opening tones of the perfume consist of pink pepper, apricot, and pear, while the heart has notes of wild orchid and cedar. Ending with sandalwood, sugar crystals, and musk, the base notes offer depth and solidity to this classic scent. This one is an absolute treat to all senses as it is delicately packaged in an appealing silver bottle with a black pom-pom attached to its nozzle.
Pros
Unisex fragrance
Fruity and woody tones
Sweet sugar crystals present in the base
Pretty, faceted silver designer bottle
Cons
Who said you couldn't find happiness in a bottle? Inspired by all things good, magical, and joyous, Ariana brings to you a fruity, floral fragrance that is fresh and sweet, making it ideal for summertime. With feel-good notes of creamy praline, whipped cream, and indulgent coconut, the creamy heart notes are perfectly intertwined with the top notes of soft pear and bright lavender with hints of bergamot. The base notes leave you with luxurious musky and woody tones that are absolutely irresistible! Shaped like a cloud, the bottle is unique, playful, and absolutely delightful, just as its fragrance. Check out the review of this product for more information.
Pros
Fruity, floral tones
Fresh and warm notes
Great for summer
Long-lasting fragrance
Cons
Scent may be very sweet for some
Although Ariana's Thank U, Next perfume comes in a broken, heart-shaped bottle, we're sure this one will mend yours back together with its lush and desirable fragrance. Embark on a glorious journey of scents as you are welcomed with opening notes of sparkling white pear and wild raspberry and greeted by delicate aromas of fresh coconut and fragile pink rose petals. The fragrance lingers longer with its deep base notes of musk and macaroon sugar. Addictive and sensual, a few whiffs of this is all you need to have the man of your dreams!
Pros
Juicy and cool fruity tones
Affordable
Cute, pink broken heart shaped bottle
Base infused with musk and macaroon sugar
Cons
The opening notes may feel too sweet for some
If you're feeling slightly hesitant about buying a full-size bottle of Ariana Grande's Sweet Like Candy perfume, then don't worry since you'll be able to enjoy its sweet-smelling floral notes in a tester spray! While slightly smaller, it's less expensive and you can buy this before deciding this is the perfect scent for you to rock and then switch to the full-size bottle. Like the bigger size, this one too comes with notes of vanilla, marshmallow, Italian bergamot, and more.
Pros
Smaller size
Light and airy fragrance with a candy-like undertone
Floral and feminine fragrance
Affordable
Cons
Short longevity and may need to be reapplied every few hours
So that was all of Ariana Grande's best perfume scents. When buying a perfume, there are a few things you can keep in mind when picking out the one most suitable for you. Here are some of the key points to remember when choosing one of the Ariana Grande perfumes so you can smell like a pop star!
How To Choose An Ariana Grande Perfume
Ariana's collection is an embodiment of her fun and lively personality. While most of her fragrances are sweet-smelling and fresh, there is something in her line of perfumes for everyone. If you're someone who prefers a fruity scent with floral undertones, you'd be better off with a fragrance like Sweet Like Candy By Ariana or the Ariana Grande Thank U, Next Perfume. These have notes containing ingredients like vanilla, marshmallow, coconut, and pink rose petals.
However, if you fancy woody undertones and need a musky fragrance to complete your perfume set, we suggest you get your hands on the Franki or Moonlight By Ariana Grande Eau De Parfum.
If you're new to picking out perfumes, you may not understand descriptors like top, heart, and base. Top notes are the opening notes of a scent and the first thing you perceive upon spraying. Heart notes come next and appear just before the top notes have entirely dissipated. They are more rounded and bind the top notes with the base notes. Base notes are the scents that usually linger on you after you've applied the perfume. Based purely on personal preference, you can make your pick on what Ariana Grande Perfume best suits you.
While this seems like a no-brainer, often a time, this factor is overlooked. Some scents have an addictive and enticing aroma but linger on for shorter periods. Select Ariana Grande perfumes not based solely on smell but their ability to last long.
Why Trust StyleCraze?
The author, Chaitra Krishnan, is a makeup enthusiast keen on keeping a tab on well-scented perfumes. She curated this list of the best Ariana Grande perfumes after extensive research, checking reviews online, and browsing multiple online forums for user feedback. Most of the perfumes mentioned in our list have a light and fruity fragrance.
Frequently Asked Questions
What does Ariana Grande Ari perfume smell like?
Ariana Grande's Ari perfume smells fresh and fruity with musk and woody base tones that linger. It is not overly sweet and has a marshmallow tones scent to it as well.
How long does Ariana Grande Perfume slast?
Ariana Grande perfumes last for a few hours at a time, but may need reapplication if worn throughout the day.
Is Ariana Grande perfume cruelty-free?
Yes, Ariana Grande perfumes are all cruelty-free.
Is Ariana Grande perfume unisex?
No. Not all Ariana Grande perfumes are unisex. Some of her early launches contain ultra-feminine, floral fragrances. But, her later launches, created in collaboration with her brother, are meant for both men and women.
Is Ariana Grande Cloud a winter perfume?
Ariana Grande Cloud is a sweet and musky scent that smells best in the winter and fall seasons. But, its alluring aroma can also attract compliments in the warmer seasons.
What perfume does Ariana Grande use?
Ariana Grande loves floral aromas and uses Tom Ford Neroli Portofino Acqua.