7 Best Lemon Perfumes Of 2022 That Will Make You Smell Like Sunshine
Uplift your mood with fruity-scented fragrances and experience aromatherapy anywhere!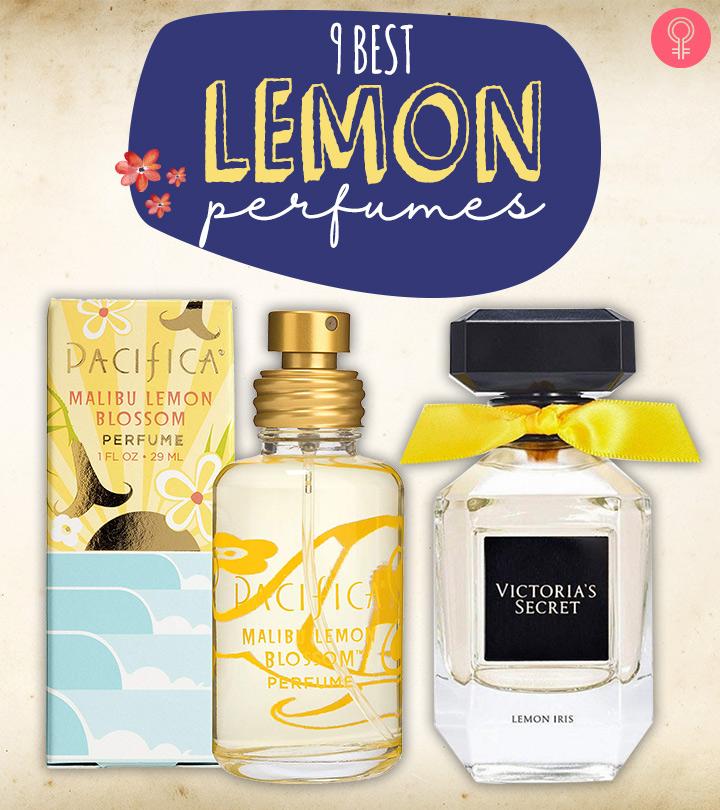 Lemons are widely used in aromatherapy. It has become a favorite note and is used in many fragrant compositions. The best lemon perfumes uplift the mood, stimulate the nervous system, and make your body feel energized. The bright and fresh lemon aroma is found in perfumes, colognes, and other body care products. Often, lemon notes are used as sparkling notes. Lemons, when blended with other floral notes, give an intoxicating scent. It is considered one of the lightest notes.
Try out our 9 most favorite lemon perfumes that will make you feel energetic and fresh for long hours. Check them out below!
7 Best Lemon Perfumes Of 2022 That Will Make You Smell Like Sunshine
Review
This fresh scent emits a sparkling Lemon-y fragrance with notes of green lemon leaves, citrus, and warm white musk. It is formulated without any parabens, phthalates, or harsh chemicals. Its delicate aroma smells like a sunny beach day – refreshing, citrusy, and light. The great sillage of this fragrance is definitely a head-turner.
Review
L'Occitane's Verbena accurately captures the extroverted notes of Mediterranean verbena, combining it with a rosy base of geranium and lemon tree. It is elegantly presented in a glass bottle that's engraved with a verbena leaf. If you love a good citrus-floral fragrance, this one will appeal to you like no other. It also happens to be fairly reasonably priced.
Review
Tulip Lemon Sugar Roll On Parfum is one of a kind. This elegant, feminine fragrance has the top notes of lemon and bergamot, sweet middle notes of sugar cane and raspberry blended into the base notes of vanilla. It contains no dyes, petroleum, or parabens. It is gentle on the skin.
Review
This stunning fragrance from Dolce & Gabbana is surprisingly colorful with the liveliness of Sicilian citron, the spontaneity of bluebells, and the happiness of Granny Smith apple. It is clean and fresh with a slightly musky side. If you are not a fan of loud scents, give this one a shot – it is fantastic for any occasion. Take a look at this video to learn more about the product.
Review
Inspired by the allure and spirits of Florence, this fragrance speaks of the beauty, energy, and aura of feminine delight. It combines the notes of Italian lemon, bergamot, roses, vanilla, and praline mixed in the base notes of sandalwood, patchouli, and musks. The refreshing fragrance lasts long and emits a great sillage.
Review
This refreshing, sensual scent is a sweet fragrance for young women. With the top notes of mandarin and Italian lemon, the perfume blends into the heart notes of lychee flower, orange blossom, and ginger flower. The base notes of oakmoss, caramel, white sandal embrace the scent revealing a wonderful summertime fragrance.
ReviewTreat yourself to this delicious combination of zesty lemon and sweet vanilla from Bath & Body Works. This crisp scent has a gentle, earthy fragrance that's ever so subtle. It is perfect for a breezy, summer day. The citrus in it is in perfect harmony with the sweet vanilla. It creates a sense of calm and leaves you feeling fresh all day long. This fragrance mist is ideal for daily wear.
Why Trust StyleCraze?
Esha Saxena, the author, is a skincare and makeup enthusiast, who finds joy in trying out new perfumes and fragrances. She has an in-depth knowledge of the various ingredients used, the different notes they offer, and the effect they can have on your mood and day ultimately. So when it comes to choosing the best lemon perfumes, she has done extensive research of the base and middle notes, the combinations, and their cumulative effect to bring you nothing but the best. These refreshing lemon-scented perfumes not only mesmerize your senses but make you feel alert, energized, and rejuvenated as well.
Recommended Articles: