10 Best Amouage Fragrances For Women That Last All Day Long – 2023
Enjoy these signature fragrances' irresistible and evergreen scents for a lasting impression.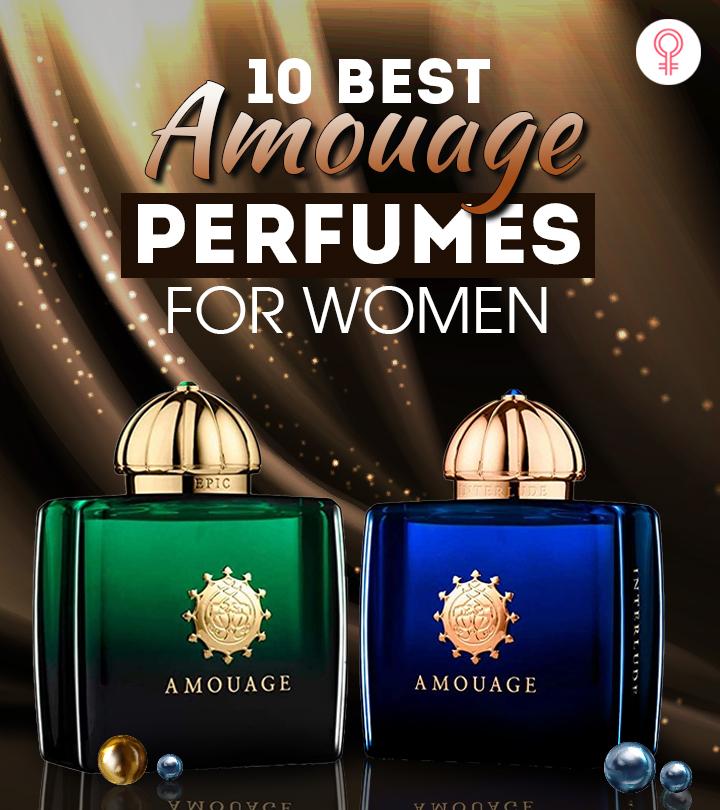 If you love fusion scents, you have come to the right place. We have brought you the best Amouage perfumes. Known for their royal roots, they are a mix of east-Arabian art and western modernity. Their ancient history evokes a sense of beauty in their fragrances.
Amouage is a prestigious perfume house that makes perfumes using the finest quality ingredients. The perfumes are blended handmade to provide a long-lasting impression. The brand makes fragrances for both men and women, making scents signatory based on genders. However, you can choose any scent irrespective of your gender as all fragrances from Amouage are irresistible and evergreen. If you are new to the world of Amouage, check out the 10 best Amouage perfumes for women below!
Top Picks
Best Amouage Perfumes For Women In 2023
Pros
Elegant frosted bottles
Unique fragrance
Ideal for the winters
Cons
None

Price at the time of publication: $340
Pros
Blended with high-quality ingredients
Uplifting fragrance
Beautiful packaging
Value for money
Cons
None

Price at the time of publication: $340
Pros
Floral fragrance
Budget-friendly
Long-wearing
Cons
Price at the time of publication: $360
Pros
Can be worn day and night
Great gift
High-quality ingredients
Cons
None

Price at the time of publication: $340
Pros
Unique fragrance
Not too strong
Ideal for evening occasions
Elegant bottle design
Cons
None
Price at the time of publication: $370
Pros
Great sillage
Value for money
Clean fragrance
Cons
None
Price at the time of publication: $334.51
Pros
Luxurious fragrance
Attractive bottle
Great sillage
Cons
None
Price at the time of publication: $340
Pros
Suitable for all seasons
Floral fragrance
Budget-friendly
Cons
The fragrance is not sweat-resistant
Price at the time of publication: $360
No products found.
Pros
Skin-friendly
Exquisite fragrance
Long-lasting
Cons
Price at the time of publication: $340
Your perfume fragrance is an extension of your personality and is most often a lingering, intangible accessory that attracts attention. Amouage offers long-lasting scents that accompany you throughout the day. There's an Amouage scent for all occasions and preferences. So, how do you settle for one (or more!)? Here are some quick factors to consider while choosing the best Amouage fragrances for yourself.
How To Select The Best Amouage Fragrances For Women
There are various types of fragrances available from which you can choose the one you want to wear on your skin. If you are looking for summer and spring season perfumes, then you can go with citrus fragrances that come from lemon, orange, and other fruits. Floral fragrances range from roses, lilies, jasmine, and lavender. These are sweet and light fragrances that can be worn every day. Oriental notes, on the other hand, originate from spices including cinnamon, vanilla, cloves, etc. and are perfect for evening wear.
The lasting power of the perfumes depends upon their concentration. Pure perfumes have the highest fragrance concentration ranging from 20% to 30% which makes them last up to 6-8 hours. Eau De perfumes have a fragrance concentration ranging from 15% to 20% which makes them last up to 5 hours.
Eau De Toilette perfumes have a fragrance concentration ranging from 5% to 15 % and last for 2-3 hours. Eau De Cologne perfumes have a fragrance concentration of up to 2% to 4% and can last for 2 hours.
Each perfume consists of three different layers called the top, middle, and base notes. The top note attracts your attention to the deep middle note, which is followed by the base note. The base note is the final impression of the scent. The top note lasts for about 5 to 15 minutes, the heart or middle notes linger for around 30 minutes to an hour, and the base notes are with you for the duration of the wear, could be for 6 or more hours. All three notes have various effects on the wearer.
You can't wear the same type of fragrance everywhere and every day. Consider your favorite scents when choosing a perfume, as well as how useful it will be for you. A daytime perfume with a floral or citrus note can be used all day, while woody and oriental notes can be used for nighttime events and dates. Look for subtle, long-lasting scents for office wear and cool refreshing scents for a hectic day.
Try out the perfume on your skin rather than on a piece of card or by spraying in the air. The wrist or inner elbow are the perfect points to spray. The fragrance reacts with each body chemistry differently . Do not confuse your senses by trying too many perfumes at the same time.
See how the perfume wears on your skin through the day. The base notes only emerge after 30 minutes so take your time to allow them to sink into your skin.
These were some of the best perfumes with floral scents and woody undertones. These fragrances provide a romantic and warm ambiance. From top floral notes to woody base notes, Amouage has developed signature scents that are elegant and unique in every form. Pick the one whose notes appeal to your soul the most and win the world with your fragrance, grace, and elegance!
Why Trust StyleCraze?
Baishali Bhattacharya is a certified image consultant who has a keen sense for finding exquisite fragrances. She recommends using Amouage perfumes as they are well-known for their intoxicating scents. After researching many fragrances and pouring over numerous reviews, she curated this hand-picked list of the best Amouage perfumes. These perfumes were selected because of their scent notes and long-lasting properties.
Frequently Asked Questions
Is Amouage a luxury brand?
Yes, Amouage is a high-end luxury brand for perfumes. It creates the most finely crafted perfumes in the world.
Are Amouage perfumes good?
Yes, Amouage perfumes are long-lasting and are adored for their vibrancy and the high-quality ingredients used.
How long does Amouage last?
Generally, the fragrance can last up to 24 hours based on the concentration of the perfume.
What country is Amouage from?
Amouage is a sophisticated international luxury fragrance brand from Oman and is operated by Oman Perfumery LLC.
What is the meaning of Amouage?
The brand's name, Amouage, stands for "Love" in french and "Waves" in Arabic. They are the official perfume house of the Oman Royal Family.
Why is Amouage perfume so expensive?
Amouage perfumes are refined and have pleasant fragrances with a lot of complexity. Their unique concentration is because of the very high dosage of ingredients used in perfumes. This is what makes them a high-end brand.