The 5 Best Parlux Hair Dryers Of 2023
Choose any Parlux hair dryers that come with quick drying and silent operation.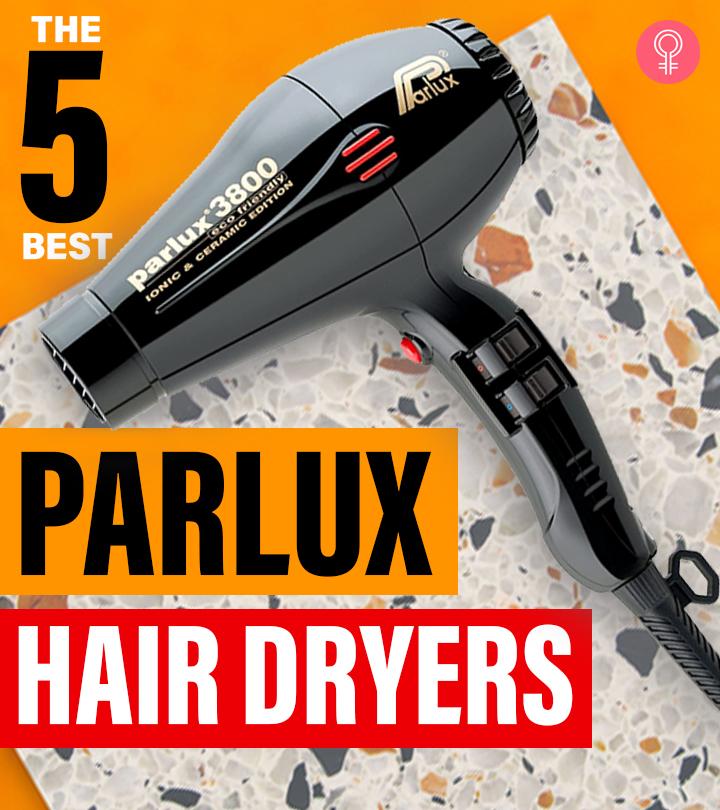 Parlux makes hair dryers that combine the best performance and comfort. Choosing the best parlux hair dryer can be pretty confusing given how many great models they have in their catalog. Having great features like quick-drying and a built-in silence, these hair dryers are quite the hit among people. To help you choose the best from their wide range, we've done our research and have narrowed it down to 5 of the best parlux hair dryers models that you could potentially buy.
5 Best Parlux Hair Dryers
Pros
Eco-friendly
Quick-drying
Durable
Low noise
Ergonomic handle
Lightweight
Comes with a diffuser
Cons
Price at the time of publication: $259.99
Pros
Lightweight
Low noise
Fast-drying
Stay-cool casing
Eco-friendly
Comes with two nozzles
Cons
Price at the time of publication: $279.99
Pros
Quick drying
Value for money
Lightweight
Powerful airflow
Durable
Long cable
Cons
Price at the time of publication: $219.99
This one is the most popular model of the lot. The Parlux 3200 Diamond Edition is a favorite of leading hairstylists across the globe. It is also perfect for getting salon-like hair at home. This hair dryer features a K-lamination motor that is powerful and durable. The ceramic and ionic technology distributes heat evenly, prevents heat damage during the drying process, and makes your hair smooth and shiny. This device comes with two nozzles to dry and style the hair.
Specifications
Dimensions: 76 x 9.53 x 3.86 inches
Weight: 10 pounds
Wattage: 1900 W
Temperature Settings: 4
Speed Settings: 2
Color: Black
Life: 2,500 hours
Airflow: 69 m3/h
Pros
Powerful airflow
Value for money
Quick drying time
Lightweight
Durable
Cons
The diamonds may fall off.
Pros
Value for money
Powerful airflow
Lightweight
Portable
Long cable
Cons
None
Price at the time of publication: $269.99
Investing in a good quality hair dryer can provide salon-like styling at home. Here are some important points that you should consider before buying the best Parlux hair dryers.
Things To Consider Before Buying The Best Parlux Hair Dryers
Technology: The best Parlux hair dryers come with advanced ionic technology. They release negative ions that lock the moisture in hair roots. This keeps the follicles smooth, shiny, and hydrated from root to tip. Many hair dryers are also infused with ionic and ceramic technologies. This ensures even heat distribution and prevents hair damage. You should get salon-like smooth and static-free hair at home. Many hair dryers come with two nozzles, one for styling, and the other for fast drying. They ensure better performance and keep the hair hydrated for a long time.
Heat Settings: People with different hair types and styles require distinct heat settings. One must choose the dryer that comes with multiple heat settings. This enables you to create different styling patterns. For people with smooth and fine hair, a low-temperature setting works well. People having curly and coarse hair may require a higher heat setting.
Specifications: The weight of the hair dryer is important to ensure convenient styling. Go for the lightweight options to ensure comfort and ease of use. Lightweight and compact-sized hair dryers are easy to use while traveling. The blow dryer must have strong airflow and quick drying ability. It must have a long swivel cord and produce less noise when operated. Finally, ensure that your blow dryer is durable. The motor, plates, and nozzles must function adequately for a long time and not require frequent servicing.
Other Features: Apart from above-mentioned things, go for the hair dryers that are budget friendly and have adequate wattage. Drying your hair strands must help get rid of frizz and roughness. Hair dryers that come with quality features and useful attachments like nozzle and diffuser ensure better functionality.
Why Trust StyleCraze?
Shiboli Chakraborti, a certified skin care coach and hair care enthusiast, has put together this list of the best Parlux hair dryers that style your hair without damaging it. These products have been chosen after carefully researching their features as well as several customer reviews and product listings. She has also included the specifications, pros, and cons of each product to help you make an informed decision.
Frequently Asked Questions
Are Parlux hair dryers good?
According to users, Parlux hair dryers provide high performance as compared to their counterparts.
Which is the lightest Parlux hair dryer?
Weighing just 450 grams, the parlux 385 Power Light Ceramic Ionic Dryer is the lightest.
Where are Parlux hair dryers made?
Parlux hair dryers are exclusively designed in Italy, where they have their entire production process.
Which Parlux hair dryer is the best for fine hair?
The parlux 385 PowerLight Ionic & Ceramic Hair Dryer is the best for fine hair as it uses ionic and ceramic technology to offer damage-free styling.
How do you clean a Parlux hair dryer?
Follow the given steps to clean the Parluc hair dryer:
• Open/unhook the filter holder of the hairdryer.
• Use a soft brush to clean the filter and rinse it.
• Let the parts dry before reassembling the hairdryer.
How long does a Parlux hair dryer last?
It lasts for about 3-7 years when taken care of properly.