7 Best Hair Dryers With Long Cords Of 2022
Dry your hair at any corner of your house without having to deal with inconvenient cords.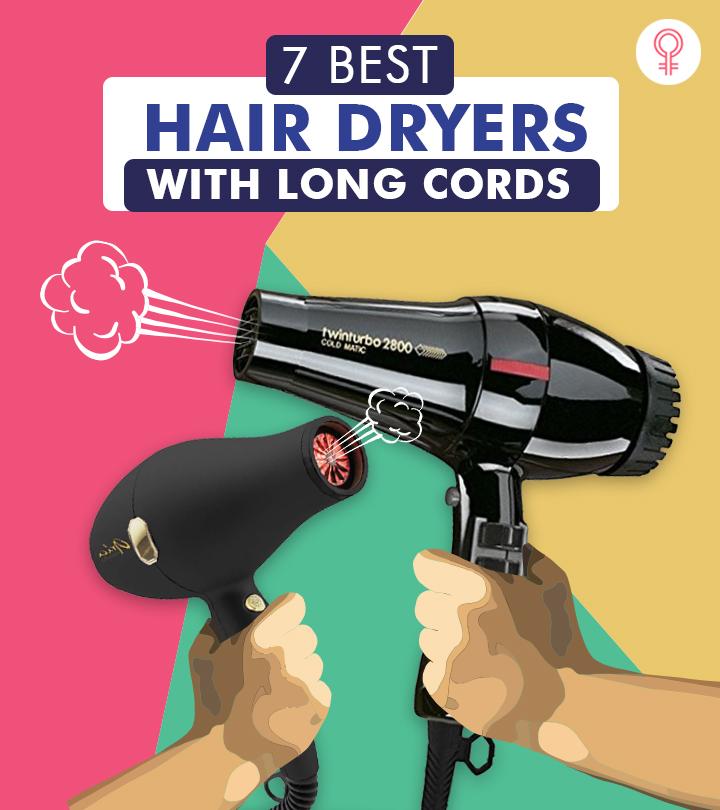 The best hair dryer with a long cord is the solution to all your hair drying problems. Gone are the days when you struggle with the hair dryer curling around your neck. A long-corded hair dryer will not only move around easily without tugging at the power socket but can be used at home or when you're out and about! Scroll down to take a look at the top hair dryers available!
What Are The Advantages Of A Long Cord Hair Dryer?
Convenience: A long cord dryer will not need you to stand close to the power source. With a short cord, there is a fear of the dryer getting pulled off the plug while you move it around your head for even drying.
Maneuverability: A long cord enables you to move to a comfortable position while drying or styling your hair. You can sit or move to a mirror that may not be near to the power point. It becomes easy to move around, focusing on different parts of the hair without tugging.
Safety: Many people use an extension cord to increase the cord length of the dryer. But this is unsafe as the hair dryer operates on high wattage and might lead to short circuits or fire hazards. A long cord hair dryer helps prevent this.
Let's now look at the 7 best hair dryers with long cords that you can buy online.
7 Best Hair Dryers With Long Cords
The Rosily Salon Blow & Styling Hair Dryer is powered with an AC motor that facilitates consistent airflow. It reduces the drying time of the hair and prevents dryness. The negative ion technology locks in moisture, protects the hair from damage, reduces frizz by sealing the cuticles, and controls static.
This hair dryer has a drying and styling mode in one button. The airflow concentrator helps focus heat on one place, and the comb nozzle helps dry the hair without a brush or comb. This professional dryer has four speed and six heat settings. It features a cold shot button, an 8.7 inches cord, a removable filter, and a heat-insulated nylon grip handle. This product is sturdy, easy to clean, and operates quietly.
Key Features
Airflow concentrator
Comb nozzle
4 speed settings
6 heat settings
Cold shot button
Removable filter
Heat insulated handle
Specifications
Power: 2200 W
Weight: 1.3 lbs
Color: Black
Cord Length: 8.7 feet
Pros
Easy to clean
Noiseless
Sturdy
Value for money
Cons
Ovente Lightweight Hair Dryer powered with Ionic and Tourmaline technology helps draw moisture from the air and deliver it into your hair. This technology keeps your hair well-conditioned and hydrated. The gemstone coating keeps the hair shiny and smooth and reduces frizz. This dryer is ideal for both professional and home use.
The cool shot button is used to set the hair and seal the cuticle, thereby preventing frizz. This hair dryer has a removable filter for easy cleaning and optimal power. The speed and temperature settings make the hair dryer suitable for all hair types.
Key features
2 Speed settings
3 Heat settings
Cool shot button
Specifications
Power: 1875 W
Weight: 1.55 lbs
Cord length: 5.9 feet
Pros
Lightweight
Hanging loop
Comes with a carrying bag
Cons
The Warmlife Professional Hair Dryer is powered with blue light negative ion technology that locks in hair moisture and protects the hair from heat damage. The blue light radiation conditions the hair, keeping it soft, frizz-free, and shiny. The powerful motor dries thick long hair within minutes.
This hair dryer features a diffuser for curly hair and two concentrators for straight hair. It comes with a double removable safety net that prevents hair-pinching. The two speed and three heat settings blow dry the hair roots and lock in the hairstyle with cool air. The pure silver contact switch prevents sparks and arcs. This dryer features an ultra-long 106 inches cord made of high-temperature-resistant nylon.
Key Features
2 concentrators
Double removable safety net
2 speed settings
3 heat settings
Specifications
Power: 1875 W
Weight: 2.5 lbs
Color: Black
Cord Length: 8.8 feet
Pros
ETL certified
Durable
Strong airflow
Available in 2 colors
Cons
The Aingycy Hair Dryer is powered with far infrared heat technology and negative ionic technology. It dries the hair quickly, reducing damage and retaining hair moisture. This hair dryer features a high velocity and concentrated airflow with two speed options that distribute heat evenly. The ceramic design infused with tourmaline keeps the hair frizz- and static-free.
The breeze mouth and honeycomb inlet protect the hair from getting sucked in. The removable mesh lint filter is easy to clean. The hair dryer also features a safety plug with overheat protection that automatically switches off the dryer when too hot. The concentrator nozzle and diffuser are suitable for straight and curly hair, respectively. This dryer is travel-friendly, lightweight, and operates quietly.
Key Features
2 speed settings
3 heat settings
Hanging loop
Removable mesh lint filter
Specifications
Power: 3500 W
Weight: 2.25 lbs
Color: Black
Cord Length: 9 feet
Pros
Operates quietly
Lightweight
Compact
Travel-friendly
Cons
ROSILY Professional Ionic Ceramic Hair Dryer is powered with ion technology to deliver smooth and shiny hair. The ions lock the hair's moisture, coats the hair, and seals the cuticle, thereby controlling frizz. The hairdryer delivers wide and consistent airflow for quick and thorough drying. It is capable of drying even thick hair. This dryer also protects the hair from heat damage.
The hair dryer comes with 2 attachments – narrow and wide nozzles. The narrow nozzle is suitable for wavy, frizzy, and curly hair and produces concentrated airflow. At the same time, a wide nozzle is ideal for long and thick hair. It is featured with a removable filter that helps in easy cleaning. The dryer is equipped with an ALCI safety plug that prevents electrical shocks.
Key Features
Cold shot button
3 heat settings
2-speed settings
Heat protection sensor
Specifications
Product dimensions: 11.3 inches x 12.2 inches x 3.9 inches
Cord length: 8.69 feet
Power: 2200 W
Weight: 1.2 lbs
Pros
Hanging loop
Easy operable switch
Lightweight
Convenient for traveling
Cons
None
The Pibbs Twin Turbo 2800 Cold Matic Hair Dryer is equipped with a powerful motor that dries the hair 60% quicker than regular dryers. The four temperature and two speed modes enable drying and styling of damp hair within minutes. The true cold button locks the hair moisture and adds volume. This hair dryer features an ergonomic handle, a concentrator nozzle, and a removable filter. It is lightweight and comes with an anti-overheating option that protects your hair from heat damage.
Key Features
4 temperature settings
2 speed settings
Removable filter
Concentrator nozzle
Anti-overheating
Specifications
Power: 1760 W
Weight: 5 lbs
Color: Black
Cord Length: 9 feet
Pros
Lightweight
Ergonomic design
Quiet operation
Cons
Ovente Professional Hair Dryer comes with an extra-long cord and includes 2 concentrator nozzles. The Tourmaline technology makes your hair shiny, smooth, while the Ionic technology keeps your hair hydrated by breaking down the water molecules. The concentrator nozzles help to eliminate frizz.
The multiple heat settings make this hair dryer ideal for any hair type. The cool shot button seals the cuticle and prevents frizz. The lightweight design of this hairdryer makes the hair shiny, smooth, and healthy.
Key Features
Cool shot button
2-speed settings
3-heat settings
Specifications
Weight: 1.3 Pounds
Cord length: 7.7 Feet
Speed settings: 2
Power: 2200 watts
Pros
Cons
Why Trust StyleCraze?
Shiboli Chakraborti, the author, is passionate haircare and hairstyling. As hairstyling is pretty much impossible without a fantastic hairdryer, she has prepared this list of the best hair dryers with long cords. To curate the list, she has checked online reviews, feedback, and closely looked at product specifications. The recommended products come with long cords that give users freedom and space of movement and safety and are also very well-built and efficient with helpful features.

Recommended Articles