9 Best Hair Dryers With Comb Attachment
Get salon-perfect hair like a pro using these impressive 2-in-1 styling tools.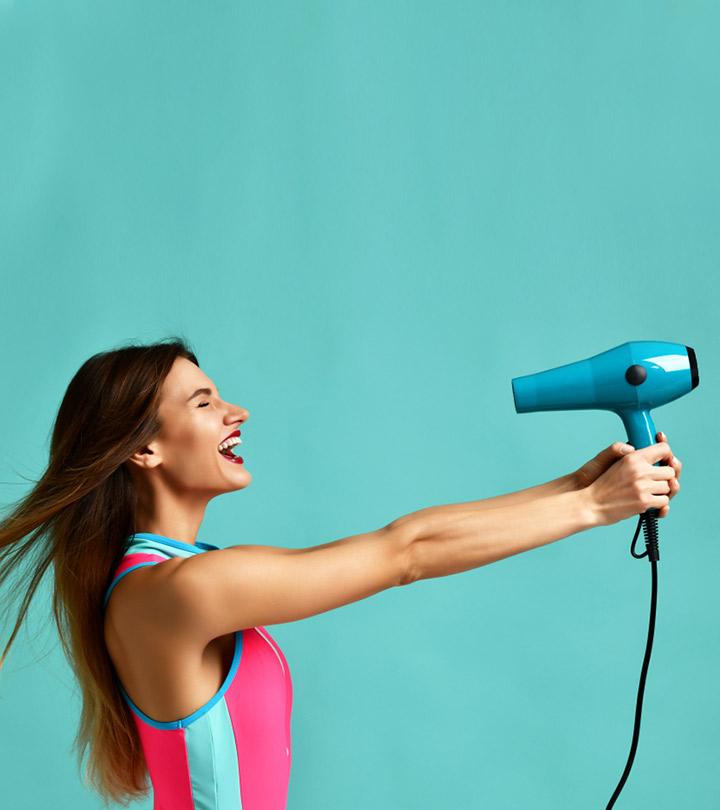 If you have been looking for the best blow dryer with a comb to get a new look every day, you are at the right place. Hairstyling products have undergone a revolution, and we are glad to be born in the century where you can experiment with numerous hairstyles on a single sitting without scorching your hair. With a high-quality hairdryer in your hand, styling hair no more requires an urgent appointment with your hairstylist. Hairdryers do way more than just dry our hair, and adding a comb to it was the icing on the cake that takes the hairstyling game to a whole new level. There are different nozzles and diffusers that help you try new hairstyles with your hair. The comb keeps your hair frizz-free and adds volume to your hair while straightening it. You can also direct the airflow to specific areas to make it smooth and damage-free. So if you haven't tried on a hair drier with a comb already, we have the list of the most popular ones. Scroll down and get the perfect one to style your hair perfectly right away!
9 Best Hair Dryers With Comb Attachment
Create a multitude of looks with this 3-in-1 hair dryer by Conair. The styling comb attachment is ideal for making your hair look straight and sleek, the bristle brush attachment adds volume to your hair. It helps you achieve beachy waves or loose curls, and the detangling comb attachment makes your hair easy to manage, no matter how unruly it is. This hair dryer uses ionic technology to fight frizz and leaves the hair smooth and shiny. It comes with 2 heat and speed settings, and the cool shot button helps in locking your hairstyle in place. It also features a hinged filter, which not only prevents lint build-up but also extends the motor's life. If you want to know more about the results, take a look at this review on YouTube.
Pros
Comes with 3 types of comb attachments
Ionic technology helps in reducing frizz
Comes with 2 heat and speed settings
Dual voltage
The hinged filter prevents lint build-up
Cons
If you are looking for a hair dryer that will gently dry your hair while you style it, you should choose this one. Considered to be one of the best blow dryers with comb attachment, it uses ceramic technology to seal the natural oils of the hair, which, in turn retains moisture. It keeps the temperature consistent and delivers an even flow of heat. It also uses ionic technology to dry your hair faster and comes with 3 heat settings. You can style your hair any way you want to as it comes with 3 separate attachments – a soft-bristle comb, a wide-tooth comb, and a fine-tooth comb. If you want a super-quick hair drying session, you can use the turbo boost option. You can check this YouTube video for more information about the product.
Pros
Comes with 3 types of comb attachments
Uses ceramic technology
Comes with a cool shot button
3 heat settings
Turbo boost for high speed
Dual-voltage
Cons
The attachments may not untangle extremely thick hair
Give your locks all the love it deserves with this anti-static ionic dryer. The ion technology of this hair dryer works towards eliminating frizz while retaining the natural oils in the hair and adding moisture to the hair follicles. It comes with 3 heat and speed settings, allowing you to dry your hair quickly. It comes with three attachments that help in detangling the hair, smoothing it, and styling it. As it is a dual-voltage blow dryer, you can carry it along with you in all your travels. It also comes with an immersion shock protection safety plug, and the long cord makes it a safe tool to use.
Pros
3 heat and speed settings
Includes 3 attachments
Dual-voltage
Anti-static
Uses ionic technology to reduce frizz
Cons
It is not a noise-free hair dryer
Considered to be one of the best blow dryers for natural hair, this salon-grade hair dryer is an excellent choice for people with fine hair as well. It operates on an advanced negative ionic technology, which prevents heat damage and eliminates both static and frizz. It offers 3 temperatures and with 2 speeds along with a cool shot button to help you create beautiful hairstyles in a matter of minutes. As it runs on a 1875W DC motor, it reduces drying time significantly by delivering a consistent airflow. Not only does it come with a concentrator and a diffuser, but it also comes with comb attachment to help you untangle even the most stubborn knots.
Pros
Anti-static and anti-frizz
Lightweight
Includes a concentrator, a diffuser, and a comb attachment
Non-slip handle
Comes with a detachable filter for ease of cleaning
Auto leakage protection
Cons
An excellent hair dryer from a household name that needs no introduction, this professional tool can make all your hair styling dreams come true. It comes with a wide-tooth comb, a narrow-tooth comb, and a brush, which will help you in your quest for emulating salon-style hairstyles. These attachments can be used for detangling, smoothing, and styling with the help of 3 heat and speed settings. The ionic technology controls frizz and eliminates heat damage to give you smooth and healthy hair.
Pros
Comes with 3 attachments
3 heat and speed settings
Dual voltage
Affordable
Cons
Some may find it a little heavy
From the makers of one of the best professional hot combs for curly hair comes another grand offering – a professional styler and dryer that will blow your mind. One of the best blow dryers for natural hair, it comes with 3 speed settings and 3 heat settings. So, no matter how thick and curly your hair is, this dryer can help you achieve any style you want. As it runs on 1600W, it is reasonably noise-free. It comes with a fine-comb tooth attachment, a wide-comb tooth attachment, and a brush attachment. It is easy to use as the groove slides smoothly to accommodate whichever attachment you want to use. It is dual-voltage as well.
Pros
3 style attachments
Lightweight
Noise-free
Great for natural hair
Dual-voltage
Cons
The bristles in the brush attachment are soft
A dryer that uses both tourmaline and ceramic technology is a treasure to have. It effectively fights frizz, giving you smooth and silky hair as long-lasting results. In addition, the dryer comes with three heat and two airspeed settings to provide you with the ultimate styling and straightening experience. The handle-less dryer is lightweight and has a cool-touch grip to ensure a comfortable hold. The three styling attachments help you create salon-style hairstyles from the comfort of your home.
Pros
Ideal for all hair types
Fights frizz
3 styling attachments
5 heat and airspeed settings
Handle-less dryer
Cons
Might have a short life span
As the name implies, this hair dryer is ideal for anyone who has a hard time managing time or is always on the go. Its powerful 1875W AC motor comes with a 7 blade pump, which releases strong hot wind to reduce drying time. Its infrared technology also contributes towards making the water on the hair evaporate faster. However, as it is coated with ceramic and uses negative ions, it also locks in moisture to reduce heat damage. It includes concentrator and diffuser nozzles along with a straightening comb attachment. With the 2 heat and speed setting along with the cool shot button, you can achieve salon-style hair at home every day.
Pros
Powerful AC motor with 7 blade pump
Dries hair quickly
2 heat and 2 speed settings
Anti-frizz
Long and durable cord
Cons
Prevent heat damage with the ABODY Professional Hair Dryer. It is equipped with 3-heat settings, 2-speed settings, and a cool shot button. This professional hairdryer is 1875W that offers quick drying. The dryer is designed with advanced heat technology and negative ion technology that minimize the damage caused to the hair by overheating and preserve your hair's moisture. In addition, the negative ion technology eliminates frizz and maintains healthy hair. Finally, this hair dryer comes with three accessories – diffuser, styling Pik, and concentrator nozzle.
Pros
Suitable for all hair types
Quick-drying
Hanging loop
Detachable filter
Easy cleaning
Cons
Why Trust StyleCraze?
Vaishnavi Kothuri, the author of this article, is a hair care enthusiast. She prepared a comprehensive list of the best blow dryers with a comb after reading multiple product reviews and customer feedback on brand websites. These products help control frizz and make the hair bouncy while straightening your tresses.