9 Best Red Lipsticks For Dark Skin
Make a bold fashion statement with these lipsticks that are perfect for any occasion.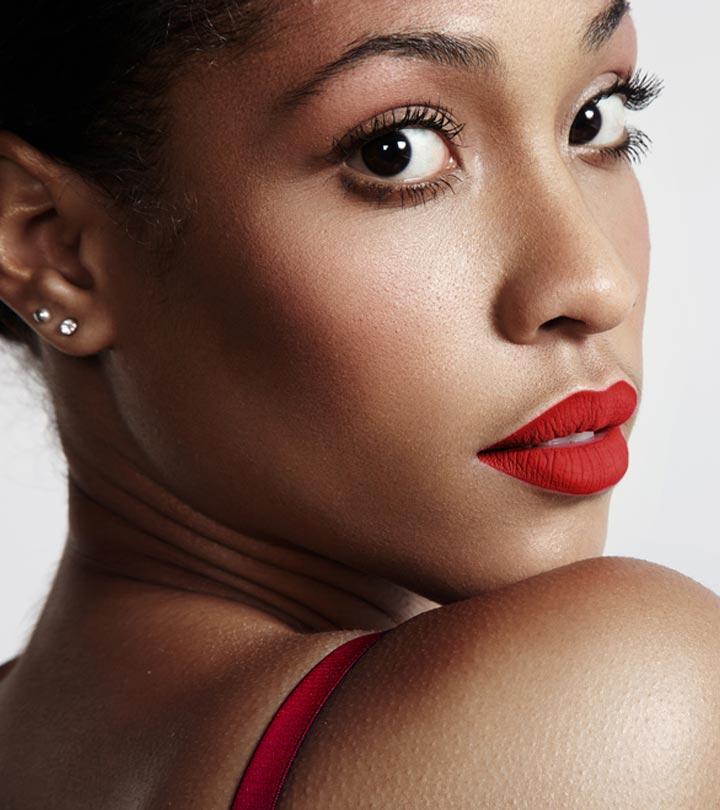 If you are looking for the best red lipstick for dark skin that can complement your look like never before, then you are definitely in the right place. This article will acquaint you with the 9 most amazing red lipsticks that go perfectly well on dark skin.
Red is a super classic color, and no matter what, red lipsticks are here to stay always. A red pout complements any outfit and is the perfect shade for a special occasion. In addition, red lipsticks are universally flattering and come in various shades and finishes. So, without any further delay, scroll down to check out our list of the red lipsticks that deserve to be a part of your makeup routine.
9 Best Red Lipsticks For Dark Skin
Just like a pair of dramatic high heels, red lipstick has the power of transforming and enhancing your overall look. This flattering modern shade of red is vibrant, and its creamy, rich formula makes it feel moist and soft on the lips. It is probably the loudest and fiercest shades of red that do not leave any stains and looks appealing on the lips.
Plus, it's enriched with the goodness of avocado oil and Vitamin E oil that will keep your lips free from dryness and roughness. This classic cult lipstick is richly pigmented and is ideal all-day wear. It doesn't bleed, and thus, you can use a simple brush and apply the lipstick to look amazing. For a more detailed review of this product, here's a video.
Pros
Built with a super-moisturizing formula
Non-cakey and creamy texture
Feels lightweight and vibrant on the lips
Offers a radiant and glamorous shine
Cons
Price at the time of publication: $5.47
Matte lipsticks by NYX professional have always been some of the best lipsticks, and this perfect red shade is here to stun you. Either you are getting ready for your office meetings, or you are dressing up for your cocktail party, this red lipstick will make you look gorgeous.
This smooth and plush matte lipstick is non-cakey and doesn't make the lips feel chapped or dry. This highly-pigmented vintage lipstick is shockingly super smooth and glides just the right way on your lips while offering a silky matte finish that enhances the appeal of dark skin tone. The color comfortably stays on the lips for 6-8 hours and it fades only a little when you drink or eat something. Plus, the warm-toned bright red shade feels lightweight on the lips and is a great pick if you are looking for a bargain. Know more about this product in this video.
Pros
Cruelty-free and certified lipstick
Offers a deep matte look and lasts for hours
Intensely pigmented high-fashion red lipstick
Offers a rosy hue
Cons
Not an utterly smudge-proof lipstick
Price at the time of publication: $7.99
Though ladies these days are hooked on to the latest beauty trends like nude lips and smokey eyes, they still prefer wearing the beautiful red lipstick for a bright and refreshing everyday look. If you love wearing red lips regularly, this cruelty-free red lipstick by Milani is a perfect pick.
Feel confident and turn heads with this bright shade of red. The opaque lipstick is infused with vitamins A and C, so it feels great on the lips. You no longer have to worry about flaky or rough-looking lips, and you'll also need very few touch-ups. Plus, if you like lipsticks that smell fresh and leave a pleasing feel, this lipstick smells like a refreshing fruit punch. The bright red lipstick instantly becomes the focal point of your look and gives you a classy retro appeal. This shade looks best when used with red lip liner. Learn more about this product in this video.
Pros
Comes with a tint of orange and works for cold and warm undertones
Stays on the lips for hours without smudging
Fade-resistant
Glides on smooth on the lips
Leaves a mild glittery shine
Cons
Not a completely waterproof lipstick
Price at the time of publication: $5.97
Picking the right red hue for your complexion is extremely important if you want to look fabulous, and this fierce and bold shade of red is perfect if you want to adorn your dark skin. This is a matte lipstick that pops exquisitely during the day and night time.
This highly-pigmented lipstick is cruelty-free and is never tested on animals. Plus, its lightweight and long-lasting formula makes it sit on your lips for hours, so you don't have to worry about reapplying the lipstick every few hours. The formulation of this lipstick is perfect as it is highly transfer-proof and stays on well without smudging. With a balanced hue of red, this lipstick features neither too warm nor too cold undertone, and thus, it's ideal for darker skin tones.
Pros
Gives a glossy finish
Looks highly-pigmented on lips
Does not feel dry on the lips
Not too hard to apply
A bright shade of berry red
Creamy but not watery
Cons
Some may not like the smell
Price at the time of publication: $4.98
Here is one of the finest and boldest shades of red lipstick by a leading cosmetic brand Maybelline. This brand has managed to launch some of the most eye-catchy shades of red but hands down, this sensational Ruby for Me is the perfect option for girls with dark skin.
While choosing the shade of red lipstick for dark skin tone, you should prefer brighter shades like berry red, brick red, etc. and this is the shade that works for 50 diverse skin tones and looks perfect. Plus, it is formulated with honey nectar to offer a smooth and moisturizing feel to your lips. The non-drying formula will prevent your lips from drying and is well pigmented to make your lips pop and stand out. The lipstick won't look washed out and will offer a lovely red hue to your lips
Pros
Compliments dark skin with cold and warm undertones
Features the luxurious satin matte finish for a bold look
Has a special edition color-matched caps range that you'll love
Richly-pigmented lipstick
Cons
It may make lips feel hard if not used with a balm or moisturizer.
Price at the time of publication: $5.44
This red-wine inspired lipstick will look amazing on the dark skin. Especially, if you are dressing up for a party night, this bright and bold lipstick will suit any of your outfits very well. The lipstick features a semi-matte finish and has a long-lasting and highly-moisturizing formula.
The deep dark red wine shade leaves your lips with a buttery smooth feel and a highly-pigmented bliss. It amps up your look with a touch of shine and creates a bold and dramatic look. The lipstick offers a smooth application and guarantees an intense and bold color payoff. It has an incredibly comfortable wear and fills color evenly on the upper and lower lips. This lipstick features a high-performance color-fix formula, so if you are looking for a bold and intense shade, this is the best red lipstick for dark skin.
Pros
Cruelty-free, lead-free, paraben-free and talc-free lipstick
Comes in a diamond-etched fancy case
Doesn't dry out the lips
Makes the lips look fuller and plump
Enriched with antioxidants and natural moisturizers for smooth lips
Cons
Price at the time of publication: $15.5
With the holding power of 12 hours, this bright and stunning red lipstick by Fenty beauty is a must-have for all the women who love red lipsticks. This long-lasting and appealing red lipstick offers perfect color with just one stroke and provides a refreshing matte finish. Dip the applicator for once, and it will cover your whole lip as it's perfectly pigmented.
The lipstick feels weight-free on the lips, and its liquid consistency keeps the lips moisturized and nourished. This bright red shade compliments all skin tones and is highly-pigmented for a perfect pout. It also features a lip-defining wand that is easy to use and applies lipstick without smearing it around the lips. The applicator gets a thumbs up because you can simply line the lips and fill in with great precision. Plus, it has a medium to deep shade of red that looks great on dark skin.
Pros
Soft-matte pigment that doesn't dry out
Cruelty-free product
Easy to apply as it easily glides on the lips
Long-lasting and bold color
Comes in a catchy packaging and thus is ideal for gifting
Cons
Price at the time of publication: $26.0
Just like the perfect little black dress, the trend of red lipsticks will never go away. Simply swipe a bright red lipstick on your lips, and it will give you more confidence and will pull your look together. This is an ultra-hydrating lipstick with magical red hues that offers medium to full coverage and looks absolutely gorgeous.
This trendy lipstick is infused with shea butter and coconut oil, which helps your lips to stay moisturized and look plump. It also features a soft-gel formula that smoothly glides on dry or chapped lips and gives a medium to full coverage for a beautiful, pigmented look. The deep, bold red color takes a few seconds and then easily sets on the lips for a sensuous pout. Plus, you don't have to reapply the lipstick every few hours for a deeper and vibrant look. It's lasting and looks bright.
Pros
Hypoallergenic and tested by dermatologists
Leaves a shiny and rich finish
Made using high-quality ingredients for safe use
Offers hydration like a lip balm
Long-wear lipstick that lasts throughout the day
Cons
May feel slightly sticky
You need to apply a large quantity in one swatch.
Price at the time of publication: $6.48
From celebrities like Rihanna to Taylor swift, everyone has worn different shades of red, and now it's time for you to rock. This is a must-have set of lipsticks for dark skin tone. The set consists of a total of 10 color markers that offer a rich matte finish to the lips. All the colors are ideal for dark skin tones and will give you a bright smile.
If you are planning to get ready for attending a party after work, this is an ideal lipstick for day to night transition. Pick this, and you'll never regret your decision. This eye-catchy luxury lipstick set offers a playful twist of velvety satin texture and makes your lips look plump and hydrated instantly. The lipstick is made using all-natural ingredients and is skin-friendly, so you don't have to worry if you have sensitive skin.
Pros
Long-wearing rich lipstick
Matte but not drying
Waterproof and smear-proof
Easy to remove using a cleansing oil
Available in 10 shades
Pigmentation is to the point
Cons
Some may not like the smell.
Price at the time of publication: $9.99
Red lipstick puts you in a different league every time you wear them, so everyone should own at least one. Red lipstick on your pouty lips makes you feel unstoppable, confident, and ready to take on the world. Not to mention, you look drop-dead-gorgeous as well. There is red lipstick shade out there for every one of us; the trick is to find the best shade that complements your skin. If you are wondering how to find the best red lipstick for dark skin, we have you covered with our list of tips to help you choose.
How To Choose The Best Red Lipsticks For Dark Skin?
Undertones: Know your undertones when zeroing in on the perfect red for you. For warm undertones, which is very common for dark skin people, warm and brick-toned red shades or orange hues are the best options, while for cool undertones, maroon, purple, wine-red shades look the best. People with neutral undertones can choose from the entire spectrum of reds.
Ingredients: Opt for lipsticks containing hydrating ingredients like vitamin E and shea butter to keep your lips moisturized. Avoid formulas containing harsh and harmful chemicals like parabens and phthalates to prevent your lips from drying out. Additionally, if you have sensitive skin, avoid certain ingredients like beeswax, lanolin, and carmine, as they can cause skin inflammation and redness.
Formula: Opt for a creamy formula if you have intensely dry lips. Creamy red lipstick makes your lips appear healthy and offers a dewy finish. However, if you wish to achieve a matte look, select a matte liquid shade, but ensure that it consists of soft pigments to avoid drying out the lips.
Longevity: Choose a transfer-proof and smudge-proof lipstick that lasts throughout the day. Good quality lipsticks have a lasting powder of eight hours and more.
Supermodel Nini Amerlise says, "The rule of thumb here is to always be fearless with experimenting and finding the best shade of red lipstick for you. No two dark complexions are the same, even if you find someone who has a similar skin tone as you. With the added aspect of having an undertone, sometimes, it can be a daunting yet thrilling task to see what works, however making a list of all the possible red lipstick variants from the lightest of bold bright orange-red to the deepest violet dark red allows you explore the many lip colour palettes available. Be expressive and let your beauty shine. Once you land your signature shades, then it is a wrap!"
Why Trust StyleCraze?
Chaitra Krishan, a makeup enthusiast passionate about finding and reviewing the latest makeup products and trends, has curated this collection of the best red lipsticks for dark skin. She has gone through numerous user reviews and examined swatches thoroughly to shortlist the products. These options offer some of the richest and best colors and shades of red that perfectly complement darker skin tones.
Frequently Asked Questions
Does red lipstick suit dark skin?
Yes, red lipstick looks bold and vibrant on dark skin. It enhances the complexion and elaborates the lips.
Does red lipstick look good on brown skin?
Yes, red lipstick looks good on brown complexions. The color adds glow to the face and provides a high-impact color payoff on brown skin.
Does red lipstick make your teeth look whiter?
Yes. A blue-toned red makes your teeth appear white and brighter. But, the warmer orange shades have no such effect on the look of your teeth.
How can I apply red lipstick on dark skin?
• Exfoliate your lips with a lip scrub or a toothbrush to ensure flawless application.
• Apply a nourishing lip balm to moisturize your lips.
• Hold a tissue on your lips to blot away the excess greasiness of the lip balm.
• Line your lips with a similar shade pencil and define the edges.
• Apply the lipstick with a lip brush. Start from the middle of the lips and extend up to the corners.
• Blot away the excess oil with a tissue.
• Apply another layer of lipstick to your lips.
• Take a little concealer on your angular brush and run the brush against the edges of the lips to achieve clean red lips.
Which shade of red lipstick is good for dusky skin?
Coral reds with punchy pink undertones and deeper red lipsticks with a tint of orange or brown look attractive on dusky skin tone.
Related Articles
Best Darkest Red Lipsticks For Every Skin Tone
Best Matte Lipsticks For Dark Skin That Compliment Your Skin Tone
Best Red Lipsticks With Blue Undertones
The Top Drugstore Red Lipsticks
Best Selling Orange-Red Lipsticks