The 9 Best Frosted Lipsticks Of 2022
Get the perfect metallic finish with the right kind of lip shades to suit your look.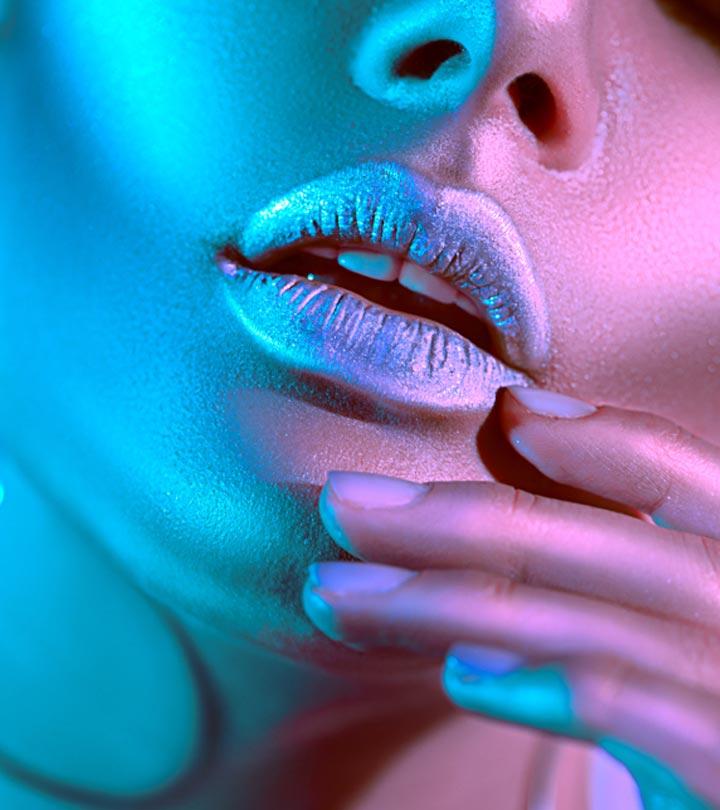 Several trends originated in the '90s and are making a solid comeback recently. One of them is the frosted lipstick. Slight mention of a frosted lipstick would conjure the image of shiny, metallic lips, but the best frosted lipsticks will make you look glamorous. Also known as metallic lipsticks, many brands today have come up with frosted lipsticks that give your lips a perfect shimmer.
To make your lips stand out, you can apply the lipstick below a non-shimmery gloss to give it a multidimensional look. Since every frosted lipstick is different, you need to keep your skin tone in mind when purchasing the shade of your choice. We have curated a list of the top frosted lipsticks to help you get the perfect shimmery look. Scroll down for more information!
What Is A Frosted Lipstick?
Frosted lipstick is basically lipstick with a hint of shimmer in it, giving your lips a glossy and shiny look. While the '90s saw more tan and pink frosted lipsticks, the recent ones are light pastels, crimsons, and bronze, giving them a subtler look. While applying frosted it is important to learn how to apply it and not go overboard. Applying a thin coat in the center of your lips should do the trick. Always start small and then apply more if required. Read on further as we explore the 9 best frosted lipsticks to buy in 2022.
The Top 9 Frosted Lipsticks That Suit Every Skin Tone To Purchase In 2022
Milani Color Statement Lipstick in Pink Frost is perfect for your lips as it is infused with vitamins A and C, giving your lips the nourishment they need all-day long. This lipstick is an amazing product for those who like to keep their makeup minimal with a distinct pop of color. This best frosted pink lipstick does exactly that while allowing a smooth application. The Milani Color Statement lipstick is definitely one lipstick that you must have in your vanity!
Pros
Nourishing lipstick in a vibrant shade
Cruelty- free
Long-lasting look
Cons
Color may be darker than shown in the picture
The Ecco Bella Lipstick in Peach Frost shade is an all-natural, plant-based product. This peach frosted lipstick is a cruelty-free and gluten-free product. If you have sensitive skin, this product is made for you! The shade of this lipstick is beautiful and chic, making it suitable for all skin tones. The Ecco Bella Lipstick in Peach Frost allows for easy transition from office to a party, while also providing your lips long-lasting nourishment.
Pros
Organic
Contains vitamin E, vegetable oils, and mineral pigments
Environment-friendly product
Odor-free
Cons
This luxurious shade from MAC frosted lipstick offers a rich color payoff on your lips and applies like satin! It offers a high frosted finish. The warm plum shade of this lipstick is suitable for most skin tones and applies smoothly on the lips. So go ahead and paint the town red with this ultra-luscious lipstick. It is the best drugstore frosted lipstick.
Pros
Semi-matte finish
Long-lasting look
Cons
The lipstick shade may be slightly darker
The L'Paige L53 Frosted Amethyst Lipstick is dermatologist-recommended as it is formulated using the all-important healing ingredients in the form of aloe vera and beeswax. They keep the lips soft, moist, and last all day long without bleeding. There are 69 shades in all and can be paired well with your #OOTD.
Pros
This product is cruelty-free
It is free of elements like lead, gluten, etc.
Infused with castor oil and carnauba wax that deeply moisturize lips
Cons
May require refrigeration in the summers
Mary Kay Creme Lipstick-Frosted Rose is a lightweight, long-lasting frosted product. Featuring a blend of ingredients like vitamins E and C derivatives, this lipstick moisturizes instantly and is suitable for sensitive skin too. Due to its creamy texture, it glides easily and does not bleed.
Pros
Clinically tested for skin irritation and allergy
Maximum color impact
Perfect pink shade true to description
No fragrance
Cons
May not suit all skin tones
Rimmel Lasting Finish Lipstick is, as the name suggests, long-lasting for up to 8 hours. The product is infused with ingredients that nourish and moisturize your lips. This is one of the best frosted lipsticks there is, as the shade is elegant with just the right amount of shimmer.
Pros
Creamy lipstick with an easy-to-apply formula
Good color payoff
Affordably priced
Cons
Some users may find the color too light for their skin tone
This lipstick has been termed as a value for money product by many women who swear by it. The Golden Rose Lipstick in the shade Frosted Coral comes packed with vitamin E. It gives a clean, glossy look making your lips look moist and voluptuous.
Pros
Lasts all day without reapplication
Glides on smoothly
Affordable
Cons
Some users reported a color discrepancy
MODE Lustre Lipstick in the shade Frost 63 contains all-natural ingredients and gives a creamy and rich look in just a single coat. The lipstick is great to pull off a formal look for an upcoming meeting or can be worn on a night out with your besties. It is a versatile product that is also pocket-friendly.
Pros
Rich color-payoff
Contains nourishing ingredients such as organic shea butter, vitamin E, and beeswax
Cruelty-free
Cons
Product may have a distinct petroleum odor
The Color Renew Lipstick in Frosted Watermelon shade is one of a kind due to its 'melts on your lips' formula. This lipstick contains nourishing ingredients such as avocado oil, jojoba oil, and vitamins A, D as well as E. The color of this lipstick is bright and alluring and perfect for all skin tones.
Pros
Lip moisturizing formula
Lipstick looks freshly applied all-day
Contains vitamin E which helps in unblocking pores
Cons
Frosted lipsticks have made a comeback in recent years with many celebrities like Rihanna and Gigi Hadid pulling them off successfully on the runway. It can instantly elevate your look by highlighting your beautiful lips.
How To Wear Frosted Lipsticks?
Wearing frosted lipstick correctly is as important as purchasing the right one if you don't want to end up looking lifeless. Here are a few ways to make sure that you've got it right:
The most basic and easy way for a beginner to get frosted lips is to wear a light or sheer frosted lipstick by itself. This will help in highlighting your natural lip color by giving it a tinge of shimmer.
Another way is to layer a frosted lipstick on top of a matte lipstick of a shade darker or the same shade. This can make your lips look velvety and fuller.
If you are feeling particularly adventurous try layering two frosted lipsticks one on top of the other. This will give you an all-out glam look, just be prepared for all the glances that will come your way.
Darker skin tones usually do well with buying gold hues of the frosted lipsticks. Other shades to consider buying are deep reds and opals, mauve, and bronze. Stick to the warm colors as they will prevent you from looking ashy or like a zombie.
Why Trust StyleCraze?
Chaitra Krishnan, the author, is passionate about makeup and has shared her tips on choosing frosted lipsticks in this article. In her opinion, this 90s trend is making a big comeback because no one can resist a good shine on the lips. She compiled this list of the top products after conducting extensive research and reviewing numerous online reviews. The recommended products are long-lasting and transform your look from drab to fav instantly!
Frequently Asked Questions
Is frosted lipstick still in style?
Frosted lipsticks are never outdated. They can add glam to your outfit instantly. Wear them with similar shimmery eyeshadows to complete the look.
What happens if you freeze lipstick?
Freezing lipstick can kill microorganisms. If you want to sanitize your lipstick, freeze the lipstick overnight. But know that some microorganisms can survive cold temperatures too; so the lipstick might not be completely germ-free.
Which type of lipstick is good for lips?
Satin or sheer lipsticks hydrate your lips and keeps them soft and supple. These are incredibly soft in texture and glide smoothly over the lips. Hence, they are perfect for any makeup look.
How do you keep lipstick from melting?
You can use a translucent setting powder to seal your lipstick and prevent it from melting. After applying your lipstick, use a makeup brush to apply a layer of translucent powder to ensure; this way your lipstick won't melt or transfer to your teeth.
How to turn a frosty lipstick matte?
To turn frosty lipstick matte dust a small amount of baby powder onto the tissue paper and press it onto your lips to cancel out the glossy or shimmery texture of frosty lipstick.
Recommended Articles