8 Best Bras For Shoulder Pain With Reviews & Buying Guide – 2023 Update
Provide support to your breasts and reduce bust pain with these comfy lingeries.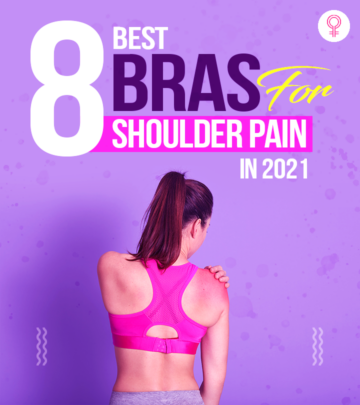 Wearing the wrong bra for long durations and facing its consequences—well, nothing foreign about it for women. A wrong bra can cause severe backaches and put extreme pressure on the shoulders. And this is precisely why women deserve the best bras for shoulder pain. Lightweight bras that come with broader straps can provide the proper support. Also, a criss-cross design at the back of the bra can work wonders in eliminating shoulder aches. To assist you in picking suitable and comfortable bras, we have listed 8 perfect bras for shoulder pain in this article. In this list, you will find bras of different materials and styles. Comfort, durability, and softness— these bras will tick them all. So, scroll down and find the perfect fit for you.
8 Best Bra For Shoulder Pain In 2023
The Playtex 18-Hour Ultimate Lift & Support Wirefree Bra has floral jacquard with slim lace in the front for an elegant look. Its high-quality fabric is breathable and moisture-wicking. The design of this TruSupport bra provides a 4-way support system, including extra side and back support, full cups to reduce spills, and a comfort belt for full day comfort. In addition, its cushion belts are designed to relieve stress on your shoulders and are wide enough to prevent digging. It gives full coverage without any bulging with great lift and side support. It is tagless to prevent any chances of irritation. Its wire-free design lifts from the bottom to provide a great natural shape to your bust.
Specifications
Material: Nylon and Spandex
Size:36B to 40DDD
Pros
Good lift
Great support
Wirefree
Moisture-wicking
Cushion bands
Non-slippery straps
Cons
Price at the time of publication: $14.99
The stylish-looking Bali Comfort Revolution Shaping Wirefree Bra offers comfort, targeted support, and superior shaping. It features seamless 4-way stretch fabric and a comfort-U design, which helps straps stay in place, wider straps for extra support, and leaves no bra line for all-around comfort. It has foam cups and 2-ply sides, which give good shape. In addition, it has knit-in zones for adding additional support. It is advised to hand wash the bra to ensure durability and long-lasting quality.
Specifications
Material:79% Nylon, 16% Polyester, and 5% Spandex
Size: XS to 3XX
Pros
Comfortable
Supportive
Wirefree
Foam cups
Stretchable
Breathable
Cons
Price at the time of publication: $22.99
The Glamorise Magiclift Front Closure Back Support Bra features a cushioned inner band that provides fantastic support and good posture with no wire. It offers a unique criss-cross lycra panel design at the back, which provides extra support to the back and features an inner bust band that lifts without the wire while giving a good shape. Additionally, its front hooks are easily adjustable, and the extra-wide cotton lycra straps support your shoulder. Finally, it features a V-neck and contoured cups with zigzag stitching at the seams.
Specifications
Material:67% Polyamide nylon, 26% Polyester, and 7% Elastane
Size: 36B to 54K
Pros
Back support
Front closure
Full coverage
Comfortable
No wires
Adjustable front hooks
Wide straps
Cons
None
Wacoal Awareness Underwire Bra features a pink label to promote awareness for breast cancer. It promises full comfort and support without hurting your back and provides full support to your shoulders. This full coverage underwire bra has seamless two-ply fabric cups, which ensures added support. Its super-comfortable straps are wide and have an adjustable leotard back coverage pattern. In addition, this bra is designed with smooth calla lily jacquard fabric and has a hidden underwire for more comfort. It also features a hidden underwire for added comfort.
Specifications
Material:80% Nylon and 20% Spandex
Size: 32D to 44H
Pros
Full coverage
Hidden underwire
Comfortable
Wide straps
Adjustable straps
Cons
Price at the time of publication: $65
Calvin Klein Invisible Comfort Bra has a sophisticated and straightforward style suitable for everyday wear. Its smooth, flexible microfiber creates clean edges, which are invisible under clothing. It features a pull-on closure and a V-neck in the front and back with lightly lined fabric. It also has slips-on removable pads with the brand logo at its hem. Its seamless finish, elastic underband, and flexible fit keep you feeling great without being uncomfortable.
Specifications
Material:77% Nylon and 23% Elastane
Size: X-Small to 2X
Pros
Elastic underband
Comfortable
Flexible
Supportive
Seamless
Pull-on closure
Invisible under clothing
Cons
Does not absorb sweat
Hand wash only
Price at the time of publication: $39
Delimira Front Closure Racerback Bra provides the comfortable touch and support needed for women of different sizes. It has adjustable straps for optimum support and gives you a perfect fit. It features softly lined dual-layered, stretchable, lightweight cups with an underwire supporting your breasts gently, giving you a natural shape. In addition, its racerback design features mesh at the back that looks sultry while keeping you cool when you sweat.
Specifications
Material:82% Polyamide and 18% Spandex
Size:32E to 48E
Pros
Supportive
Comfortable
Stretchable
Lightweight
Soft
Full coverage
Dual-layered cups
Wide straps
Cons
Price at the time of publication: $25.99
The Delimira High Impact Sports Bra is lightly padded and provides firm support while maintaining shape. Its mesh panels are comfortable and breathable, helping you stay focused during exercise. Its cups are padded with an underwire that ensures a flattering shape. Its wide belt loops strengthen bounce control for you. Its adjustable wide straps allow a flexible closure. It is perfect for running, boxing, training, gym workout, basketball, etc. The high impact level of this bra makes it ideal for ladies dealing with shoulder pain.
Specifications
Material:82% Polyamide and 18% Spandex
Size:32C to 42E
Pros
Lightly padded
Quick-drying
Breathable
Wideband straps
Adjustable straps
Very supportive
Cons
Price at the time of publication: $30.99
Leonisa Posture Corrector Bra is designed keeping in mind every woman's curves. This product is dedicated to helping women feel confident inside and out.  It features 2 levels of 6 rows adjustable in front of hook and eye for easy wear and fit. In addition, its criss-cross bands provide back support and protection throughout the day. Its two-layer DuraFit cups compress the bust nicely, giving it a natural round shape, and the smooth covering under the arms and back directs your silhouette.
Specifications
Material:90% Polyamide and 10% Elastane
Size: 32B to 42DD
Pros
Wireless
Supportive
Comfortable
True to size
Cons
None
Price at the time of publication: $35
If you are suffering from shoulder pain and want to correct your posture, then wearing a suitable bra is very important. In this guide, we will be listing all the necessary features to look for in an ideal bra. So, let's check them out without further delay.
How To Select the Best Bra For Shoulder Pain?
Under Bust Band: Look for an appropriate size of the under-bust band. It should be comfortable around the rib cage and should neither be too tight nor too loose. You can measure the underbust directly below the breast with a measuring tape; it should not be held too tight nor too loose. You can also purchase a bra with a criss-cross double-layered band at the back, improving the posture and giving superior back support.
Width:  Do check the width of the strap before purchasing. A thumb rule applies here that the thinner the straps are, the more they can dig deep into the skin on your shoulders. So the thicker bra straps may not be wholly painless but might help you give you some relief. Also, the straps must be cushioned and wired for extra comfort.
Fabric: We all have certain expectations from our bras. Therefore, the fabric you choose should line with your expectations. Here are some suggestions:
Cotton: Comfortable, easy to wash, sweat-absorbent
Synthetic: Stretchable, support, durable
Silk: Stylish, soft, and smooth
If you are suffering from some serious back issue, then do go for the following types of bras:
Front Closure Bra: Front closure bras are the best option for those suffering from back pain. However, the front closure should not be the type of closure used at the back, namely hook-eye closure. This is because such a type of closure gives you a clumpy look from the front.
Zipper Closure Bra: If your front closure has a zipper, then bingo! A zipper closure is easy to pull and provides good coverage for large breasts. Also, if you have severe hand arthritis, then zipper closure is your savior.
Sports Bra: Even a sports bra is an excellent option for women with back pain. Especially the one with an elastic band because it allows stretchability. It also helps in posture correction.
We hope our list and buying guide has helped you. You can rely for the finest expert recommendation of the best bra for shoulder pain here. For our expert recommendation, we choose Leonisa Posture Corrector Bra for superior comfort and back support while Calvin Klein Invisible Comfort Bra is our pick for extreme comfort and style. Now it is time to pick your favorite from our list and say good-bye to shoulder pain.
Why Trust Stylecraze?
Aditi Naskar is a diploma holder in health and wellness and loves reviewing products related to fitness and health. She curated this list of the best bras for shoulder pain after sifting hundreds of reliable user reviews online and researching numerous products and their features. The shortlisted bras come with thick straps and a wide back, providing you with a comfortable fit.
Frequently Asked Questions
Does wearing a bra help with shoulder pain?
Yes, wearing a bra with the right strap and band reduces the pressure on your shoulders and helps alleviate shoulder pain.
Why does my shoulder hurt when I hook my bra?
There could be two reasons behind it – either you are wearing a very tight bra that is digging into your shoulders or the bra straps are too thin for your bust weight.
Can a tight sports bra cause shoulder pain?
Yes, too much compression can restrict the muscles and veins and cause pain in your shoulders.
Can large breasts cause neck and shoulder pain?
Yes, large breasts can cause neck and shoulder pain due to the extra weight that your shoulders need to support. It can also cause back pain.
Are sports bras good for shoulder pain?
Yes. A well-fitted sports bra with broad straps and bands is good for shoulder pain.
Recommended Articles