7 Best Color-Safe Dry Shampoos For Women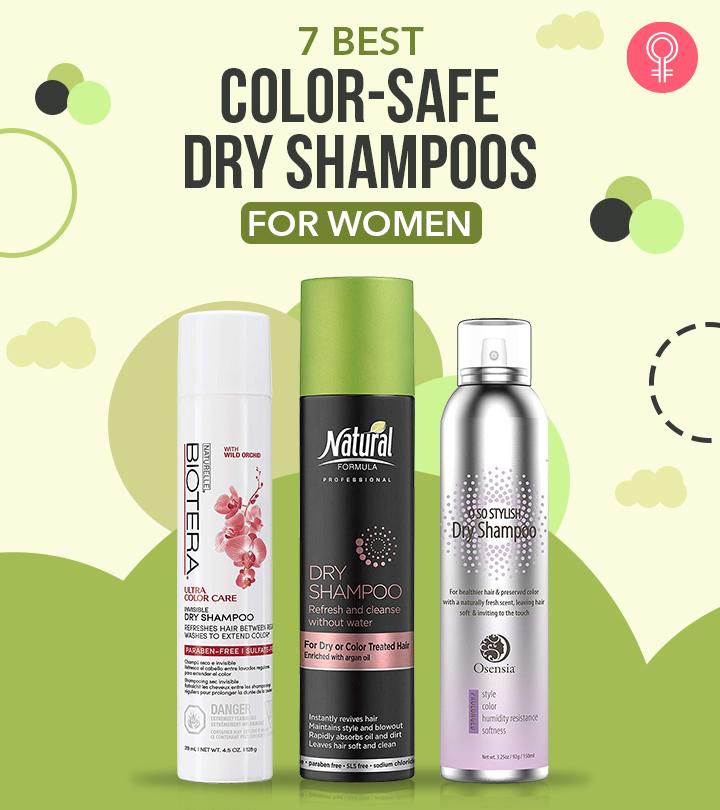 Looking for the best dry shampoo for colored hair? Your wait ends here. Dry shampoos are the most convenient things ever invented for the haircare range and they always make sure your hair looks perfect. Once you color your hair, your hair will need double protection to keep it away from external damage. While you make sure that your shampoo and conditioner are of prime quality, here is a list to make sure your dry shampoo is on the same level and keeps your hair color intact and makes it look shinier than ever.
7 Best Color-Safe Dry Shampoos For Women
The Onsensia O So Stylish Dry Shampoo protects your hair color from fading. It also preserves the vividness of the color and reduces the chances of hair damage. It reduces frizz and soaks up the extra oil and dirt from the hair and scalp. It is enriched with an argan oil formula and other natural oils. This shampoo moisturizes, deodorizes, and resists humidity. It does not leave any residue. This sulfate-free, paraben-free, and cruelty-free dry shampoo leaves your hair feeling soft. The product is also free of mineral oil and petrolatum. It is vegan too. Here is an informative video that tells you more about the product.
How To Apply: Shake the can well. Spray all over the hair to absorb the excess oil. Wait for a minute before you brush or run your fingers lightly through.
Key Ingredients: Argan oil
Pros
Paraben-free
Sulfate-free
Cruelty-free
Gluten-free
Mineral oil-free
Petrolatum-free
Vegan
Anti-humidity
Cons
The Pureology Refresh & Go Dry Shampoo is a color-safe shampoo rich in rice starch. It absorbs excess oil from the roots and adds texture to hair. It helps you style your hair effortlessly. The shampoo includes an anti-fade complex that protects the vibrancy and life of hair color. This dry shampoo is 100% vegan and free of sulfates. It also contains antioxidants that offer protection against UVA/UVB rays. It even comes in a recyclable bottle. For more information about the product, click this video.
How To Apply: Spray the dry shampoo into the roots, focusing on the parting and crown of the head. Comb through the entire hair from the roots to tips for even absorption.
Key Ingredients: Rice starch
Pros
Anti-fade complex
UV protection
100% vegan
Sulfate-free
100% recyclable bottle
Cons
None
The Natural Formula Dry Shampoo absorbs dirt and oil and leaves your hair looking clean and fresh. It is formulated especially for dry or color-treated hair and maintains color vibrancy. This shampoo is enriched with Moroccan argan oil, which moisturizes hair and offers deep nourishment. It also rejuvenates damaged hair. It is free of parabens, sodium chloride, SLS, salt, and talc. It also is hypoallergenic and cruelty-free. Check this video to learn more about the product.
How To Apply: Shake the can well and spray from a distance of 8 to 12 inches. Massage in well. Brush out the excess product and style.
Key Ingredients: Moroccan argan oil
Pros
Talc-free
Sodium chloride-free
Paraben-free
SLS-free
Salt-free
Cruelty-free
Hypoallergenic
Cons
The Suave Professionals Dry Shampoo keeps your hair clean and manageable between washes. It is powered with Keralock technology and infused with keratin that absorbs excess oil and adds longevity to the haircolor. The shampoo minimizes grease and adds body to hair. It extends blowouts and leaves your hair looking fresh and clean.
How To Apply: Shake well. Part and lift hair in sections to apply to the roots. Spray from 8 to 12 inches away. Massage well with fingertips till oil is absorbed. Brush through.
Key Ingredients: Keratin
Pros
Adds volume
Pleasant fragrance
Reduces grease
Reasonable priced
Cons
None
The NaturelleBiotera Ultra Color Care Dry Shampoo removes excess oil from the hair roots. A quick application revitalizes hair and makes it vibrant. This dry shampoo is powered with the properties of a wild orchid that protects and conditions the hair. It maintains color longevity and provides deep hydration to colored hair.
It has a mild scent and leaves no white residue. The Biotera shampoo is free of sulfates, parabens, and salts. It refreshes your hair between hair-wash days.
How To Apply: Shake well. Hold the can 8 to 12 inches away from the hair and spray evenly onto the dry hair and scalp. Focus on the roots. Leave for two minutes and shake out the extra product using fingers or a hairbrush.
Key Ingredients: Wild orchid
Pros
Sulfate-free
Paraben-free
Salt-free
No white residue
Mild fragrance
Cons
Large quantities needed for better results
The Klorane Dry Shampoo with Oat Milk cleanses hair within minutes. Its organic oat milk soothes and protects the hair and maintains the scalp's natural pH balance. It has an ultra-fine, powdery consistency that extends the life of blowouts and hair color.
This dry shampoo is subtle, non-messy, and blends easily. It does not leave any residues or stains. It is vegan, hypoallergenic, and free of parabens, sulfates, and chloride. It is suitable for sensitive scalps as well.
How To Apply: Shake the bottle well and evenly spray over hair from a distance of 10 inches. Focus on the roots. Brush through after two minutes.
Key Ingredients: Oat milk, corn and rice starch, microspheres, silica
Pros
Paraben-free
Sulfate-free
Chloride-free
Silicone-free
Triclosan-free
Vegan
Hypoallergenic
Suits sensitive scalp
Cons
The amika: Perk Up Dry Shampoo gives your hair a clean, conditioned look. It is especially suitable for balayage styled hair. This shampoo prevents oxidation and cancels brassiness. It contains rice starch that volumizes hair and adds an oomph factor to it. It also contains fatty acids and antioxidants that keep hair moisturized. This dry shampoo is free of sulfates, parabens, and phthalates.
How To Apply: Shake the bottle well. Spray on to the desired area from a distance of 8 inches. Focus on the roots. Wait for 30 seconds. Massage well and brush through.
Key Ingredients: Rice starch
Pros
Cruelty-free
Vegan
Sulfate-free
Paraben-free
Phthalate-free
Cons
None
Why Trust StyleCraze?
The author of this article, Shiboli Chakraborti, is a certified skin care coach and hair care enthusiast who loves reviewing different beauty products. She has carefully researched and reviewed many color-safe dry shampoos in this list and curated the final article for her readers. Shiboli believes that the shampoos chosen will nourish your hair, keep your hair color intact while protecting it from external damage.
Frequently Asked Questions
Is a dry shampoo safe for color-treated hair?
Dry shampoos often leave a white, chalky residue on the scalp. But there are dry shampoos specially formulated for color-treated hair that help keep your hair grease-free and give your hair a refreshed color-boost.
Can dry shampoos cause baldness?
Excess use of dry shampoos (daily or even multiple times in a day) could lead to product build-up and may cause hair breakage and loss.
How often should you wash colored hair?
You can wash colored hair two to three times a week.
Is using a dry shampoo better than washing your hair?
Dry shampoo is not a permanent alternative to washing hair. Dry shampoo is a good quick-fix when you are in a hurry and do not have the time to wash your hair. Excess use of dry shampoos can cause dandruff, hair breakage, and loss. Washing your hair is a necessity.
Recommended Articles