15 Best Color Depositing Shampoos You Need To Try Right Now
Let these amazing must-buy products take care of the longevity of your hair color.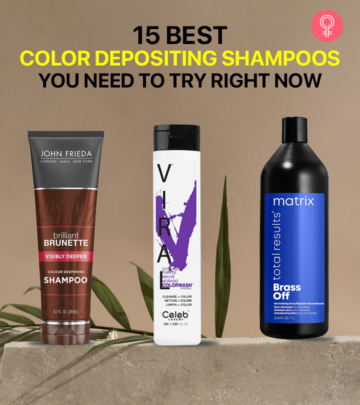 It can be a struggle to make your colored hair maintain that bomb look that it did a few months later, but the best color-depositing shampoo will totally do justice. It is natural for hair color to fade and lose its charm, but with the right product usage, it will look glam. It is better than drilling a hole in your pocket after repeated parlor visits to. You can do it yourself at home with ease. Here are the15 best color depositing shampoos that you should try!
What Are Color Depositing Shampoos?
Color depositing shampoos contain color pigments that replenish your hair color. The pigments are not strong enough to color natural hair, but they effectively neutralize brassy orange or yellow hues. The color depositing shampoos also brighten the colored highlights, making them last longer.
Color depositing shampoos come in different shades for different hair colors. Here's how you can pick the perfect one for your highlights.
How To Pick A Color Depositing Shampoo For Your Colored Hair
Now let's take a look at the 15 best color depositing shampoos you can buy online.
15 Best Color Depositing Shampoos You Need To Try Right Now
The Celeb Luxury Viral Colorwash is best suited for dry hair. This extreme color depositing shampoo contains purple pigments, which neutralize brassy hues in pre-lightened white to palest bright hair. It also tones colors like medium blonde, all brown shades, and virgin hair with highlights. The shampoo has a plant-based formula and refreshes the hair color in a single-use. It is formulated with colorposit technology, which replenishes the vibrancy of color-treated hair. The formula has extra conditioning and smoothing properties to nourish your tresses instantly. You can mix this shampoo with other colors to create custom blends. Learn more about Celeb Luxury Viral Colorwash – Extreme Purple in this video.
Pros
Good coverage
Sulfate-free
Phthalate-free
Paraben-free
Mineral oil-free
Vegan
Cruelty-free
Cons
The Matrix Total Results Brass Off color depositing blue shampoo is ideal for brunettes that lighten their hair color, and dark blonde hair. The cleansing formula of the shampoo has blue-violet pigment to neutralize brassy, orange hues from brown hair in just one application. The shampoo gives a light brown shade and has a sweet floral fragrance of nectarine, vanilla, and rose. Check out this video to better understand the Matrix Total Results Brass Off.
Pros
Pleasant fragrance
Suits over-processed hair
Cons
May leave a purple or blue tint
Dries out hair
The John Frieda Brilliant Brunette Color Deepening Shampoo contains natural ingredients like cocoa and evening primrose oil. It tones and color-corrects the hair,  hydrates, and adds shine to it. The natural cocoa and primrose oil blend enhances dark brown hair. The shampoo has a lightweight texture and intensifies all shades of natural brunette hair colors. For best results, use this shampoo daily.
Pros
Natural ingredients
Cool-tones
Covers gray hair
Cons
May cause hair fall
Color comes out darker
The Redken Color Extend Blondage Shampoo has a gentle formula that cleanses scalp and is ideal for chemically treated hair. It contains ultraviolet pigments and a triple acid protein complex, which tones, fortifies, and brightens hair color. The shampoo prevents undertones from affecting your hair color and makes blonde shades and highlights brighter and healthier.  It is formulated with key ingredients like salicylic acid, which strengthens hair and clears clogged hair follicles, and pure violet pigments neutralize brassiness. The citric acid in the formula fortifies hair and makes blonde hair cool and vibrant.
Pros
Pleasant scent
pH-balanced
Cons
Contains SLS
Contains phenoxyethanol
The Provoke Illuminex Touch Of Brunette Enhancing Shampoo is best suited for oily, dry, and normal hair. It eliminates brassy tones in all brown shades, natural or colored. The shampoo is developed with an exclusive IoPlex technology, which improves color vibrancy and blends away grays after a single wash. It contains inca inchi oil that makes hair soft, smooth and silky and works on coarse hair. The hydrating AquaPlex formulation of the shampoo replenishes and restores hair. It contains UV filters that prevent color fading.
Pros
Pleasant grape fragrance
Sulfate-free
Paraben-free
Silicone-free
Vegan
Cons
Dries out hair
No gray coverage
The Pure Blends Hydrating Color Depositing Shampoo in the shade sun has a soft yellow color base to brighten or refresh all shades of blonde tones. The cleansing formula contains coconut oil, keratin, eggplant, marigold, cherry bark, and collagen. This blend of ingredients smoothes and fortifies hair to make it healthy. The formula also uses a fade protection complex and a color correction system to refresh colored hair.
This sulfate-free shampoo allows moisture to enter deep into the hair to nourish it from within. It suits all hair types, including chemically-treated hair. The gentle formula cleanses the scalp and hair, removing all dirt and buildup. It repairs and rejuvenates dry, damaged hair and also reduces frizz, and prevents hair breakage.
Pros
Natural ingredients
Sodium chloride-free
SLS-free
Rich pigments
Pleasant fragrance
Cons
The Dark Envy color depositing shampoo from Matrix Total Results is a green shampoo that neutralizes brassy red undertones in black and dark brown hair colors. It leaves hair with a glossy finish and is best suited for chemically-treated hair. The shampoo contains a combination of blue and yellow direct dyes to neutralize red undertones. It has a pleasant scent of citrus, jasmine, and cedarwood.
Note: Do not be used it on gray or white hair as it may leave a greenish hue..
Pros
Intense color
Easy application
Stain-free
Cons
The Four Reasons Color Mask Toning Shampoo in the shade rose is ideal for color-treated hair and contains pink pigments to neutralize brassy tones in blonde and light brown hair. It strengthens color-treated hair without stripping moisture or fading the highlights. This shampoo improves hair shine and reduces static. It is a 100% vegan and sulfate-free product that also provides UV protection to hair.
Pros
UV Protection
Sulfate-free
Vegan
Cruelty-free
Cons
Laguna Moon Tone-Correcting Purple Shampoo is specially formulated for blonde, gray, and silver hair. It contains violet pigments that remove brassy and yellow undertones, thereby brightening up your hair. It also contains a nourishing blend of hyaluronic acid, vitamin E, rose essential oil, and rosehip oil that repair damaged hair, replenish moisture, and offer a little bounce. Additionally, the shampoo has nutrients that repair your split ends for a frizz-free look.
Pros
 Refreshing scent
 Non-irritating
 Paraben-free
 Cruelty-free
 Suits all hair types
Cons
None
The Water Colors Intense Shampoo in the shade purple is ideal for chemically and color-treated hair.  It is developed with specially formulated reflective color enhancers, which deposit color to brighten hair color and improve shine. This shampoo is pH balanced and intensifies hair color without stripping its moisture. It accentuates natural and pre-lightened hair colors, neutralizes unwanted hues, and prevents fading. The shampoo comes with a free steel pin, rat-tail comb for precise and better application.
Pros
Easy to use
Stain-free
pH-balanced
Includes free rat-tail comb
Sulfate-free
Paraben-free
Cons
The dp Hue Cool Brunette Shampoo contains blue pigments to eliminate unwanted orange, red and yellow brassy tones. This shampoo contains silk proteins and hibiscus flower extract, which improves the luster, and brightness of hair and strengthens the hair follicles. It hydrates and softens hair, cleanses the scalp, increases color brightness, and prevents color fading. The shampoo is perfect for both color-treated and naturally brown and dark hair.
Pros
Paraben-free
Sulfate-free
Phthalate-free
Gluten-free
Silicone-free
Color-safe
Animal friendly
Non-greasy
Cons
The Best Earth Naturals Color Boost shampoo coats each hair strand to give full gray coverage. It tones and color-corrects all black hair color shades and also adds shine. The gentle formula cleanses the scalp and volumizes the hair. It contains wheat protein, panthenol, glycerin, and chamomile. Wheat protein strengthens hair strands to prevent hair breakage. Panthenol soothes and heals the scalp while promoting healthy hair growth. Glycerin seals the moisture within hair strands, and chamomile enhances the hair color.
Pros
Good coverage
Contains hydrolyzed keratin
SLS-free
GMP certified
Contains natural ingredients
Cons
May stain surfaces
May dry out hair
If you have colored your hair red, this shampoo is for you. The Four Reasons Color Mask Toning Shampoo in the shade red cleanses the scalp and hair, improves shine, and reduces static. It contains red pigments that even out and replenish copper, red, and brown colored hair. The lighter the color shade, the more intense the red pigmentation will appear to be. The sulfate-formula also provides UV protection and makes hair healthier.
Pros
Intense pigment
Easy application
Sulfate-free
UV Protection
Cons
May stain clothes
May leave a pink tint
The Bumble and Bumble Color Minded Sulfate Free Shampoo has a gentle formula to prevent hair color fading. It is best suited for dry hair and is formulated with an exclusive color-preserving complex that improves color vibrancy and shine. The shampoo smooths the cuticle to minimize frizz from humidity. It is developed with an exclusive two-polymer technology which repairs processed, damaged, and color-treated hair. This technology opens the cuticles to deposit color to the hair shaft, then seals to prevent color washouts.
Pros
Mild formula
Pleasant fragrance
Paraben-free
Sulfate-free
Phthalate-free
Mineral oil-free
Formaldehyde-free
Cruelty-free
Cons
Makes hair greasy
Makes hair frizzy
makes hair dry
The Technician Color Shampoo from FEKKAI comes with a new clean formula that extends color intensity. It is formulated to repair color-treated hair and has a gentle formula suitable for chemically-treated hair. The formula contains mirabelle plum seed oil that is rich in antioxidants, fatty acids, and polyphenols to protect and nourish your hair. In addition, the shampoo protects the hair from UV and environmental damage. It is lightweight and has a non-greasy texture and lovely peach fragrance.
Pros
Lightweight
Non-greasy
Pleasant fragrance
Paraben-free
Phthalate-free
Silicone-free
Vegan
Eco-friendly
Cruelty-free
Gluten-free
Cons
The best part about using these color depositing shampoos is that it does not take much time and energy to use them. Here are a few tips for using color depositing shampoos.
How To Use Color Depositing Shampoos
Section your hair with a  comb.
Wash your hair with warm water.
Apply the shampoo to each section.
If you have a darker shade, leave the shampoo on for a few minutes before washing it off.
Rinse off with cold water and apply a conditioner.
Additional Tips
Color depositing shampoos may stain the walls and floor. So, ensure to cover them.
Wear gloves when applying the shampoo to prevent staining.
Apply petroleum jelly to the exposed areas near the hairline.
Use the shampoo at least twice a week to increase the color intensity and for touch-ups.
Color depositing shampoos are cost-effective and easy to use, so what's the catch? Find out below!
Are There Any Side Effects Of The Color Depositing Shampoos?
Some color depositing shampoos use chemicals and ingredients that may cause allergic reactions like burning sensations, swelling, redness, severe hair fall, itching, and small red bumps. Perform a patch test before using. To do it,
Apply some shampoo to the back of your neck or forearm, Wait for a few minutes and wash off.
If you do not experience skin irritation in the next 24 hours, use the shampoo.
Alternatively, apply shampoo to a small hair section from the root to the tip. Wait for a few minutes. If you do not experience redness, itching, or swelling, use the shampoo.
Why Trust StyleCraze?
The author, Shiboli Chakraborti, is a certified skin care coach. She relies on color-depositing shampoos to prevent color fading and believes that they are a must-have for anyone who has color-treated hair. She has carefully researched the products and reviewed online reviews to pick the best ones for her readers.
Frequently Asked Questions
Do color depositing shampoos damage hair?
No. Color depositing shampoos are not permanent hair coloring products. They make hair healthier and softer since they do not contain any bleaching agents.
How long does a red color depositing shampoo last?
Depending on the frequency of usage, it can last anywhere between 2-3 days and two weeks at the most. Use daily for lasting effects.
Does the color wash out in the swimming pool?
Yes. The chlorine in swimming pool water can fade hair color.
Does color depositing shampoo really work?
Yes, color depositing shampoos work well. They neutralize brassiness and enhance the vibrancy of the hair color.
How often should I use a color depositing shampoo?
Ideally, you should use a color depositing shampoo twice or thrice weekly.
How long should I leave the color depositing shampoo on?
Leaving your color depositing shampoo on for five straight minutes is enough.
Does color depositing shampoo work on dark hair?
Yes, some color depositing shampoos with special formulas work on dark hair.
Is color depositing shampoo the same as hair dye?
No, color depositing shampoo and hair dye are very different in how they work. A color depositing shampoo has color pigments deposited onto your already colored hair and enhances the natural vibrancy of the color. But a dye is used to color your natural, uncolored hair.