15 Best Red Hair Dyes Of 2021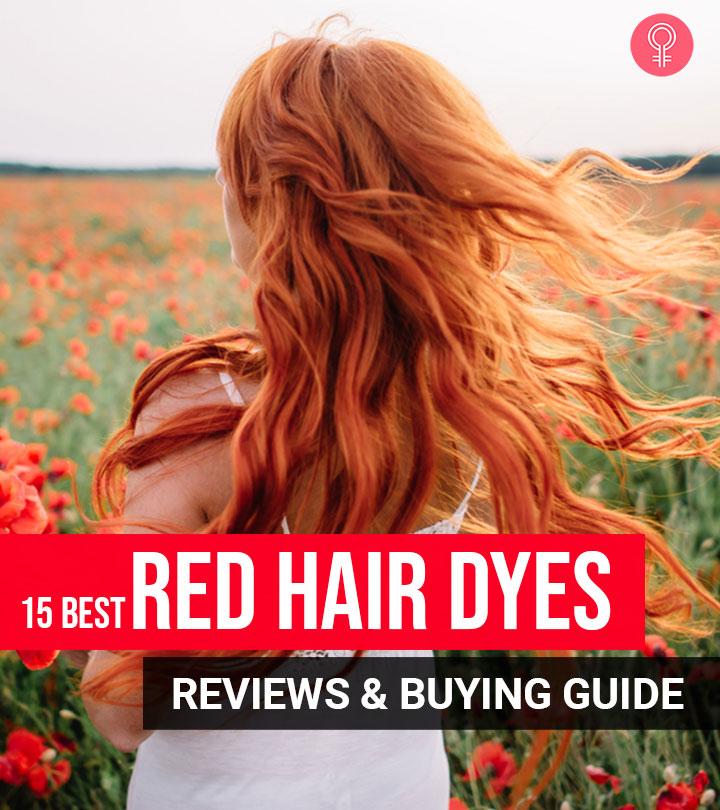 It's feisty. It's intense. It's vibrant. It's red.
Red is one of the most intense and attention-grabbing colors. It is a color that will never go out of trend. If you are thinking of dying your hair red, you are on the right page. All you need is the right shade of red to match your skin tone. Luckily, we can help you pick one. Scroll down and check out our list of the 15 best red hair dyes to die for.
15 Best Red Hair Dyes To Try
The Revlon Colorsilk Beautiful Color in Vibrant Red is a rich, long-lasting, and ammonia-free color. This hair color offers 100% gray coverage and is developed with Revlon 3D Color Gel Technology that ensures rich and natural-looking color. It is enriched with silk amino acid and keratin that penetrate the hair while coloring to keep it shiny, soft, and silky. The non-drip formula deposits a rich color minus any unpleasant smell and is gentle on your hair. The pack includes a colorant, a developer, and an after-color conditioner.
Pros
Ammonia-free
Easy to apply
Natural-looking
100% gray coverage
Cons
The Arctic Fox Semi-Permanent Hair Color in the shade Poison is a true red hair color for the feisty souls. This vegan hair dye gives a vibrant and intense red shade with a slight orange undertone, meaning it will not fade to become pink but will gradually fade into a lighter shade of red. It is gentle enough for frequent use and conditions your hair. The color gives a subtle dark tint on black or dark hair but offers a vibrant color on hair pre-lightened up to level 8.
Pros
Cruelty-free
Vegan
Ammonia-free
Ethyl alcohol-free
PPD-free
Peroxide-free
Pleasant fragrance
Easy to apply
Cons
The L'Oreal Paris Feria Powered Red hair color is gentle and provides deep conditioning to your hair to nourish it from within. The shade Rich Auburn True Red gives a burgundy-red color without bleaching or lightening your hair. It also has a shimmery effect and ensures bold prismatic color. This dye comes in a liquid gel form and is excellent for highlighting. It is not suitable for gray coverage.
Pros
Long-lasting
Ammonia-free
Permanent hair color
Does not fade easily
Cons
The Pravana ChromaSilk in the shade Red is an intense shade and does not need a developer to stain darker hair. This product can be mixed and matched with any other red dye to achieve a red shade that best suits your skin tone. Even though this is a semi-permanent dye, it lasts a long time and is suitable for all hair types.
Pros
Does not bleed
Long-lasting
Affordable
Mild scent
Easy to use
Cons
The Garnier Olia Bold is perfect for you if you are looking for a color that is not very vibrant, offers great coverage, and lasts long. The shade 7.45 Intense Fire Ruby is an intense mix of copper and mahogany and is best for anyone who has medium blonde to medium brown natural, uncolored hair. The ammonia-free dye contains a blend of 60% natural flower oils that deeply conditions the hair without weighing it down, keeping it soft and smooth.
Pros
Non-drip formula
Pleasant floral scent
Gray coverage
Non-drying
Cons
If you are looking for deep, blood-red color, try the classic high-voltage shade Vampire Red by Manic Panic. This is a cream-based temporary hair dye that gives a burgundy shade on virgin, unbleached hair. For a more vibrant red, the hair needs to be bleached to at least level 8 blonde. This vegan hair dye has hair conditioning and smoothing effects. The product comes in a resealable tub and application instructions.
Pros
Non-drip cream formula
Easy to apply
Paraben-free
Ammonia-free
Cruelty-free (Leaping Bunny Certified)
PPD-free
Cons
May stain while washing hair
The Schwarzkopf Color Ultime gives a vibrant color that does not fade for up to 10 weeks. It is infused with Diamond Brilliance Serum that conditions your hair, giving it a luminous shine from root to tip. This wine-red hair shade blends well with warm and cool skin tones and is suitable for all hair types.
Pros
Does not bleed when wet
Natural-looking
Excellent coverage
Cons
The Vidal Sassoon Pro Series Ultra Vibrant Color in the shade 6RR Runway Red is a bright copper-red color that stays up to eight weeks, giving you salon-quality results. The shade is mixed with the right blend of pigments to give you vibrant, shiny, and glossy hair. The special water-resistant conditioner coats each hair strand to prevent fading.
Pros
Great coverage
Does not bleed when wet
Cons
The Punky Colour Conditioning Hair Color gives semi-permanent results. The shade Poppy Red is a warm rose red shade. This conditioning formula contains a proprietary blend of Keratin Complex that adds a protective barrier to the hair to strengthen it and prolong the hair color for 5-40 washes. The dye has a delightful fragrance and does not require a toner or a developer.
Pros
Affordable
Ammonia-free
Easy to apply
Pleasant fragrance
Does not dry the hair
Cons
Stains the skin
Color bleeds when wet
The Adore Semi-Permanent Hair Color in the shade 64 Ruby Red gives a bright and shiny red hue to your hair. It deposits natural-looking color on the hair and conditions it to feel soft and smooth. This formula can easily be mixed with other dyes to create a unique signature shade. The color looks vibrant on naturally light or bleached hair.
Pros
Affordable
Easy to use
Does not stain
Keeps hair moisturized
Cons
The Splat Original Crimson Obsession is ideal for dark hair. This semi-permanent color lasts for 30 washes, depending on your hair type. It contains baobab seed oil that nourishes your hair follicles and quinoa extract that strengthens and protects your hair. This formula locks in color and improves shine, giving vibrant results. The kit includes hair bleaching and coloring products. If you have dark hair, you can bleach it before coloring to get a vibrant hue.
Pros
Long-lasting
Softens the hair
Easy to apply
Paraben-free
Sulfate-free
PPD-free
Ammonia-free
Cons
May bleed and stain the skin
The Dark And Lovely hair color is formulated to help protect relaxed and natural hair. It contains three fruit oils – shea, avocado, and olive oils – that provide intense nourishment to the hair to keep it soft and moisturized. This hair color gives 100% gray coverage and has a fade-resistant formula, so your color will stay for at least eight weeks. It provides a brilliant copper hue, and the package includes a conditioner rich in argan oil and vitamin E for further protecting the color and the hair.
Pros
Affordable
Easy to use
Non-drip formula
Moisturizes the hair
Does not damage the hair
Cons
May cause a burning sensation
The Clairol Natural Instincts hair color contains keratin that protects the hair from damage caused by coloring. This product has an ammonia-free formula and is infused with coconut oil to keep the hair moisturized and healthy. It coats each strand and gives a vibrant, semi-permanent red hue that will last 28 washes. The non-drip formula has a mess-free application and comes with a color-treat conditioner.
Pros
Ammonia-free
Non-drip formula
Easy to apply
Does not dry the hair
Cons
The Sparks Hair Color in the shade Red Velvet is a direct dye and does not need a developer. It gives a bright red hue and is ideal for those who have naturally light or bleached hair. This product is a high-quality professional-grade hair coloring system and comes with easy step-by-step instructions. The hair color does not wash out quickly and keeps your hair feeling soft and shiny. It can be mixed with other shades by the same brand for customized colors.
Pros
Affordable
Vegan
Suitable for all hair types
Easy to use
Does not dry the hair
Cons
May stain
Not for dark hair
The Special Effects Hair Color gives semi-permanent results and has a cream-based formula. The shade Blood Red works on thick and dark hair and lasts for up to a month without fading. However, on pre-bleached hair, the color may last for more than a month.
Pros
Vegan
Cruelty-free
Not tested on animals
Softens the hair
Easy to use
Long-lasting
Cons
These are the best red hair dyes that you can buy online. However, you will get multiple shades of red on the market, and not all may suit you. Consider this checklist before picking a color for you.
What To Consider Before Buying A Red Hair Dye?
Not all shades of red give equal results on all hair colors. Some shades of red work best for a natural blonde or light hair, while some shades of red work even on black or dark hair. If you have dark hair and are okay pre-bleaching it before dying it red, you can pick any red shade you like. However, if you do not prefer bleaching, pick a brand and shade that will work for naturally dark hair.
If you have warm undertones, pick shades like auburn, copper, or deep orange-red. If you have cooler undertones, pick shades that have a purple-blue tint like burgundy or magenta-red.
Permanent Or Semi-Permanent
Permanent dyes last longer. It is best if you prefer keeping the shade for a longer period or at least a month. Permanent dyes are also best for brunettes and natural redheads who want to enhance their hair color. However, if you wish to flaunt a temporary hair color just for fun or a party, which can be washed out easily, you can try semi-permanent hair dyes.
Choose a brand that is easy to apply. Some hair dyes can be applied straight out of the box, while some need to be mixed with a developer before application. Also, some hair dyes can be mixed with other shades of red for a more customized shade. If you want a fuss-free application, you can pick dyes that do not need a separate developer and can be applied directly.
Red is stunning. Whether you want to go for a dramatic makeover or flaunt your fiery personality, dying the hair red always does the trick. If you want to make a bold statement, scroll up, and pick any shade of red from our list.
Expert's Answers For Readers' Questions
How do you keep bright red hair vibrant?
Avoid washing your hair frequently after coloring. Use a color-protecting shampoo, conditioner, and hair serum to maintain color vibrancy.
How long does permanent red hair dye last?
This solely depends on the brand you choose and the way you maintain your dyed hair. If you wash your hair too frequently or use heat treatment, the color will fade faster. Also, use specialized products for color-treated hair. If maintained properly, the color should stay for at least 8 weeks without fading.
How often can I dye my hair?
It is recommended to wait for at least 3 to 4 weeks before reapplying your dye. Frequent dying can cause dryness and hair breakage.
How long should I leave the dye on my hair if I have resistant gray hair?
Usually, hair dyes should be left for at least 30 minutes before washing it off. However, it is best to follow the manufacturer's instructions.
Recommended Articles