9 Best Elegant Hair Barrettes For Thin Hair That Elevate Your Hairstyle
Get a stylish grip on your fine silky hair with these high-fashioned accessories.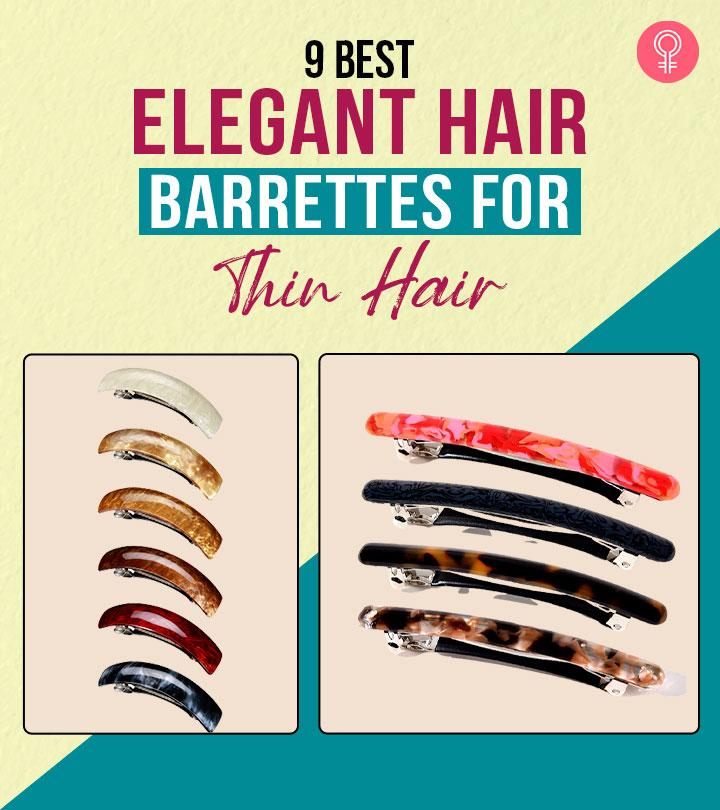 If you have fine hair, you may find it difficult to find the right hair accessories for your hair. However, if you want to go a little over the top and get that funky 90s look, you can invest in the best barrettes for thin hair. These barrettes will instantly glam up any hairstyle and tame unruly hair. Be it Alicia Keys or Billie Eilish, they all love wearing pearl-encrusted and rhinestone-studded barrettes. Keep reading to learn about the best barrettes and try some of these beauties. Scroll down!
9 Best Hair Barrettes For Fine Hair
The trendy, metallic Scunci No-Slip Barrettes add elegance to your hairdos and prevent flyaways. They come with a non-slip grip mechanism that holds your hair without pulling or tugging. These easy to fasten barrettes open from the center and add an interesting vibe to your updos. In this pack, you get 6 pieces in solid colors that complement both formals and casuals.
Pros
Long-lasting
Budget-friendly
Does not tug or pull hair
Opens well and wide
Slip-resistant
Cons
Price at the time of publication: $4.49
These assorted, resin-encrusted barrettes from Cridoz are perfect for adding a dose of glam to your hair. These clips come with metallic, non-slip alligator closure that holds on to your hair without hurting the hair roots. In this pack, you get 12 clips in assorted colors and patterns.
Pros
Slip-resistant closure
Durable
Lightweight
Cute design
Can hold large section of hair
Easy to put on and remove
Value for money
Suitable for all hair types
Cons
Price at the time of publication: $8.99
These petite, vintage French barrettes are perfect for people with fine hair. These barrettes, running between 2.3 inches to 3.3 inches in length, keep your hair away from your face, while adding some radiance to your outfit. These copper-made clips come with intricate flower, leaf, and butterfly detailing encrusted with sparkling rhinestones. In this pack, you get 4 assorted pieces, beautifully packed in a box.
Pros
Sturdy clips
Vintage design
Easy to open and close
Does not tug or pull hair
Lightweight
Cons
Price at the time of publication: $13.49
Dazzle your layers and bangs with the Goody Stay Tigh Hair Barrettes. These 3-inch-long metallic hair clips hold on to your hair without slipping off, keeping your tresses in place. In this pack, you get 3 clips in assorted colors. They are suitable for all types of hair and help in creating elegant hairstyles.
Pros
Lightweight clips
Non-slip grip
Does not tangle hair
Does not pull
Durable
Value for money
Cons
Price at the time of publication: $5.34
This Camila Paris CP1476 French Hair Barrette is a simple yet elegant black colored hair clip. It is 4.25 inches long with super strong closure for all hair types and lengths.
The lightweight and sturdy hair barrette has rubber coated finish that fits comfortably without tugging, pulling, or damaging the hair. It is made from cellulose acetate, which is a highly durable and sturdy material. It helps create different hairstyles like partial quick updo or bun full updos.
Pros
Lightweight
Durable
Sturdy
Rubber clasp
Non-slip
Ideal for everyday usage
Cons
None
Price at the time of publication: $13.95
DonLeeving Luckycivia Hair Barrette comes with a simple yet gorgeous celluloid onyx detailing that suits most hair types. These 4-inch-long clips have a strong and sturdy gold-toned clasp that holds your hair well, keeping it in place. In this set, you get 2 assorted clips.
Pros
Stays put
Not too tight
Sturdy clasp
Flexible
Lightweight
Cons
Celluloid upper breaks on slight impact
Price at the time of publication: $7.99
The lightweight, 3.5-inches long barrettes from Fsmiling hold the fine hair with ease. They come with shiny, colorful cellulose acetate uppers and easy to close automatic clasps that keep your hair away from your face without pinching, pulling, or damaging your hair strands. With these clips, you can go for half up-half down or twisty hair styles.
Pros
Comfortable
Chic designs
Vibrant colors
Durable
Does not slip off
Good clasps
Cons
None
Price at the time of publication: $9.99
You can wear these simple, fashionable Sumaju Tortoise Shell Hair Barrettes every day. Their fade-proof acrylic upper and metal alloy clasp holds on to your hair while you try out intricate hairstyles. Its superior quality spring works well on thin, curly, or thick hair without causing damage. You get 6 beautiful hair clips in assorted colors in this pack.
Pros
Fun designs
Slip-resistant
Sturdy metal clip
Easy to use
Budget-friendly
Cons
Price at the time of publication: $7.99
WILLBONG Retro Large Hair Barrettes are made of acrylic and metal material and have a smooth, even surface. These clips are durable, fade-proof, and extremely lightweight, and do not put any pressure on your head. Their study metallic clasp holds your hair firmly and keeps it intact without any slipping or sliding off. They come in packs of 6 assorted clips that you can match with your outfits.
Pros
Vintage design
User-friendly clasps
Strong hold
Lightweight
Cons
Price at the time of publication: $10.99
Barrette clips look amazing on all types of hair – they are sturdy and make you look put-together and classy. However, you need to make sure that the barrette hair clips you buy come with a few critical components if you want to get the most use out of them. Check out this buying guide to know the factors to consider while choosing the best barrette hair clips.
What To Look For Before Buying Barrette Hair Clips
Always make sure to opt for durable and long-lasting hair clips. Metal and plastic are the two most common materials used to make barrette hair clips. If you want something long-lasting and less likely to break, go for metal ones. Ensure their paint does not flake off quickly and that they are simple to put on and take off without creating any knots or damage to the hair.
Opt for a barrette hair clip that you can get the most out of and that can be worn in various ways. Look for hair clips in multiple sizes and colors to create a wide range of hairstyles, from simple twists to half updos and low ponytails. Unless you want a vivid and lively appearance, it's best to stick to neutral hues like black and brown.
The packaging of barrette hair clips is another crucial aspect because it can affect how the clips are stored. Since barrettes are so easily misplaced, you should ensure they have sturdy and secure packaging.
If you have super silky hair, chances are clips and barrettes don't stay up in your hair. In that case, opt for clips that are slip-resistant. Opt for clips that hold large sections of hair to ensure better support for those of you who have a thick mane.
The most convenient way to handle fine, straight hair would be just to let it down, but we all know how it will end. Barrettes keep your hair out of your face while adding glamor and spice to your monotonous hairstyle. With celebrities embracing these beautiful, studded hair accessories, barrettes are the de riguer right now.
Why Trust StyleCraze?
The author of this article, Shiboli Chakraborti, is an ardent haircare enthusiast. She uses her extensive knowledge of product formulations, ingredients, and excellent research skills to bring leading haircare products to her users. She meticulously went through customer feedback online and collated this list of the best hair barrettes her users must buy. These products are long-lasting, slip-resistant, and make you look like a diva at an affordable price.
Frequently Asked Questions
How do you get barrettes to stay in your hair?
Clipping the section of hair in place is not enough for the barrette to stay in place. Fix the hair with a bobby pin just underneath the barrette to keep the hair in place, as well as use hairspray or texture spray to secure the barrette and the hair around it.
What is the difference between a barrette and a clip?
There is no difference between a barrette and a clip. A hair clip is called a barrette in American English. The barrette is called a hair clip in British English. They are made of either metal or plastic.
Do snap barrettes damage hair?
Harsh clips like snarls, headbands, snags, snaps, or hair ties can rough up or tangle the strands and also cause breakage. Use them carefully and mindfully to keep your hair healthy.
What are French barrettes?
French barrettes are a secure, strong, smooth base with a tension bar that holds your hair in place. The claps are made of two prongs that hold your hair between the arm and the tension bar.
Can adults wear barrettes?
Yes, grown women can wear hair clips to style their hair.
Recommended Articles