Best Anti-Dandruff Shampoos Available In India – Our Top 20
Non-greasy, mild formulas to eliminate breakage and maintain a healthy scalp.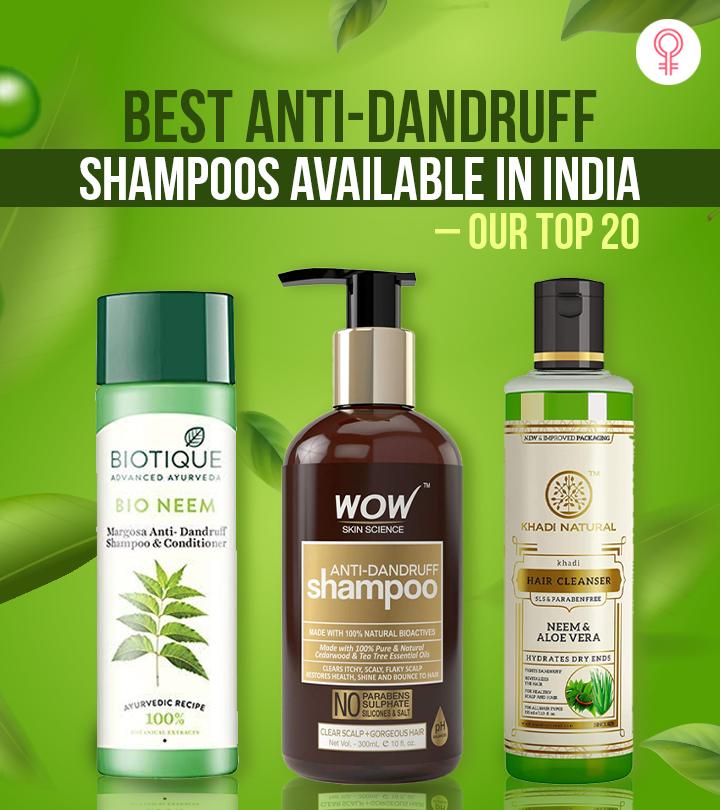 Are you embarrassed by the constant itching and visible flaky dandruff falling on your clothes? Anti-dandruff shampoos are your best bet! Having dandruff is an indicator of poor scalp health and usually occurs when you don't regularly wash your hair as you are supposed to. Your solution to this problem lies in a good anti-dandruff shampoo.
These shampoos are specially formulated to help treat dandruff woes and scaly scalp. This article lists the 20 best anti-dandruff shampoos in India. Scroll down to check them out!
20 Best Anti-Dandruff Shampoos Available In India – Our Top 20
The anti-dandruff shampoo from Head & Shoulders is an effective solution for your dandruff problems. It keeps your hair smooth and silky from root to tip. This shampoo cleanses, nourishes, and protects the hair and scalp, and makes them healthy.
The gentle pH-balanced formula makes this shampoo ideal for regular use. It is one of the best anti-dandruff shampoos specially formulated to moisturize and condition the scalp and hair follicles. It transforms dry, damaged, and frizzy hair into luxurious and manageable locks. This formula is suitable for chemically treated hair.
Key Ingredient: Zinc carbonate
Pros
Gentle
pH-balanced formula
Ideal for regular use
24-hour frizz control
Lathers well
Pleasant fragrance
Color-safe
Suitable for chemically treated hair
Cons
Contains SLS
Not suitable for severe dandruff.
Price at the time of publication: ₹28.5
This medicated shampoo from Abbott helps eliminate dandruff and tinea versicolor. It targets the dandruff-causing fungi and prevents dead skin cell formation and buildup. The shampoo is enriched with active ingredients like selenium sulfide and has a buffered emulsion base. The presence of selenium sulfide effectively brings the scalp infection under control and reduces further chances of dandruff. It works its way from the roots to the tips and relieves itching and flaking.
Key Ingredients: Selenium sulfide
Pros
Mild fragrance
Medicated formula
Recommended by dermatologists
Cons
Dries out the scalp and hair.
The Wow Skin Science Anti-Dandruff Shampoo is prepared with 100% natural botanical ingredients like pure cedarwood, tea tree essential oils, soy proteins, and almond proteins. Cedarwood and tea tree oil have antiseptic and antifungal properties that effectively clear and relieve itchy, scaly, and flaky scalp, increase blood circulation, and stimulate hair growth, making it voluminous and bouncy.
The soya and almond protein in the shampoo add strength and reduce hair fall. This shampoo nourishes your hair from deep within the roots and restores its health and natural shine. Regular use of this product neutralizes dandruff-causing fungus and unclogs the hair follicles. The shampoo balances the scalp's pH and retains moisture post hair wash.
Key Ingredients: Cedar wood, Tea tree oil, Soy protein, and Almond protein
Pros
Plant-derived actives
Softens hair
Mild fragrance
Paraben-free
Sulfate-free
Silicone-free
Salt-free
Cons
The Scalpe Pro Anti-Dandruff Shampoo has a 3-way action that not only eliminates dandruff but also strengthens and conditions the hair. It is infused with climbazole that eliminates dandruff and prevents it from coming back. ZPTO weakens dandruff and relieves the scalp of irritants that cause itchiness.
The piroctone olamine in the shampoo improves the thickness of the hair shaft and roots, preventing hair fall, breakage, and split ends. The formula also contains a conditioning base that keeps your hair and scalp well moisturized and nourished. It is available in a compact bottle with an open and shut lid that is convenient to use during travels.
Key Ingredients: Climbazole, ZPTO, and Piroctone olamine
Pros
Perfect for daily use
Suitable for all hair types
Dermatologist-tested
Does not dry out the hair
Controls frizz
Lathers well
Cons
The Dandruff Care Shampoo from Dove is rich in micro moisture serum that provides your hair with the superior nourishment that it needs. Regular use of this shampoo reduces visible flakes and leaves you with beautiful, shiny hair. This shampoo is formulated with ZPTO that is proven to be effective in dandruff treatment. It is suitable for dry hair and imparts a fresh, clean fragrance with every wash.
Key Ingredients: ZPTO
Pros
Smells good
Non-drying
Gentle
Cruelty-free
Cons
The Himalaya Anti-Dandruff Shampoo is enriched with tea tree oil that fights dandruff without causing side effects. It restores healthy hair by keeping the strands and scalp free of fungal infections.
This shampoo is also infused with aloe vera extracts that hydrate the hair strands and moisturize them deeply. It keeps your hair smooth and soft until the next wash. The anti-dandruff and antimicrobial properties of grapeseed protect your scalp from itchiness, and the tea tree oil balances the scalp's pH level and improves blood flow. This gentle shampoo acts as a natural UV inhibitor.
Key Ingredients: Tea tree oil, Aloe vera, and Grapeseed
Pros
Herbal formula
Smells good
Imparts shine
Suitable for all hair types
Cons
The Nyle Naturals Anti-Dandruff Shampoo has a natural plant-based formula that comes with Mother Nature's therapeutic and healing effects. It is formulated with curd, aloe vera, and lemon. Curd is rich in multivitamins and proteins that nourish the hair from deep within the hair follicles and effectively eliminate dandruff. Aloe vera is a natural moisturizer that conditions the hair and locks in moisture. The acidic nature of the lemon extracts cleanses greasy hair and fights off dandruff-forming microbes. This shampoo is mild and can be used daily.
Key Ingredients: Aloe vera, Curd, and Lemon
Pros
Natural extracts
pH-balanced
Gentle
Pleasant smell
Paraben-free
Cons
None
Price at the time of publication: ₹25.5
The anti-dandruff shampoo from Dabur Vatika Naturals gently cleanses dandruff and leaves you with a clear scalp. It deeply cleanses your hair without making it dry and brittle. This effective formula brings together the power of seven natural ingredients that work in tandem to make your hair stronger and healthier.
It contains lemon, rich in vitamin C, that prevents hair fall and eliminates dandruff. The formula is also infused with methi that has antioxidant and anti-inflammatory properties that reduce scalp irritation and make your hair lustrous. Tea tree oil kills dandruff-causing fungi and bacteria, while rosemary and almond oil nourish and moisturize the hair from the root to the tip. The shampoo cleanses dirt, dust, pollutants, excess grease, and oil from the scalp and keeps it nourished.
Key Ingredients: Lemon, Tea tree oil, Methi, Almond, Rosemary, Aloe vera, and Henna
Pros
Herbal ingredients
Dermatologically tested
Ideal for regular use
Moisturizing formula
Paraben-free
Cons
None
The Khadi Natural Hair Cleanser is enriched with the antibacterial benefits of neem that kill fungi, bacteria, and microbes, reduce dandruff infestation, and remove dead skin cell buildup. It also contains aloe vera that restores the health and vitality of the hair and scalp. This shampoo adds hydration, shine, and volume to the hair and makes it manageable.
Key Ingredients: Neem and Aloe vera
Pros
Organic
Restores damaged hair
Dermatologist-tested
Ideal for daily use
SLS-free
Paraben-free
Cons
Scalp itches after hair wash
.Dries out the hair.
Price at the time of publication: ₹8.99
The advanced 2-in-1 Ayurvedic formula of Biotique's Anti-Dandruff Shampoo & Conditioner effectively clears dandruff on the scalp. It maintains the pH balance of the scalp and reduces dryness, flakes, and itching.
The key ingredients used in this shampoo are neem tree bark, gandhak, bhringraj plant, ritha fruit, and lotion base that work in tandem to make your hair fresh and smooth. This anti-dandruff shampoo stimulates blood circulation through the scalp, adds volume to the hair, and makes it bouncy. It creates a rich lather and suits all hair types, including normal, oily, combination, dry, and frizzy hair.
Key Ingredients: Neem tree bark, Gandhak, Bhringraj plant, Chotidudhi, and Ritha fruit
Pros
Ayurvedic formula
Paraben-free
2-in-1 product
Preservative-free
Cruelty-free
Cons
Price at the time of publication: ₹11.99
The Dandruff Control Shampoo from Re'equil ensures long-lasting relief from dandruff-causing fungus. The active ingredients used in this formula include piroctone olamine and seven other botanical extracts – lemon, watercress, ivy, sage, seaweed, great burdock, and common soapwort. All these ingredients possess antibacterial, antifungal, and antiseptic properties that prevent the recurrence of dandruff.
This shampoo regulates sebum production and prevents the scalp from becoming oily and prone to dandruff. It is free of chemicals that can cause hair damage and is dermatologically tested. This product can be used regularly to eliminate greasy, severe, and stubborn dandruff.
Key Ingredients: Piroctone olamine, Lemon, Watercress, Ivy, Sage, Seaweed, Great burdock, and Common soapwort
Pros
Natural ingredients
Clinically proven
Non-comedogenic
Mild
Subtle scent
Non-drying
Silicone-free
Sulfate-free
Paraben-free
Cons
Expensive
Makes the hair frizzy.
The Matrix Biolage Advanced Scalppure Shampoo cleanses your hair and scalp thoroughly. It leaves a fresh, minty fragrance after every wash. The shampoo is suitable for normal hair types and ensures flake- and irritation-free scalp. The active ingredient in the shampoo is pyrithione zinc that maintains and improves hair health. The antifungal and antibacterial properties of this shampoo helps soothe itching and inflammation on the scalp.
Key Ingredients: Pyrithione zinc
Pros
Smells good
Lathers well
Softens the hair
Value for money
Cons
The clinically tested SebaMed Anti-Dandruff shampoo is perfect for oily, dandruff-prone hair and scalp. The shampoo contains piroctone olamine that regulates sebum production and ensures gentle removal of dandruff. It has a pH of 5.5 that makes the hair strong and healthy. This shampoo claims to reduce 50% dandruff within two weeks. It allows the scalp to regenerate and heal by forming a barrier against the infiltration of fungus and bacteria.
Key Ingredients: Piroctone olamine
Pros
Natural ingredients
Clinically tested
Suits sensitive scalp
Balances pH
Lathers well
Imparts shine
Soap-free
Alkali-free
Cons
Price at the time of publication: ₹17.95
The Kaya Hair Anti-Dandruff Shampoo is clinically researched and formulated by dermatologists to help you achieve the best results. It is enriched with piroctone olamine that targets Malassezia furfur, the main dandruff-causing microbe.
The formula has antifungal properties that purify and cleanse the scalp. The shampoo contains vitamin B5 and seaweed, which form a protective barrier over the scalp and make the hair more manageable. It nourishes the scalp and prevents dandruff flakes, dryness, and brittleness. This shampoo works up a good lather and feels mild and gentle on the hair and scalp.
Key Ingredients: Piroctone olamine, Vitamin B5, and Seaweed
Pros
Smells good
Mild
Does not weigh the hair down
Sulfate-free
Paraben-free
Cons
Price at the time of publication: ₹20
The anti-dandruff shampoo from The Body Shop is prepared by tapping into the powerful antimicrobial properties of ginger. It contains Sri Lankan ginger essential oil, birch bark, white willow extracts, and honey that tackle dandruff and nourish and soothe your hair and dry, flaky, and itchy scalp. The formula is available in a transparent bottle with a tight cap that prevents moisture and external factors from deteriorating the contents. This shampoo leaves a sweet honey fragrance with every wash.
Key Ingredients: Ginger, Birch bark, White willow extracts, and Honey
Pros
Suitable for color-treated hair
Rich lather
100% vegetarian
Cruelty-free
Cons
This Organic Anti-Dandruff Shampoo from Organic Harvest is made with natural ingredients that are safe and gentle for use. The potent formula contains tea tree, apple cider vinegar, coconut, and aloe vera that cleanse your hair and scalp and balance their pH.
Tea tree oil helps in getting rid of dandruff and damaging microbes. Apple cider vinegar neutralizes the scalp's pH, preventing fungus and scalp infections. Coconut and aloe vera keeps the hair well-nourished and moisturized. This shampoo forms a protective layer that prevents hair color from fading and improving the natural, healthy shine of the hair. The innovative formula encourages better hair growth and reduces hair fall and split ends with regular use.
Key Ingredients: Tea tree oil, Apple cider vinegar, Coconut, and Aloe vera
Pros
Mild surfactants
Builds volume
Imparts shine
Paraben-free
Sulfate-free
Silicone-free
Dye-free
Mineral oil-free
Alcohol-free
No animal ingredients
Cons
The Brillare Dandruff Control Shampoo is formulated for rough dandruff-prone hair and is made of botanical ingredients like tea tree oil, wintergreen fruit, and black pepper. Tea tree has antimicrobial properties that clear microbes and keep your scalp refreshed and dandruff-free. The wintergreen fruit removes dandruff flakes from the scalp from the first wash and soothes the irritated scalp with its cooling effect. The black pepper fruit reduces the excess oil secretion and prevents greasy and oily scalp. This shampoo is safe to be used daily.
Key Ingredients: Tea tree oil, Wintergreen fruit, and Black pepper
Pros
100% vegan
Safe for daily use
Suits color-treated hair
Cruelty-free
Artificial color-free
Petroleum wax-free
Paraben-free
Mineral oil-free
Formaldehyde-free
Cons
Contains SLS
May make the hair dry.
Price at the time of publication: ₹60
This shampoo from Vaadi Herbals combines the power of lemon and tea tree extract to eliminate dandruff. The formula contains raspberry leaf extracts, neem leaf extracts, lemon essential oil, steam distilled lemon peel extract, soya proteins, olive, and coconut oil derivatives. It forms a shield for against dandruff while nourishing the scalp. Lemon has astringent properties that make the hair roots stronger and tighten the follicles. The tea tree oil extracts in the shampoo reduce the frequency of scalp infections.
Key Ingredients: Lemon and Tea tree extract
Pros
Pleasant fragrance
Natural ingredients
Moisturizes the hair
Imparts shine
Cons
Price at the time of publication: ₹7.99
This anti-dandruff shampoo from L'Oreal Paris is crafted and formulated by hair care professionals. The active ingredients in the shampoo are piroctone olamine, citric acid, zinc pyrithione, and glycolic acid. It instantly clears dandruff and eases related discomfort. The shampoo is perfect for all hair types – normal to oily. It reduces the visibility of the flakes and dead skin cells from the very first application. Each wash leaves the scalp soothed and refreshed.
Key Ingredients: Piroctone olamine, Citric acid, Zinc pyrithione, and Glycolic acid
Pros
Pleasant scent
Nourishing formula
Imparts shine
Superior quality ingredients
Cons
Price at the time of publication: ₹688
This chemical-free soya protein shampoo from Just Herbs has therapeutic properties. It is enriched with a blend of soy lecithin, gooseberry, neem, hibiscus, and vetiver that nourishes the scalp to keep it flake-free. The shampoo maintains the pH of the scalp and restores its health.
The combination of gooseberry and neem opens clogged pores and enhances hair growth. It also prevents premature graying of hair while adding volume and bounce to it. The hibiscus in the formula, rich in amino acids, boosts collagen production and prevents dryness and frizz. The brand takes pride in using 100% vegan ingredients to treat dandruff troubles.
Key Ingredients: Soy lecithin, Gooseberry, Neem, Hibiscus, and Vetiver
Pros
Certified organic ingredients
Vegan
Non-GMO
Suitable for color-treated hair
Cruelty-free
SLS-free
SLES-free
PEG-free
Paraben-free
Cons
Not suitable for winters.
Before you pick any of the shampoos listed above, scroll down to go through the points to keep in mind.
What To Consider Before Buying Anti-Dandruff Shampoos?
Go for a shampoo that contains active dandruff-fighting ingredients, such as zinc pyrithione (ZPTO), selenium sulfide, ketoconazole, coal tar, and tea tree oil. You need to experiment a bit and see which ingredients suit your scalp. Also, check the ingredient list to avoid allergic reactions or skin sensitivity due to the presence of any ingredients that are unsuitable for you.
Anti-dandruff shampoos help eliminate dandruff, but they also strip your hair and scalp of their natural oils and make them dry. Hence, if you have dry hair, look for other ingredients like aloe vera and coconut oil that will keep your scalp and hair hydrated.
One of the leading causes of dandruff is the disturbed pH balance of your scalp. Thus, invest in a shampoo that helps in balancing your scalp's pH levels.
High-quality anti-dandruff shampoos are expensive because of their ingredients. If your budget is limited, buy shampoo from a decent brand that promises quality and results. However, avoid cheap products as they disturb the pH balance of your scalp and dry out your hair. Check the reviews and then zero in on a good shampoo.
A good anti-dandruff shampoo not only gets rid of dandruff but also keeps your hair and scalp nourished. A shampoo formulated with pure, organic, and natural ingredients is a wise choice. Explore our list of the best anti-dandruff shampoos available in India and pick one to restore the health of your hair and scalp.
Recommended Articles