Top 12 Mild Shampoos Available In India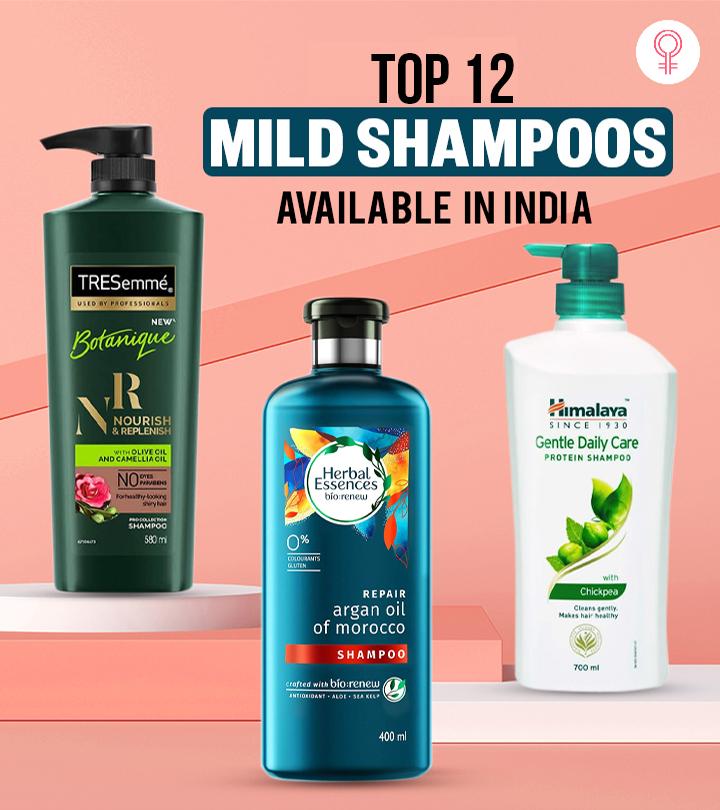 Shampoos with chemicals can be harsh on your hair, especially for dry hair, and may strip its natural oils. This is where mild shampoos can help protect your hair. They contain natural surfactants and ingredients that gently remove dirt and excess oil, without stripping off the natural oils or damaging your hair. To help you find the perfect choice, we have put together a list of the 12 best mild shampoos for all hair types. Dive down and read on!
Top 12 Mild Shampoos Available In India
This Botanique Nourish & Replenish Shampoo by TRESemme is crafted with a unique duo of camellia and rich olive oils for superior moisturization. It is rich in vitamins A, B, C, and E, which helps stimulate hair growth and promotes a healthy scalp. The shampoo controls frizz for up to 24 hours and the formula retains moisture and leaves your hair feeling super smooth, soft, and lush. It is also safe on color-treated hair and has a scent of plum, waterlily, fig milk, sandalwood, musk, and creamy coconut.
Key Ingredients: Olive and Camellia seed oils.
Pros
Paraben-free
Dye-free
Pleasant scent
Color-safe
Frizz control
Cons
None
The Herbal Essences REPAIR Argan Oil Of Morocco Shampoo is formulated with 90 % natural ingredients like marine minerals and plant extracts. These ingredients are rich in antioxidants and minerals and repairs your dull, damaged hair. The argan oil in this shampoo is rich in essential fatty acids, which leaves your hair frizz-free and shiny. Aloe vera in the formula hydrates your hair, soothes scalp irritations, and helps restore its natural pH levels. This shampoo is also color-safe and free from any harmful chemicals or harsh ingredients. It has a lingering scent of citrus, creamy vanilla, and exotic spices.
Key Ingredients: Aloe vera, Argan oil, and Ecklonia Radiata extract.
Pros
Paraben-free
Gluten-free
Colorant-free
Cruelty-free
Good scent
Reduces breakage
Cons
None
This Gentle Daily Care Protein Shampoo by Himalaya gently cleanses your hair, while nourishing it. It is rich in chickpeas and amla extracts, which strengthen your hair and stimulate hair growth. The licorice extracts in the formula are rich in antioxidants, that condition and fortify your strands and the amla extracts treat scalp conditions like eczema, dandruff, and dryness. This shampoo is safe to use on chemically-treated as well as color-treated hair. With regular use, it leaves your hair feeling smooth, soft, and shiny.
Key Ingredients: Amla, Licorice root, and Chickpea extracts
Pros
Reduces hair fall
Induces natural shine
Affordable
Softens hair
Mild scent
Cons
Add a splash of nourishment to your hair, with this super refreshing Coconut Water & Aloe Vera Shampoo by Sunsilk. The coconut water and aloe vera in the formula are rich in antioxidants, vitamins, and minerals, and provides intense nourishment. The super-hydrating formula leaves your hair voluminous and shiny. This mild shampoo is for daily use and lathers well to cleanse away the dead skin cells, dirt, and excess oil from your scalp, without stripping the natural oils.
Key Ingredients: Aloe vera and Coconut water.
Pros
Mild fragrance
Softens hair
Induces shine
Paraben-free
90% natural ingredients
Cons
Looking for a mild, daily use shampoo? If yes, this creamy delight is the ideal choice! The Dove Daily Shine Shampoo is formulated with a unique nutritive serum, that provides the utmost nourishment to your tresses as the formula gets easily absorbed and provides a healthy shine from within. This gentle shampoo encases your hair fiber with a protective shield, and defends it from daily environmental aggressors. With regular use, your hair looks silky, strong, healthy, and shiny.
Key Ingredient: Sunflower seed oil
Pros
Cruelty-free
Paraben-free
Helps reduce dandruff
Softens your strands
Cons
None
Strengthen and fortify your hair, with this potent formula by WOW Skin Science. The Moroccan Argan Oil Shampoo contains natural DHT blockers like saw palmetto and nettle leaf extracts, which aids in reducing hair damage and hair fall. It gives your hair instant smoothness and leaves it feeling super lush and soft to touch. The luxurious argan oil blend, which is rich in vitamin E and fatty acids, nourishes and moisturizes your dull and dry hair with ease. The shampoo penetrates your hair shaft and induces a natural and healthy shine. It is also pH balanced and free from harsh chemicals.
Key Ingredients: Saw Palmetto extract, Moroccan argan oil, Vitamin B5, and Nettle leaf extract.
Pros
Strengthens hair shaft
Reduces dryness
pH balanced
Paraben-free
Sulfate-free
Silicone-free
Cons
This ayurvedic shampoo by Patanjali, is formulated with essential plant extracts and oils for complete hair therapy. The milk protein-rich formula of the Kesh Kanti Hair Cleanser clears your scalp and hair without stripping the natural moisture. It is free from chemicals and uses soap nuts for gentle yet effective cleansing. The aloe vera, amla, and aola extracts in this shampoo prevent hair fall, premature greying, and brittleness. It contains turmeric and neem extracts that help fight scalp irritation, dandruff, and allergies. With regular use, this shampoo leaves your hair healthy and fortified.
Key Ingredients: Soap nut, Bhrigraj, Neem extract, Turmeric, Mehndi, and Aloe vera.
Pros
Paraben-free
Sulfate-free
Silicone-free
Chemical-free
Clears dandruff
Good scent
Promotes hair growth
Cons
This signature Renewing + Argan Oil Of Morocco Shampoo by OGX is made with a potent blend of Moroccan argan oil. The formula is rich in antioxidants and vitamin E, which helps reverse hair damages, and leaves your hair feeling gorgeously soft and silky. This shampoo uses a unique formula that strengthens your locks and protects your hair from heat damages caused by regular styling. It suits all types of hair and provides intense hydration, locks in moisture, and conditions your hair.
Key Ingredients: Moroccan argan Oil
Pros
Paraben-free
Sulfate-free
Silicone-free
Prevents heat damage
Reduces frizz
Color-safe
Good scent
Induces a healthy shine
Cons
The all-in-one Khadi Natural Hair Cleanser has a conditioning formula infused with natural extracts like reetha, jojoba oil, honey, and shikakai. These ingredients gently cleanse your scalp, while moisturizing and strengthening your hair shaft. This shampoo also helps reduce hair fall, dryness and prevents dandruff. Honey is a natural humectant and it locks down moisture for prolonged hydration. With regular use, it leaves your hair healthy, soft, and manageable.
Key Ingredients: Honey and Shikakai
Pros
SLS-free
Paraben-free
Paraffin-free
Reduces dandruff
Prevents hair fall
Strengthens hair shaft
Gentle on scalp
Cons
If you have severely dry and damaged hair, this hair cleanser by Forest Essentials is a perfect addition to your hair care routine. The Bhringraj & Shikakai Hair Cleanser is formulated with a unique blend of organic cold-pressed oils that control hair issues like hair fall, breakage, and thinning. The Bhringraj extract is ideal for hair growth as it strengthens, nourishes, and prevents scalp irritations. Shikakai gently cleanses your hair without drying it. Reetha is rich in saponin that acts as a gentle cleanser and leaves your hair feeling soft and silky, while coconut milk boosts hydration and promotes hair growth.
Key Ingredients: Bhringraj and Shikakai extracts
Pros
Stimulates hair growth
Controls dandruff
Organic ingredients
Ideal for sensitive scalp
Good scent
Cons
This super gentle daily Nourishing Shampoo by Kaya Hair Essentials is a must-have in your vanity. The formula cleanses your scalp and hair, leaving it feeling super soft and lush. It is fortified with almond oil and hibiscus extract, which strengthens your hair from within and adds a boost of shine. The shampoo is developed by dermatologists and is proven to reduce hair breakage and hair fall with daily use.
Key Ingredients: Hibiscus extract and Almond oil
Pros
Reduces dryness
Induces natural shine
Softens your hair
Reduces hair fall
Economically priced
Cons
This gentle yet effective Sulfate Free Shampoo by Piligrim contains natural oils for intense nourishment. The argan oil in the formula helps repair hair damage, hydrate your tresses, and also induces shine. It is packed with antifungal properties, which keep dandruff and scalp irritations at bay. The formula also contains white lotus extract that strengthens hair and protects it from free radical damage. The camellia seed oil in the formula stimulates hair growth and softens hair. With regular use, this shampoo leaves your hair feeling soft, frizz-free, shiny, manageable, and healthy.
Key Ingredients: White Lotus extract, Camellia seed extract, and Argan Oil.
Pros
Cruelty-free
Paraben-free
Sulfate-free
Silicone-free
FDA approved
Mineral oil-free
Vegan
Cons
These are the 12 best mild shampoos you may try. However, before buying one, here area a few things to consider.
Things To Consider When Buying A Mild Shampoo
1. Ingredients
Shampoos are manufactured keeping different scalp and hair needs in mind. Check for shampoos that do not contain SLS, parabens, alcohol, artificial fragrances and dyes, and any other harsh chemicals. Opt for shampoos that contain natural oils like argan, coconut, hibiscus, or jojoba as they nourish your scalp and hair. These ingredients are also rich in antioxidants and vitamins that hydrate the hair, revive its texture, and keep it healthy and shiny.
2. Buy A pH Balanced Product
The normal pH of hair and scalp is around 5.5, and you need a shampoo with a pH value between 3.5 and 5.5 to keep your hair and scalp balanced. Look for a shampoo with a pH value close to your scalp pH to avoid dryness, itchiness, and scalp irritation.
Mild shampoos are perfect for daily use and can prevent scalp irritation and damage. These are the top 12 mild and effective shampoos available on the market. With this list, you are already on your way to better hair health. So why wait? Head on and buy your favorite shampoo from our list today.
Recommended Articles: